UFC on Fuel 8 Results: 5 Fights for Mark Hunt to Take Next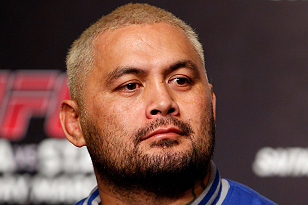 Josh Hedges/Zuffa LLC UFC
Finishing a mainstay like Stefan Struve in such emphatic fashion would give any UFC heavyweight a tremendous shot in the arm, especially a prospering contender like New Zealander Mark Hunt.
With his highlight-reel knockout of Struve at UFC on Fuel TV 8, Hunt not only earned his way into the promotion's official top 10 heavyweight rankings (No.9) for the first time, he also stretched his winning streak to a division-best four straight victories.
Hunt, a man who lost his sixth straight fight in his promotional debut at UFC 119 in 2010, has pocketed a pair of "Knockout of the Night" bonuses in two of his last four fights, gaining a reputation as the division's most captivating fighter along the way.
Since every fighter's only as valuable as his or her last fight in the UFC, Hunt must have certainly punched his ticket for a main-event bout in his next outing by breaking Struve's jaw.
Here's a peek at five possible fights for "The Super Samoan" to take next.
Begin Slideshow

»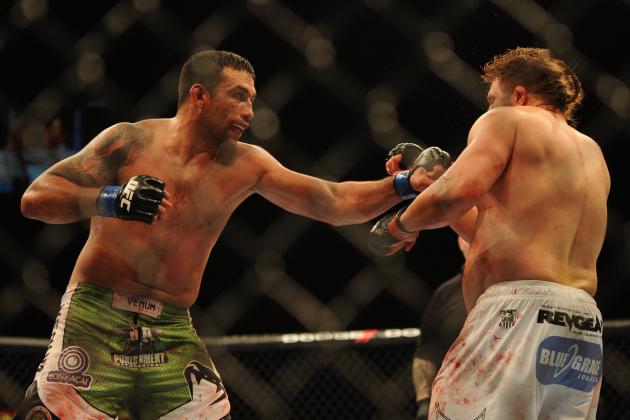 Kelvin Kuo-USA TODAY Sports

Hunt has long struggled to build his defensive grappling prowess, a deficiency the soon-to-be 39-year-old has seemingly improved upon in recent fights.
A bout against either Antonio Rodrigo Nogueira or Fabricio Werdum would mean Hunt would get a legitimate litmus test of his newly acquired defensive grappling chops.
In 34 pro tilts, Nogueira, who sits at No. 7 on the UFC's heavyweight rankings, has secured 21 submissions. Werdum, ranked No. 2 in the division, has won eight of his 16 scraps via submission.
In the same vein, Nogueira and Werdum each possess solid jaws, although neither fighter can say he's immune to flash knockouts.
Nogueira suffered brutal knockouts at the hands of Frank Mir and champ Cain Velasquez, and Werdum got KO'd by a ferocious uppercut from former champ Junior dos Santos.
A fight pitting Hunt against either Nogueira or Werdum would surely end in either a submission loss or a knockout win for The Super Samoan. Regardless of which comes first, these are two intriguing matchups.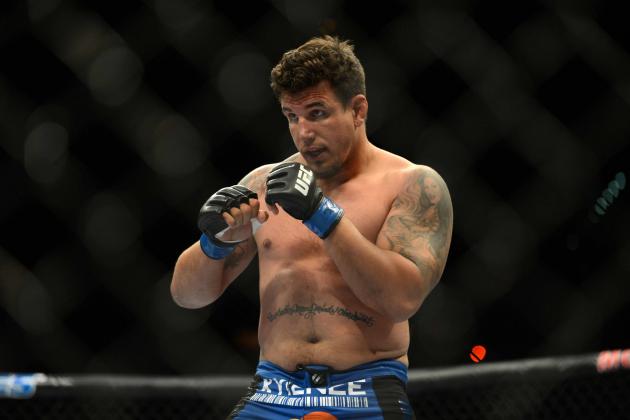 Ron Chenoy-USA TODAY Sports

Since the winner of the scrap between Daniel Cormier and Frank Mir at UFC on Fox 7 will likely get a title shot, the loser seems like a fitting suitor for the budding Hunt.
Granted, Cormier has yet to fight in the UFC, but because of his exploits in Strikeforce, the UFC placed the former Olympic wrestler at No. 3 on its list of heavyweights.
Mir, on the contrary, will fight for the 21st time in the UFC's Octagon when he locks horns with Cormier. A former heavyweight champ, Mir is ranked fifth on the UFC's list of heavyweights.
Hunt, ranked No. 9 at heavyweight, would undoubtedly have his hands full against Cormier or Mir, two fighters who each possess more diverse skill sets. From a reward standpoint, however, Hunt, who's quickly running out of time to make a title run, could solidify top contendership with a win over either of these studs.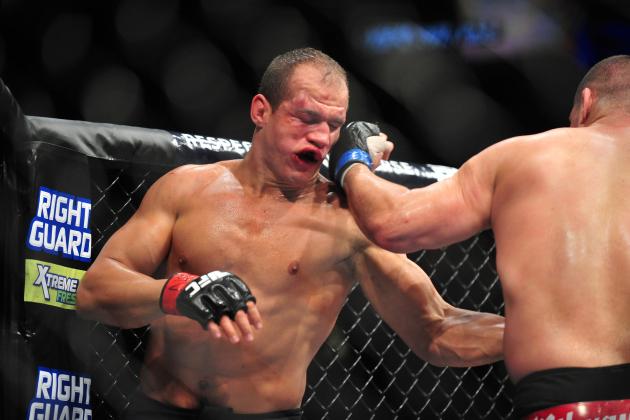 Gary A. Vasquez-USA TODAY Sports

Although Hunt would unquestionably enter a fight with Alistair Overeem or "Cigano" a significant underdog, The Super Samoan could get the slugfest he always yearned for with either of these lethal strikers.
Overeem, the No. 6-ranked UFC heavyweight who already holds a submission victory over Hunt (keylock), has either knocked out or TKO'd 15 of his 36 career victims, and Cigano, the No. 1 contender, has won by form of KO in 11 of his 15 career victories.
Overeem has suffered seven losses by form of knockout, and Cigano, one of the most durable heavyweights in UFC history, finally showed a few chinks in his striking armor against Velasquez.
With six of his nine wins coming via form of KO, Hunt might not have the oddsmakers' blessings against either Overeem or Cigano, but the former K-1 star will certainly have a chance to score his fourth KO in five UFC bouts.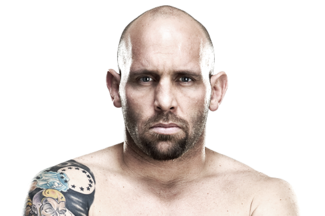 Courtesy of UFC
Despite the fact that injuries to both his back and his knee have prevented Carwin from entering the Octagon since UFC 131, the massive 38-year-old still has all the tools to make a title run when healthy.
If the 6'2" Carwin would ever to get pitted against the 5'10" Hunt, the former No. 1 contender would enjoy a six-inch reach advantage. Carwin would also hold a considerable edge in the wrestling and grappling departments.
But as Hunt proved in his scraps against Cheick Kongo and Struve, being at a disadvantage in the reach, grappling and wrestling categories doesn't mean The Super Samoan won't land his share of devastating strikes.
Akin to Hunt, the heavy-handed Carwin has shown an inclination for brawling wildly. If Carwin can finally get healthy, UFC matchmaker Joe Silva could benefit greatly from making this fight.
Watching gargantuan knockout artists like Hunt and Carwin test each other's chins is always a winning remedy for a main event.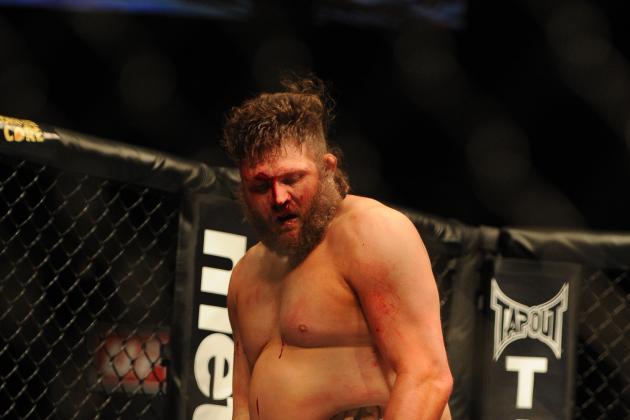 Kelvin Kuo-USA TODAY Sports

Regardless of how Roy Nelson fares against Kongo, "Big Country" represents the most logical future opponent for Hunt, even considering The Super Samoan's grappling limitations.
Because a win over Kongo wouldn't propel Nelson into title contention and a loss wouldn't put him on the chopping block, Big Country would surely be enticed to accept a bout with the surging Hunt.
A Brazilian jiu-jitsu black belt with potent knockout power, Nelson brings something that's necessary to last three rounds with Hunt—a seemingly unbreakable jaw.
Nelson, ranked No. 8 at heavyweight in the UFC, also has Hunt-like pop in his hands. Big Country has 11 career KO's and has registered each of his five wins in the UFC by form of knockout.
Nelson's punching power and his aptitude for absorbing monstrous blows, coupled with Hunt's KO dexterity and his propensity for wearing huge shots, makes this potential tilt utterly tantalizing.