World Football's 25 Most Beautiful Passes in Recent Memory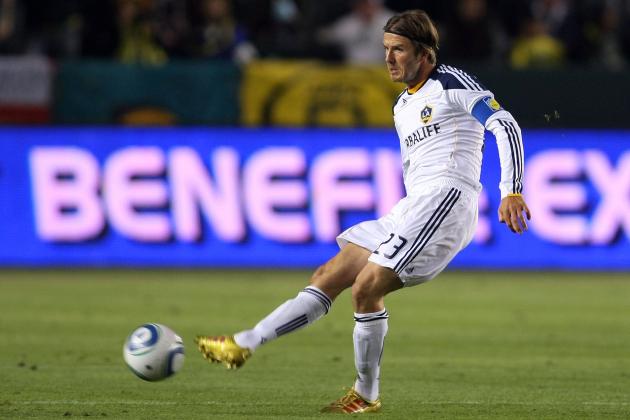 Victor Decolongon/Getty Images

Soccer is the original "beautiful game", with many people attributing glorious goals as the defining factor. But sometimes the real beauty come from the passes that set up those famous chances.
Over the last week, I have tried to remember some recent unforgettable moments and trawled through over 500 YouTube clips to come up with a top 25 list for your viewing pleasure.
The usual protagonists such as David Beckham, Andres Iniesta and Steven Gerrard make the list, but there are also some surprise contenders for the coveted No. 1 spot.
Everything is subjective, and I'll be delighted to see some of your own recommendations in the comments section below.
Here is my top 25...
Begin Slideshow

»
Samba soccer is very special to watch, and Ronaldinho is one of the main reasons why they are steeped in such decorated tradition.
This pass with his trailing leg looks so simplistic, but try it yourself at home!
And that's part of the beauty of the pass, he makes it look so effortless, especially with the head fake to top it off.
You may see quite a few players try this particular trick in today's game, but it won't be executed any better than in Brazil.
It seems a long long time ago since we saw Mr. Beckham in a United shirt.
At 37, he is still extremely dangerous when given time on the ball, and none more so than this classic Beckham assist against old rivals Arsenal.
From deep inside his own half, the midfielder hits a pinpoint cross-field ball to Dwight Yorke who completes his hat trick in fine style.
United went on to win the game 6-1.
Whether you love him or hate him, you cannot ignore Mario Balotelli.
But take away all the crazy headlines and misdemeanors and you have one talented young footballer.
The best players make the insanely difficult look easy, and that's exactly what he does against rivals Juventus with this effortless scorpion pass.
It can be argued that this goal has more to do with Sunderland's horrible defending than any type of exquisite move, but it's still a fabulous pass.
Steven Gerrard is currently having one of the best seasons in recent memory, and his forward thinking can be devastating at times.
The England international creates something out of nothing with a beautifully weighted cross-field ball to Luis Suarez from deep inside his own half.
Despite my best efforts, I couldn't find the official name of the goalkeeper or the teams that were involved, but I still had to include it.
Down 2-1 in injury time, you need to get the ball quickly upfield in the shortest time as possible—cue this insanely acrobatic distribution.
Although the end product may not have been successful, this man gets an A for effort!
Nuri Sahin has only made four appearances since signing from Borussia Dortmund in 2011, but he certainly made an impact in this game.
Cross-field balls are a dime a dozen in today's game, but this assist is just a little bit special.
Watch the flight and pace of the ball. It's very much a pinpoint pass rather than a cross, with Jose Maria Callejon being the grateful recipient.
Barcelona do this most weeks, but the simplicity of Xavi's pass to Pedro against Sevilla three years ago makes it a joy to watch.
Sometimes it's not the back-heels or scissor kicks that make the best viewing. Just a simple, well-weighted pass through the defence can be just as beautiful.
This goal thoroughly deserves its place inside the top 20.
Jack Wilshere could dominate this list in five years' time, but he'll have to be content with just the one entry this year.
But it's a classic.
A gorgeous turn and run against Newcastle puts the "Magpies" on the back foot before unleashing a beautiful pass with the outside of his boot to Theo Walcott.
Unfortunately for Arsenal, the England winger couldn't convert the chance on this occasion.
Nevertheless, it's an insane bit of skill from a very talented player.
So maybe this is slightly cheating, but I'm including this crazy pass by David Alaba.
It might seem pretty realistic, and that's why Pro Evolution Soccer is probably the best soccer computer game on the market.
The difficulty to pull this off is extremely high, as Alaba turns a tough defensive play into a shock counter attack with a 60-yard overhead kick.
Mario Gomez still has work to do, but finishes brilliantly.
If this were real, it would be the goal of the century, but it still makes this top 20 list.
The rabona pass is a very impressive skill that may footballers have incorporated into their play with a variety of results.
Many are executed standing still, but Eden Hazard's against QPR this season was in a different league.
Not only was the midfielder on the move, he was running away from the goal, yet managed to turn his body and deliver the pinpoint pass down the wing to John Terry.
Unfortunately for Hazard, the England defender struggled with the slightly simpler task of controlling the football.
Most of the Barcelona goals in this list are so simplistic that they're beauty personified.
Watch Andres Iniesta's stunning through ball to Alexi Sanchez in last month's 6-1 La Liga demolition of Getafe.
The precision to thread the ball between both central defenders takes incredible skill and balance, especially when considering Iniesta's deep position.
That's what makes him one of the best in the world. A real pleasure to watch.
Remember a guy called Ronaldo whose fist name wasn't Cristiano? He was pretty good too.
Two hundred eighty goals in 384 appearances is an astonishing record, but it wasn't just his goal scoring that raised eyebrows.
Ronaldo's touch for a big man was incredibly good, and this trick pass against Juventus was indicative of what the Samba legend was all about.
The pass to himself was impressive enough, but the back heel in the same movement was special.
The 36-year-old retired from football in February 2011.
I can't confess this pass was at the forefront of my thoughts when starting to compile this list, but after watching this clip, I certainly know who Joseph Ndo is.
While the classic pass is often the best to watch, when someone introduces a move you have never seen before, you have to applaud it.
Ndo runs down the byline away from the goal, passes against his own trailing heel resulting in the ball flicking up into the air in the opposite direction, over the defender and to his teammate who crosses the ball.
Wow!
This is without a doubt the most unselfish pass on the list, as ex-Real Madrid star Guti produces a sublime, yet slightly confusing back heel to set up Karim Benzema for the easiest of tap-ins during a comfortable win over Deportivo.
The move, from start to finish, is close to perfection, and it appears Guti will be the man to apply the simple finish.
But a quick look and a stunning back pass makes the goal even more beautiful to watch.
This is an amazing two-touch pass from Fernando Llorente that helped Athletic Bilbao to a 3-1 win over Sporting Lisbon.
You may need to watch it a couple of times as the Spanish striker receives the ball under pressure on the edge of the area.
But after a stunning drag back, he opens up his body in one movement to slide in fellow compatriot Oscar de Marcos, who makes no mistake.
Yes, you read it right. One of the top plays in recent memory was from a Greek referee who inadvertently made a stunning reverse heel pass over the defence to set up a glorious chance for Football League side Apollon Athens.
The Athens midfielder slides in to win the ball and into the path of the official, who finds the striker with ease despite the incredibly difficult execution.
Fortunately for the referee, the forward missed the chance.
But he still makes the top 10.
Cristiano Ronaldo makes the list more than once; unfortunately, none of his amazing passes lead to a goal.
This is a fantastically well-weighted pass with the outside of the boot that presents Portugal's Dani with an unmissable chance.
The fact he puts the ball 20 yards over the bar is maybe a reason why Portugal struggle to get to the latter stages of major tournaments.
Holland may have won this game 11-0 against one of the weakest teams in world football, but it was Wesley Sneijder's banana pass that left fans speechless.
The replay gives this incredible pass more credibility, as the ball appears to defy physics when it finds Robin van Persie, who surprisingly misses the chance, although he did score four in the game.
But it's the ball from the Dutch national captain that makes you want to watch this piece of skill time and time again.
I had to include an amateur clip, and this pass is outstandingly good from Alexis Ferreira.
Not sure where the game is or if he's any relation to Chelsea defender Paulo, but the smart guess would be somewhere in Portugal.
The assist is so good that after five replays, I still can't decide whether he makes the reverse pass with his right of left.
It's genius, whatever the foot!
I didn't even find this pass particularly special until I saw the very last replay in the clip—Mesut Ozil's pass to Sami Khedira has to be seen to be believed.
The German superstar appears to make contact at the top of the ball, hitting it into the ground resulting in it bouncing up and over the defender.
It really is quite special to watch despite the referee making a terrible decision and giving a goal kick.
Dennis Bergkamp is my favourite EPL player of all time, and clips like this are a big reason why.
So gifted on the ball, the Dutch forward knows exactly what he's doing with the ball as he jinks back and forth before a sublime chip with the outside of his boot to Freddie Ljungberg.
A goal made in Holland and finished in Sweden—pure class. Worthy of making the top five.
This is a quite sublime piece of skill from Cristiano Ronaldo that should have resulted in a memorable goal.
Ronaldo's first shot is parried back towards the Real Madrid star, but instead of controlling the ball in the normal fashion, he turns away from the play and passes the ball with his back straight into the path of Xabi Alonso.
Alonso's resulting cross is inexplicably headed over by Sergio Ramos, thus slightly spoiling the move.
Listen to the Spanish commentator who thinks it's a goal, brilliant.
Remember when Fernando Torres was good?! This goal in the Merseyside derby is breathtaking, and it's the Spanish international who is the provider on this occasion.
Trailing 1-0 at home, Torres controls the ball brilliantly with his back to goal while being marked extremely tightly by Phil Jagielka.
To keep possession is impressive enough without being able to bring the ball down, but the subsequent reverse heel pass and head fake to put Steven Gerrard through on goal deserves every superlative it gets.
This is the Brazilian pass master's second inclusion in the list, but this time he just misses out on the top spot.
While at Barcelona, the forward produced a stunning bit of skill that just oozes talent.
His control, vision and execution in the clip is astounding. It's a pleasure to watch and remember just how good the Samba star was.
He brings a cross-field ball down on a dime and with two touches, delivers an amazing pass across the box. All that is missing is the finish.
Awesome.
It may not come as a huge surprise to see Lionel Messi top the list with this wonderful run and pass to Angel di Maria against Portugal.
Messi's solo run across goal is impressive enough, but his final pass to Di Maria is why the word "perfection" exists in the English dictionary.
Despite heavy pressure and a blatant foul from Raul Meireles, Messi not only keeps his feet but delivers a stunning pass behind the defender and into the path of the Argentina winger who finishes clinically.
Listen to Ray Hudson's commentary, he cannot find enough superlatives to describe what he's just witnessed.
And the little magician deserves every one of them.
Lionel Messi is your No. 1.