Sign or Pass on Washington Redskins' Remaining Free Agents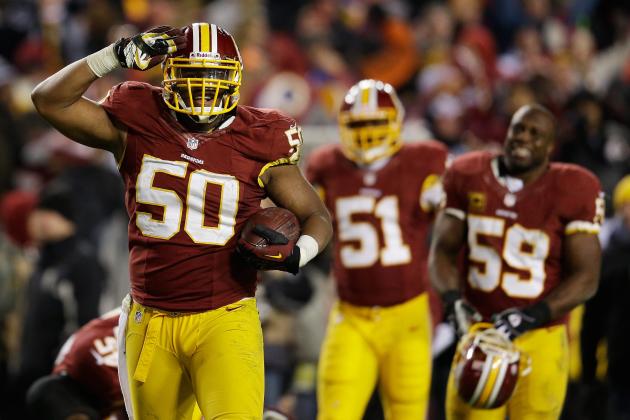 Rob Carr/Getty Images

If not for the $18 million cap hit the Washington Redskins must endure due to their salary cap tomfoolery during the uncapped year, this offseason would be perfect. Though they don't have a lot of pressing needs, what needs they do have could have been addressed comfortably.
Now, instead of vying for the services of top free agents from other teams, the Redskins must fight to re-sign their own free agents.
Even with the potential for restructuring contracts and outright releases still to come, Washington must make some crucial decisions regarding their own players, some of whom would prove to be big losses if left unsigned.
Here is a look at how the Redskins should handle each of their remaining free agents.
Begin Slideshow

»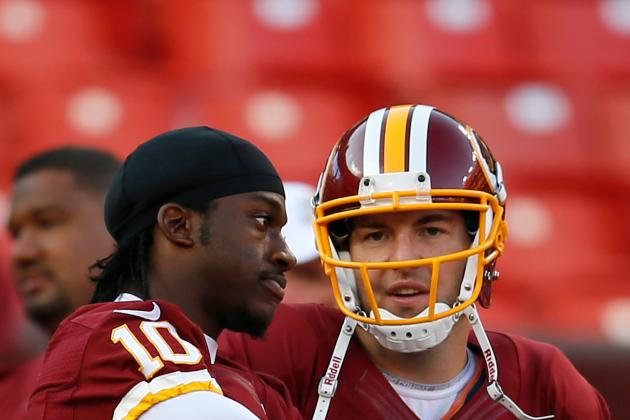 Rob Carr/Getty Images

When the Redskins drafted Kirk Cousins, it was implied that he would compete with Rex Grossman for the backup job. When the season started, and Grossman was inactive, it was assumed that it wouldn't last long and Grossman would be activated at some point.
When Grossman was activated for just two games, you got the impression that his services would no longer be needed after the season.
The injury to Robert Griffin III thrust Cousins into the starting role, and while Griffin could go down again unless he changes his running style, Cousins is more than capable of being the starter, and the Redskins don't necessarily need the veteran experience, or turnover liability, of Grossman walking the sidelines.
Verdict: Pass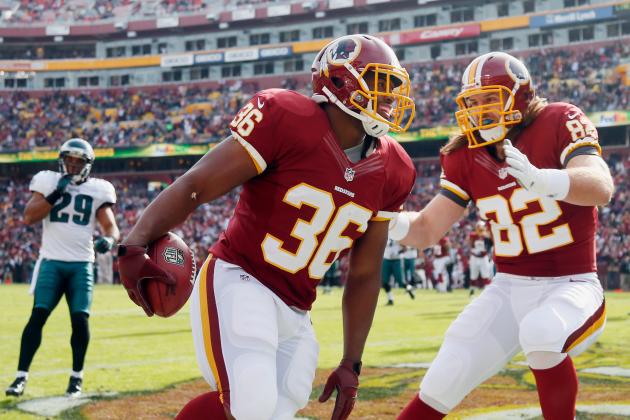 Rob Carr/Getty Images

Not to take anything away from the offensive line or Alfred Morris, but Darrel Young was responsible for his fair share of the numerous running lanes the Redskins got last season. The combined effort of the unexpected rookie Morris, the offensive line and Young's lead blocking put the 'Skins rushing attack at the top of the league.
A converted linebacker, and just 25 years old, Young paved the way for Morris and Co., scored two touchdowns and earned 13 first downs and two touchdowns last season, more than Jerome Felton and Vonta Leach, the Pro Bowl fullbacks last season.
Young shouldn't be too pricey, and why risk changing the offensive flow by letting the fullback go in free agency?
Verdict: Sign
Rob Carr/Getty Images

With one 64-yard return against the Baltimore Ravens, Richard Crawford rendered Brandon Banks obsolete. As fast as he may be, Banks lacks the vision to succeed on punt returns and the size to play a major role on offense.
Crawford returned eight punts for 156 yards, compared to Banks' 26 returns for 178 yards.
Washington has tried to insert Banks into their offensive scheme, utilizing bubble screens and quick outs to get the ball in his hands so he can run a bit. But as soon as he is hit, he loses all momentum and becomes an injury or turnover risk.
Speed isn't everything, and Banks hasn't developed his game to include anything but speed.
Verdict: Pass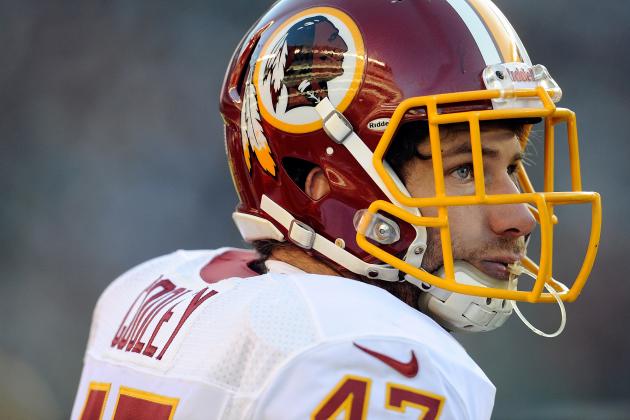 Patrick McDermott/Getty Images

Captain Chaos is no more, and all that remains is Chris Cooley, a veteran who has seen his best days go by. When Cooley was released prior to the start of the season, it came as no surprise since he had missed 20 of his last 48 games before the 2012 season.
Nine games and a single reception later, it is apparent that Cooley isn't going to recapture his former luster.
Perhaps I'm wrong and Cooley may have a good couple of years left in him, but with the Redskins favoring Fred Davis, and both Logan Paulsen and Niles Paul picking up the slack, there simply isn't much room for Cooley to have an 83-catch season anymore.
Verdict: Pass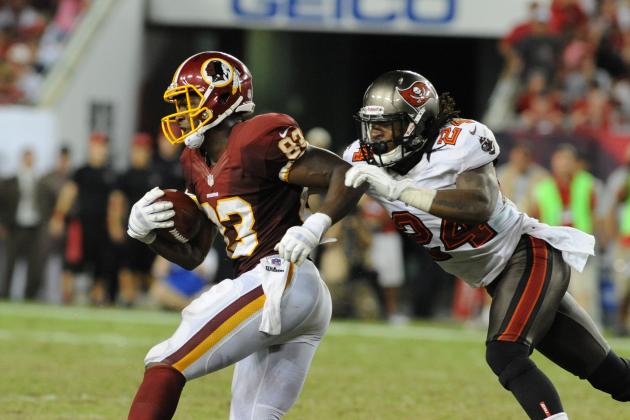 Al Messerschmidt/Getty Images

I've gone back and forth on the subject of Fred Davis a great deal, and I'm still not entirely sure how the Redskins should handle it. With the cap situation, they can't afford slapping the franchise tag on him again, and there always seems to be something standing in the way of Davis becoming one of the elite tight ends.
He looked to be on the cusp of his breakout in 2011 before he was suspended for the final four games of the season after failing multiple drug tests.
Luckily, Washington has all the leverage in this contract negotiation, since Davis is coming off of two shortened seasons, one due to his suspension and last season due to an Achilles tear that landed him on IR. They can low-ball him, or throw a ton of performance incentives into his contract so they don't owe him a ton of guaranteed money.
Verdict: Sign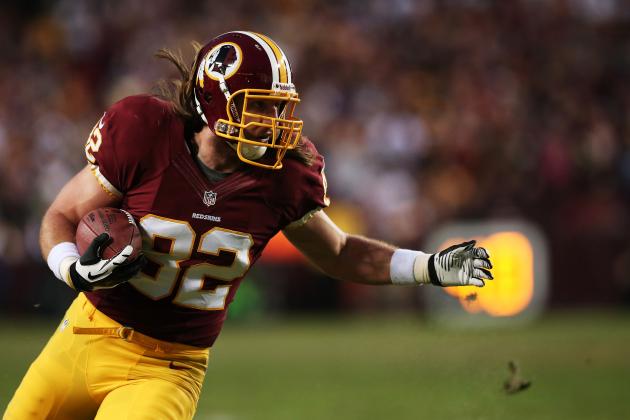 Win McNamee/Getty Images

The last of the trio of tight ends set to be free agents this offseason, Logan Paulsen is the easiest to figure. He's the best blocker of the three and has neither the wear and tear of Chris Cooley nor the strikes against him like Fred Davis.
Paulsen isn't the playmaker or pure receiving threat that either of his teammates are. But he's solid, and that's better than nothing for the Redskins.
With the injury to Davis and the nonexistent role Cooley took in his return, Paulsen caught a career-high 25 passes, though he only scored one touchdown. Paulen's greatest asset is his blocking, which helped the Redskins on their run toward the top-ranked rushing offense in the NFL.
Verdict: Sign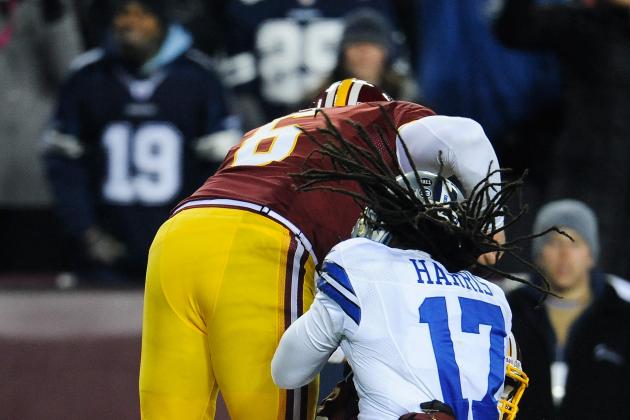 Patrick McDermott/Getty Images

Sav Rocca may be a novelty when it comes to punters, drawing from his Australian Rules background to deal surprising damage on the field, but his best days are behind him. Offseason surgery to repair a torn meniscus doesn't help his cause, nor do his waning numbers.
Rocca recorded a career-best 43.9 yards per punt last season, but saw his second-worst net yardage total (37.2), hinting at a drop in hangtime.
Punters are a tricky game, and while it is safer to hang on to a punter in his twilight than it is to draft a punter (Brooks Durant anyone?), the Redskins might consider letting Rocca go in favor of a younger, healthier option.
Verdict: Pass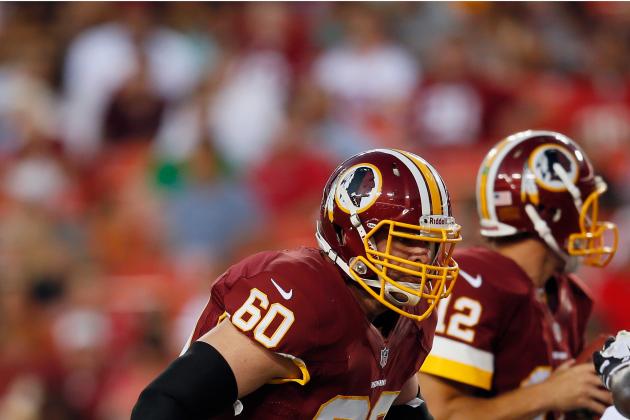 Rob Carr/Getty Images

Ask Jordan Black how he packed on 50 pounds after being out of football in 2011 and he'll tell you it was protein shakes and PB&J. Ask the NFL, and they'll point to the four-game suspension for PEDs.
He didn't play in a single game, and brings absolutely nothing to the table worth spending money on. Let him go back to being retired and be done with it.
Verdict: Pass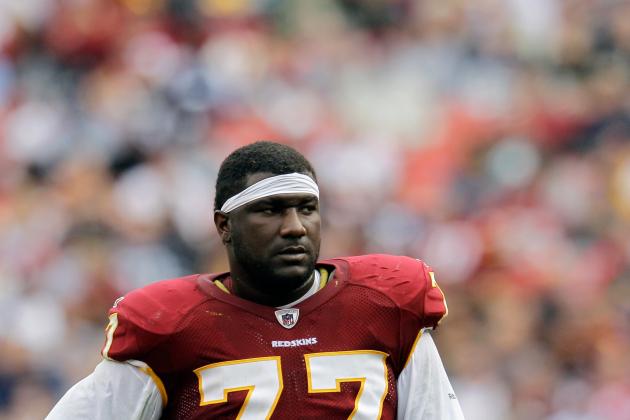 Rob Carr/Getty Images

You can't play the game if you can't get on the field, and Jammal Brown couldn't get on the field last season. He came to the Redskins following a torn ACL, and never got to be 100 percent, even in the 26 games he played for the team.
Washington can easily draft a right tackle, take a chance on competition between Tyler Polumbus and Tom Compton or splurge on a free agent.
Regardless of what they ultimately decide to do, it is almost certain Brown isn't going to be in the mix.
Verdict: Pass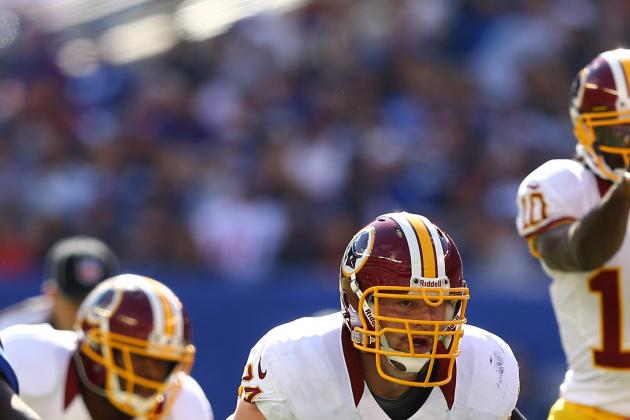 Al Bello/Getty Images

If you've heard it once, you've heard it a million times, but Jammal Brown isn't coming back to Washington next season. After an offseason spent rehabbing a lingering hip injury and correcting his normal gait, Brown landed on IR, forcing the Redskins to lean on Tyler Polumbus at right tackle for most of the season.
Polumbus was second on the depth chart for a reason. He didn't impress anyone with his shaky pass-blocking.
However critical one can be about Polumbus as a starter, he deserves credit for at least holding his own, and for that he deserves to be re-signed, even if only for depth. He may not be the best option to start at right tackle, but if the starter goes down, Washington wants a guy who has done it before.
They don't have to break the bank to bring him back, and with any luck, the next player they plug in will be a lot healthier than Brown, so Polumbus won't have to step in.
Verdict: Sign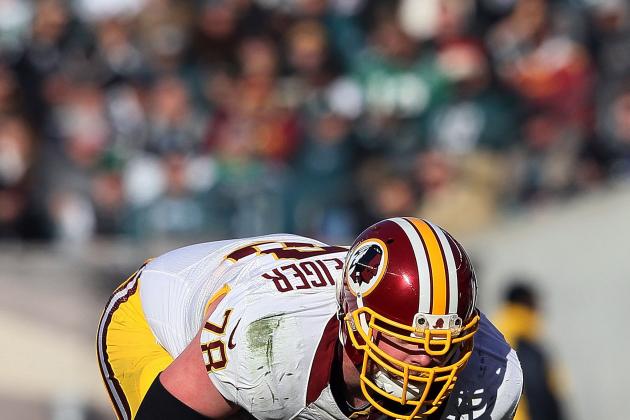 Alex Trautwig/Getty Images

The Redskins drafted Adam Gettis and Josh LeRibeus last year to bolster their offensive line and bring some depth to the guard position. LeRibeus got some playing time when Kory Lichtensteiger went down in Washington's wild card loss to the Seattle Seahawks.
Injury or not, Lichtensteiger is still too valuable to let go in free agency, and his injury could provide the Redskins with some leverage.
Lichtensteiger was one-half of the monstrous left side of the Redskins line that paved the way for a good deal of Alfred Morris' 1,613 yards last season. Even with Gettis and LeRibeus, Washington can't afford to sacrifice continuity along the offensive line, continuity that has been lacking for much of the last 15 years.
Verdict: Sign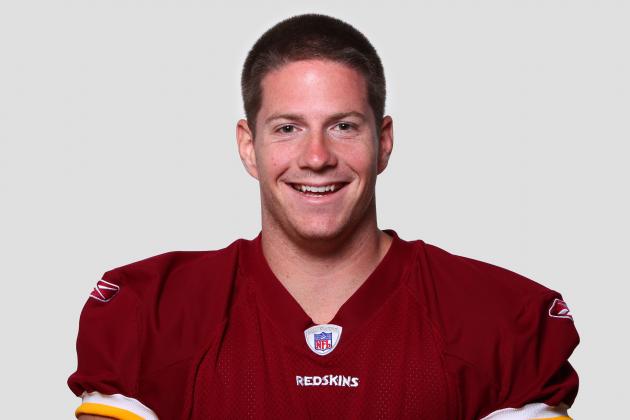 Handout/Getty Images

There's not much you can say about a long-snapping specialist other than emphasizing that the Redskins need to re-sign Nick Sundberg. You never think about the necessity of a long-snapper until there are problems in the kicking game, so better safe then sorry.
Washington would do well to hold on to a player like Sundberg, who played through a broken arm in their season opener against the New Orleans Saints
Verdict: Sign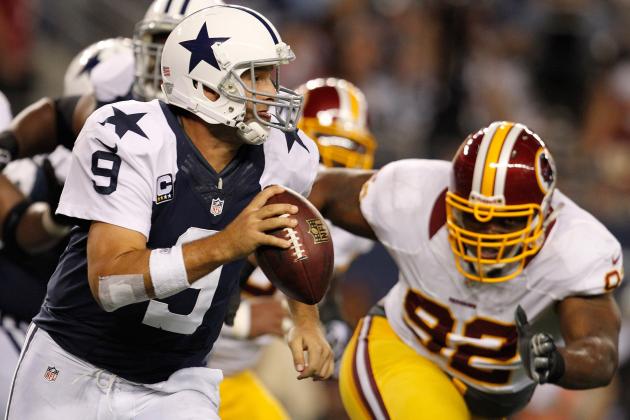 Tom Pennington/Getty Images

Barry Cofield has the starting nose tackle position pretty well locked up, but behind him is room for some competition. A season-ending injury to Chris Neild put Chris Baker in position to play more than expected, and he showed up when the Redskins needed him to.
Though he registered just 15 tackles, Baker played a big role in Washington's red-zone defense.
Baker and Neild are both 25 and have similar builds, but Baker has one fewer ACL tear on his knees, though he did tear a quad in 2011 that landed him on IR. Neild is under contract through 2015, but could be a cap casualty by virtue of not playing last season, even if it was because of an injury.
Verdict: Sign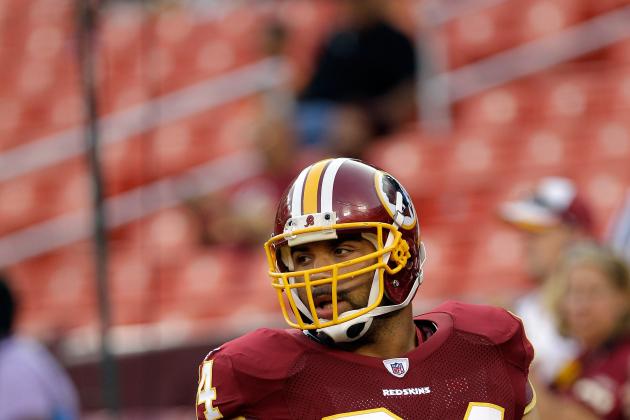 Rob Carr/Getty Images

As depth signings go, Kedric Golston is not exactly necessary for the Redskins. Stephen Bowen never takes a game off, Adam Carriker will be back and healthy next season and Jarvis Jenkins can step in at either defensive end spot in a pinch.
Golston had as many tackles this season (16) as he did last season, even though he played seven fewer games last season.
Not that numbers tell the whole story. Golston just doesn't bring anything special to the defense, even from a depth perspective.
However versatile he may be, he isn't providing the Redskins with any more of a boost than any other plug-in defensive end would.
Verdict: Pass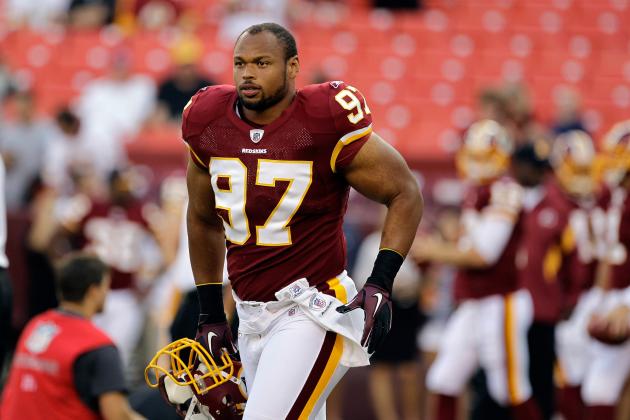 Rob Carr/Getty Images

Lorenzo Alexander, OMG, One Man Gang, whatever you want to call him, is a leader in the locker room and has a knack for special teams play. He has played on both sides of the ball and lined up everywhere; guard, tight end, fullback, linebacker, defensive tackle and defensive end.
Making the Pro Bowl for his special teams contributions is reason enough to re-sign Alexander, but his presence is invaluable to the Redskins.
The Redskins made their initial offer to Alexander, but it was rejected, which could create a problem if the number in Alexander's head is significantly higher than the one the Redskins can offer.
Verdict: Sign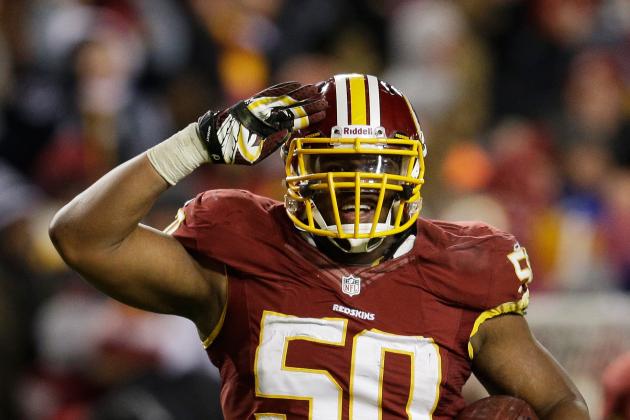 Rob Carr/Getty Images

With Brian Orakpo returning, and entering a contract year, Rob Jackson slides back to being the second outside linebacker behind him. On the bright side, however, Jackson showed he can be a contributor and could see his role expand to relieve both Orakpo and Kerrigan whenever necessary.
It is difficult to ignore 4.5 sacks, four interceptions, two forced fumbles and a touchdown in 14 starts.
Jackson is just 27 and could have some of his best years ahead of him, though Orakpo isn't likely to step aside and let him take away any of his playing time. Even so, knowing Jackson can step in and be productive is reason enough to re-sign him. That is, after all, what teams want to see out of their depth when it is tested.
Verdict: Sign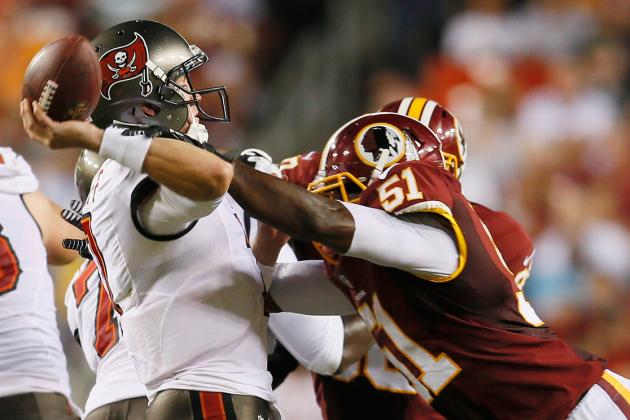 Rob Carr/Getty Images

Brian Orakpo is entering a contract year, Ryan Kerrigan is improving heading into his third season and Rob Jackson showed himself to be capable of starting and producing in a pinch.
Chris Wilson, slowly but surely, has become expendable after five seasons with the Redskins.
Though he tallied four sacks in his first full season with the team, Wilson has never mustered more than one sack in a season, finishing with just half a sack in 2012. His role can easily be filled through free agency after the draft, or his roster spot could go to a position of greater need.
No matter the case, Wilson just doesn't bring anything extra to the Redskins defense.
Verdict: Pass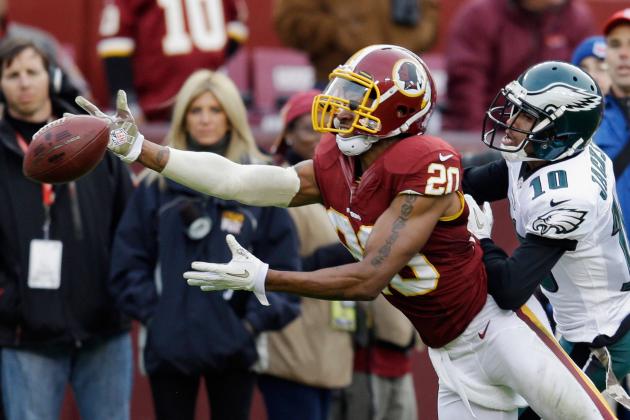 Rob Carr/Getty Images

Even with the four-game suspension incurred for PEDs, Cedric Griffin provided a solid presence in coverage packages. He only appeared in nine games with two starts, but he showed his experience compared to the younger corners on the roster.
For a secondary strapped for experience and ability, the Redskins can't let Griffin's suspension get in the way of their need to maintain depth.
There is absolutely nothing wrong with inking Griffin to a one-year veteran minimum deal, at least to buy time until the team can find a suitable long-term option, whether it be in the draft or from the current roster.
Verdict: Sign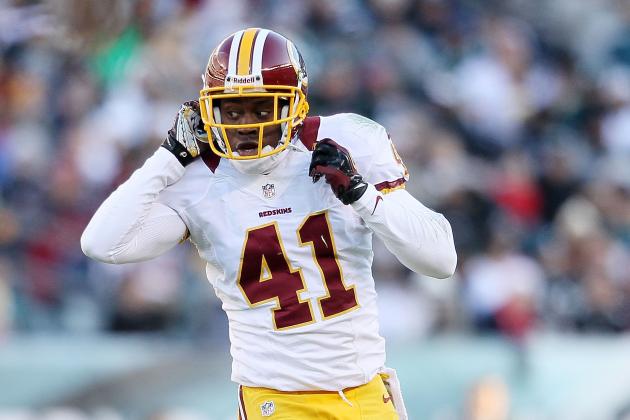 Alex Trautwig/Getty Images

This year's draft is deep with safeties, provided the Redskins move on one in the second or third round. Madieu Williams was signed for depth and a veteran presence in the absence of both in Washington's secondary.
When Tanard Jackson earned himself a season-long suspension, Williams was thrust into the starting role.
Williams returned his only interception of the season for a touchdown, but poor tackling and lapses in coverage left a lot to be desired, even for a depth/experience signing. With Jackson's contract rolled to next year, the Redskins can look for their long-term replacement and slide Jackson into the depth/experience role.
Verdict: Pass