Michigan State Basketball: 5 Keys to Beating Wisconsin in B1G Clash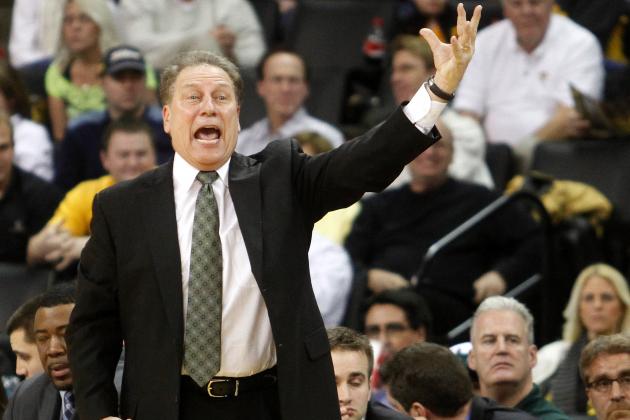 Matthew Holst/Getty Images
It's March, Tom Izzo's time of year. Michigan State needs to get in gear or face a disappointing result this season.
The Michigan State Spartans are in desperate need of a win. That goes without saying.
Or at least it should.
The No. 10 Spartans (22-7, 11-5) are in the midst of a three-game Big Ten losing streak, a streak unseen since 2010-11 when they dropped a trio of conference games in middle-to-late January 2011.
After Sunday's heartbreaking 58-57 setback at the hands of the Michigan Wolverines, the Spartans face gut-check time Thursday when the No. 22 Wisconsin Badgers (20-9, 11-5) visit the Breslin Center.
Michigan State has lost at Breslin just once this season.
The Spartans narrowly edged the Badgers on Jan. 22 at the Kohl Center with a 49-47 win.
However, the Badgers have since willed their way to victory twice in extra sessions. They're battle-tested and certainly capable of boosting past the Spartans should Thursday's game be close.
Every game has a story, and the Spartans versus the Badgers is no different.
There are obviously several areas in which the Spartans have to focus on in order to vault their way over coach Bo Ryan's Badgers, but we'll condense those variables into a five-piece bundle.
Begin Slideshow

»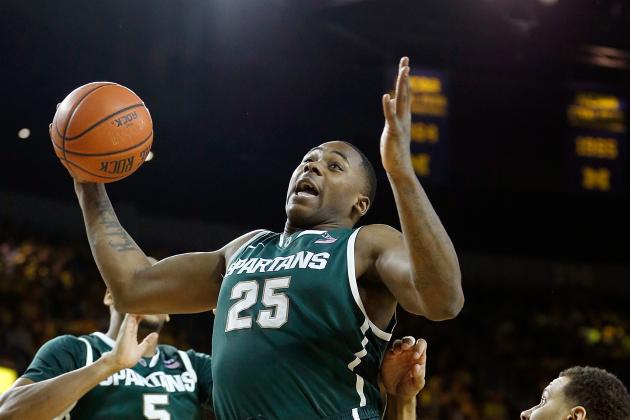 Gregory Shamus/Getty Images
Derrick Nix is a vocal leader. He faces the task of rallying teammates after three straight defeats.
Spartans coach Tom Izzo recently expressed his optimism in regards to this season.
Although his team is reeling after three straight defeats, Mr. March still believes that it can cause a little trouble for the opposition come crunch time.
"I feel like this team has as good of a chance to go a long long way as any I've had," Izzo said Monday (via MLive.com's Diamond Leung).
Doubting Izzo this time of year would be a betting man's undoing.
The Spartans coach has the resume, experience and know-how to piece together magic during what's been called "his" month by sports writers and analysts.
The key here is notching a quality, confidence-boosting victory.
Beating Wisconsin would most definitely qualify. The Spartans have the No. 1 ranked strength of schedule, according to college hoops Ken Pomeroy (via MLive.com).
It's time for them to show why they've had the upper hand for the majority of the year.
Izzo's past is enough for Spartans fans to pin their hopes to.
However, after a gut-wrenching setback Sunday to Michigan and a pair of prior losses (Indiana and Ohio State), it's difficult to just go with the flow and assume the Spartans will return to their true form.
For Michigan State to erase doubt of its abilities, it has to down the Badgers.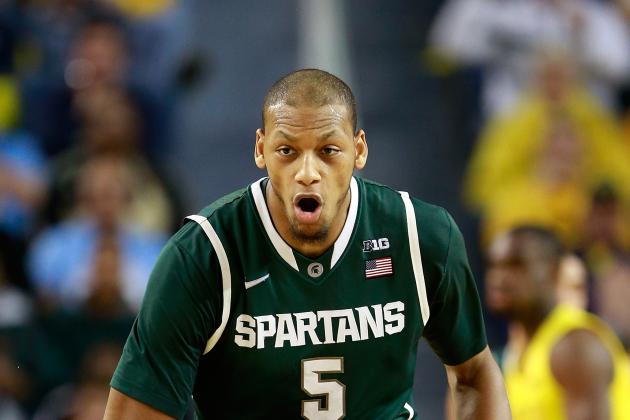 Gregory Shamus/Getty Images
Adreian Payne brings double-double savvy to the court.
Adreian Payne is playing at a level far above and beyond anything he's ever done at Michigan State.
The junior center has arguably been the Big Ten's best individual over the past four or so games. He's given the Spartans double-doubles by way of commanding rebounds, rim-rattling dunks and key three-point baskets.
He can step in, step out, catch the lob and lace a pass into a tight window.
His recent performances have certainly kept Michigan State from being completely outplayed during its three-game slide.
Wisconsin put the clamps on Payne on Jan. 22, allowing the Spartans' big to score just two points in 33 minutes during the 49-47 loss in Madison.
Payne will have to face Badgers forward/center Jared Berggren, a 6'10", 235-pound menace in the paint. Coming out on the winning end of that 1-on-1 matchup should be Payne's main objective.
If he can neutralize Berggren, the Spartans will have a chance at knocking off Wisconsin.
Furthermore, Payne's desire has to continue.
It's clear that he's one of the hardest working horses that Izzo has at this point. Without Payne, Michigan State is an average team at this stage of the game.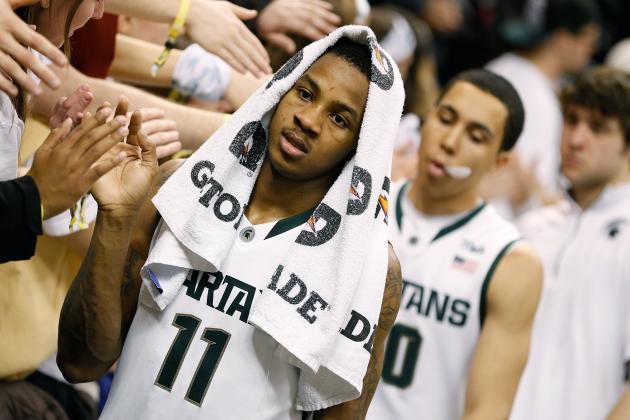 Gregory Shamus/Getty Images
Keith Appling has some soul-searching to do.
Keith Appling's ghost act has been a concern since the second loss to Indiana.
The junior's mindset will have much to do with Michigan State winning its 12th conference game or losing its sixth.
Michigan State has made do in some shape, form or fashion while Appling's game has hit a low.
Granted, the Spartans probably would have won the past three contests if their star point guard was, well, on point—but there's a deeper issue than his production.
Maybe this is just speculation, but Appling doesn't seem to be himself. Forget his point totals and assist tallies, he just doesn't look like the energetic, passionate and driven leader that he once appeared to be.
Appling has to evaluate his mindset.
If he has positive energy oozing from his pours, Michigan State could handle an eight-point night from him.
It's his leadership and ability to set the tone that's most important right now.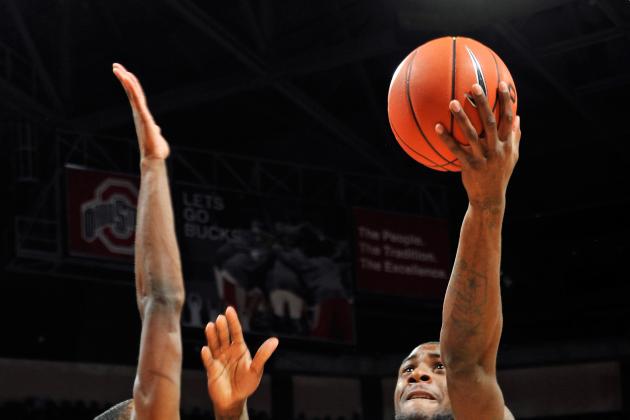 Jamie Sabau/Getty Images
Branden Dawson has a chance to redeem himself Thursday versus Wisconsin.
Branden Dawson has scored just 18 points in his past three games.
He scored 18 and had 13 rebounds Jan. 22 against Wisconsin in what was arguably his finest collegiate offering.
If Appling continues to struggle, the Spartans will continue looking for an answer.
Dawson is that answer.
Although Dawson's worth is sinking—for the time being—he's still a valuable asset to Michigan State.
At 6'6" and 230 pounds, Dawson has the size and athleticism to take on just about anyone in the country.
But for some reason his aggressive play has taken a nosedive. He's not using his smarts, either. Frequent mistakes have led to stints on the bench.
Dawson absolutely has to give Michigan State more than he's given during its losing streak or that streak will extend to four games.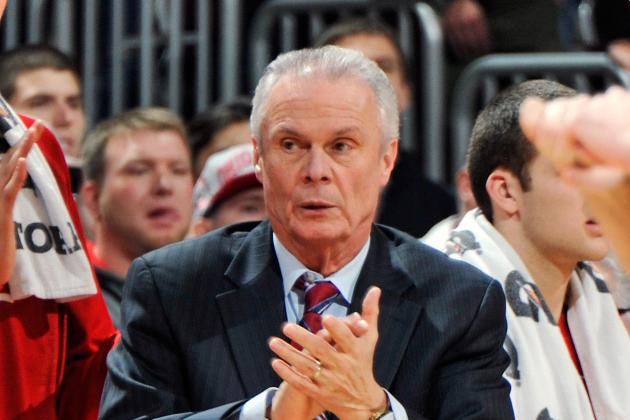 Jamie Sabau/Getty Images
The Master of the Mundane, Bo Ryan.
If Wisconsin has its way Thursday, it'll bore the Spartans to death with methodical ball movement and a huge dose of fundamentals.
That's great coaching from Bo Ryan, and it usually works to his advantage.
Dictating the pace of the game is how the Badgers emerge with wins while scoring under 50 or 60 points.
If Ryan's team grinds the Spartans to a pulp and uses the clock wisely, it'll win in East Lansing.
That can't happen for Michigan State. Confidence is at a premium, and being downed 45-42 at home would emotionally batter the Spartans.
That being said, Michigan State has to come out firing.
Speed. Speed. Speed.
That's how the No. 10 ranked Spartans will topple the visitors Thursday.
Follow Bleacher Report's Michigan State Spartans basketball writer Adam Biggers on Twitter @AdamBiggers81