Superstar or Has Been: MMA Fighters Time Is Catching Up With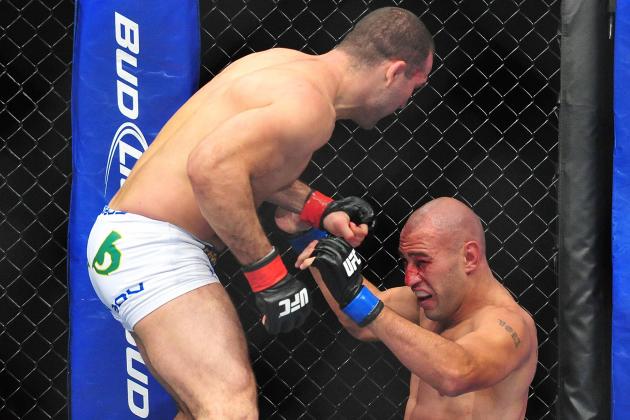 Gary A. Vasquez-USA TODAY Sports

Aging sucks.
Your hair falls out, your skin turns to silly putty and your status as a fighter dwindles from "championship-level" to "still really badass guy who just isn't what he used to be."
We can all relate.
As a 22-year-old writer, I sure know I can.
Time is not nice to any of us, but whenever you compound the effects of aging with brain damage, constant injury and copious amounts of stress, getting old flat out sucks more when you are a professional fighter.
Instead of your 13-year-old daughter making fun of your bald spot and sarcastically calling you "gramps," millions of eager viewers tune in on Saturdays to watch you get knocked out (again) on the world's greatest stage.
Oy.
Fear not, grumpy old fighters, for I am here to honor your advanced age.
Sure, making this list actually means I think of your skills as an MMA fighter in an unfavorable light, but that's OK.
You'll forget you were even on the list right after you hit up the Denny's Early Bird special, anyway.
Now, start the slideshow, and flip through it quickly.
I want to get off your lawns as quickly as possible.
Begin Slideshow

»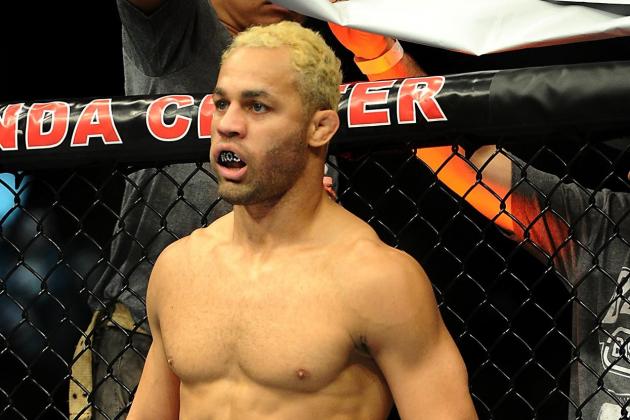 Jayne Kamin-Oncea-USA TODAY Sports

Those abs are impressive, Kos. I'll give you that.
Physique aside, though, you have not looked too good inside the Octagon lately.
Where is that explosive power? Where is your jaw-dropping athleticism?
In your last three fights, you've gone 1-2, with the sole win coming over Mike Pierce.
Sure, the loss to Johny Hendricks was close (and I personally thought you won), but you followed that performance up with a knockout loss to Robbie Lawler.
He's no spring chicken either, and you had no business losing to him, Mr. Koscheck.
I don't know if the American Kickboxing Academy houses the fountain of youth within its walls, but you just haven't looked the same since parting ways with the acclaimed gym.
Matt Roberts/Getty Images

Let us start out with something positive: The flexibility you showed on that front kick in the picture is impressive for a man of your age.
Your hips are undoubtedly a little creaky, but you pulled it off well, Mr. Sotiropoulos.
Now, for the bad.
You're 0-3 in your last three fights, and two of those losses came via brutal knockout.
I knew your chin was a little brittle whenever you got blasted out of contention on The Ultimate Fighter, but you bounced back with a youthful swagger.
After the show, you posted an incredible six-fight winning streak in which you showcased your excellent grappling skills and ever-expanding standup arsenal.
And then...Poof!
It all disappeared against Dennis Siver, and since that unanimous decision loss, things have not been looking so good.
First Rafael dos Anjos sent you face-first into the canvas, and then Ross Pearson used his right fist to make you levitate briefly before tumbling to the canvas in a heap.
I'm not going to sugarcoat this one, Mr. Sotiropoulos.
You're getting old and frail.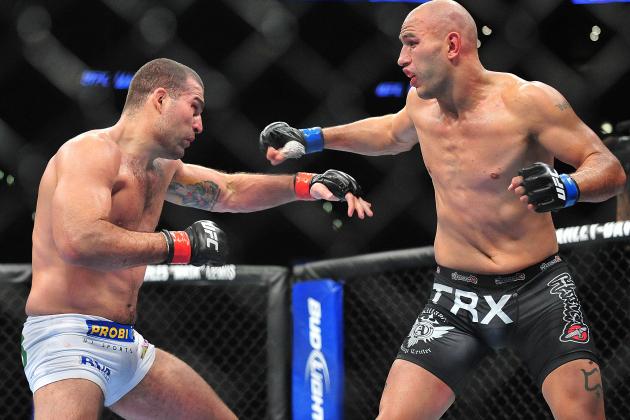 Gary A. Vasquez-USA TODAY Sports

I have some bad news for you, Mr. Vera.
That promise you made about becoming the heavyweight and light heavyweight champion that caused an Internet ruckus?
It's...It's not looking so good.
You're 35 years old, you haven't finished a fight since you destroyed Michael Patt (who?) with legs kicks in 2009 and you were most recently knocked senseless by Mauricio "Shogun" Rua at UFC on Fox 4.
I'm not one to crush hopes and dreams, but if you want to get to work on that promise, you better act fast.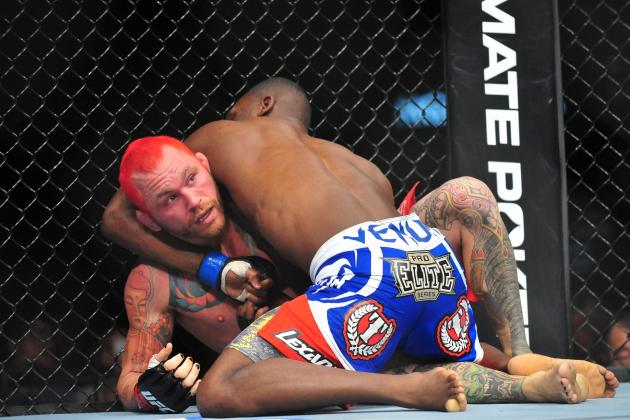 Gary A. Vasquez-USA TODAY Sports
Feel the youth squeezing your neck, Chris. Feel it.
Well, Mr. Leben, your file says you are 32, but the man I saw in the Octagon against Mark Munoz and, more recently, Derek Brunson was at least 47.
I commend you for always being a fan-friendly fighter. Really, I do.
You were always one of my favorites to watch, and I will never forget that remarkable Terry Martin knockout or your last-second submission victory over Yoshihiro Akiyama.
That said, the wars you decided to fight take their toll on the human body, and you are showing some serious signs of Octagon aging.
Your cardio and speed have fallen off sharply, and you have been stopped in two of your last four fights.
Two separate mortals stopped "The Crippler"?
Not in your heyday, sir...Unless his name is Anderson Silva, of course, but we won't bring that one up.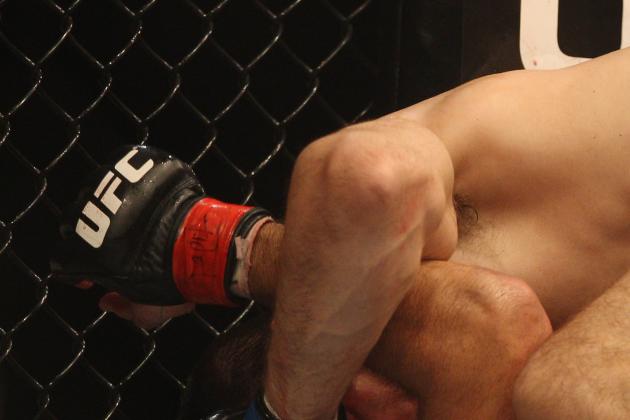 Mark Kolbe/Getty Images

A more naturally gifted fighter than you may never step into the Octagon, Mr. Penn.
Your ability to learn and to apply the intricacies of Brazilian Jiu-Jitsu in such a short amount of time is remarkable, and you will forever live as a true proged...pringed...ham...prodigy inside the cage.
But let's be honest with ourselves here.
You're not what you once were, and that's perfectly fine.
To your credit, you were not stopped by Rory MacDonald or Nick Diaz in your past two fights, but you were thoroughly outclassed by each of them, and the young, ferocious and hungry BJ Penn is nowhere to be found.
You can do many things ordinary men cannot, sir, but avoiding the wrinkly grip of seniority is not one of them.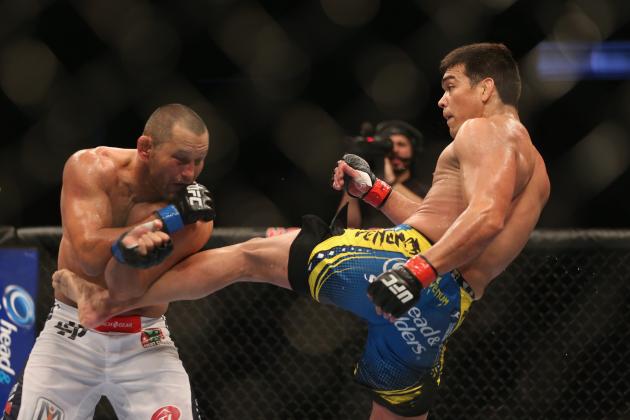 Jeff Gross/Getty Images

I had you booked for an appointment 10 years ago, Mr. Henderson, but you just kept fooling everybody and winning fights.
I applaud you for that, but the time has finally come to have a little chat.
You're slow.
You were never considered a super quick fighter, but Lyoto Machida really exposed just how flat-footed and plodding you have become with your advanced age.
In addition, your cardio, while it is impressive for a 63-year-old man, has not been up to par in recent fights.
The H-bomb is an incredible weapon, I'll grant you that, but if you do not land it early, you have nothing to fall back on.
I guess you really cannot teach an old dog new tricks, huh?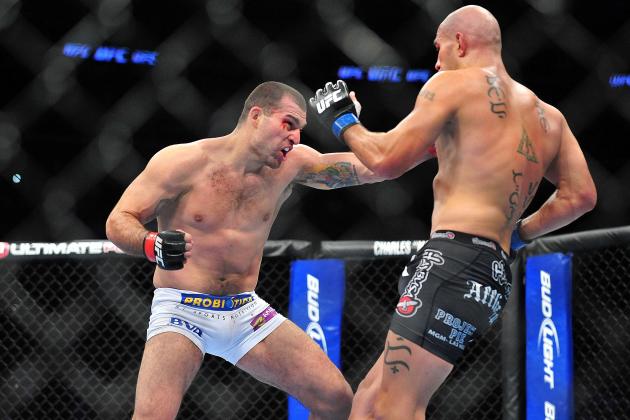 Gary A. Vasquez-USA TODAY Sports

I know you just want to bang, bro.
I know.
Look, your style is incredibly fun, and your fight with fellow grandfather Dan Henderson remains one of the most exciting fights in UFC history, but a man your age cannot keep taking two punches to deliver one forever.
You're only 31 according to your birth certificate, but the man I see step into the Octagon looks a full 10 years older. No doubt, this is a product of the countless wars you have participated in throughout your career.
I thank you for that.
Your body and your career do not.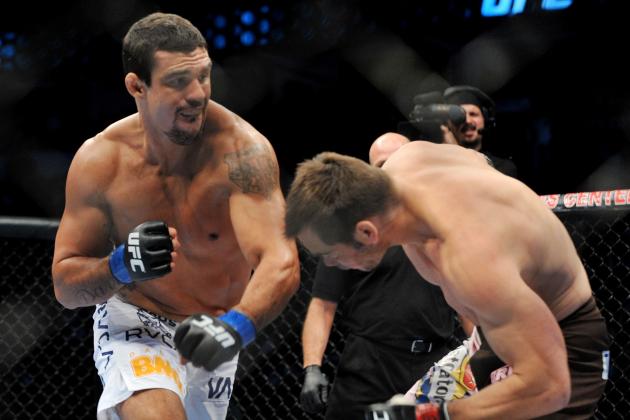 Jon Kopaloff/Getty Images

"Ace," you are a true UFC hero.
You consistently stepped up to the plate on short notice to take on dangerous opponents, and you were always ready to throw down on fight day.
But—and there's always a but—you have been knocked out five times in your career, and your most recent showing was legitimately scary to watch.
It was a clean punch that would have dropped any man, but with your history and the fact that you have little else to accomplish in your career, I think it is safe to say you have seen your best days inside the Octagon.
Make no mistake, I will still eagerly watch you compete and applaud your triumphs.
You have earned that measure of respect.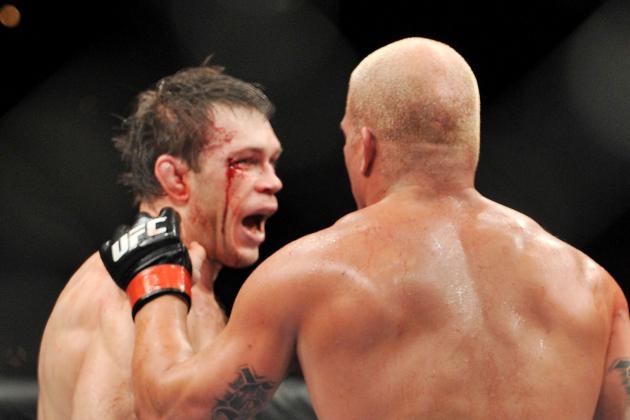 Jon Kopaloff/Getty Images

We have come a long way since that crazy reality TV show, haven't we, Mr. Griffin?
As a young, powerful fighter with an iron jaw and a willingness to engage in wild brawls, you became an instant fan favorite inside the Octagon (the fact that you are naturally hilarious did not hurt, either).
The young and chipper Forrest has been replaced by a more fragile form, though, and there is no ignoring the closing curtain that is your UFC stint.
In your last six fights, you have posted three wins and three losses.
Not bad.
Each loss occurred via ferocious knockout, though, and each win was a rather lackluster decision.
Don't worry, though. You will forever live in the UFC history books, sir.
I'm not sure what page—I'm pretty sure it'll be the chapter on chest hair—but you'll be there.
Of that I am certain.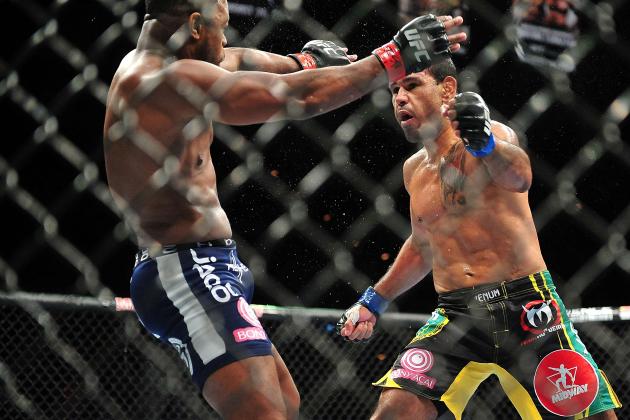 Gary A. Vasquez-USA TODAY Sports

I'll cut straight to the chase here: The Blackzilian camp ruined your career, Mr. Evans.
Once a dominant, fearsome fighter with overwhelming knockout power, your career evaporated before our eyes without Greg Jackson in your corner.
Your fight against Antonio Rogerio Nogueira was downright pathetic, and you looked more like "Splenda" than pure "Suga" in recent fights.
Fans miss your youthful spring and exuberance, and I am personally disappointed to see old age take its toll on your body.
I won't call AARP just yet, but the hotline is loaded into my phone, and I'm ready to press "call."
For fans of MMA, heavy metal or general absurdity, Follow @HunterAHomistek