10 College Football Teams That Can't Afford Discipline Issues in 2013 Offseason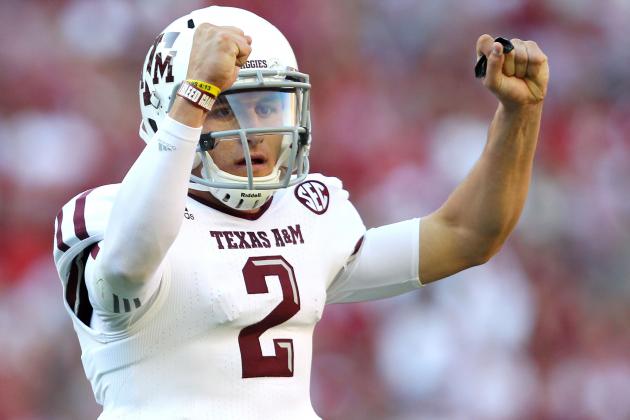 Mike Zarrilli/Getty Images

A long college football offseason provides the time for players and coaches to improve on the field and get that much closer towards accomplishing their goals. Unfortunately, the many months of off-time also leave an opening for guys to run into trouble.
With more time on their hands, we constantly see players' names in the headlines for all of the wrong reasons. The offseason is when a lot of arrests take place and schools are left with tough decisions to make.
How do you treat a player who was just pulled over for drunk driving? What do you do with somebody who just failed a drug test with the season less than a month away?
The best option would be to hope that your players are strong-minded enough to make positive choices and not have to make those decisions.
As we still have much of the offseason left to go, here are 10 programs that are hoping discipline problems don't occur.
Begin Slideshow

»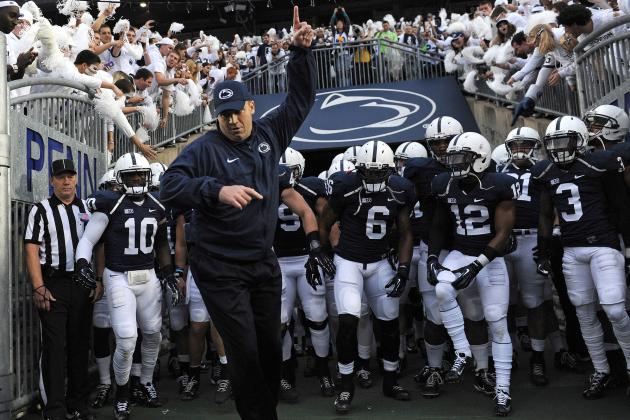 Patrick Smith/Getty Images

This is probably the most obvious.
It has been ugly for Penn State since late 2011. From the Sandusky incident, to everything surrounding former head coach Joe Paterno, all the way down the NCAA handing down unprecedented sanctions.
With three years remaining on the bowl ban and still many scholarships being taken away, Penn State is a school that should continue to try its best to keep its nose clean. Everything this program does will be magnified, considering it is fresh off arguably the worst investigation in all of college sports.
The good news is that head coach Bill O'Brien has done a tremendous job in his short amount of time and is giving Nittany Lions fans something to feel proud about. He needs to continue to keep up the good work and focus on moving forward with the success on and off the field.
It is still a long ways away before that black eye is ever removed, but by keeping the nose to the grindstone and plugging away, Penn State will continue to slowly build back its reputation.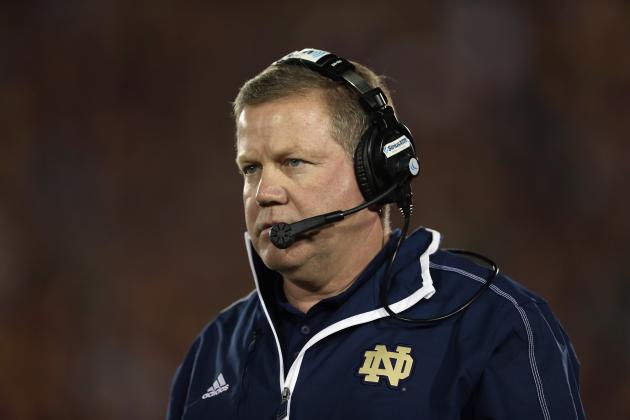 Jeff Gross/Getty Images

Alright, Brian Kelly.
The media has been hard on you for everything you have done at Notre Dame over the first three seasons, and you shut most of us up by leading your team to a national championship berth. But with a new offseason underway, now you have to focus on making sure your players don't do anything wrong.
In 2011 we saw star wide receiver Michael Floyd pickup a DUI and get suspended from the team indefinitely. Well, at least until the season opener against South Florida took place. Then last season, quarterback Tommy Rees and linebacker Carlo Calabrese were both involved in a ugly incident that took up most of the offseason storylines.
The hot seat rumors are now off the table, and folks are forced to finally say good things about the Irish. It has been a while since Notre Dame has had a positive outlook, but you know the latest slip up could change all of that for everybody.
Things are looking good for that team out in South Bend—don't blow it.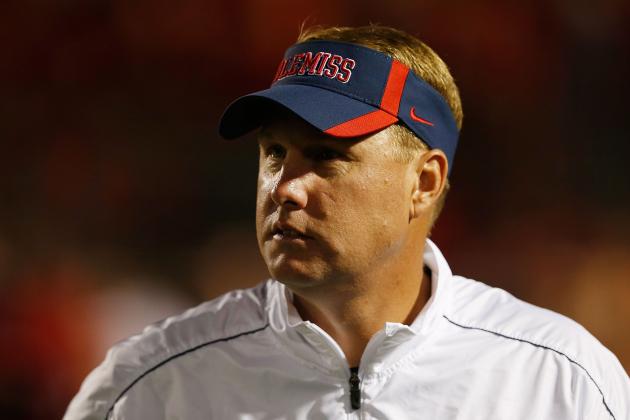 Scott Halleran/Getty Images

Head coach Hugh Freeze has already had to make tough decisions with his team after tight end Jamal Mosley was arrested last year. But that was when Ole Miss was still Ole Miss, and nobody probably even heard about that in the national news.
Now, Ole Miss is somewhat of a respectable program and has built more of a buzz than an upcoming Justin Bieber concert. With a surprising seven victories in his first season, Freeze has also put together one of the best recruiting classes in the country.
It goes without saying that the Rebels are clearly on the rise and are going to milk all of this attention until that cow runs dry. However, one way to spoil everything is to end up with negative attention during the offseason and force those critics to come out of their hole.
Freeze has done a wonderful job; now it is time to make sure those players are focused on competing with the big boys in the SEC.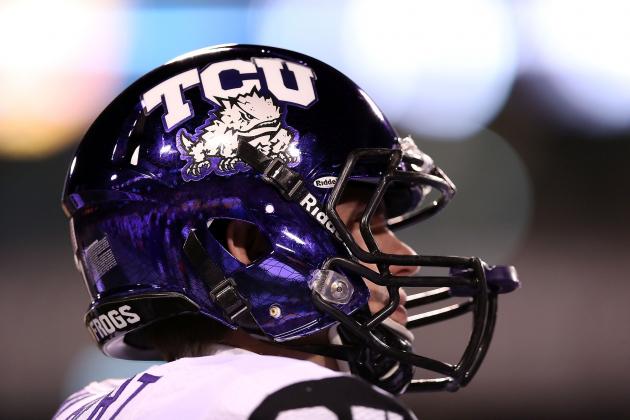 Christian Petersen/Getty Images

The first season in the Big 12 did not go as well as planned for the TCU Horned Frogs. Oh, the seven victories was a decent start, but the school could have done without having a drug bust take place.
Also, starting quarterback Casey Pachall found himself in hot water after picking up a DWI.
TCU is a school that has a ton of promise in its new conference. The job Gary Patterson has been able to do has made him one of the more underrated head coaches in the country. The Horned Frogs have been the definition of consistent over the years, and they return more than enough talent to seriously compete for a Big 12 title this season.
Coming off of a season that included too much controversy for one school to handle, I'm sure TCU would prefer to remain the program that nobody is talking about much. Sometimes being the team flying under the radar can be a good thing.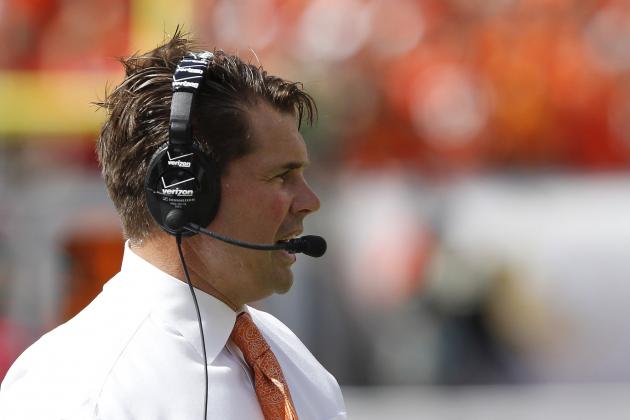 Joel Auerbach/Getty Images

Miami has built a reputation over the years of being the bad boy of college football. Usually a program would cringe when one of its players found himself in trouble, but it is almost as if Miami didn't think twice about some of those things.
Negative attention is never truly a good thing, but when your school was on the tip of everybody's tongue, in a way, it helped build the Hurricanes into a national powerhouse they still are today. Of course, it probably helped that the teams back then were winning ball games, which usually helps overshadow the off-the-field issues in today's sports world.
However, Miami is not winning many games these days, and the arrests continue to pile up under head coach Al Golden. Whether it was Thomas Finnie, Ramon Buchanan or the sexual assault case involving Jeffrey Brown, there is still a lot cleaning up that needs to be done.
Miami is still under the watchful eye of the NCAA, and the best bet would be to be on its best behavior.
Kevin C. Cox/Getty Images

Mark Richt has proven himself to be one of the more consistent head coaches in college football, but he is often dragged through the mud for not being able to win the big game. He also has a reputation of not keeping a tight enough leash on his players.
Where do we start?
Cornerback Branden Smith was arrested last year for marijuana possession. Ty Flournoy-Smith was recently arrested for a false report of stolen textbooks. Bacarri Rambo found himself suspended for the first half of the season after failing a drug test. Oh, and then we have the big arrest when former running back Isaiah Crowell was arrested on weapons charges and faced multiple felony charges.
Georgia enters the 2013 season as one of the favorites to win the SEC and compete for a national title. I'm sure the last thing Richt wants to see is this trend of talented players ending up in the back of police cars continue.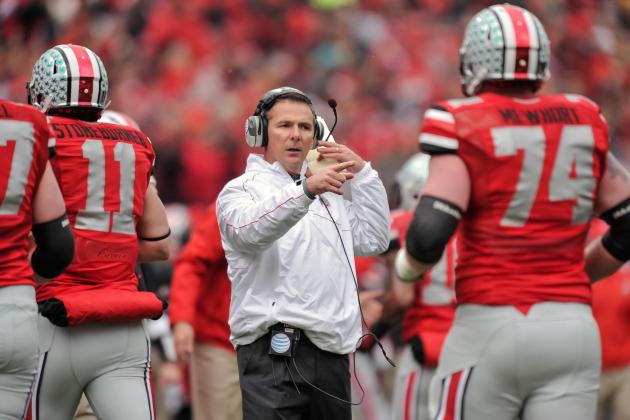 Jamie Sabau/Getty Images

Another head coach who has had a difficult time in keeping players out of the slammer is current Ohio State coach Urban Meyer. An Orlando Sentinel report shows that at least 31 players were arrested under his watch in the time he spent with the Florida Gators.
If you think all of that is behind him, Meyer has already had to deal with Jake Stoneburner and Jack Mewhort getting arrested, which is not a terrific start in Columbus. There is no question Meyer is one of the elite coaches college football has ever seen, but this endless string of arrests must come to an end at some point.
After running the table a year ago, Ohio State is the front-runner to not only win the Big Ten title this year, but the team also has a shot at reaching the national championship. An arrest to a key player would put a dent in those title hopes, but at this rate, any off-the-field issue at all will continue to force many to look at Meyer in a different light.
Can we go just one year without any incidents?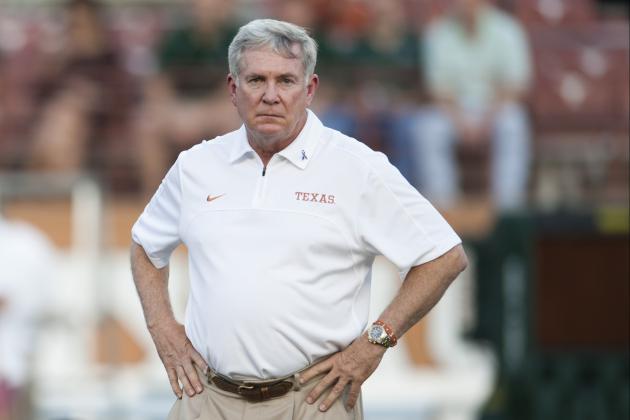 Cooper Neill/Getty Images

Texas is not only a program that is struggling to win football games, but one with kids who haven't exactly been on their best behavior. We have recently seen Longhorns be accused of sexual assault, and there were a group of players who were arrested last offseason.
Head coach Mack Brown is a tough-nosed coach who usually has his players under control with this type of stuff. But when you are a school that hasn't reached expectations the last three years, those few arrests that take place seem a lot bigger than they actually are.
This is going to be a make or break season, not only for the program, but Brown's job may likely be on the line as well. With 19 players returning, the most in the Big 12 this year, a conference title and BCS bowl is the goal.
No questions asked, guys had better remain focused on the task at hand and work together to get the job done. Of course, that starts with no foolishness during the offseason.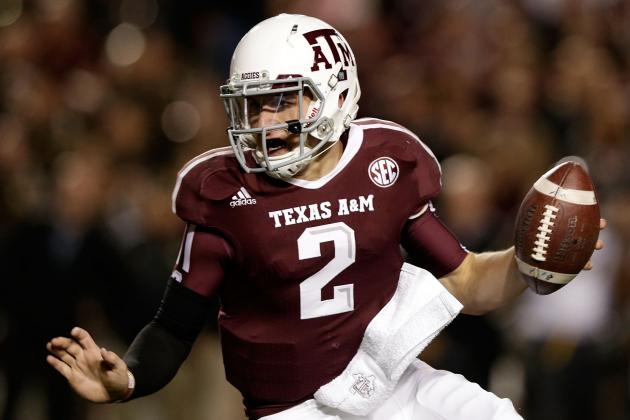 Scott Halleran/Getty Images

Now when I say Texas A&M, I am really talking about quarterback Johnny Manziel.
There is no reason to bash the kid because he really hasn't done anything wrong as far as breaking the law, and as far as we know, there have been no NCAA violations either. However, he has been walking a dangerous line this offseason that has included sitting court side at NBA games and flashing large sums of money on the internet.
Manziel is really living it up these days and making every young man jealous, as this is the ultimate dream for any college kid. But when every move you make is being watched closer than usual, and we are getting daily updates as if he was a Kardashian, you can't help but wonder if maybe he should be toning things down a bit.
Texas A&M and those national championship hopes are in large part because of the reigning Heisman Trophy winner. You would hate to see a chink in the armor and wake up with him in the headlines for all of the wrong reasons.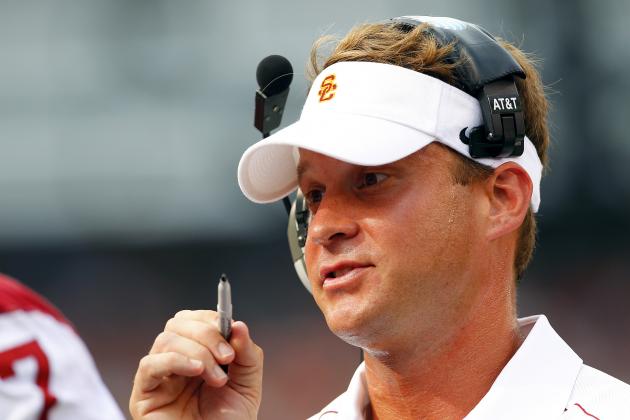 Rich Schultz/Getty Images

USC will likely have a much better season than it did last year. After all, there is really nowhere to go but up after the disaster that took place. But one of the things that certainly needs to change are the off-the-field issues that come with the losing.
Head coach Lane Kiffin has never been able to escape controversy just like Pig-Pen hasn't been able to shake that dust cloud. Just last year there was the deflated ball controversy, banning reporters from practice, a bizarre jersey switch and then there was a report that a fight took place in the locker room after the bowl loss to Georgia Tech.
When you combine these types of incidents with poor production on the field, things appear that much worse for everybody.
With the talent on the roster, it shouldn't be long before the victories begin to pile up. It is the silliness that involves the head coach that Trojans fans should be afraid of.