Power Ranking MLB Stars with the Sweetest Swings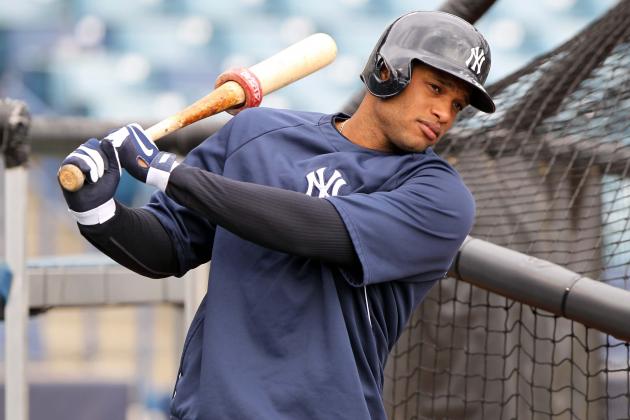 Kim Klement-USA TODAY Sports
Robinson Cano's swing is cooler than the other side of the pillow.
One of the best moments in sports is when the bat leaves the hitter's shoulders and violently crosses the plate, hoping to make contact with the baseball. We call this a swing.
As with basically everything in the world, some people are better at this than others. In this situation, some players have the smoothest swings in the game while others look like a train wreck when taking a hack at the pitch.
We can judge swings in a couple of different ways. Fluidity is one, looking at how easy the bat moves through the zone. Is the player's bat all over the place when swinging or does it go right through without much effort?
Another factor to take into consideration is how the bat is swung. Does the player open up when about to swing or does he keep his head in and his body closed? Batting stance plays a little bit of a factor to, but I won't be weighing that too heavily since someone could have a horrific stance and still have a good swing.
Using B/R MLB Lead Writer Zach Rymer's list of the 100 best players in baseball as a primer, I compiled a list of the 25 best offensive players. Here is how their swings match up with one another.
Begin Slideshow

»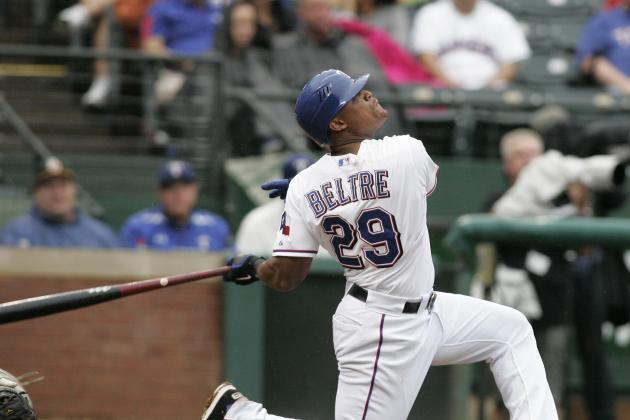 Tim Heitman-USA TODAY Sports

25. Adrian Beltre, Texas Rangers
Adrian Beltre is one of the top third baseman in baseball and he also has one of the most unorthodox swings around.
Beltre uses a lot of force swinging through the zone, but his swing is rather hard to look at.
Beltre swings so hard that he frequently goes down to one knee when he makes contact. That's the opposite of what you want to do. Make sure your kids don't watch him to get any ideas.
24. Yadier Molina, St. Louis Cardinals
Yadier Molina has a very relaxed batting stance and allows his bat to move rather smoothly through the zone. He's able to make contact so often because he doesn't swing with a ton of force.
Molina may have hit 22 home runs last year, but he's far from a power hitter. Molina also doesn't use his legs much when swinging. If he did he'd probably see those totals increase. Molina has a very basic swing.
23. Austin Jackson, Detroit Tigers
Austin Jackson has worked hard over the last couple of seasons to perfect his swing. When he came into the league, it was an absolute disaster and he had a tough time making contact.
Last season he showed that his swing had improved drastically, hitting .300. There are still a few kinks to work out, but Jim Leyland and the rest of the Detroit Tigers' coaching staff has the situation under control.
22. Ben Zobrist, Tampa Bay Rays
A switch-hitter, Ben Zobrist brings consistency from both sides of the plate to the table for the Tampa Bay Rays. He keeps his hands very close to his belt buckle and uses his quick bat speed to make contact.
He's a little hunched over, which causes him to swing with a bit of an uppercut at times. Personally, I'd like for him to stand more upright and really get full extension out of his arms. I believe that if he does this, he'll hit even better than he does now.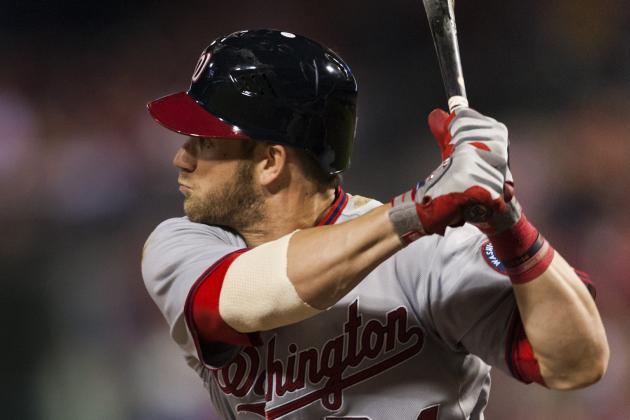 Howard Smith-USA TODAY Sports

21. David Wright, New York Mets
David Wright has a very pure swing that works to his advantage more often than not.
He has a little bit of movement in his arms, which he should try to reduce to prevent flying open when he takes a hack. He has great balance, though, and generates good power from his legs.
It's never too late to make a slight tweak to the way you swing and maybe Wright will decide to do so as he gets older.
20. Jose Reyes, Toronto Blue Jays
Jose Reyes has a ton going on when he steps into either side of the batter's box. His arms are moving and he tends to sway back and forth as he awaits the pitch. It's also interesting how far apart his feet are since it almost looks to be uncomfortable .
He makes it all work, though, with extremely quick hands that move through the zone with lightning speed. Reyes' fast bat allows him to hit line drives to all parts of the field. He doesn't need power to be productive.
19. Dustin Pedroia, Boston Red Sox
A big stride gives Dustin Pedroia the power he needs to hit balls over the Green Monster at Fenway Park. The undersized second baseman wouldn't have nearly as much power without the way he uses his stride
Pedroia is one of the toughest players to strike out and that's mainly because of his batting stance and swing. He's prepared for the pitch to go anywhere in or out of the zone. He makes small adjustments mid-stride and slaps the ball into play.
18. Prince Fielder, Detroit Tigers
For a big guy, it's no shock that Prince Fielder is a powerful player that hits a bunch of home runs each year. But that's not by chance, it's actually because he has a good swing.
Just by looking at his stance, Fielder doesn't even use his legs that much. It's all about his momentum toward the ball and being able to get his bat through the zone quickly. I would normally say to ditch the toe tap, but why change it if it works?
17. Bryce Harper, Washington Nationals
You will not find a faster bat than Bryce Harper's. Back in 2009 when people were just starting to talk about Harper, Tom Verducci of Sports Illustrated wrote that he had "faster bat speed than Mark McGwire in his prime."
That's nothing to scoff at for sure. Harper has a lot of things moving during his swing that I'm sure the Washington Nationals will try to reduce. He has golden hands, though, and that's part of what makes him such a fantastic young hitter.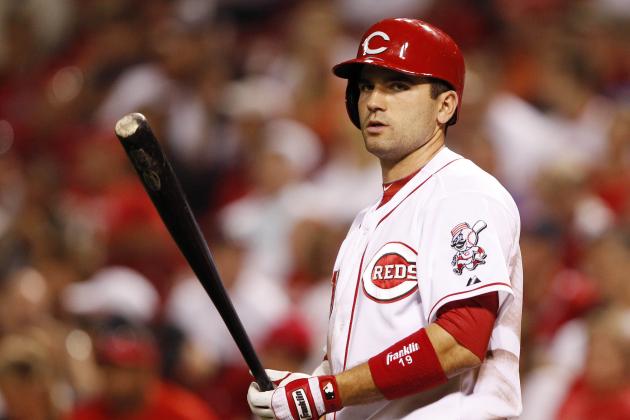 Frank Victores-USA TODAY Sports

16. Justin Upton, Atlanta Braves
Justin Upton features one of the best original swings in the game. There isn't much to it at all.
He has a relatively long stride that helps him load all of his power into the release. He takes strong hacks at the ball with his bat moving fluidly through the strike zone.
One thing that I'll critique him on is that it appears that he holds the bat too tight. He needs to relax more and that should help him with his approach at the plate. Being tense isn't going to help his cause.
15. Giancarlo Stanton, Miami Marlins
Giancarlo Stanton is one of the best power hitters in baseball, but his approach at the plate isn't that great. He loads up for so long that when he finally releases to come back toward the incoming pitch, his head moves around a lot, which causes all of those strikeouts.
Having your head fly out is a common error among hitters. If Stanton could perfect that, he'd be even more unstoppable than he already is. He just needs to keep everything together and all going in the same direction.
14. Andrew McCutchen, Pittsburgh Pirates
Andrew McCutchen has a very good swing because of how balanced he is at the plate. His form couldn't be any better and his numbers are certainly a product of that. He keeps his eye on the ball, doesn't let any part of his body fly open and sees good results.
I'm not the biggest fan of his high leg pickup as he gets ready to attack the baseball, but there's no sense in trying to tweak his swing. One thing that I'd like to see McCutchen do a couple of times is swing with two hands instead of one. I'd be interested to see if there was much of a difference.
13. Jason Heyward, Atlanta Braves
As you can probably tell already, I don't like all of the moving parts that some batters show off when they step up to the plate. Jason Heyward is one of those players, but I still love how he's able to make it all work. Literally everything is moving, from his hands to his hips.
He also has that little stutter step, which I feel that he'll eventually kick to the curb. He has great hands and seems to be extremely relaxed in the batter's box. It's tough not to like something that works so well, even if there are things you'd do differently.
12. Mike Trout, Los Angeles Angels
The best young player in baseball also has one heck of a swing. I actually don't have a problem with his pre-swing movement because it's rather subtle and doesn't seem to have a big effect on him. He does have a rather high leg raise, but it's part of how he generates so much power.
The main component, though, are his hands. He has crazy fast hands that move through the zone so quickly you don't even realize it. He has great balance and a very fluid motion through the zone. Everything just clicks.
11. Joey Votto, Cincinnati Reds
Joey Votto is one great hitter and he doesn't get enough credit for how sweet of a swing he has. He doesn't fly open, he keeps his eye on the ball and makes hard contact each time he takes a cut.
Of course, you already know I'm going to comment on the leg raise. It's really much too high. I understand that it helps him generate power and time pitches better, but even if he lowered it a tad I think he'd see good results. The shorter the swing the better.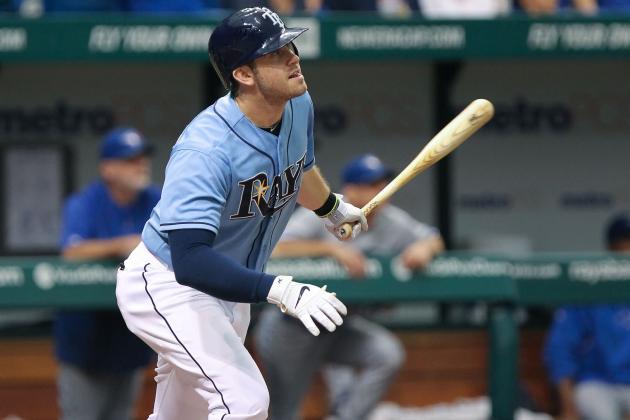 Kim Klement-USA TODAY Sports

10. Albert Pujols, Los Angeles Angels
If you've ever watched Albert Pujols' swing in slow motion, you probably fell in love. It's nearly picture perfect.
His hand-eye coordination is phenomenal and the way he stays balanced throughout the entire swing is remarkable. Don't even get me started on his footwork, which is near unbeatable.
He attacks the power with all of the torque he creates during his load and is able to unleash it all of whenever he wants. He has a unorthodox approach in terms of how he holds the bat, but makes it work.
9. Matt Kemp, Los Angeles Dodgers
Matt Kemp has underrated power that could be even better if he made one big change to his swing. He doesn't really load much. If you watch him take hacks, he really just lifts his left, transfer a little bit of power and swings.
There isn't much torque created, he's just a powerful guy that hits a lot of home runs. He does make a lot of hard contact and has the ability to work the ball to all fields. He keeps his eye on the ball all the way through the zone and in a smooth fashion.
8. Josh Hamilton, Los Angeles Angels
With quick hands, a balanced body and great hand-eye coordination, Josh Hamilton is one of the most feared hitters in the game. He has a concise swing that has improved by lessening how much he raises his leg each time he loads.
He is still able to transfer his power with ease, although he does tend to fly open at times. The way he loads makes it natural to fly open, which could be tough to fix, but it's still possible. Hamilton needs to stay closed just a split second longer and then he'll have a perfect swing.
7. Troy Tulowitzki, Colorado Rockies
In order to make it this high in my rankings, a player has to have a great swing. The fact that Troy Tulowitzki moves about as much as anyone on this list speaks to how good his swing really is. Tulowitzki's upright stance is a bit unorthodox since he basically doesn't bend his knees at all.
He moves his bat back and forth before loading and brings it back at the perfect time to unleash. He gets great torque from the rotation of his hips too. His stance may be out of control, but that doesn't take away from how good of a swing the Colorado Rockies' shortstop has.
6. Evan Longoria, Tampa Bay Rays
Evan Longoria's swing is a bit like Troy Tulowitzki's, but the Tampa Bay Rays' third baseman has a bit of an edge. He has much more control over his bat, keeping it virtually still above his shoulders. He takes a long stride to generate torque and create a bunch of power.
He has great hand-eye coordination and keeps his balance mid-swing. His footwork is supreme and has both feet in the perfect spot to make contact. Rarely does Longoria have a poor-looking swing.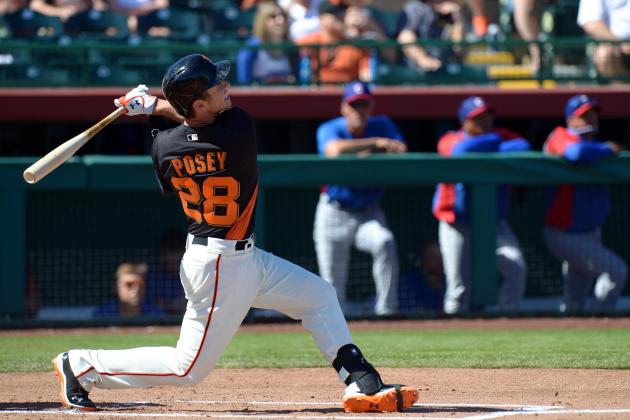 Jake Roth-USA TODAY Sports

5. Jose Bautista, Toronto Blue Jays
It may look like Jose Bautista swings harder than any other player in baseball and, well, that's probably because he does.
Bautista gets so much torque during his load, his only option is to release that momentum into his swing.
His stride is better than most and it helps him stay balanced at the plate. No matter how long his leg is raised before completing his swing, his eyes stay on the ball the entire time. He's able to adjust while the pitch is coming toward him and then connects with hard contact time and time again.
4. Miguel Cabrera, Detroit Tigers
Miguel Cabrera has a very relaxed, yet powerful swing. He does, however, have a unique approach to the ball. He brings his hands down and then swings with a bit of an uppercut. His power transfers perfectly from his back foot to his front foot and that's why he's able to hit so many home runs.
He keeps his head down all the way through and makes a fluid motion toward the incoming pitch. Cabrera is rarely fooled on pitches and is one of the most consistent hitters in baseball.
He can credit that all to his swing.
3. Robinson Cano, New York Yankees
For a guy that moves his hands so much before the pitch is delivered to home plate, Robinson Cano has one of the sweetest swings in baseball. He has fantastic timing, mainly due to the fact that his leg lift is concise and he has very quick hands.
He's able to make the adjustment for an inside pitch, moving his hands in and still connecting to drive balls into the short porch in right field at Yankee Stadium for home runs. He's one of the most consistent hitters and could potentially challenge a couple of batting records before he retires.
2. Buster Posey, San Francisco Giants
Buster Posey has one of the highest leg lifts on this list, but when he does raise his leg so that his left knee is basically over his hip, he stays perfectly balanced. He then uses all of that momentum to swing violently through the zone.
His arms are at a perfect angle, his head is down and his body stays closed. Posey sees the ball all the way through the strike zone and makes solid contact frequently. His swing is just so smooth and fluid.
Watch his swing in slow motion and tell me that's not a work of art.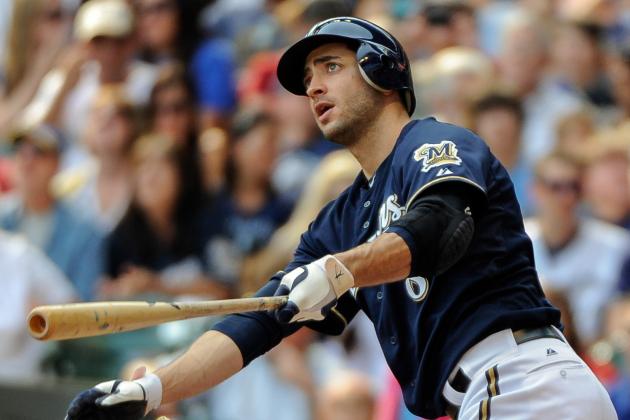 Benny Sieu-USA TODAY Sports

1. Ryan Braun, Milwaukee Brewers
Ryan Braun has a perfect swing; it's a swing you can tell your grandchildren you saw someday—or now, if you happen to be reading this and already have grandchildren. Either way, it's something spectacular to see.
Let's break it down, shall we?
It's unorthodox to say the least. His footwork doesn't flow like the other stars on this list. His front foot is nearly off the ground while his back foot is planted into the ground. His left foot gets raised high in the air during his load as he transfers all of his power to his back foot. Although I've been against the high leg raise, it works here. It's too perfect to critique. If you're going to lift your leg, do it like Braun does.
Next, he has great balance. Although there are a bunch of moving parts, he stays balanced. When the bat flies through the zone, everything looks perfect. His head is looking down on the ball, I already said his feet are great, and his arms form the perfect shape.
His hands move quickly and he's able to bring his arms in and adjust to inside pitches. He's great at spreading the ball all around the field. For someone with such a weird load, he makes it work. He hits with so much power and so much hard contact it's scary.
Tape Braun's at-bats, because you may never see as good of a swing in your entire life.