NBA's Top Plays and Sickest Dunks from Week of February 25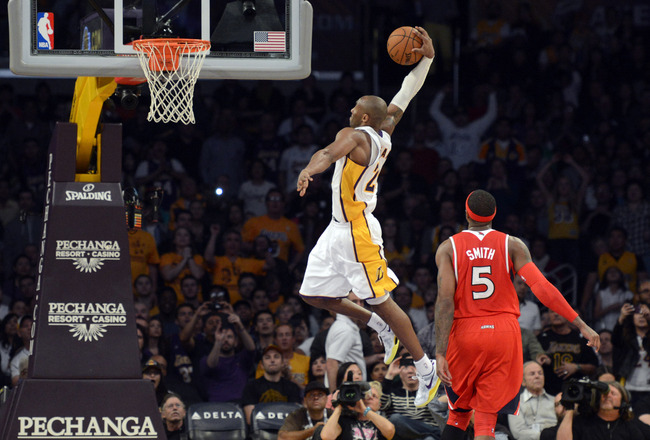 Richard Mackson-USA TODAY Sports
The 2012-13 NBA campaign has been chock-full of amazing displays of dunk artistry, pretty pinpoint passing, ferocious blocks on the defensive end and more.
It seems every single week there are at least 20 plays and performances that deserve to be featured on the highlight reel, but we're narrowing it down to the 10 best we could find from Feb. 25 to March 3.
Click through to view the videos, read our analysis and more for these awesome highlights.
John Wall Nails Crazy 360 Layup
Play Info: Sunday, March 3. Washington Wizards vs. Philadelphia 76ers
It's not every day you see an NBA player do a complete 360 in the air and finish a pretty layup, but John Wall managed to pull it off.
The Wizards guard displayed immense athleticism and excellent control as he carved his way to the hoop, past two defenders, for two of the prettiest points he may ever get in this league.
Ty Lawson's Jumper Drops OKC
Play Info: Friday, March 1. Denver Nuggets vs. Oklahoma City Thunder
The Nuggets are one of the more underrated teams in the Association, and they just further proved that no one should want to face them in a seven-game series this spring.
Ty Lawson helped the squad to an incredible victory by nailing an absolute dagger in Russell Westbrook's face to put the Nuggets ahead, 105-103—capping a relatively mediocre game for the point guard.
Kenneth Faried Dunks on Howard
Play Info: Monday, Feb. 25. Denver Nuggets vs. Los Angeles Lakers
Kenneth Faried isn't scared of dunking on anyone, and he's certainly not going to shy away from contact with Dwight Howard.
After being on the receiving end of a two-handed shove from D12 (which drew a Flagrant 2 foul, an ejection and fine for the Lakers big man) earlier in the season, the Nuggets forward earned some revenge on Monday.
His alley-oop flush on Howard was served up on a cold dish from Andre Iguodala.
Joakim Noah Completes Rare Triple-Double
Play Info: Thursday, Feb 28. Chicago Bulls vs. Philadelphia 76ers
Joakim Noah isn't a player many think of as a triple-double machine, but he notched his second of the 2012-13 campaign.
He finished the day with 23 points, 21 rebounds and an incredible 11 blocks against the Sixers, helping lead the Bulls to a 93-92 win.
Blake Griffin Finishes Ridiculous Slam in Traffic
Play Info: Tuesday, Feb. 26. Los Angeles Clippers vs. Charlotte Bobcats
Blake Griffin is no stranger to highlight reels and top-10 lists, so it's no surprise to see the Clippers superstar on our list again this week.
DeAndre Jordan started a fast break that began with a block, saw Chris Paul push it up the court and gently toss it back to Griffin for the slam.
What was special about this was that the Clips forward had his arm grasped by Gerald Henderson, absorbed the contact and still finished the play for the hoop plus the harm.
LeBron James Turns Warm-Ups into Dunk Contest
Play Info: Friday, March 1. Miami Heat vs. Memphis Grizzlies
LeBron James is making shockwaves with his recent dunking displays prior to games.
He put together a string of slams that would have easily won him a Slam Dunk Contest title prior to helping the Heat defeat the Griz late last week.
No wonder Magic Johnson offered up $1 million to see the three-time MVP in the All-Star Weekend dunking contest.
Stephen Curry Goes off in NYC
Play Info: Wednesday, Feb. 27. New York Knicks vs. Golden State Warriors
It seems that Madison Square Garden brings out some of the top performances from opposing players, as Steph Curry has recently joined the list of stars to put together a career night under the bright lights in the Big Apple.
Curry dropped 54 points (18-28 FG, 11-13 3PT), seven assists and six rebounds—but still wasn't able to help the Warriors get past the Knickerbockers.
Regardless of the outcome, Curry proved that he's a rising star in this league and should be a force for years to come—as long as he can stay healthy.
Kevin Durant Hits Insane Reverse Layup
Play Info: Friday, March 1. Denver Nuggets vs. Oklahoma City Thunder
It's not too often that a player with Kevin Durant's scoring ability comes around. It's also not too often that a scorer makes a play that reminds us all of one Julius "Dr. J." Erving.
Well, KD decided to take a page out of the history book and bolster his resume by completing one of the most ridiculous layups in league history.
The Thunder forward took it hard to the lane, was driven to the baseline and needed to contort his body to put in an insane up-and-under, reverse shot that somehow went in against tough defense.
Whether it's a miracle or pure skill is up to you to decide, but we're leaning toward the latter.
Monta Ellis Sinks Crazy Game-Winner
Play Info: Wednesday, Feb. 27. Houston Rockets vs. Milwaukee Bucks
Monta Ellis may get a lot of flak for shooting three-point shots—and rightfully so as a 23.5 percent shooter taking 3.4 attempts from long range per game—but Bucks fans will certainly forgive him for hoisting this one up.
After backcourt partner Brandon Jennings was absolutely shut down by Houston's Jeremy Lin in the waning seconds of a tie game, Ellis received a feeble pass a few feet behind the line in an awkward position.
In a complete hero ball move, Ellis quickly spun and fired to sink a game-winning dagger with barely any time left on the clock at the release.
The guard decided to head right to the locker room to celebrate, knowing full well he had it off in time.
Kobe Bryant Dominates Josh Smith
Play Info: Sunday, March 3. Los Angeles Lakers vs. Atlanta Hawks
Kobe Bryant has put the Lakers on his shoulders and seems to be extremely rejuvenated after this All-Star break.
That certainly showed on Sunday night, when the Black Mamba knew he needed to come up with two clutch points in the final few minutes of a tightly contested game against Atlanta.
With the Hawks leading 94-93, Bryant knifed his way through the lane and past Josh Smith, rising and slamming in a contest jam against a contesting J-Smoove and over a picked Zaza Pachulia.
It may have swung the game, as L.A. went on to win 99-98 and is finally back to .500 thanks to Bryant's clutch factor.
Keep Reading