Top 10 College Basketball Conference Tournaments to Watch in 2013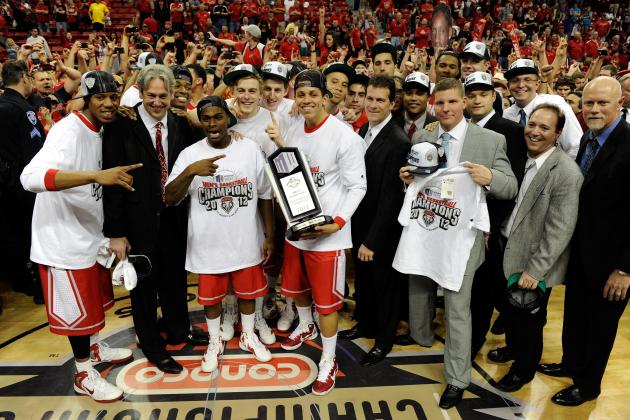 Ethan Miller/Getty Images
New Mexico will look to defend its title in the 2013 Mountain West Conference Tournament. The Mountain West is currently the No. 1 ranked RPI conference.
With less than two weeks until Selection Sunday, it's time for college basketball's last step before March Madness, conference tournaments.
It's the stretch where teams solidify themselves as No. 1 seeds in the NCAA tournament. It's the time when bubble teams either play themselves in or out of the dance. It's the moment where improbable upsets are made by teams with losing records to knock out those potential last few bubble teams.
Not only that, the conference tournaments serve as a great warm-up for the NCAA tournament. They are single elimination, the teams get tougher as you advance and most of them are on neutral courts played over consecutive days.
Several programs will be playing in a different conference tournament for the first time in 2013. Some conference tournaments are returning to old venues or moving to a new arena for the first time.
In a year where there have been a premium amount of upsets in the regular season, the 2013 conference tournaments should provide exceptional thrills and excitement.
Here are the Top 10 conference tournaments to watch this season.
Begin Slideshow

»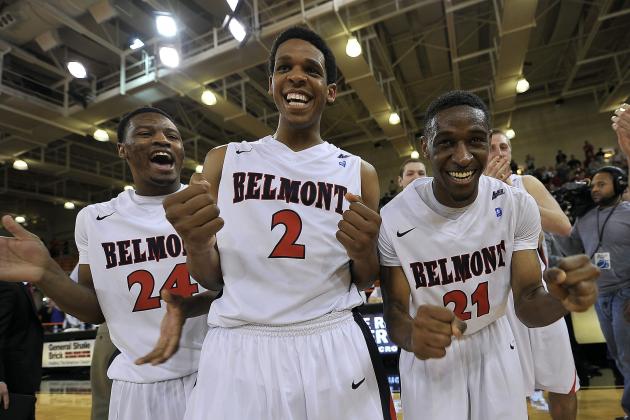 Paul Abell-USA TODAY Sports
Belmont will be the No. 1 seed in the Ohio Valley Tournament in its first year with the OVC.
2013 OVC Tournament site: Nashville Municipal Auditorium, Nashville, TN
2013 OVC Tournament dates: March 6-9
Team additions: Belmont
Team losses: Jacksonville State (ineligible)
Dating all the way back to 1949, the Ohio Valley Conference has built one of the great historical postseason tournaments.
Most of the schools reside in Tennessee or Kentucky, which leaves a short drive to the OVC Tournament that has taken place in Nashville 18 of the past 19 years.
No matter what venue the event is in, the fans pack the smaller-size gyms, and give the tournament a fantastic environment over the weekend.
A new twist this year will be the addition of Belmont. The Bruins won the Atlantic Sun Tournament five of the past seven seasons, and will be the No. 1 seed in the 2013 OVC Tournament.
Not only has the OVC Tournament been exciting in the past, the champion has had great success in the first round of the NCAA tournament. Murray State won both of its first-round games in 2012 and 2010 while Morehead State did the same in 2011.
This tournament might not get a lot of publicity on the national stage, but it's certainly worthy of cracking the Top 10.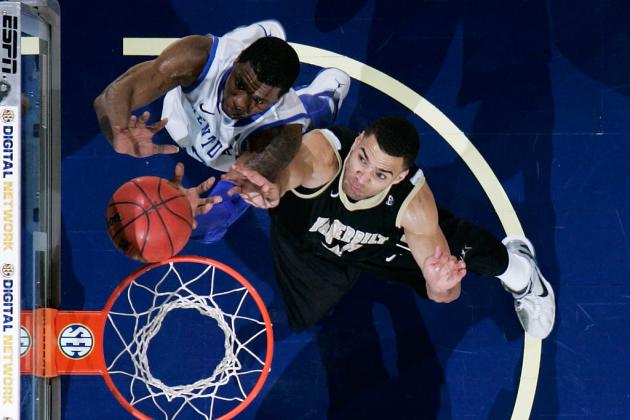 Chris Graythen/Getty Images
Vanderbilt stunned eventual national champion Kentucky in the 2012 SEC Tournament.
2013 SEC Tournament site: Bridgestone Arena, Nashville, TN
2013 SEC Tournament dates: March 13-17
Team additions: Missouri, Texas A&M
Even though this is the first time the SEC will have 14 teams in its tournament, the buzz just isn't there.
It's not just that the SEC is the No. 8 ranked RPI conference (via RealTimeRPI.com), it's that no one is making any form of a push to catch Florida down the stretch.
Kentucky has been shaky without Nerlens Noel. Alabama lost two of its last three and couldn't beat Auburn in early February. Arkansas can't win away from home. Ole Miss recently laid eggs at Mississippi State and South Carolina. Tennessee made a run in February, but just lost at Georgia by 10.
While Florida hasn't been the strongest on the road recently either, the Gators stingy defense (third in scoring defense at 53.4 ppg) and balance on offense puts them far above the others on a neutral court (per NCAA.com).
Missouri might be the one team to take Florida down with its high-powered offense (17th in scoring at 77.1 ppg) and rebounding ability (fourth in rebounding margin at 9.6 per game).
If not, the Gators will have stroll through SEC Tournament at ease and play their way to a No. 2 seed for the NCAA tournament.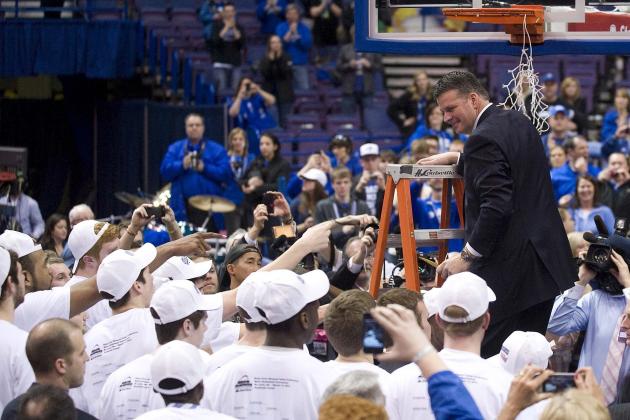 Jeff Curry-USA TODAY Sports
Creighton has won seven Missouri Valley Tournament titles since 1999.
2013 MVC Tournament site: Scottrade Center, St. Louis, MO
2013 MVC Tournament dates: March 7-10
Team changes: None
The Missouri Valley Conference is never the deepest league, but it always has several NCAA tournament teams that cause madness in March. It was only three years ago when Northern Iowa knocked off the overall No. 1 seed Kansas in the second round of the dance.
This will be the 22nd-straight year the MVC Tournament is in St. Louis and the eighth-straight time inside the Scottrade Center.
Creighton and Wichita State are leading the charge in Arch Madness for 2013. Once again, Northern Iowa has entered the picture having won seven of its last nine and will be the No. 3 seed. Indiana State is still sitting on the bubble because of quality wins both in and outside the MVC.
It goes further than that. Creighton won the MVC regular season with an 11-5 conference record. Southern Illinois finished last at 6-12 and beat Wichita State, Northern Iowa and Indiana State.
It's easy to say anything can happen in college basketball. There's a lot more meaning to that when it comes to the Missouri Valley Tournament in 2013.
Expect constant games coming down to the wire in Arch Madness this week.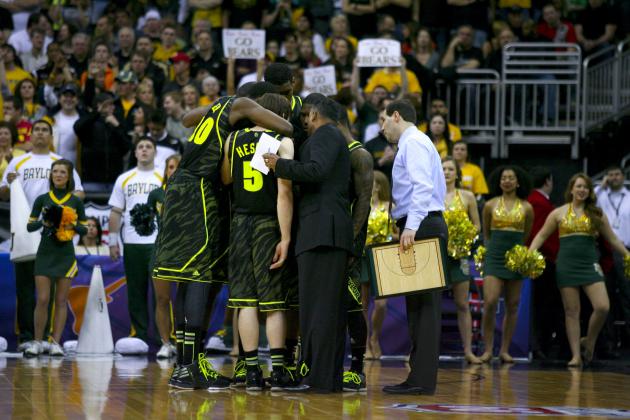 Ed Zurga/Getty Images
Baylor needs a solid run in the 2013 Big 12 Tournament to make March Madness.
2013 Big 12 Tournament site: Sprint Center, Kansas City, MO
2013 Big 12 Tournament dates: March 13-16
Team additions: West Virginia, TCU
Team losses: Missouri (SEC), Texas A&M (SEC)
The Big 12, like many other conferences, is going through a transition phase. This year, West Virginia and TCU will make their debuts in the Big 12 Tournament, while defending champion Missouri and Texas A&M have left.
It's really a conference divided in half. Kansas, Kansas State, Oklahoma State, Oklahoma and Iowa State are all playing at a fairly high level. Baylor has lost eight of its last 11, is looking more like one of the bottom-half teams in the Big 12 and is playing itself out of the dance.
For the teams that are playing well, Kansas will be playing for a No. 1 seed in the NCAA tournament. Kansas State, Oklahoma State and Oklahoma will be trying to improve their seeding for March Madness. Iowa State needs a few wins to ensure its bid to the dance.
Also, if the Cyclones are able to face the Jayhawks for a third time, that will be a must-see game. Ben McLemore banked in a three-pointer to send the game to overtime, eventually leading to a Kansas victory in the first contest. Then, behind some poor officiating as pointed out by Matt Norlander of CBSSports.com, Iowa State blew another second-half lead in the second game, and Kansas prevailed in overtime again.
The Sprint Center will host the Big 12 Tournament through 2016 (via ESPN.com) and serves as a fantastic host just outside the bar district in downtown Kansas City.
Unfortunately, the conference isn't very deep this year and the Big 12 Tournament only reaches the No. 7 spot in 2013.
Stephen Dunn/Getty Images
No. 6 seed Colorado won the 2012 Pac-12 Tournament in its first year with the conference.
2013 Pac-12 Tournament site: MGM Grand Garden Arena, Paradise, NV
2013 Pac-12 Tournament dates: March 13-16
Team changes: None
Doesn't it seem like everyone is playing in Las Vegas these days?
It's true. The Pac-12, Mountain West, WAC and West Coast Conference will all play their conference tournaments in Vegas this March. The Pac-12 Tournament had been played at the Staples Center in Los Angeles the last 11 years.
Fans like going to Vegas, so it makes sense. I'm guessing UCLA and USC fans aren't too happy about it though.
With that, the Pac-12 has quietly become one of the more intriguing conferences in college basketball. Arizona is in a bit of a funk having lost its last two games. California is on fire having won its last seven, while UCLA has won six of its last seven. Arizona State desperately needs to make a run if it wants to dance.
All of a sudden, nine of the 12 teams in the conference are 8-9 or better, and currently ranked in the RPI Top 100 (via RealTimeRPI.com).
The Pac-12 has been down the last few seasons, but this is a sign that things are turning around. Pac-12 basketball is back.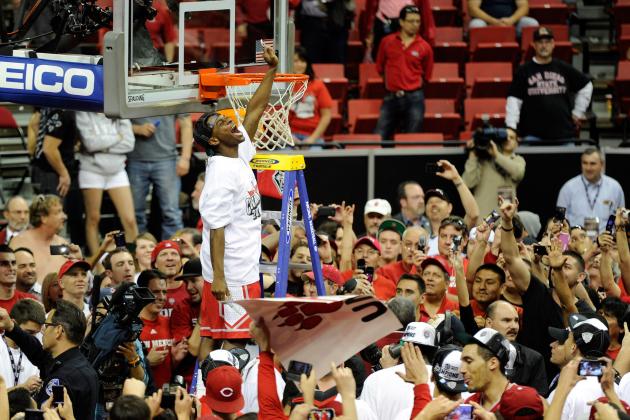 Ethan Miller/Getty Images
New Mexico celebrates after winning the 2012 Mountain West Tournament.
2013 Mountain West Tournament site: Thomas & Mack Center, Las Vegas, NV
2013 Mountain West Tournament dates: March 12-15
Team additions: Fresno State, Nevada
Team losses: TCU (Big 12)
With seven of the nine teams in the Mountain West ranked in the RPI Top 100 (via RealTimeRPI.com), the conference will have its best tournament in its history.
While some other conferences have more teams and therefore have just as many programs in the RPI Top 100, only having nine members ensures that you play everyone twice and makes the competition tougher on a weekly basis.
Since the top teams in the nation continue to lose periodically, New Mexico has an opportunity to state its case for a No. 1 seed in the NCAA Tournament. The Lobos, ranked No. 2 in the RPI rankings (per RealTimeRPI.com), have 17 wins inside the RPI Top 100 and will have another chance at Air Force on March 9.
If New Mexico closes the Mountain West Tournament on a 10-game win streak and earns 20 wins inside the RPI Top 100, the Lobos have as good of a case for a No. 1 seed in the dance as anyone.
Colorado State, UNLV and San Diego State are all NCAA tournament caliber teams that will look to prevent New Mexico from becoming back-to-back conference-tournament champions. Also, in just its second year with the Mountain West, Boise State will try to improve its resume for a bid to the NCAA tournament.
Just for a fun thought, imagine what the Mountain West's RPI ranking would be if Fresno State and Nevada didn't join the league?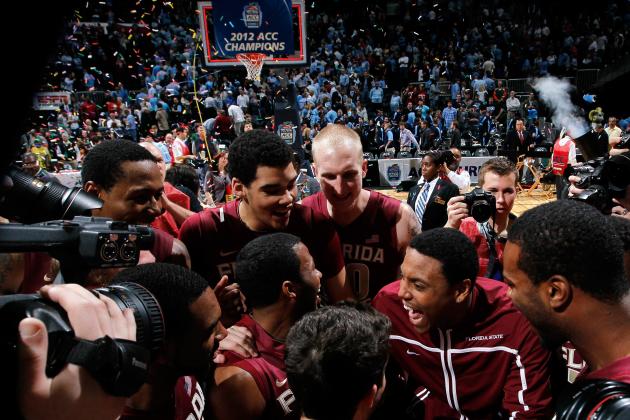 Kevin C. Cox/Getty Images
Florida State shocked the ACC after winning the 2012 ACC Tournament.
2013 ACC Tournament site: Greensboro Coliseum, Greensboro, NC
2013 ACC Tournament dates: March 14-17
Team changes: None
It's good to see the ACC Tournament back in Greensboro Coliseum until 2015 (according to theACC.com). This is a tournament that dates all the way back to 1954 and has been played in the state of North Carolina 48 of 59 times.
Understandably, the conference has tried to mix it up geographically, but the heart of the ACC is in North Carolina. The tradition should be kept, not diminished.
This has been a conference dominated by Duke and North Carolina. The Blue Devils or Tar Heels have been the No. 1 seed in the ACC Tournament since 2003.
Furthermore, since 1997, only two times has a team other than Duke or North Carolina won the ACC Tournament (Maryland in 2004, Florida State in 2012).
While Duke is ranked No. 3 in the Top 25 and North Carolina has won its last five, there is too much depth in the ACC this year to call either an easy favorite.
Miami has already locked up the No. 1 seed and has won three of four against the Blue Devils and Tar Heels. North Carolina State defeated Duke and North Carolina at home and has won five of its last six. Virginia and Maryland are both bubble teams who are 3-3 combined against the two ACC powerhouses.
All these teams have a legitimate shot to win the 2013 ACC Tournament trophy.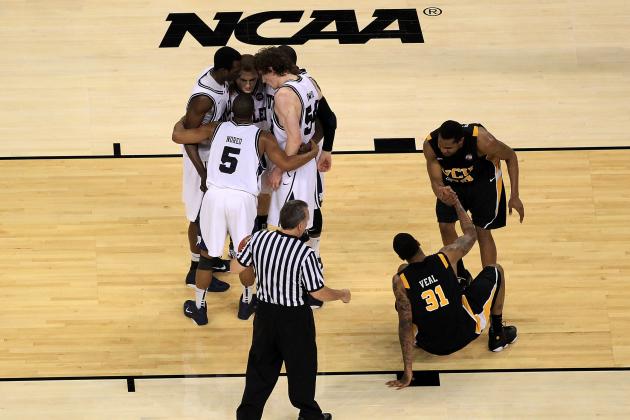 Streeter Lecka/Getty Images
Butler and VCU will experience the Atlantic 10 Tournament for the first time in 2013.
2013 Atlantic 10 Tournament site: Barclays Center, Brooklyn, NY
2013 Atlantic 10 Tournament dates: March 14-17
Team additions: Butler, VCU
As far as depth goes, the Atlantic 10 Tournament will have the best collection of teams of any conference. With 16 teams in the conference, only the top 12 will qualify for the conference tournament.
Duquesne, Fordham and Rhode Island have already been eliminated. According to the current RPI rankings (via RealTimeRPI.com), if George Washington becomes the fourth team to be left home, every team in the Atlantic 10 Tournament will be ranked 105th or better.
Thanks to the additions of Butler and VCU (both met in the Final Four in 2011), the 2013 Atlantic 10 Tournament promises to have more nail-biting finishes than ever. Both the Bulldogs and Rams have passed the test in their first years in the conference with a combined 20-8 record to this point, and both teams should be in the dance.
Saint Louis and La Salle are two NCAA tournament worthy teams that will challenge Butler and VCU for the conference-tournament title.
Massachusetts, along with nine-time Atlantic 10 Tournament champion Temple, will be looking to get on the right side of the bubble next week. Xavier will be seeking a run to keep its seven-year NCAA tournament appearance streak alive.
Also, a new wrinkle for the 2013 Atlantic 10 Tournament is that it will take place in the Barclays Center in Brooklyn. With several players making their first visit to the new dynamic facility, they should be ready for a bus ride unlike any other (via Bleacher Report).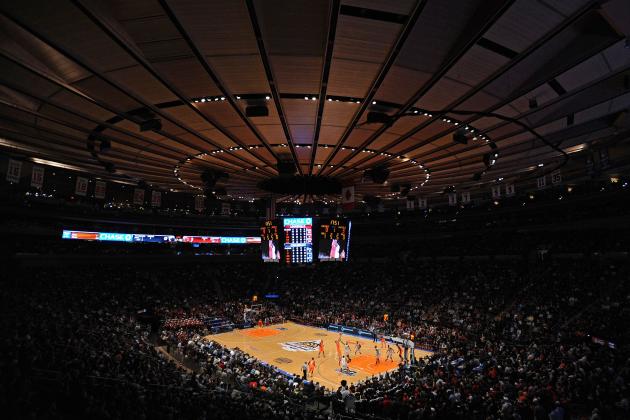 Michael Heiman/Getty Images
Madison Square Garden has hosted the Big East Tournament every year since 1983.
2013 Big East Tournament site: Madison Square Garden, New York City, NY
2013 Big East Tournament dates: March 12-16
Team losses: West Virginia (Big 12), Connecticut (ineligible)
The Big East will be going through massive turmoil in the near future. According to Erick Smith of USA Today, Syracuse and Pittsburgh are joining the ACC on July 1, 2013. While it's not official, ESPN.com has reported that Butler and Xavier are likely to join the seven Big East Catholic schools.
Essentially, there is a lot of uncertainty. This could be the last time we watch classic Big East Tournament showdowns in Madison Square Garden the way we know it today.
Unfortunately, the Big East Tournament has lost two of its most exciting members in tournament history. UConn is ineligible because of APR violations (per CBSSports.com) and West Virginia is a member of the Big 12.
In 2011, Connecticut won the national championship after winning the Big East Tournament as a No. 9 seed. West Virginia won the Big East Tournament in 2010 by defeating all its opponents by three points or less.
There are still several tremendous teams in the 2013 Big East Tournament.
Georgetown has won 11 straight and is bidding for a No. 1 seed in the NCAA tournament. Five other teams have only seven overall losses or less on the season to this point.
Cincinnati and Villanova are looking to do some damage to polish their resumes. Considering that a No. 7 seed or worse has won the Big East Tournament in three of the last five years, that's a good historical sign for the Bearcats and Wildcats.
Nonetheless, tradition will be lost when the tournament concludes on March 16. As good as the 2013 tournament should be, it's more of a farewell to the fans.
Let's just hope it provides one more series of incredible games for us to remember.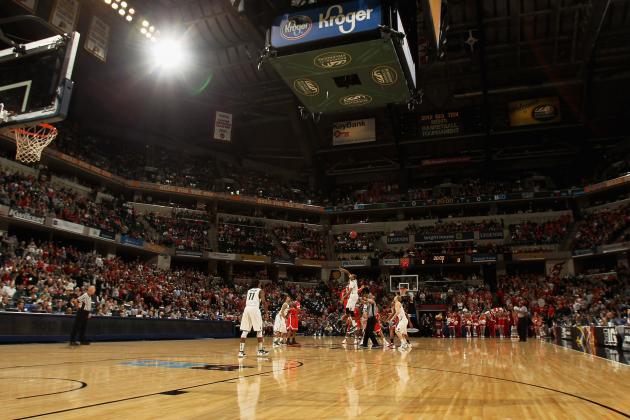 Jonathan Daniel/Getty Images
Michigan State and Ohio State tip off the Big Ten Championship Game in 2012.
2013 Big Ten Tournament site: United Center, Chicago, IL
2013 Big Ten Tournament dates: March 14-17
Team changes: None
Even though the Mountain West is currently the No. 1 ranked RPI conference, the Big Ten will provide the best conference tournament in 2013.
This is the deepest the Big Ten has been in a long time and every single week there are multiple games that come down to the final possession between the top teams. It should be no different in Chicago.
Speaking of Chicago, this will be the first time the Big Ten has had its tournament in the Windy City since 2007. This is good news for Northwestern, Wisconsin and Iowa fans with a much shorter travel distance.
Only two teams ranked worse than a No. 3 seed has ever won the Big Ten Tournament (No. 4 Michigan in 1998, No. 6 Iowa in 2001). A third team could easily be added to that list considering that seven teams are ranked 41st or better in the RPI (via RealTimeRPI.com).
Indiana, Michigan and Michigan State will battle for potential No. 1 seeds in the NCAA tournament. Ohio State, Wisconsin, Minnesota and Illinois will fight to improve their draws for March Madness. Iowa is looking to make a deep run in the Big Ten Tournament to increase its chances at making the dance.
With Minnesota knocking off previous No. 1 ranked Indiana and a previous 0-14 Penn State team defeating Michigan last week, no one is safe when the Big Ten Tournament kicks off March 14.
Then again, if the top teams take care of business on Friday, the weekend games in Chicago will resemble a Final Four atmosphere.