Manchester United vs. Real Madrid: 5 Key Battles to Watch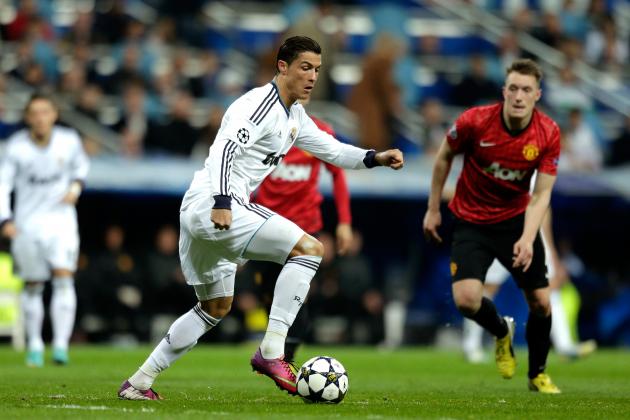 Gonzalo Arroyo Moreno/Getty Images

Manchester United host Real Madrid on Tuesday in what promises to be a memorable UEFA Champions League Round of 16 second-leg match.
Real Madrid recently won back-to-back Clasicos against Barcelona, but now, another potential classic awaits at Old Trafford.
Sir Alex Ferguson's Manchester United held Real to a 1-1 draw three weeks ago at the Bernabeu, so Jose Mourinho's Real Madrid will have to attack to stay alive.
That means some of the most important matchups in Tuesday's game will involve Real Madrid attackers against Manchester United defenders. But they're not the only ones.
Keep reading for five matchups to watch in this second-leg showdown.
Begin Slideshow

»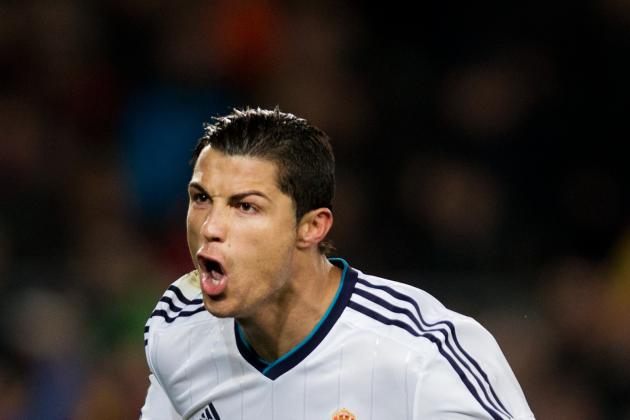 Jasper Juinen/Getty Images

To begin with, here's a simple question with a complex and elusive answer: How does a team stop Cristiano Ronaldo?
At BBC Sport, Spanish football writer Andy West devoted more than 800 words to the subject—only to conclude with this:
So, there you have it. All United have to do is prevent Ronaldo from shooting with his right foot, or his left foot, or getting on the end of crosses. And make sure they don't concede any set-pieces within sight of goal, or leave him any space to exploit on the counter-attack.
As impossible as that sounds, reality might be even scarier for United. Ronaldo, who came of age playing for Manchester United from 2003-09, has scored 37 goals in all competitions this season. When he's on his game, he's all but unstoppable.
As he showed in the first leg, Ronaldo is potentially lethal in the air. But as we all know so well already, he's potentially lethal anywhere on the pitch.
Complicating matters for United is an injury to defender Phil Jones, who will not play, according to manager Sir Alex Ferguson (via The Independent).
The biggest single issue facing United on Tuesday will be shutting down their former talisman.
Mike Hewitt/Getty Images

Manchester United manager Sir Alex Ferguson and Real Madrid's Jose Mourinho developed a fierce rivalry during Mourinho's time at Chelsea. Now friends, the two haven't become any less competitive, and both still rank among the world's best.
Ferguson's United seized the advantage after holding Real to a 1-1 draw three weeks ago at the Bernabeu. The first-leg result means that Real will have to attack United at Old Trafford. That should make for some interesting tactical decisions for both.
Which esteemed manager will win the tactical battle? Can one outsmart the other?
The touchline battle will be almost as interesting as the action on the pitch.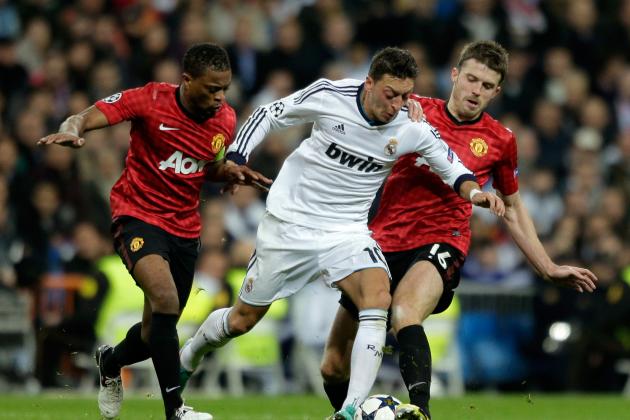 Gonzalo Arroyo Moreno/Getty Images

Cristiano Ronaldo, Robin van Persie and other goal scorers grab most of the headlines. The midfield, however, should play host to an intriguing chess match as well.
German international Mesut Ozil usually serves as Real Madrid's central playmaker, tucked in behind a lone forward (either Karim Benzema or Gonzalo Higuain). Unless manager Jose Mourinho goes crazy and picks Kaká or Luka Modric to start the match, Ozil should take up his customary role at Old Trafford.
His chief foe in the midfield could be United's Michael Carrick, who lies a bit deeper in United's midfield but also plays a major role in piecing things together for his team.
Ozil has perhaps more international prestige, but Carrick's contributions have been vital to United this season. Their head-to-head matchup could be pivotal.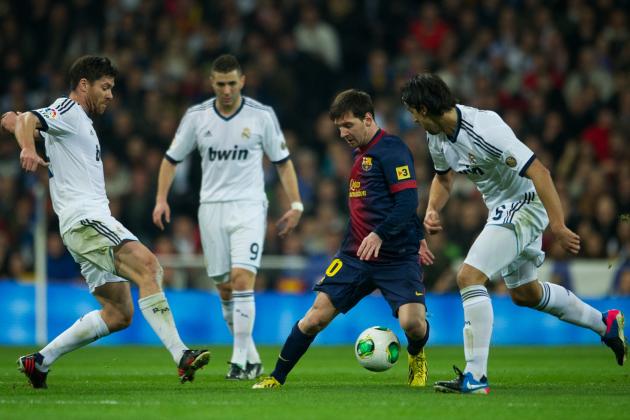 Jasper Juinen/Getty Images

Rumors suggest Manchester United manager Sir Alex Ferguson might leave star forward Wayne Rooney on the bench Tuesday to give United a more defensive posture against Real Madrid (via Daily Mail).
We can take that any of several ways. It might be true. It might be pure fiction. Or it might be a clever ploy on Ferguson's part to confuse Real Madrid.
No matter which it is, we know that Real Madrid do not want to concede Tuesday night. A Manchester United goal would not be fatal to Real's chances, but it would make the task even more difficult. If United score once, Real would have to score twice to stay alive.
Thus, the entire team's defensive contribution will be crucial. In addition to the centre-backs, the defensive midfield will be key for Real.
German international Sami Khedira and Spain international Xabi Alonso usually start together and form a double-pivot holding midfield in front of the back line. Their job is to shield the back four and link play to the attack. Besides his defensive duties, Alonso is also known for his superb passing ability.
Khedira and Alonso are two of the best in the business, but United have several potent attacking options. Robin van Persie has scored 19 goals in the Premier League this season, and Danny Welbeck scored United's goal in the first leg.
Over the weekend, Shinji Kagawa netted a hat-trick in United's 4-0 league win over Norwich City. Other midfield and striker options include Javier Hernandez, Ashley Young, Antonio Valencia and, of course, Rooney.
Queens Park Rangers midfielder Esteban Granero, formerly a Real Madrid player, said Alonso could be the key to Real's success (via London Evening Standard).
To me the most important player at Real is Xabi Alonso. Around him everything works. If he is in the game, everything works properly, then Real have so many players who can win the game, like Cristiano.

If Real manage to make Alonso work, the game will be more easy for them. If United can block Xabi it will be better for them. But to do that is very difficult. If you want to block Xabi you need to use at least two players and if you use two players there will be one free and this player can kill you.
Real's priority will be to score, but playing defense will be just as important. Khedira and Alonso will hold immense responsibility at both ends.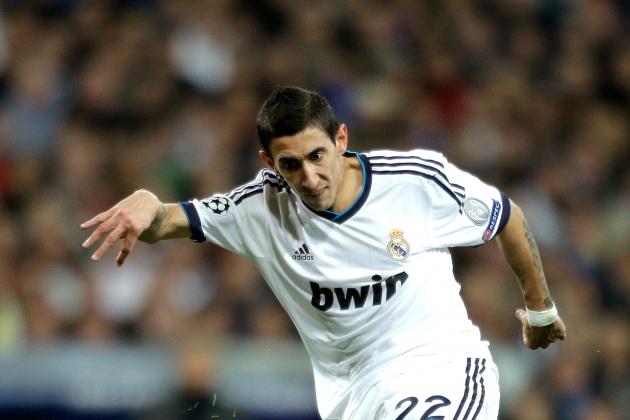 Gonzalo Arroyo Moreno/Getty Images

Angel Di Maria, a 25-year-old Argentine international, usually lines up on the right side of Real Madrid's three-man attacking midfield. But he's by no means limited to one side of the pitch.
In the first leg three weeks ago, Di Maria delivered the cross that Cristiano Ronaldo towered high to head home. The cross came from near the left touchline, where Ronaldo usually starts a match.
Di Maria and Ronaldo can be on any side of the field at any time. Ronaldo will obviously draw much attention, but Di Maria's crosses, quickness and penetration can be dangerous to any defense.
When he stays on the right side, he likely will match up with Manchester United's Patrice Evra. On the left, he will likely face Rafael.
If Di Maria is playing well, both will have a handful. If both perform well, Real Madrid will lack a potentially game-altering offensive option.