UCLA Basketball: 5 Lessons Learned from Enthralling Win over Arizona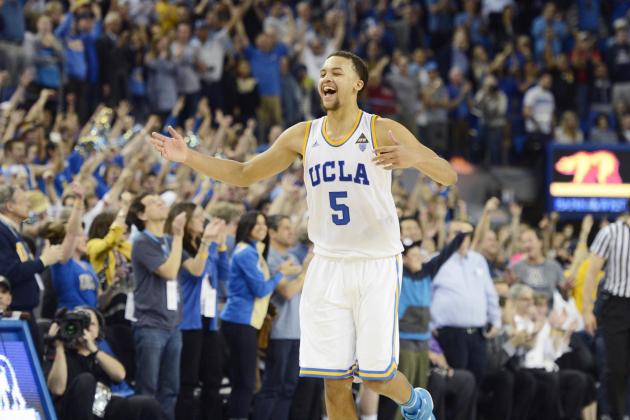 Richard Mackson-USA TODAY Sports

The nation was watching on Saturday night as UCLA took on No. 11 Arizona in Pauley Pavilion in front of a record-setting crowd and the Bruins thrived.
With 13,727 there to witness it in person and millions watching on ESPN, UCLA upset the visiting Wildcats in a game that meant volumes for the Pac-12 regular-season championship.
The Bruins not only became slotted in first place alongside Oregon with the crucial win, but also displayed some impressive potential for the Pac-12 and NCAA tournaments.
This team that was so highly touted in the preseason seems to finally be coming together—and it's neither too little nor too late.
If this team has snapped its inconsistency and finally turned the right corner, it is indeed the perfect time for UCLA to find its groove.
While the Bruins will still have to prove themselves on a game-by-game basis, here is what they taught us with their enthralling win over Arizona on Saturday.
Begin Slideshow

»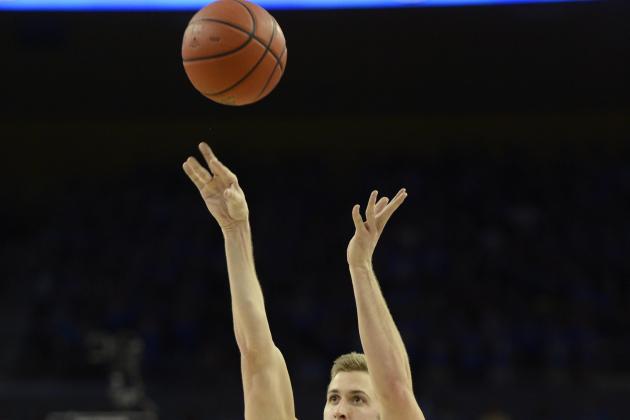 Richard Mackson-USA TODAY Sports

In general, David Wear has been mediocre for UCLA this season. He has had his spurts of greatness, but he still hasn't overcome his timidity despite a much-improved jumper.
However, Wear came up big in the clutch for the Bruins on Saturday against Arizona.
The 6'10" forward not only put up a solid 10 points with nine rebounds coming off the bench, but did so in a huge game for the team. With his brother Travis' minutes and performance limited by a foot injury, David stepped up big when he needed to and picked his team up.
Better yet, Wear was extremely efficient from the field, scoring those 10 points on a mere six shots that included two momentum-boosting threes.
While he certainly proved on Saturday that he can pick up the slack when UCLA needs him to, it's still uncertain whether he will continue to do so.
Wear had a very similar performance against Arizona in which he put up a personal conference-high 15 points with eight rebounds after his brother became sidelined with a head injury in the first half.
The issue at stake is that Wear has only performed well in a couple games outside of his games against Arizona, a team with a very poor defense and an extremely weak interior defense.
Considering how vital UCLA's bench play will be as it continues through March, the Bruins are hoping that his performance doesn't prove to be a fluke as it did last time he faced the Wildcats.
However, despite the uncertainty of his propensity to repeat his performance, David Wear proved that he can pick up the slack in big-time games.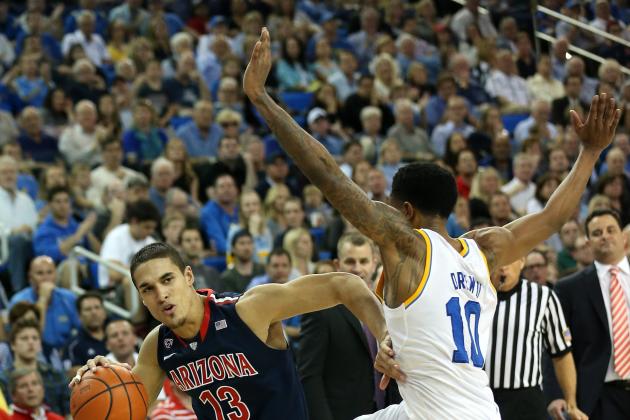 Stephen Dunn/Getty Images

Early on in the season, it was apparent that senior point guard Larry Drew II was UCLA's X-factor because of the intangibles he brought to the court.
Even with all of UCLA's freshmen in full bloom, Drew's presence on the court remains priceless to the team. He not only sets the tone as the Bruins' starting point guard but has also emerged as their sole leader.
Although he has also recently been a prolific scorer, especially from beyond the arc (last five games: 11.2 PPG, 51 percent FG, 69 percent 3PFG) while still maintaining his impressive facilitation (7.6 APG), it's his intensity and determination that make him UCLA's X-factor.
Drew nearly posted a double-double, with 14 points and nine assists in the Bruins' defeat of Arizona, but more importantly, he brought an unrivaled intensity to the court that rubbed off on all his teammates.
This was epitomized when Drew snapped back at Arizona's Mark Lyons, who was taunting Drew as he dribbled up the court, by stripping the ball from him on the ensuing possession.
As prominent as UCLA's freshmen are, Larry Drew proved against Arizona with his contagious intensity that he is still the Bruins' X-factor.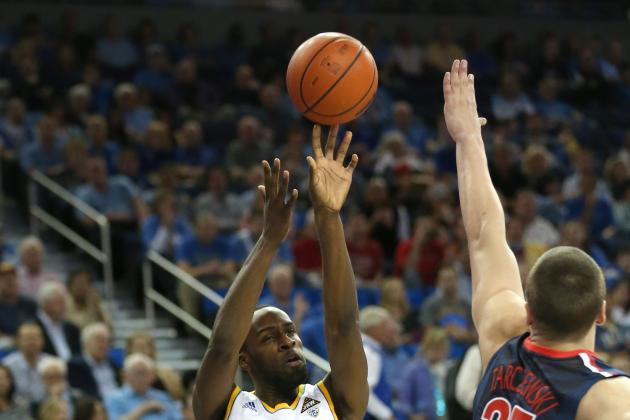 Stephen Dunn/Getty Images

We've watched top-recruit freshman Shabazz Muhammad dazzle and delight all season long, but there has been some uncertainty as to how he'd carry the team when it matters.
While Muhammad established himself as a dynamic scorer and a flat-out competitor, we have been caught in a limbo assessing how that would translate in the postseason.
The 6'6" guard put all doubts to rest in Saturday night's victory over Arizona and proved that he will be able to guide UCLA through the madness of March.
Muhammad again led the team offensively with a game-high 18 points (in line with his season average of 18.3) but also looked much better on the defensive end, not just on his defensive rotations but his general intensity as well.
Most importantly, the highly scrutinized No. 1 recruit proved that he has ice water running through his veins as he calmly sank two key free throws for UCLA in the final seconds of the game after pulling down a huge rebound.
We've known how dynamic of a player Muhammad is and have seen him take over a game at will, but never has he shined as bright as he did in the spotlight on Saturday night in front of a sold-out crowd at Pauley Pavilion for a nationally televised game.
The stage has been set for Muhammad and the Bruins in March.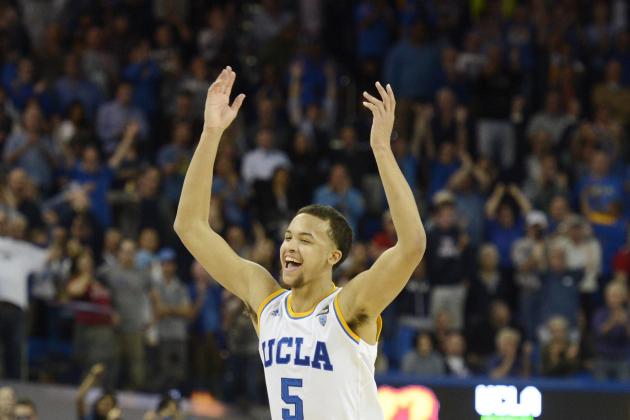 Richard Mackson-USA TODAY Sports

After months of mediocrity sprinkled with spurts of excellence, freshman guard Kyle Anderson is finally hovering around the high expectations that were set for him as the No. 5 recruit in the nation.
The lengthy 6'9" guard has been a great passer all season long but has been marred by slow footwork (hence his nickname, "Slow-Mo") and freshman follies.
Although he displayed some of those very same errors in UCLA's defeat of Arizona in Pauley Pavilion on Saturday, the positives have considerably outweighed the negatives for Anderson in his last four games.
Not only has he put up the kind of numbers that you would expect from the nation's No. 5 recruit in UCLA's last four games (16.8 PPG 11 RPG), but he has also had the kind of influence on the game that a top recruit should have.
Anderson put up 17 points on 8-for-16 from the field with seven rebounds as the Bruins took down the No. 11 Wildcats, but more importantly, he made huge, game-altering plays down the stretch like his three-point play in transition and a huge block.
UCLA will be a legitimate threat for a deep NCAA Tournament berth if Anderson continues to play at this caliber.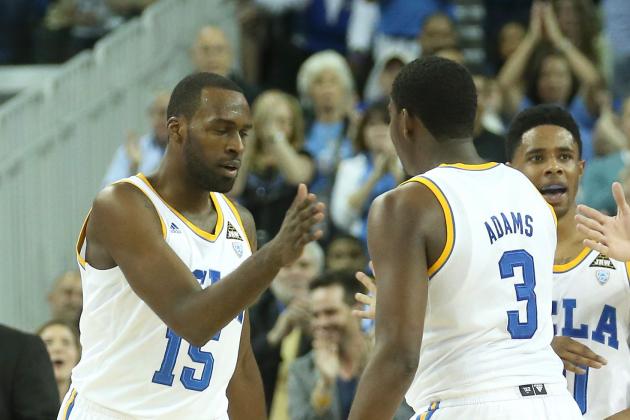 Stephen Dunn/Getty Images

One of the major setbacks for UCLA amid its many tribulations this season has been the absence of team chemistry.
Having played together now for over five months, the Bruins seem to have finally jelled and are playing like a team instead of a fragmented group of talented players.
Unlike UCLA's buzzer-beating win over Washington in early February in which the team's lackluster celebration exposed an apparent lack of camaraderie, the Bruins' win over Arizona exhibited great progress in team chemistry.
The Bruins seemed to approach Saturday's game unlike they have done all season: as a team. This is a huge step for a team that seems disconnected and even at odds at times.
This isn't necessarily a new a revelation, as UCLA has been increasingly jelling since its road game against Stanford in mid-February. However, it's a significant achievement for the Bruins, which they have proved to maintain in their final stretch of games.
It may have taken a while, but the Bruins are finally playing like a team on Saturday, which gives them a big edge heading into the tournament.