Picking a Premier League Best XI Based Purely on Statistics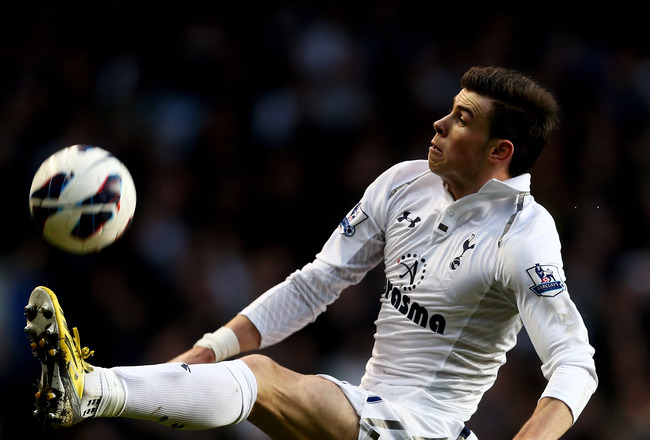 Paul Gilham/Getty Images
The Premier League is stocked with talented players, many of which make a strong case for inclusion in this list: a statistically driven Premier League best eleven.
There is no perfect formula to determine who is having the best season, position by position. This ranking notes some critically impressive numbers for each player, attempting to help justify their insertion to this group: some of the best footballers in the Premier League.
Lot of metrics covered here, a few different teams and some surprises as well.
It goes from right to left, starting from the back with a goalkeeper who has had a lot of work to do this season.
It finishes with a seriously clinical striker.
All statistics are courtsey of the EPL Index, Who Scored and Opta.
Goalkeeper: Ali Al-Habsi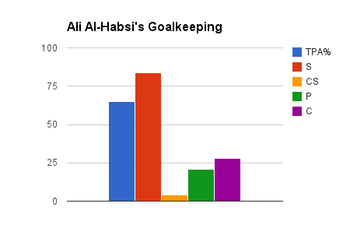 TPA%: Total Passing Accuracy Percentage, S: Saves, CS: Clean Sheets, P: Punches, C: Catches
Wigan Athletic would be in more serious relegation danger if not for the brilliant goalkeeping of Ali Al-Habsi.
The Omani has registered four clean sheets so far in the Premier League. His distribution is tidy, he has found Wigan teammates on 65 percent of total distribution attempts.
Al-Habsi is a presence in the box—he has punched away 21 balls and caught 28.
Right Back: Rafael Pereira Da Silva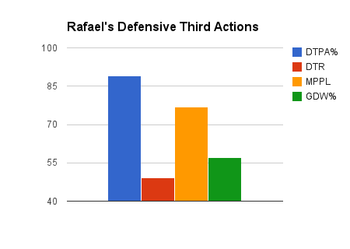 DTPA%: Defensive Third Passing Accuracy Percentage, DTR: Defensive Third Recoveries, MPPL: Minutes Per Possession Lost, GDW%: Ground Duel Winning Percentage
Rafael Pereira da Silva has been a steady and calming force for Sir Alex Ferguson and Manchester United.
The Brazilian has been careful with the ball, very rarely ever conceding possession. He has only given the ball away every 77 minutes. He has been solid in terms of duels, too, winning well over half of his ground duels (57 percent).
He has almost never misplayed a pass in his defensive third either, connecting with a fellow Red Devil on 89 percent of attempts.
Center Back: Gary Cahill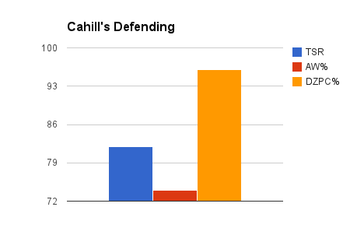 TSR: Tackle Success Rate, AW%: Aerial Winning Percentage, DZPC: Defensive Zone Passing Accuracy
Gary Cahill has proved he can be trusted with the ball at his feet for Chelsea so far this season in the Premier League.
The center back boasts a 96 percent defensive third passing accuracy.
He has been a consistent winner in terms of duels, as well, both on the ground and in the air.
Cahill's tackle success rate is 82 percent and his aerial duel winning percentage is 74 percent. He has chipped in two goals for the Blues to add to his defensive numbers.
Center Back: Matija Nastasic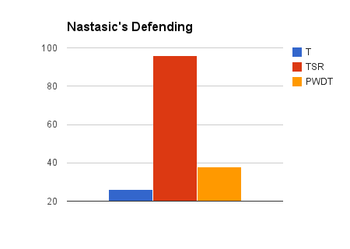 T: Tackles, TSR: Tackle Success Rate, PWDT: Possessions Won Defensive Third
Rare is the occasion that Matija Nastasic has lost a tackle attempt. Nastasic's 26 Premier League tackles have come with a 96 percent success rate.
The Serbian footballer can win the ball for Roberto Mancini.
Mostly stationed in the defensive third, Nastasic has recovered possession for City 38 times in that area of the pitch. He has added 21 recoveries in the midfield third.
In addition to such impressive tackling numbers, Nastasic can read the game nicely. He has 16 interceptions for the Sky Blues.
Left Back: Jan Vertonghen
Jan Vertonghen's tackling has been effective and prolific during Tottenham's Premier League season this year.
His 53 tackles lead Spurs. More impressive is how successful the Belgian has been when attempting to tackle the ball away from an attacker. He has won 80 percent of his of attempted tackles in the Premier League this year.
In 13 games, he won 100 percent of his tackles.
He has won the majority of his aerial duels as well. Registering an aerial duel winning percentage of 58 percent. He has done so on 69 aerial challenges.
Spurs sport a brilliant left side of the pitch when Vertonghen is behind Gareth Bale.
Right Midfield: Bryan Ruiz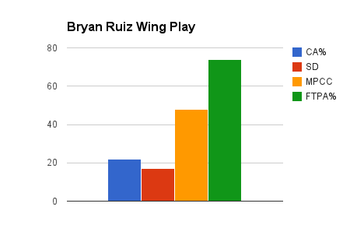 CA%: Crossing Accuracy Percentage, SD: Successful Dribbles, MPCC: Minutes Per Chances Created, FTPA%: Final Third Passing Accuracy Percentage
Bryan Ruiz has provided creative width on the right side of the pitch for Fulham this Premier League season.
He has picked out a teammate on 22 percent of his 69 attempted crosses. He has beaten defenders off the dribble on 17 occasions and generated a chance for teammates every 48 minutes.
On the most difficult part of the pitch to connect passes, Ruiz is accurate, finding a a fellow Cottager on nearly three out of every four final third pass attempts (74 percent).
The Costa Rican has added six assists and three goals to his Premier League resume this campaign.
Center Midfield: Santi Cazorla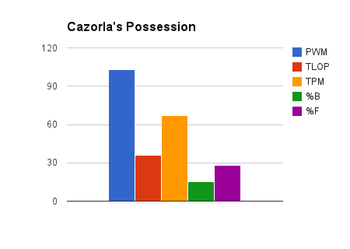 PWM: Possesion Won in Midfield, TLOP: Total Loss of Possesion, TPM: Turnovers Per Minute, %Passes Backwards, % Passes Forward
Santi Cazorla has been valuing the ball at his feet during this season's Premier League campaign.
The Spanish midfielder rarely gives away possession, only doing so every 67 minutes. For a player Arsene Wenger relies on so heavily to create, this is impressive work.
Known for his offense, Cazorla's done his fair share of ball winning too, regaining possession for his team in the middle third of the pitch on 103 occasions.
He is one of the bright spots for an Arsenal side reeling from a difficult losses to Bayern Munich and North London rivals, Tottenham.
Center Midfield: David Silva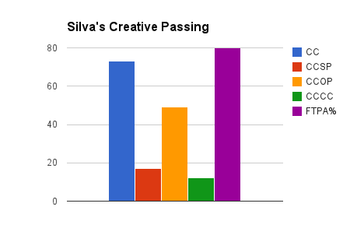 CC: Chances Created, CCSP: Chances Created Set Piece, CCOP: Chances Created Open Play, CCCC: Clear-Cut Chances Created, FTPA%: Final Third Passing Accuracy Percentage
David Silva definitely stirs the drink for Manchester City in the middle of the park.
His favorite left foot has helped him create 73 total chances, 49 from open play and 17 from set piece situations.
In what should be the most clogged part of the pitch to pass on, Silva has been precise. He has completed 595 of his 741 total final third pass attempts (80 percent).
Perhaps most appealing about his distribution game is his ability to create clear-cut chances. So far this season, the Spaniard has gifted City players with "must score" opportunities on 12 occasions in the Premier League this season, once every other game.
Left Midfield: Gareth Bale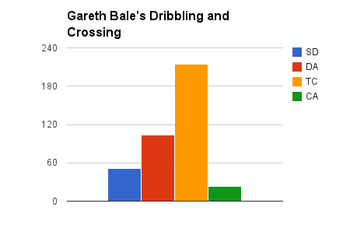 SD: Successful Dribbles, DA: Dribbles Attempted, TC: Total Crosses, CA: Crosses Attempted
Gareth Bale of Tottenham might be the most dangerous dribbler on the planet. His ability to beat a defender in a one-on-one situation is immense.
The Welshman has attempted 103 total dribbles and been successful on nearly half of these occasions, 51.
While his individual game might be his most notable talent, Bale can break down opponents with his vision, too.
Of his 215 total crosses, he has picked out a Spur on 50 occasions (23 percent).
This winger has taken over the English football and is one of the largest reasons they are on pace to qualify for the illustrious Champions League.
Striker: Luis Suarez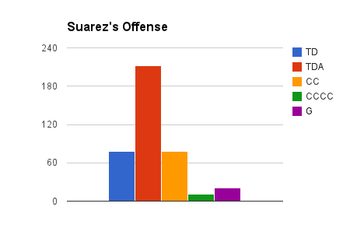 TD: Total Dribbles, TDA: Total Dribbles Attempted, CC: Chances Created, CCCC: Clear-Cut Chances Created, G: Goals
Liverpool's mercurial striker has been filling up the offensive statistical categories for the Reds in this season's Premier League campaign.
The Uruguayan is a willing and capable dribbler. Going at a defender on 212 occasions. He has been successful on 78 of these attempts.
While he might try and go it alone more frequently than most, Suarez is a generous and creative passer, too. He has created 78 total chances and 11 clear-cut chances.
He has added in 21 goals too. No question, Suarez is a diverse footballer.
Striker: Robin Van Persie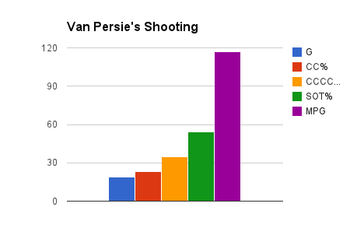 G: Goals, CC%: Chance Conversion Percentage, CCCC: Clear-Cut Chance Conversion Percentage, MPG: Minutes Per Goal
Robin van Persie has been an efficient shooter for Premier League leading Manchester United.
The Dutch international is clinical; he's finished 35 percent of his clear-cut opportunities. His overall chance conversion has been phenomenal as well (23 percent).
Van Persie is accurate—he has put over every other one of his shots attempts on target (54 percent). He has scored a Premier League goal every 117 minutes. His 19 tallies have accounted for nearly a third (29 percent) of United's total.
His gaudy shooter numbers may lead the Red Devils to both Premier League and Champions League titles.
Keep Reading