5 Key Factors That Will Determine Championship or Bust for the 2013 Nationals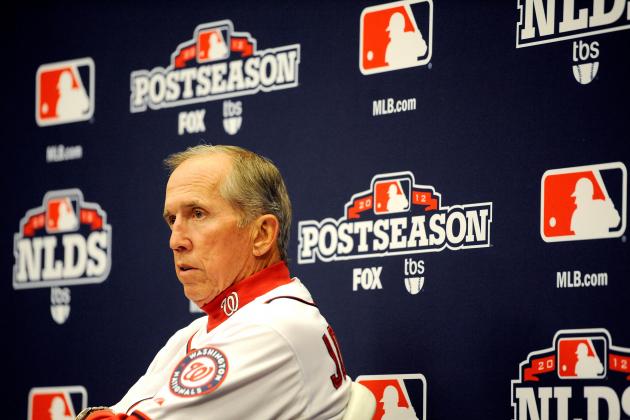 Patrick McDermott/Getty Images

The Washington Nationals were kicked out of the postseason after a Game 5 letdown in the NLDS against the St. Louis Cardinals. As a result, manager Davey Johnson has adopted a "World Series or bust" motto for the 2013 season—his last as a manager.
Had Drew Storen not blown the ninth-inning lead in the NLDS, we may be talking about the Nationals as the World Champs.
They had the best record in baseball in 2012, and also had arguably the most complete team. Strong starting pitching, (almost) infallible bullpen and above-average hitting led the balanced attack in the team's first winning season in history.
This season should see much of the same success.
Any holes that existed (however small) were filled by general manager Mike Rizzo, and the experienced gained from making the postseason should be an immeasurable benefit to the team.
There's a distinct possibility that the Nationals can fulfill Johnson's goals in 2013, but only if a few factors fall in Washington's favor.
Begin Slideshow

»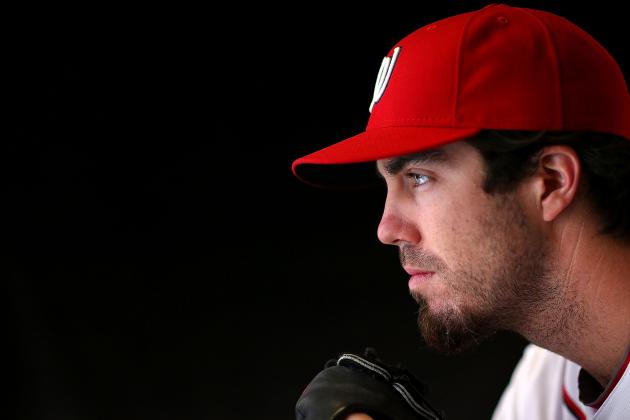 Mike Ehrmann/Getty Images

Edwin Jackson left the Nationals as a free agent this offseason, and Rizzo decided to bring in veteran right-hander Dan Haren to replace him.
Haren was brought in on a one-year contract after a disappointing 2012 season that saw him hit the disabled list for the first time in his career.
All in all, Haren posted a record of 12-13 with a 4.33 ERA in 176.2 innings pitched.
As the fifth starter for Washington, even those numbers would be appreciated. But Rizzo and Johnson know how much Haren has to offer, and an in-form Haren would bring the already epic rotation to even greater heights.
A playoff team generally only needs a four-man starting rotation, but having a strong fifth starter is the key to winning the games that mediocre teams can't.
Plus, in the postseason, I'll take the veteran experience of Haren over Ross Detwiler any day. Should Haren bounce back, I want him out there when the game is on the line.
Haren will be a key contributor to the Nationals this season, both on and off the mound. He'll mentor the team's young pitchers and end up as one of the best signings of the offseason.
If he pitches like Rizzo believes, the Nationals are one step closer to winning the World Series.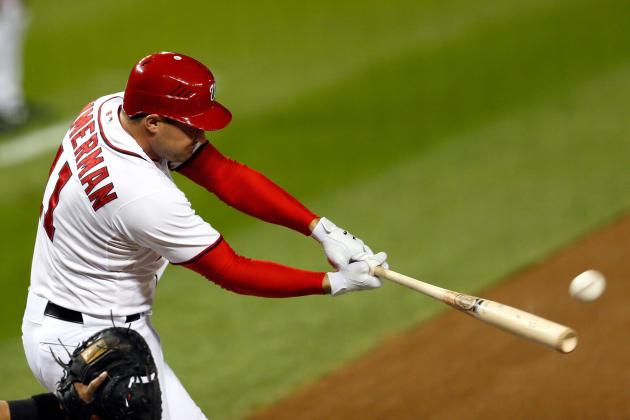 Rob Carr/Getty Images

Ryan Zimmerman is the heart and soul of the Nationals—he's been with the team through all its turmoils as well as the team's first playoff berth in 2012.
That postseason berth should give Zimmerman the motivation this season to put the offense on his back and carry them back to October.
The only thing standing in his way is the disabled list, a place that he's spent time on in four of the eight seasons of his career.
In 145 games last season, Zimmerman posted great numbers. He hit 25 home runs and drove in 95, putting up a line of .282/.346/.478.
In 155-plus games, Zimmerman can easily eclipse 30 home runs and 100 RBI. The Nationals need him to do just that in 2013. It's not yet safe to rely on Bryce Harper in the middle of the lineup (though there's no telling what he'll do this season), so having a veteran like Zimmerman anchoring the lineup is crucial.
Not to mention he's great defensively and essentially the most irreplaceable player on the team.
Without a healthy Zimmerman, the chances of Washington even making the playoffs take a drastic hit.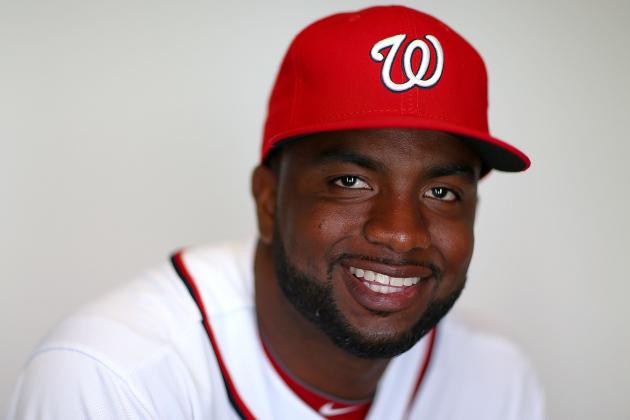 Mike Ehrmann/Getty Images

Rizzo traded top pitching prospect Alex Meyer to the Minnesota Twins this offseason in exchange for Denard Span for one reason—because Span can provide the team with the presence at the top of the lineup that has been nonexistent for so many years.
Last season in Minnesota, Span put together a line of .283/.342/.395 with four home runs, 41 RBI, four triples, 38 doubles and 17 stolen bases.
Ian Desmond and Jayson Werth were the primary leadoff hitters for the Nationals in 2012, neither of which is your prototypical No. 1 guy. Werth was actually pretty successful in the role, but his inability to create runs with his legs would have made him a bad choice for the entirety of 2013.
Span will be able to get on base, steal and be driven in by the likes of Zimmerman, Harper, Werth, Desmond and Adam LaRoche.
He also plays a very good center field. His speed makes up for some of the not-so-great reads he'll make from time to time, but you can do far worse in center than Span.
His greatest value will lay in his legs—stealing bases, going from first to third or scoring from second base on a single.
Those types of runs are what separates great lineups from mediocre lineups, and there's no doubting the fact that this Washington lineup has the potential to be great.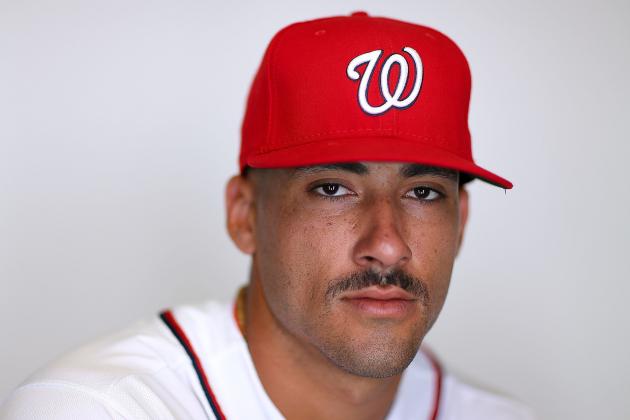 Mike Ehrmann/Getty Images

Ian Desmond broke out in a big way in 2012, finally capitalizing on the potential that Washington was waiting for him to tap into.
His line of .292/.335/.511 was by far the best of his career, as were his 25 home runs and 73 RBI. While not a career high, his 21 steals were also impressive.
The area where Washington would love to see him improve in is his SO/BB ratio, though. Never one to rack up bases on balls, Desmond walked just 30 times last season. Compare that to the 113 times he was set down on strikes and you have a decent-sized issue.
It's always great when a player cuts down on strikeouts, but I don't really think that's the problem here. If Desmond was just a bit more patient at the dish, he could create more production opportunities for himself and his teammates.
Bumping that number up to 50 or so in 2013 should do wonders for his stat line and the lineup's numbers.
Desmond established himself as a member of the conversation for top-five shortstops in the National League with his production from last season, but he can make himself a permanent member of that category with an even better 2013.
He can also help propel the Nationals to a World Series victory.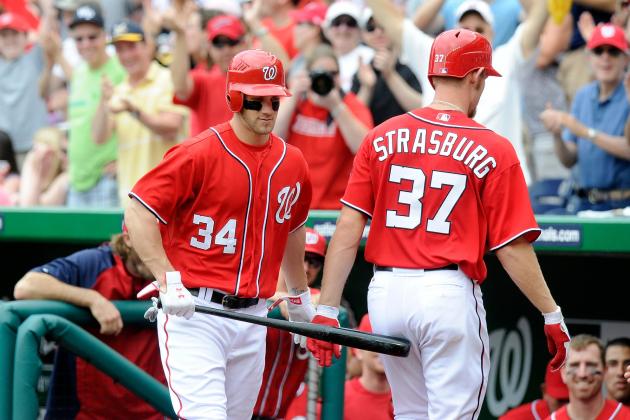 Greg Fiume/Getty Images

The future is now for the Nationals, so it's time for their top stars to perform at the level that's expected of them.
Not to say that Harper or Stephen Strasburg had bad seasons in 2012 (that would be both unfair and extremely stupid), but there's always room to improve when players are that young.
Harper, the NL Rookie of the Year, hit 22 home runs and drove in 59. He didn't really get into a consistent groove until late August, a hot streak oh which he ended up finishing the season.
He's a hustler and grinds out every single at-bat, and players like that tend to improve as they get older. Harper has all the potential in the world to turn into a perennial 30-(or 40?) home run threat. While unfair to predict, there is a chance that he realizes that potential in 2013.
That type of season will be crucial to the realization of "World Series or bust."
Strasburg, on the other hand, is a different story. It's not so much that he has to improve, it's just that he has to prove he can be dominant over 200-plus innings—a goal he plans on reaching (and surpassing) this season.
Over 200-plus innings, Strasburg has the potential to strike out over 250 batters with a sub-3.00 ERA—those are Justin Verlander/Clayton Kershaw numbers.
With an ace like that at the top of the rotation and the supporting cast behind him, you'd have to search long and hard for a team that's better equipped to win than the Nationals.