NCAA Tournament 2013: The Top 10 Bubble Watch Games of Week 18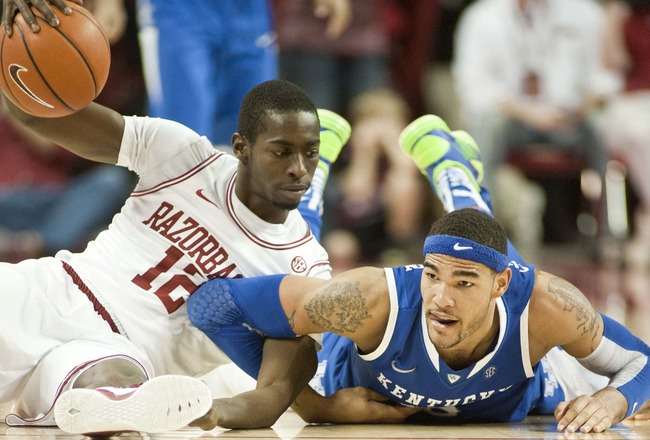 USA TODAY Sports
In recent memory, the NCAA tournament field has never been this wide open this late into the season.
There are literally dozens of teams that could get into the tournament by winning their last two regular-season games or drop out of the tournament by losing their last two games.
And let's not forget the Belmonts and Middle Tennessees of the college basketball world that start their conference tournaments this week. They possess the potential to throw an extra wrench into an already dysfunctional machine by failing to secure an automatic bid and thus entering the at-large pool.
At this time of year, it's far too easy to lose track of which games are when and why they're important to whom.
Don't worry. We've got you covered.
Here are the 10 most important bubble games of the week, along with the criteria used to make those determinations, and a few honorable mentions for good measure.
Criteria for Ranking the Games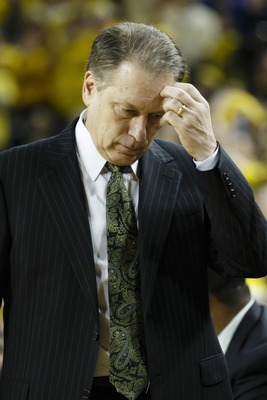 Rick Osentoski-USA TODAY Sports
Picture the projected tournament field as an archery target, in which the No. 1 seeds and Grambling State are the very outer ring and the bullseye is the collection of teams smack dab on the bubble—last five in and first five out. The closer you get to the bubble, the closer you get to the bullseye.
If a team is on the bullseye it's worth 10 points, while the outermost rings are worth just one. Add together the total for each team involved in the game, and the most important games are the ones with the highest score (max of 20). In the case of a tie score, the game with the more immediate impact on the bubble was ranked higher.
If a bubble team has multiple games this week—as most do—the more important game was chosen. For example, Tennessee plays both Missouri and Auburn, but the Auburn game would only become important if the Volunteers lost that game.
In the top 10 games, RPI, overall record and current projected seed for each team are provided for context.
Honorable Mentions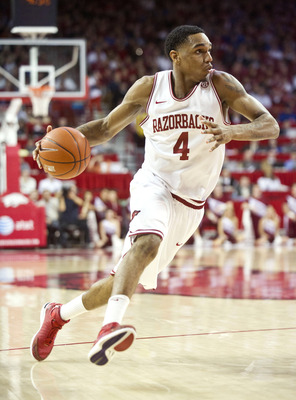 USA TODAY Sports
St. John's at Notre Dame (Tuesday at 7 P.M. ET on ESPN2)
With 12 losses and a 4-8 record against the RPI Top 100, St. John's would need to win both its games this week in order to get back into the tournament discussion. Though a win over Notre Dame would put the Red Storm on the bubble, it likely would also take a home win over Marquette to push them into the field.
Texas A&M at Arkansas (Saturday at 2:00 P.M. ET on ESPNU)
The SEC is such a convoluted mess and the bubble is so weak that you could make a compelling at-large argument for the winner of this game—provided it also wins the game played beforehand. Arkansas travels to Missouri on Tuesday in an effort to win a road game for once, and Texas A&M hosts LSU on Wednesday.
If both teams win their mid-week game, this would be a huge one for the bubble, but it's substantially more likely that they'll both lose and make this game meaningless.
La Salle at Saint Louis (Saturday at 1:30 P.M. ET on NBC Sports)
Saint Louis is absolutely in the tournament, and as long as the Explorers avoid losing to George Washington on Wednesday, they're probably going to get in as well. A win would erase any doubts, but it isn't quite necessary.
VCU at Temple (Sunday at 12 Noon ET on CBS)
It's a very similar story in this other A-10 game. VCU is clearly a lock after throttling Butler on Saturday, and unless the Owls lose to Fordham on Wednesday, a loss to VCU wouldn't knock them out of the field.
No. 10: Florida at Kentucky (11 Points)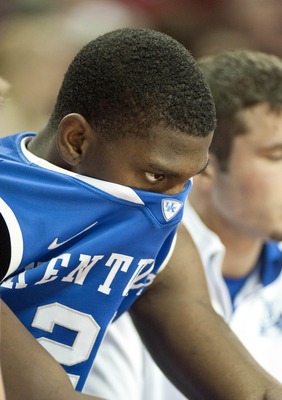 USA TODAY Sports
Tip Time: Saturday at 12 Noon ET on CBS
Implications for Florida (RPI 7. 23-5 overall, No. 2 seed.)
For a second consecutive week, the Gators appear as the road team in the 10th-most important bubble game. After losing to Tennessee last Tuesday, they are now 0-5 away from home against the RPI Top 75. Once a lock for the Final Four, there's now reason to doubt whether they'll make the Sweet 16.
Implications for Kentucky (RPI 51, 20-9 overall, Last Five In)
Saturday's loss at Arkansas—in which the Wildcats had five assists against 18 turnovers—was a letdown for sure, but it doesn't knock them out of the field just yet. With a win over Georgia on Thursday, they would be 21-9 overall and 12-5 in the SEC with a 6-9 record against the RPI Top 100.
Even without a win over Florida, if we assume teams like Belmont, Middle Tennessee and Louisiana Tech win their conference tournaments and stay out of the pool of at-large candidates, that resume should be good enough to get in. An early loss in the SEC tournament would create some serious problems, though.
Prediction
Though they haven't been the same team without Nerlens Noel, Kentucky should be able to protect home court in the season finale: UK 71-67.
No. 9: Georgetown at Villanova (12 Points)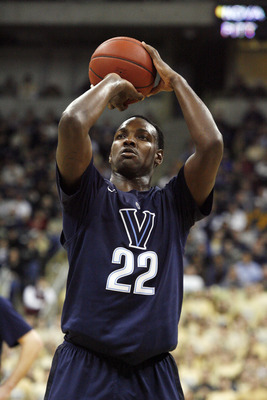 Charles LeClaire-USA TODAY Sports
Tip Time: Wednesday at 7 P.M. ET on ESPN2
Implications for Georgetown (RPI 9, 23-4 overall, No. 2 seed)
Because he refuses to give any respect to New Mexico, Joe Lunardi currently has Georgetown as a No. 1 seed. The Hoyas have certainly earned that consideration with 11 consecutive wins, but let's wait and see what they do this week against Villanova and Syracuse before giving them that honor.
Implications for Villanova (RPI 55, 17-12 overall, Last Five In)
As the Wildcats flounder on the bubble, this seems like the perfect time to remind you that they wouldn't be as hotly debated if the refs hadn't bailed them out of what should have been their second-worst loss of the season.
Even though they stole that win from Purdue, this is still a 12-loss team with a 5-5 record since the home wins over Louisville and Syracuse that were supposedly going to turn the season around.
A win would give them at least a 90 percent chance of making the NCAA tournament, but a loss to Georgetown would drop Villanova to .500 in Big East play, possibly earning the No. 9 seed in the conference tournament.
Prediction
Prepare yourself for a sixth consecutive week of bubble talk that heavily revolves around Villanova: Georgetown 62-57.
No. 8: Illinois at Iowa (13 Points)
Bradley Leeb-USA TODAY Sports
Tip Time: Tuesday at 7 P.M. ET on Big Ten Network
Implications for Illinois (RPI 34, 20-9 overall, No. 8 seed)
The win over Nebraska was in doubt for the first 39 minutes, but it kept the Illini from slipping back onto the bubble. If they beat Iowa on Tuesday night, they become a lock for the tournament. Losses in the final two games would put them at 8-10 in conference play and likely drawing Purdue in the No. 8/9 game of the Big Ten tournament.
Finishing the season with three straight losses could pose a problem on Selection Sunday.
Implications for Iowa (RPI 86, 18-11 overall, Second Five Out)
The Hawkeyes close out the season with home games against Illinois and Nebraska. It's unlikely that they can get into the tournament, but there's no chance of it happening if they lose either of those games.
Even with wins in both of those games, teams with RPI in the 80s simply don't get considered for at-large bids. They'll need to face a couple of marquee opponents in the Big Ten tournament in order to get those numbers up to snuff.
Prediction
Iowa has lost five of its last six games against the RPI Top 100, while Illinois has won three of its last four against that echelon of teams: Illinois 64-59.
No. 7: Oklahoma State at Iowa State (13 Points)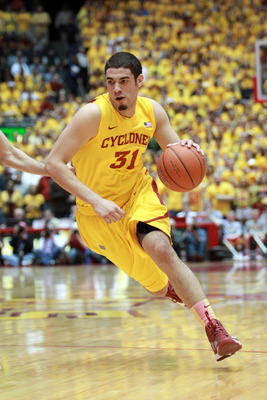 Reese Strickland-USA TODAY Sports
Tip Time: Wednesday at 7 P.M. ET on ESPNU
Implications for Oklahoma State (RPI 27, 22-6 overall, No. 5 seed)
With wins in 10 of their past 11 games, the Cowboys have guaranteed themselves a good seed in the NCAA tournament, and could still get a share of first place in the Big 12 if Kansas loses either of its remaining games.
Implications for Iowa State (RPI 53, 19-10 overall, Last Five In)
When the Cyclones finally won a noteworthy road game against Baylor on February 20, it seemed like they were destined for the NCAA tournament.
Two straight losses may have changed their destiny.
A loss to Oklahoma State on Wednesday would give them 11 losses, a 9-8 conference record and a 2-8 record against the RPI Top 50. A win wouldn't quite make them a lock, but coupling it with a road win on Saturday over West Virginia would.
Prediction
Iowa State is 15-1 at home with a considerably controversial loss to Kansas. When a team that should be undefeated at home is playing the last home game in the college careers of four seniors who are among its six biggest point contributors, go ahead and pick that team no matter the opponent: ISU 84-76.
No. 6: Oregon at Colorado (15 Points)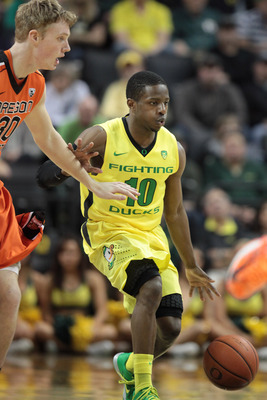 USA TODAY Sports
Tip Time: Thursday at 9 P.M. ET on ESPN2
Implications for Oregon (RPI 49, 23-6 overall, No. 8 seed)
In the minds of most bracketologists, the Ducks aren't on the bubble, but they've been given "extra credit" for being in sole possession of first place in the Pac-12 for over a month. With a loss to Colorado, they would drop into third place in the conference standings and likely to a double-digit seed in the NCAA tournament.
Implications for Colorado (RPI 29, 19-9 overall, No. 10 seed)
After predictably losing by double digits at Cal on Saturday, the Buffaloes dropped into a share of fifth place in a Pac-12 conference that might only send four teams to the Big Dance.
Despite the seven losses in conference play, they have maintained an RPI of 29—mostly by virtue of only facing two teams all season currently outside the RPI Top 200—which is more than good enough to remain in the field for the time being. Picking up a 10th loss against Oregon would bring them under a bit more scrutiny.
Prediction
Ryan Kelly wasn't the only person to make a much anticipated return to action in the past few days. Dominic Artis played limited minutes for Oregon on Thursday night in a 10-point win, increasing the Ducks' record to 18-2 when he is in the lineup. He will be a factor in the rematch of a game that Oregon lost 48-47 without him: OU 74-71.
No. 5: Butler at Massachusetts (16 Points)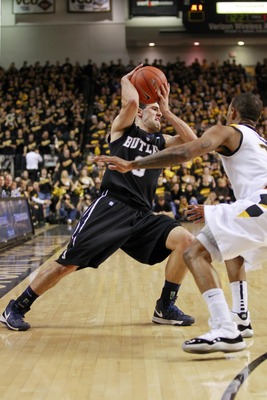 Geoff Burke-USA TODAY Sports
Tip Time: Thursday at 7 P.M. ET on NBC Sports Network
Implications for Butler (RPI 26, 21-7 overall, No. 8 seed)
Butler has been experiencing a Creighton-like collapse, losing five of its last six games against the RPI Top 100 and plummeting from what was once a projected No. 3 seed.
Peppered amongst those losses were near-losses to George Washington, Fordham and Rhode Island. Writing off the blowout against VCU as an expected loss resulting from a bad matchup would be drastically over-simplifying an issue six weeks in the making.
The issue is as much a mystery as it was during Creighton's awful six-week stretch, but this isn't the same Butler team that was finding ways to win games against Marquette, Indiana and Gonzaga earlier in the season.
Implications for Massachusetts (RPI 54, 18-9 overall, First Five Out)
The Minutemen have an average RPI and an average record, both overall and in conference play. Fortunately, average might be enough to get into the tournament this season.
A 1-7 record against the RPI Top 70 is the primary factor keeping them out of the national spotlight. A March win over Butler would inevitably give them some more attention.
Prediction
The Bulldogs can't possibly lose this game, can they? They have to turn it around, right? Butler 68-60.
No. 4: San Diego State at Boise State (17 Points)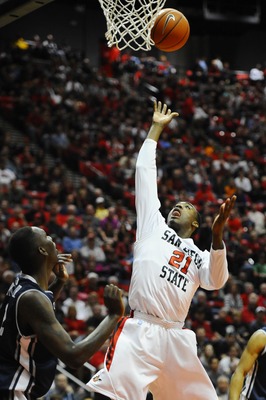 US PRESSWIRE
Tip Time: Saturday at 3:30 P.M. ET on NBC Sports Network
Implications for San Diego State (RPI 33, 18-8 overall, No. 10 seed)
With just games against Air Force and Boise State remaining, the Aztecs could still finish anywhere between second and sixth in the Mountain West conference. As much as the selection committee disregards conference standings, one has to think that second place in the MWC is a lock for the tournament while sixth place is bubbly, at best.
They're currently 7-8 against the RPI Top 100 and should be just one win away from clinching a bid, but if they don't get it at home against Air Force, it'll be even tougher to get it in this game.
Implications for Boise State (RPI 44, 18-8 overall, No. 11 seed)
God bless Boise State, Saint Mary's and California, because no one else on the bubble has been capable of avoiding bad losses over the past month.
As such, the Broncos are comfortably in the field today with two very uncomfortable games to go. If they can win at UNLV or at home against San Diego State, they would remain in the field and enter the MWC tournament with an 8-7 record against the RPI Top 100.
A pair of losses would put Boise State in the exact same boat as Villanova would be if it loses to Georgetown. Hopefully that helps convey the importance of this game to those of you with an east coast bias.
Prediction
The Broncos had SDSU beaten on its home court before Chase Tapley's miracle last-second three-pointer gave the Aztecs the win. The result will be different in Idaho, where the Broncos are an overtime loss to New Mexico away from a perfect 12-0 record this season: BSU 77-68.
No. 3: Missouri at Tennessee (17 Points)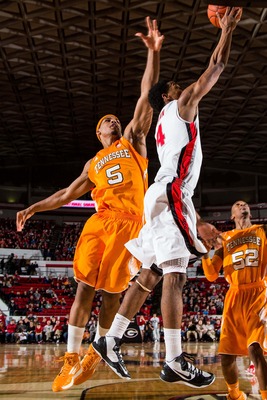 Daniel Shirey-USA TODAY Sports
Tip Time: Saturday at 4 P.M. ET on ESPN
Implications for Missouri (RPI 35, 21-8 overall, No. 9 seed)
The Tigers need to win a road game against the RPI Top 200 if anyone is going to take them seriously in the tournament. If they win Tuesday's home game against Arkansas, they'll definitely get in, but the Tennessee game gives them a chance to improve to 1-7 on the road against teams better than South Carolina.
Implications for Tennessee (RPI 56, 17-11 overall, First Five Out)
Did the Volunteers do more good for their resume by beating Florida, or more bad by subsequently losing to Georgia? It probably roughly balances out, but that bad loss is fresher in our minds.
Regardless, they're 8-9 against the RPI Top 100 with an additional two losses to the 14-15 Georgia Bulldogs, who haven't beaten any RPI Top 80 teams this season aside from Tennessee.
As long as they beat Auburn on Wednesday night, this game doesn't represent elimination for the Vols as much as it does an opportunity to clinch a bid. With a loss to Missouri, they would need to win at least a game or two in the SEC tournament to have a realistic shot.
Prediction
It's apparently very difficult to win road games against competent teams in the SEC this season, as Florida, Missouri, Kentucky, Alabama, Arkansas and Tennessee have proven by going a combined 1-20 on the road against the SEC teams in the RPI Top 75: UT 64-62.
No. 2: Maryland at Virginia (19 Points)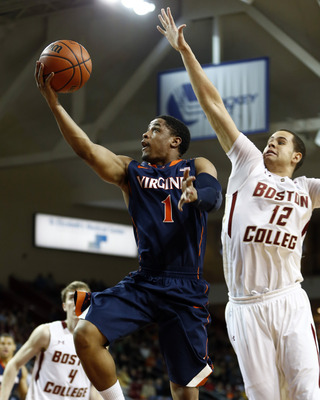 USA TODAY Sports
Tip Time: Sunday at 6 P.M. ET on ESPNU
Implications for Maryland (RPI 68, 20-9 overall, Second Five Out)
In a tale as old as the RPI, a middling conference record can only take you so far when you put together a dreadfully weak non-conference schedule. Maryland only played two RPI Top 100 teams, losing to Kentucky and beating Stony Brook by a thin margin.
As a result, the Terrapins aren't in particularly good shape, but they do close the season with the opportunity to add two more key wins to a resume desperately lacking them. A 5-7 record against the RPI Top 100 isn't going to blow away the selection committee, but it's a lot better than the 3-7 record they currently have.
Implications for Virginia (RPI 57, 20-9 overall, Last Five In)
The Cavaliers' week played out very similarly to Tennessee's—a not-completely unexpected home upset over one of the top teams in the conference followed by a completely unexpected and deflating road loss to a team outside the RPI Top 100. Both teams finish the week approximately back where they started it.
Virginia could probably still get in by splitting its final two games of the season (at FSU, vs. Maryland), but why risk it? A pair of wins would clinch a bid.
Prediction
Maryland's best road win of the season came against Northwestern (RPI 139) over three months ago. Virginia's last home loss—against Delaware—also occurred over three months ago. UVA 73-56.
No. 1: Alabama at Ole Miss (20 Points)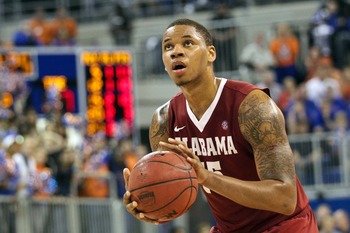 Rob Foldy-USA TODAY Sports
Tip Time: Tuesday at 9 P.M. ET on ESPNU
Implications for Alabama (RPI 60, 18-10 overall, First Five Out)
Implications for Ole Miss (RPI 59, 21-8 overall, First Five Out)
Eight of the SEC's 14 teams are arguably on the bubble, so we were bound to have a couple of SEC games of bubble intrigue as the major conference seasons come to a conclusion this week.
This might be the best possible combination from that collection of teams. At any rate, it's incredibly intriguing from a bubble perspective. Very few SEC games this season have been intriguing to actually watch.
The story of this game is pretty simple for both teams—win the game, or else a deep run in the SEC tournament more than likely won't be enough for an at-large bid.
For Alabama, a loss would be the 11th on a resume with no RPI Top 50 wins and four losses against the RPI Sub 100. The Crimson Tide do have seven wins against the RPI Top 100, though, and a win would move them to 8-6 against those teams. It would also be their first road win over the RPI Top 125.
For Ole Miss, a loss would be its seventh in the past 11 games, which includes a pair of especially ugly losses to South Carolina and Mississippi State. A win might push the Rebels back into the field, but they would need to also win a road game against LSU to hang onto their spot.
The Rebels played just three non-conference games against the RPI Top 150—a home win over Rutgers and a pair of losses to Middle Tennessee and Indiana State. Seven SEC losses with nary a non-conference win of consequence would result in an NIT bid.
Prediction
Save for a loss when Kentucky was hitting its stride before losing Noel, Ole Miss has done a fine job of protecting home court this season: Miss 83-69.
Keep Reading