Duke Basketball: 5 Biggest Questions Facing the Blue Devils as March Heats Up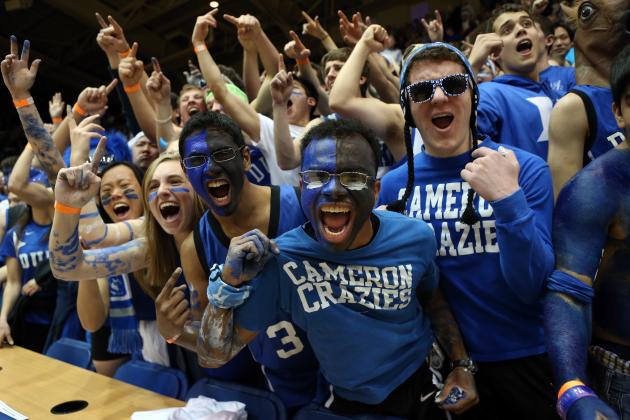 Streeter Lecka/Getty Images

March Madness is almost here and a season full of twists and turns has provided a lot of insight about the nation's top teams. Still, the tournament is all about asking difficult questions. Teams are put into situations that even the long haul of the season didn't produce and how a team reacts is anyone's guess.
Duke's quest for the Final Four in Atlanta will surely be loaded with situations that test the Blue Devils. Weaknesses that have been exposed will be exploited and Duke will have to show that it has answers.
Plus, the return of Ryan Kelly makes Duke a team difficult to predict. How much will his return help? Is Duke now one of the favorites? Or are the Blue Devils still too vulnerable in certain areas to make it through the rigors of the tournament?
March is joyfully unpredictable. Though we won't know the answers for sure until it happens, we can at least predict the questions that Duke must answer in order to pass the final test in Atlanta.
Begin Slideshow

»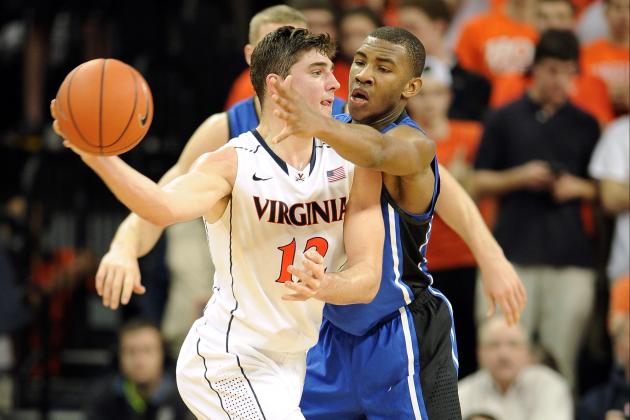 Lance King/Getty Images

During the loss to Virginia, Rasheed Sulaimon was visibly frustrated as he tried to guard Joe Harris. The Virginia guard blasted the Blue Devils for 36 points en route to the victory. What that highlighted was Duke's inability to deal with an active perimeter player.
Sulaimon is a strong defender, but he's young and prone to making mistakes like trying to go under screens or taking shortcuts as he tracks his man. Even when Sulaimon does his job on defense, teams can use screens to switch a player like Harris onto Seth Curry. For all his value on the offensive end, Curry is a defensive liability and that makes Duke susceptible to good guard play.
Even as Duke successfully managed to nudge aside Miami thanks to Ryan Kelly's 36 point return, the Hurricanes stayed close because of Shane Larkin's 25 points. He seemed to score at will in crunch time when Miami made its final push and Duke was only barely able to secure the win.
Teams are shooting 41.9 percent against Duke for the season, but in the four losses that percentage has been even higher. Virginia shot 46.2 percent, Maryland 60, Miami 56.9 and NC State 50.8.
In the Blue Devils' most recent game, the Hurricanes shot 43.8 percent from the floor and were edged out by Duke's field goal percentage of 52 (ESPN box score).
Obviously Duke isn't going to be that hot each and every night. That means the Blue Devils must figure out a way to slow down an opposing team's guards. For the most part, Duke does a good job of denying threes. Even Joe Harris' scoring explosion included just a 2-for-5 mark from three and Larkin was only 2-for-7.
Unfortunately, while all that pressure defense is denying outside looks, it allows for penetration. Duke simply can't afford to offer up easy baskets off dribble-drives that lead to layups or fouls. So the question is, can Duke do a better job on high ball screens and switches so as to stay in front of speedy guards looking to drive inside?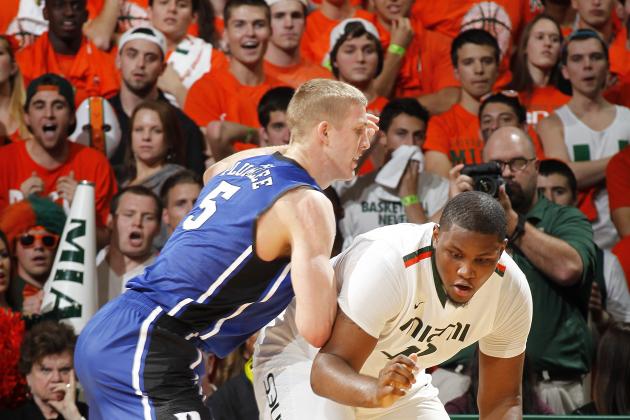 Joel Auerbach/Getty Images

Duke's vulnerability to penetration only partially falls on the shoulders of the perimeter defenders. While Duke's guards must to a better job or staying in front of their man, the post players have to improve in terms of help defense and stepping in front of the ball handler.
Mason Plumlee has a bad habit of only hedging over in help defense. Rather than stop the penetration by fully committing to the driving player, he simply shuffles over and does his best to avoid picking up a foul. That turns out to be terribly ineffective. But it isn't all Plumlee's fault.
Josh Hairston, Amile Jefferson and, now, Ryan Kelly need to recognize that Plumlee must move to stop the penetration and react by filling into the defensive spot he's vacated. Even if Plumlee can be convinced to fully commit to stopping the driver, unless someone else drops down to cover Plumlee's defensive assignment, a drive and dish is in order.
Ryan Kelly's return should help in this regard. Prior to his injury, he looked to be the most vocal player on defense. Even still, the Blue Devils have struggled all year with interior help defense and post players not switching on high ball screens properly.
Moreover, teams that featured tough post players have managed to push Duke off the blocks. Defensively Duke needs to be able to hold position against big bangers and make strong rebounds to prevent second-chance opportunities.
Going forward Duke will have to answer the question, can they control the paint and prevent easy inside baskets?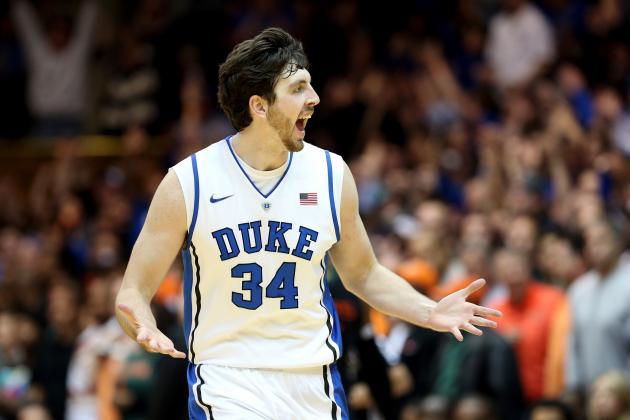 Streeter Lecka/Getty Images

Speaking of Ryan Kelly, his return against Miami was the stuff of legend. Without the senior, Duke might've been in store for yet another shellacking at the hands of the Hurricanes. Instead, he helped the Blue Devils to a tight win against a very good team.
The benefits of having Ryan Kelly back are obvious. His shooting ability creates matchup problems for opposing forwards who have to go out and guard him on the perimeter. This spreads the opposing defense. That makes it easy for Quinn Cook and Rasheed Sulaimon to drive into the lane and it ensures that Mason Plumlee can battle one-on-one in the blocks instead of being double-teamed.
Beyond the purely basketball dynamics of his return, Ryan Kelly takes pressure off the other Blue Devils.
Seth Curry, still battling through injury, had to pick up much of the scoring lost through Kelly's absence. Now the offensive pressure doesn't fall so squarely on Curry's shoulders. Likewise, Quinn Cook, in his first full year as the point guard, had to shoulder more of the scoring load and Rasheed Sulaimon, a freshman, was often a key player for Duke in games without Kelly.
So the windfall of returning Ryan Kelly to the squad is clear. He adds another scoring option while making Duke's offense more effective and more versatile.
However, Kelly probably isn't going to go off for 36 points every night. Nor is his 7-for-9 three-point shooting something that can be duplicated easily. But even if Kelly falls back to Earth and returns to the 13 points-per-game form he showed before getting hurt, Duke is a far better team.
The only question, then, is can Kelly sustain this pace through the rigors of the ACC Tournament and NCAA play? Games on back to back days or with only one day off in between will test just how fully recovered Ryan Kelly is. Duke will need him to be 100 percent if a deep tournament run is in the cards.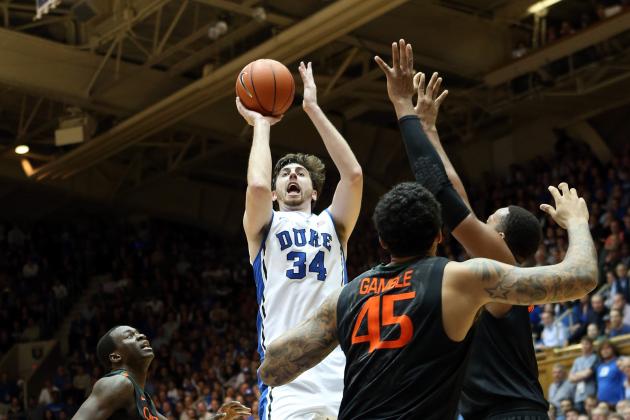 Streeter Lecka/Getty Images

The hallmark of recent Duke teams is how reliant they are on three-point shooting. For the year, the Blue Devils average 78.5 points on 47.5 percent shooting. Those numbers make Duke one of the best offenses in the country.
However, Duke has a tendency to rely heavily on the three-ball. Easy shots off layups or interior post moves are sometimes few and far between. This could create a problem if Duke runs into a cold shooting night in the tournament.
To be fair, when the Blue Devils are making shots, they are capable of beating any team in the country. Unfortunately, if they aren't making shots, then they have the potential to be upset by just about any tournament team.
As previously mentioned, Ryan Kelly's return should mean that teams can't clog the lane as easily against Duke. This should aid Plumlee's offense in the post and provide a less cluttered path to the basket for Cook and Sulaimon. Still, Duke must demonstrate a willingness and ability to execute offensive possessions that end with high percentage shots.
The win against Miami was huge, but came on the back of 11-for-23 shooting from three. That's not something that can be counted on reliably. And Seth Curry struggled in that game, going 1-for-5 from three and 2-for-8 overall. Without Kelly's career night, Duke would have lost that game unless some easy inside scoring could have made up for Curry's lowly seven points.
Therefore, the pertinent question is, can Duke get easy scores to counteract a potential less than stellar shooting night? Again, with Kelly back, the opportunity to penetrate and work Plumlee in the post is there. But will Duke have the composure to recognize that instead of just frantically jacking up threes?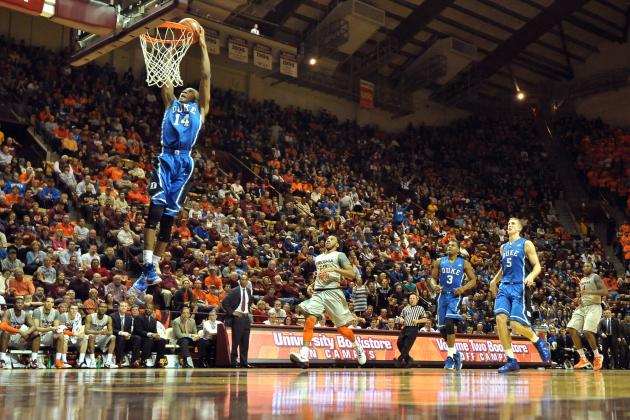 Lance King/Getty Images

This follows from the previous question. In Duke's two most recent games, Rasheed Sulaimon has been frustrated. Even a novice sports psychiatrist could read his open book body language.
While it's great that he plays with such passion, his frustrations have a tendency to negatively impact his game. Against Virginia, when Sulaimon slumped his shoulders and dropped his head after every Joe Harris bucket, the Duke freshman had four points on 2-for-10 shooting.
But it's not fair to pick out Sulaimon. Duke as a team has been prone to bouts of bad judgment. In the loss at Miami, the entire squad, with the exception of Sulaimon and Jefferson, laid down like dogs in the face of adversity. Virginia pushed Plumlee out of the paint and the Duke post players simply ceded the inside area to the Cavaliers. Maryland similarly owned the paint and Duke acquiesced in favor of launching threes.
At various points, Duke has failed to keep clam in the face of a challenge. Too often offensive struggles inspire forced shots from three-point range rather than a reorganized offensive attack.
Even when Duke lost to Maryland, the Blue Devils made the game close at the end despite playing horribly for almost the full 40 minutes. There is simply too much talent on the roster for the Blue Devils to allow adversity to take them out of their game plan.
As Duke heads into the tournament, it's impossible to know what will ultimately happen. What can be reasonably expected, however, is that at some point Duke will face a tough challenge. Whether it's cold shooting, an opposing player going off for a career high or a team that simply matches up well against Duke, the Blue Devils will have to remain composed.
Last year, Lehigh befuddled Duke from the get-go and the Blue Devils never recovered. This year losses to Miami, Maryland and Virginia have been marked by a Duke team that failed to recover from a slow start.
It's one thing to lose because you got outplayed, it's another to lose because you got out of sorts due to early frustration. And so the ultimate question is, after a season of ups and downs including injuries and blowouts, is Duke mentally tough enough to push through the challenges of the NCAA tournament without falling into the bad habits of forced threes and an overextended defense?