Kane's 7 Funniest WWE Moments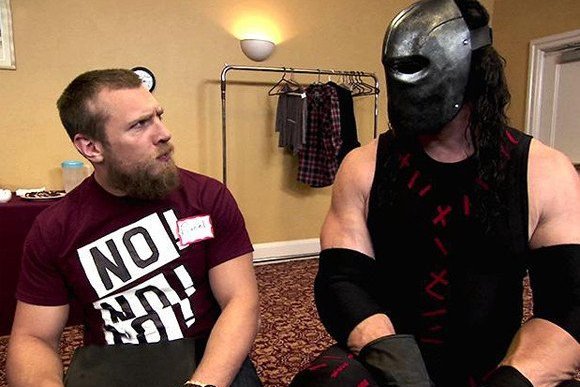 Photo from WWE.com
It's not often that demons are funny, but WWE's Kane has long been as hilarious as he has been monstrous.
Whether he has been mocking his tag team partners or suffering the tedium of anger management classes, Kane has delivered some surprisingly funny moments during his WWE tenure.
It's the contrast between his stoic, dark character and his bursts of comedy that makes his segments shine.
Kane's list of macabre moments is much longer, but let's take a look at the times he's made us laugh the hardest.
Begin Slideshow

»
Some may argue that Kane has strayed too far in recent years from his darker side, trading in comedy for dementedness.
It's hard to argue, though, with just how hilarious his run as Daniel Bryan's tag team partner has been. Years of building him up as a monster have made his ventures into silly segments far funnier.
The way Robert De Niro played off his tough-guy persona to make Analyze This a comedy hit, Kane has reinvented himself as one half of Team Hell No.
He and Daniel Bryan's anger management sessions led to an unexpected turn of events.
The fans watching Raw voted for Bryan and Kane to hug out their differences. Miz's giddy commentary made it all the more enjoyable.
Having Will Forte on Raw as his Saturday Night Live character MacGruber was an odd choice with mixed results. While much of his time on Raw was forgettable, this juvenile segment with Triple H and Kane is worthy of more than a few chuckles.
MacGruber searched desperately for a way out, afraid of getting clobbered in his match against Vladimir Kozlov.
In the process, he urinated on himself. Blaming his soaked pants on someone else is an understandable blunder. Blaming it on Kane turned a potential throwaway segment into something more amusing.
Kane's presence ups the entertainment value of the segment, but it's certainly not high-brow humor.
Despite their tenuous relationship, Kane and Daniel Bryan captured the tag team titles at Night of Champions 2012.
This victory only led to more infighting, though.
Dr. Shelby tried to salvage the situation by making the partners congratulate each other. Kane seemed to be refusing to do so, but he really just had a bigger celebration in mind.
Borrowing from other sports, Kane gave Bryan a Gatorade bath and announced that he'd be celebrating his championship win in the happiest place on Earth.
One of the more memorable WrestleMania celebrity appearances featured baseball star, Pete Rose.
Rose riled up the Boston crowd, poking at their World Series wounds. He was entertainingly annoying in doing so.
Fire exploding interrupted his antics and Kane soon stomped down the ring at him.
In one of the most unexpected moments in WWE, Kane tombstoned Rose in the center of the ring. Kane would go on to clash with Rose twice more at future WrestleManias, creating a one-sided and funny feud.
Once Tajiri found out he was going to tag with The Brothers of Destruction, Kane and Undertaker, he absolutely lost his mind.
The Japanese Buzzsaw gets so geeked out that he squirms on William Regal's desk, mock chokeslamming himself. Tajiri is certainly the star of this segment, his spaz session difficult to not laugh at, but it's Kane who has the punchline.
Kane simply calls Tajiri a freak, an ideal way to end the segment.
The Rock and Hulk Hogan have both been famous for the catchphrases they spit out. In preparation for a six-man tag team match, those legends met up with Kane, who turned some of those well-known phrases into a surprising bit of mockery.
What helps make this so funny is how infrequently Kane spoke during this period.
He was still the masked destroyer of men, the terse sadist. His personality pops out in this segment. Once he starts into his Hogan poses, his energy percolates, capping a memorable segment.
The funniest moment of Kane's time in Dr. Shelby's anger management classes drew from Kane's personal history.
Dr. Shelby asked Kane to share some things about himself and The Big Red Machine let loose a plethora of disturbing memories including his ex, Katie Vick, and burying his brother.
The juxtaposition of Kane's darkness with comedic side has never been stronger. This wouldn't have worked as well with most superstars, but Kane's long history of wickedness helped create his funniest moment.