College Football's 11 Burning Offseason Recruiting Questions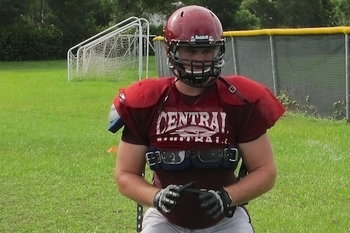 247Sports
The 2014 recruiting cycle has begun, and although it is still early in the process, things are still moving at a fast pace. Coaches, observers, media and fans are still familiarizing themselves with players and names.
Another element to add is that we're probably about five or six months away from seeing the 2014 recruits play competitive football again.
However, just because we're in the offseason does not mean there aren't any lingering questions about various recruits and programs. This read will ask 11 burning, white-hot questions for you to ponder during this long offseason.
Feel free to post your answers in the comments section.
Will Teams Recruit Differently Now That BCS Era Is Close to Being Over?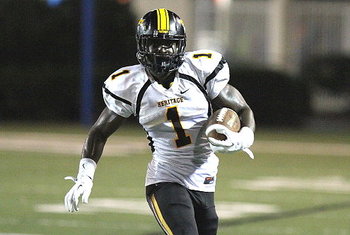 247Sports
The answer probably is yes, but it has less to do with the BCS and more to do with the new recruiting rules. Recruiting is going to change because college programs are going to alter how they staff going forward.
We're going to see colleges start to build NFL-like player personnel departments.
In the past, coaches also used to be the scouts, but now and going forward, colleges are going to start to have several guys on staff for the sole purpose of evaluating and recruiting.
Is Leonard Fournette a Lock for LSU?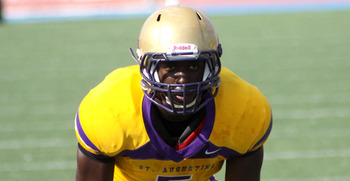 247Sports
The Tigers didn't take a running back in 2012 and are the in-state school for the nation's top RB recruit for 2014.
Fournette is a special runner and still would have been ranked among the best in 2013 amidst a class of talented backs last year. The 6'1", 225-pounder is close to being complete, and it's not very hard to see that the Tigers want him badly.
It's early, but I'd be a little shocked if Fournette didn't end up in Baton Rouge.
Can Ole Miss Do It Again?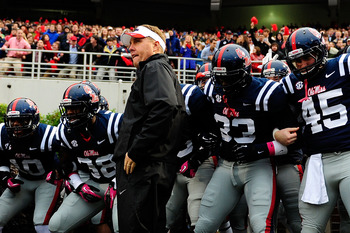 Stacy Revere/Getty Images
The Rebels had a historic recruiting run in 2013 and were big winners last year. They landed elite talents like Robert Nkemdiche, Antonio Conner, Laquon Treadwell and Laremy Tunsil.
Was it just a lucky, flash-in-a-pan type of cycle for Hugh Freeze, or is Ole Miss here to stay?
Some say the Rebels won't be able to sustain their success, while others argue Freeze and his staff have the energy to out-work a lot of programs.
Who's Going to Be This Year's Ole Miss?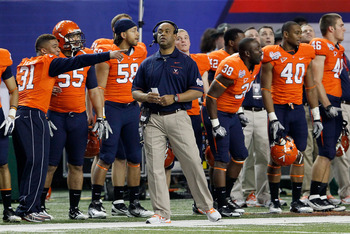 Kevin C. Cox/Getty Images
Speaking of the Rebels, what other program out there has the capability of coming out of nowhere and having a big-time recruiting year?
My early hunches include schools like Virginia, Arkansas, Louisville, Texas Tech, Kentucky and TCU. If things break right for those schools, they should have pretty successful recruiting years.
Only time will tell.
Is This the Best Year for Virginia Talent Ever?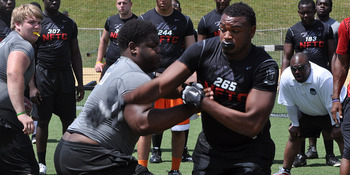 247Sports
The Commonwealth of Virginia has always been a pretty good hotbed for football talent. Players like Michael Vick, Percy Harvin and Plaxico Burress have come from the state.
This 2014 crop of players is pretty impressive and could be Virginia's best in recent history. The nation's top prospect, DE Da'Shawn Hand, is from the state, and DT Andrew Brown and S Quin Blanding appear to be the No. 1 players at their respective positions.
Who's the Fastest Player in the Country?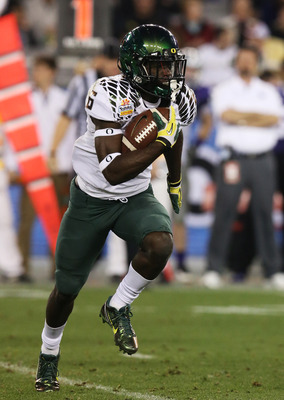 Stephen Dunn/Getty Images
This is always a fun question to ask and debate in recruiting. Speed is plentiful in the 2014 class, and arguments can be made by many different prospects in regard to who is the fastest.
I'm not going to name any names of recruits I believe are heavy in the mix for "fastest recruit in 2014" yet, but it's a burning question that many people are going to have opinions about.
Are More and More Younger Players Going to Start to Receive Offers?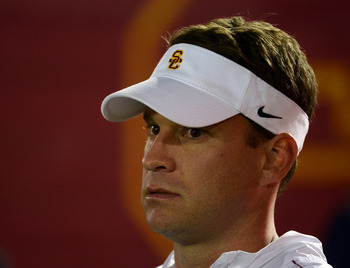 Harry How/Getty Images
Alabama recently offered an eighth grade RB named Dylan Moses a scholarship, and recruiting could be moving towards schools continually offering younger players scholarships.
USC has a commit from QB David Sills and offered him a scholarship when he was 13.
It's become common for talented juniors to get offers, but is recruiting moving to a point where programs will be offering Pop Warner and Pee Wee players scholarships?
Who's the Best QB in the Country for 2014?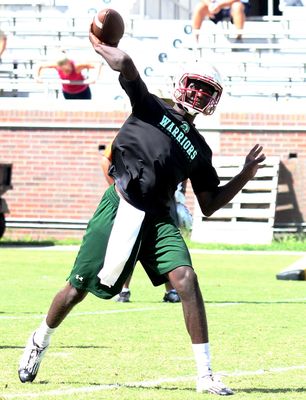 247Sports
One of the very first things people look at, whether it be the NFL draft or college recruiting, is the best quarterback.
The QB position is the most scrutinized and important position in sports, and we all want to know who the best incoming prospect is every year.
This year, prospects like Keller Chryst, Will Grier, Deshaun Watson, Caleb Henderson, D.J. Gillins and David Cornwell appear to be the prime contenders for No. 1 QB honors.
Will USC Rebound on the Recruiting Trail or Continue to Falter?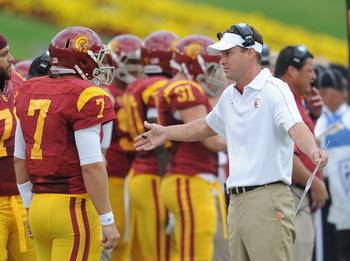 Jayne Kamin-Oncea-USA TODAY Sports
The Trojans have been one of high-standard recruiting programs over the past decade and change. They've brought in some of the best classes in recent history.
Last year, however, several high-profile recruits decommitted from USC and the Trojans signed—for them—a sub-par class. There's a bad taste in the program's mouth due to Lane Kiffin being on the hot seat and a disappointing 2012 season, along with the down recruiting year last cycle.
Will USC come back hard, or is its 2013 recruiting a preview of what's coming up at Heritage Hall?
Can Alabama Be Stopped?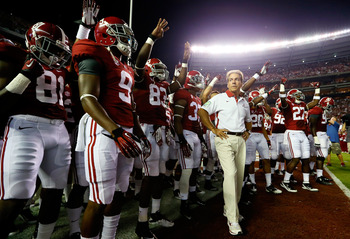 Kevin C. Cox/Getty Images
The Crimson Tide program seems to have recruiting down to a science and on auto-pilot. Alabama brings in top class after top class and is a clear-cut recruiting juggernaut.
Can the Tide be stopped? I mean: Is there a program out there who could begin to consistently challenge Alabama year-in and year-out on the recruiting trail for No. 1 classes?
Where Is the Nation's No. 1 Recruit Leaning?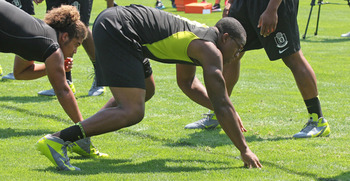 247Sports
Da'Shawn Hand, a DE prospect from Woodbridge Senior High School in Virginia, is the top player in the 2014 class.
At 6'5" and 247 pounds, Hand has a great blend of size, quickness, speed and strength, and he uses his hands well. Some say he's a better prospect than Robert Nkemdiche was/is.
247Sports shows Hand's top five as Alabama, Florida, Michigan, South Carolina and Virginia Tech. Just about everyone who follows recruiting will be focusing where Hand is leaning.
Edwin Weathersby is the College Football Recruiting Analyst for Bleacher Report. He has worked in scouting/player personnel departments for three professional football teams, including the New York Giants, Cleveland Browns and the Las Vegas Gladiators of the Arena League. He spent a year evaluating prep prospects and writing specific recruiting and scouting content articles for Student Sports Football (formerly ESPN Rise-HS). A syndicated scout and writer, he's also contributed to WeAreSC.com, GatorBait.net and Diamonds in the Rough Inc., a College Football and NFL Draft magazine.
Keep Reading