Pac-12 Football: 2014 Recruiting Needs for Each Team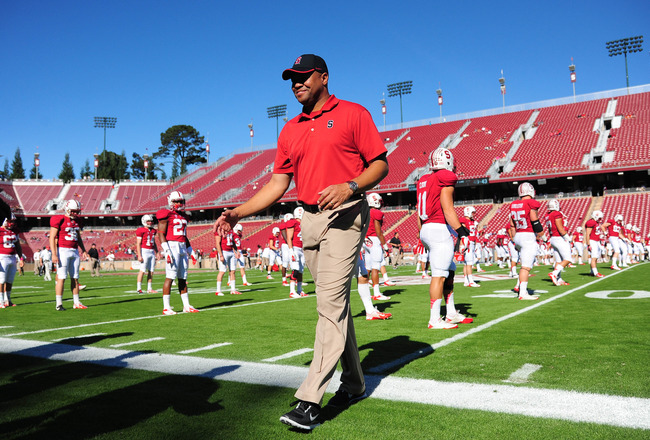 Kyle Terada-USA TODAY Sports
Thus far in our "2014 Recruiting Needs" series, we've looked at the SEC, B1G and Big 12. Now it's time we move out west and check out the Pac-12. This conference is improving rapidly and is a little deeper than the national media thinks for the most part.
It's an interesting time for the Pac-12, because USC figures to be down this year. Several programs like Stanford, Oregon and UCLA are doing all they can to take control of the conference because it's only a matter of time before the Trojans come back to the forefront.
As we've done with the other conferences in this series, we'll quickly run down the conference and hit on a couple recruiting needs each program must address in 2014 recruiting.
Here are the recruiting needs for each Pac-12 team.
Arizona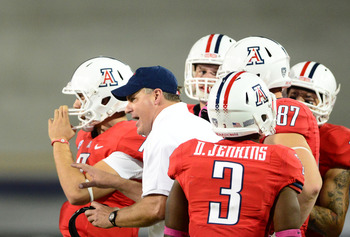 Mark J. Rebilas-USA TODAY Sports
The Wildcats are led by Rich Rodriguez, so you know he's going to want to continue to bring in players who fit his spread-option offense.
Rodriguez likely should recruit inside-out this year and go heavy on OL prospects, because he needs more talent and depth up front. I doubt he'll look for bulky power blockers—he would rather target athletic OL prospects who are light on their feet.
The Pac-12 has a rep for being a passing league, sans Stanford's style of play, so getting a few guys who can cover, and a few who can rush the passer are needs too.
Arizona State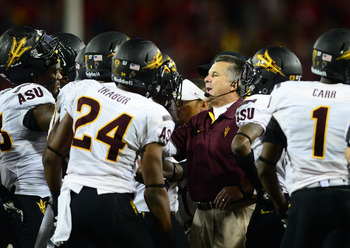 Mark J. Rebilas-USA TODAY Sports
The Sun Devils have had at least two QBs in the bag over the last two years, only to see them sign elsewhere. Josh Dobbs bolted for Tennessee this year, and in 2012, T.J. Millweard flipped to UCLA.
That said, it's time for head coach Todd Graham to bring in a QB, maybe even two of them. Getting more depth at RB and on the offensive line is also a need.
On defense, Graham must continue to recruit speed and try to establish a fence around the growing state of Arizona.
California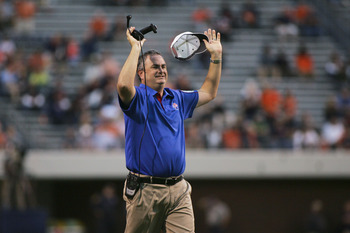 Peter Casey-USA TODAY Sports
New head coach Sonny Dykes could look at RB and WR as positions he wants to stock up on in 2014. It won't hurt Cal to bring in more OLs, too.
Yet everyone, including myself, seems to feel the secondary needs to be addressed—and addressed with multiple players. The safety position is the specific area on the back end that has several needs.
Getting a few guys who can patrol the deep middle and be ball hawks has to be tops on Dykes' list of recruiting needs in 2014.
Colorado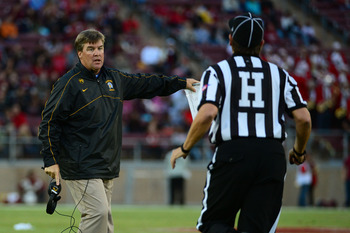 Kyle Terada-USA TODAY Sports
Jon Embree got a raw deal in Boulder and probably still should be the coach of the Buffs program. Yet he's not, and Mike MacIntyre is, so everyone will be moving forward.
MacIntyre would be smart to sign some tough and solid DT prospects, in my opinion. Making sure his defense has guys who'll beat up offensive lines, be physical against the run and make messes would be solid finds for the new big Buffalo.
Getting a couple TEs for depth chart reasons is a priority, too.
Oregon
Mark J. Rebilas-USA TODAY Sports
The Ducks start the post-Chip Kelly era this year, and 2014 recruiting will be interesting. On offense, don't expect the Ducks to stop recruiting explosive speed at the skill positions.
But on defense, Oregon could use this 2014 cycle to load up on defenders. The DL needs depth at the DT position right now and landing a few defensive backs is also needed.
Oregon probably also needs to sign some more LBs who can run and play in space.
Oregon State
Ed Szczepanski-USA TODAY Sports
The Beavers have a need at the WR position, especially in regards to speed. So look for Mike Riley to bring in perhaps two or three perimeter pass-catchers.
Staying on offense, Riley needs multiple OL recruits to sign up to block in Corvallis in 2014.
Defensively, signing players who can play effectively on the second level is a need, so linebackers and strong safety types will likely be targeted.
Stanford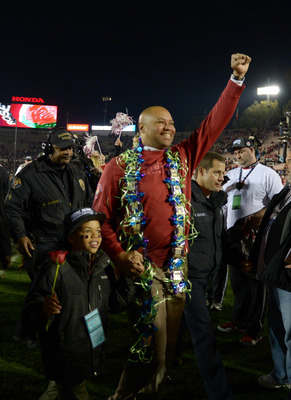 Kirby Lee-USA TODAY Sports
The Cardinal program has a need at both RB and DB. Also, LB could be a priority, and I'd think that getting some speed at the WR position could be a need, too.
David Shaw has Stanford playing power football, so look for him to bring in some more stout, tough and physical OL and DL recruits.
RB, DB, LB and WR strike me as the top needs for Stanford in 2014 recruiting.
UCLA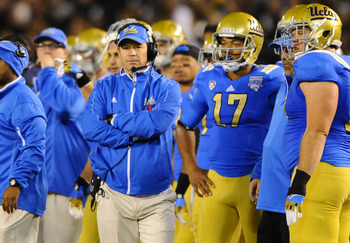 Christopher Hanewinckel-USA TODAY Sports
Jim Mora is a DB coach at heart, so don't be shocked if the Bruins sign a couple more back-end defenders in 2014. That's just a hunch I have, but keep your eye on it this year. Mora also needs to add some more depth and playmaking to his DL unit.
On offense, the Bruins' top need is probably RB, and they could sign multiple rock-toters at the end of this cycle.
USC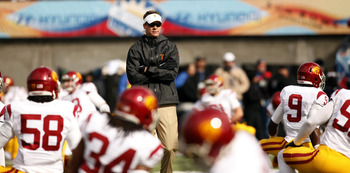 Ivan Pierre Aguirre-USA TODAY Sports
When depth is a problem from a personnel standpoint, and you have limited numbers to work with, the place you likely want to make sure your football team is strongest is in the trenches.
Lane Kiffin needs to sign several OL and DL recruits in 2014. Speed and skill position talent will come to USC naturally; it's the trenches that need to be focused on.
Also, Kiffin needs to make sure his staff is recruiting the right personnel to fit new defensive chief Clancy Pendergast's 3-4/5-2 scheme.
Utah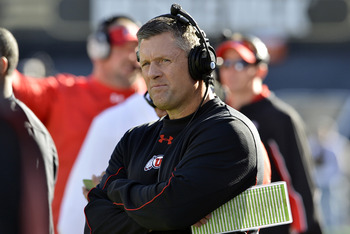 Ron Chenoy-USA TODAY Sports
Kyle Whittingham needs to add some quickness, speed and explosive big-play guys on offense.
Of course, like just about every program, OL prospects are needed too.
On defense, Whittingham seems to have a need for defensive backs. Both cover corners and safeties are defensive needs for the Utes in 2014.
Washington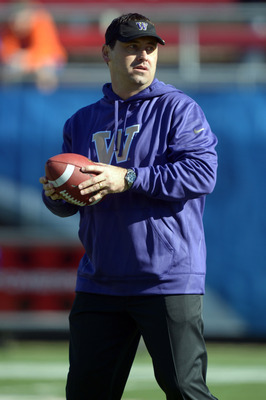 USA TODAY Sports
Sometimes, Keith Price takes too much of a beating, and that's a shame. Price is a pretty good QB. When he has time, he can make great plays.
He'll likely be gone by the time this 2014 class is ready, but Washington needs to take a serious look at how its OL recruiting is going. They couldn't keep Josh Garnett or Zach Banner home. Going back further, even Steve Schilling left the state.
This year, the Huskies should emphasize bringing some talent in for the OL unit.
Washington State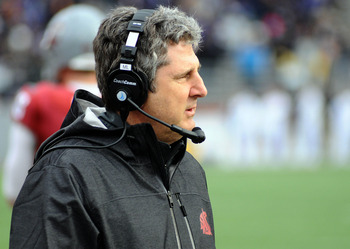 James Snook-USA TODAY Sports
The Cougs need defensive backs in this 2014 class, and that seems to be tops on their list. Mike Leach will more than likely take a QB and some WRs in this class for obvious reasons, too.
But defense and the secondary is where Leach needs to focus. Safeties who have range, athleticism and speed are needed in Pullman.
Edwin Weathersby is the College Football Recruiting Analyst for Bleacher Report. He has worked in scouting/player personnel departments for three professional football teams, including the New York Giants, Cleveland Browns and the Las Vegas Gladiators of the Arena League. He spent a year evaluating prep prospects and writing specific recruiting and scouting content articles for Student Sports Football (formerly ESPN Rise-HS). A syndicated scout and writer, he's also contributed to WeAreSC.com, GatorBait.net and Diamonds in the Rough Inc., a College Football and NFL Draft magazine.
Keep Reading