Predicting Philadelphia Eagles' Free-Agent Signings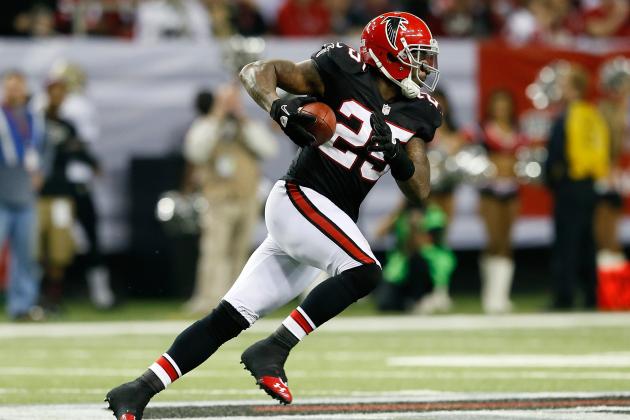 Kevin C. Cox/Getty Images

The Philadelphia Eagles have several months to prepare their roster for the 2013 season. Chip Kelly inherits a team that went just 4-12 last year, at one point losing 11 of 12 games.
The Eagles need a franchise quarterback to play in Kelly's offense. Michael Vick was already re-signed to a one-year deal, but he's not the long-term solution. The offensive line was one of the worst units in the league last season, as it was decimated by injuries. The defensive line failed to generate pressure on the opposing quarterback, and the secondary needs significant changes.
The NFL draft is in fewer than two months, and that's a golden opportunity to upgrade the roster. The Eagles have the fourth pick in the draft, which gives Kelly an excellent chance to select one of the top collegiate players in the nation. The team also has the free agency period to accrue talent at multiple positions. The trick will be improving the franchise without going all-in like the "Dream Team" signings of the 2011 season.
The following looks at each positional group and whether the Eagles will likely sign any more players.
Begin Slideshow

»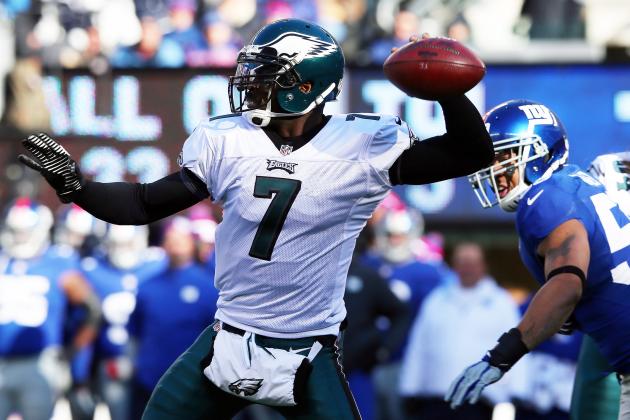 Elsa/Getty Images

The Philadelphia Eagles don't have a quarterback of the future, but there's no one in free agency that can fill the void.
Michael Vick's contract was already reworked to bring him back for another year at his age-33 season. Dennis Dixon was signed from the Baltimore Ravens practice squad, and he has a chance to win the starting spot considering he played in Chip Kelly's offense at Oregon. Kelly also added former multidimensional threat G.J. Klenne, who had a strong collegiate career.
Oh, and there's still Nick Foles in the mix. Foles may or may not join the roster, but there's no need to bring in another signal-caller on the already-crowded list of quarterbacks.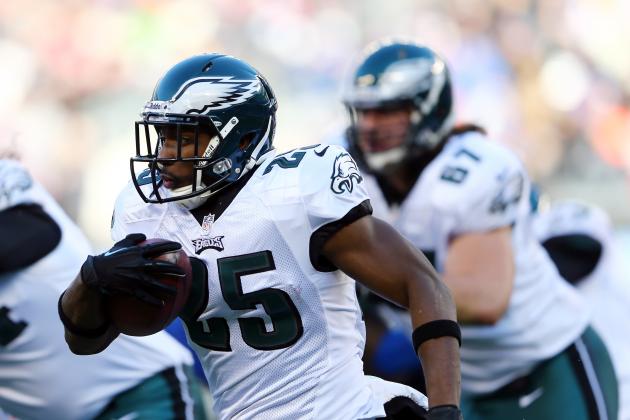 Elsa/Getty Images

There are some speed running backs that could certainly interest Chip Kelly. Danny Woodhead and Felix Jones are both hitting free agency. But the Philadelphia Eagles have a handful of good runners already.
LeSean McCoy is a top-five running back in the business. Bryce Brown showed a world of potential last season, and Kelly will love working with him. And there are also players like Chris Polk and Dion Lewis that could play a role next season. There's no need to sign another player.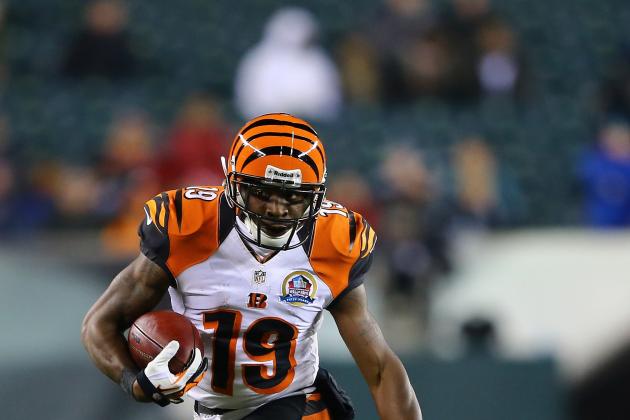 Al Bello/Getty Images

The Philadelphia Eagles have a very good group of wide receivers on their roster. DeSean Jackson and Jeremy Maclin are both explosive weapons that can excel as downfield vertical threats in Chip Kelly's high-powered offense.
Jason Avant is a fine possession receiver that excels in the slot. Damaris Johnson showed some potential as an undrafted rookie free agent in 2012. Riley Cooper has never developed into the big jump-ball receiver the team hoped he would be, and he may be the odd man out heading into 2013.
Brandon Tate would be a fabulous addition to the roster as a free agent. He's a fast receiver and a fine kick returner. He averaged 24.8 yards per kick return in 2012, exactly on par with his career average. He has two return touchdowns and he could probably be obtained at a cheap price.
Contract: 1 Year, $900,000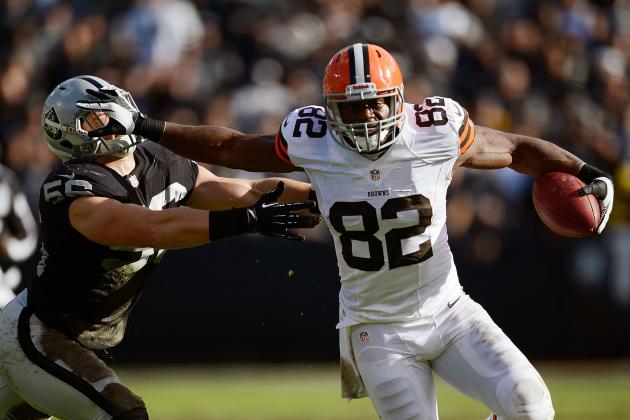 Thearon W. Henderson/Getty Images

This would be a fine addition to the Philadelphia Eagles. Brent Celek is signed long-term, but he's been subpar for two consecutive seasons.
Ben Watson could be a great player for Chip Kelly. He's ridiculously fast for a tight end, as he was timed at a 4.44 40-yard dash coming out of college. He's 32 years old, but Watson and Celek would be much better than Harbor and Celek.
Contract: 2 Years, $3.5 Million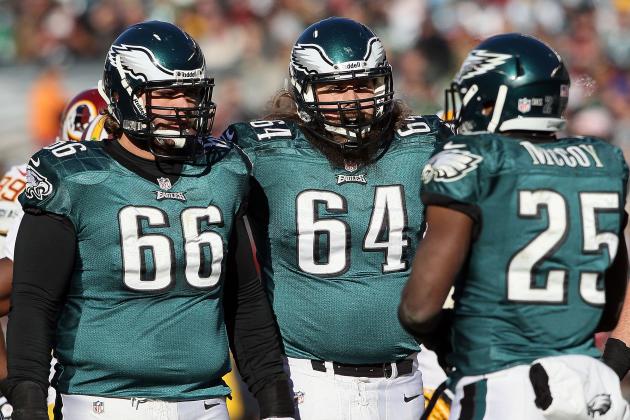 Alex Trautwig/Getty Images

Neither of these two players will be a big free-agent signing. Jake Scott spent 2012 on the Philadelphia Eagles, although he was out of football before the team signed him.
Scott filled in at right guard due to Danny Watkins' ineptitude. He's an adequate starter but a good backup. He's worth bringing back on another one-year deal. It's still unclear as to who the Eagles will go with as their starter at right guard. Scott will be a good fallback plan.
Pat McQuistan, half of the McQuistan twins, has been a journeyman offensive lineman for seven seasons. He plays tackle and guard. He's not going to start and he's not going to have his jersey sold out in memorabilia shops. But he's a solid player that knows how to play offensive line at the NFL level.
Contract (Jake Scott): 1 Year, $900,000
Contract (Pat McQuistan): 1 Year, $750,000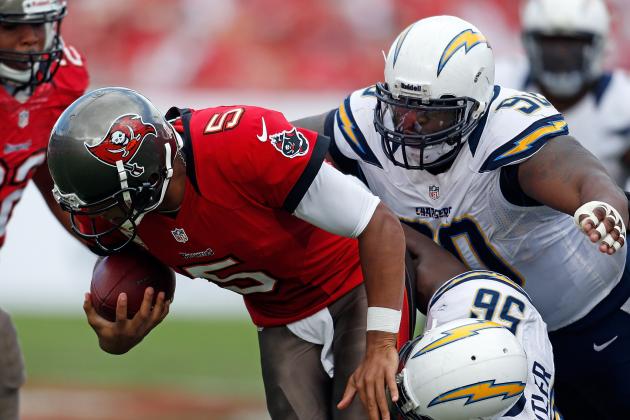 J. Meric/Getty Images

I don't know what the Philadelphia Eagles have planned for their defensive line. A good 3-4 defense needs a quality nose tackle to clog up the middle of the offensive line.
The Eagles don't have a Haloti Ngata or Vince Wilfork they can plug in. Fletcher Cox was a breakout player as a rookie, but he's better suited as a 4-3 defensive tackle. Unless the Eagles plan to draft a nose tackle, they're going to need to sign someone in free agency.
Aubrayo Franklin would be a solid fit. He's not a long-term solution at all, but he's a good one-year option. Franklin played nose tackle for the San Francisco 49ers and San Diego Chargers for six seasons.
Contract: 1 Year, $900,000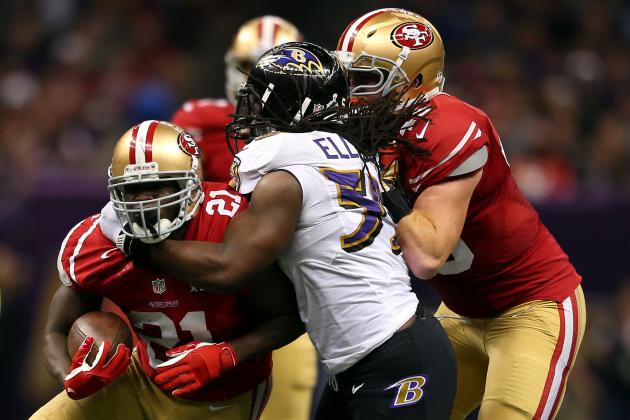 Mike Ehrmann/Getty Images

The Philadelphia Eagles need another inside linebacker in their new 3-4 defense. DeMeco Ryans is a guarantee to start (unless he is a surprise salary cap cut). Brandon Graham should be a natural at outside linebacker, and Trent Cole may be another fit.
Dannell Ellerbe would be a very solid addition as an inside 'backer in a 3-4. He had a strong 2012 season as a swing starter, picking up 4.5 sacks. The Baltimore Ravens will likely want him back since they're losing Ray Lewis, but their No. 1 priority will be to re-sign Paul Kruger.
Contract: 3 Years, $9.4 Million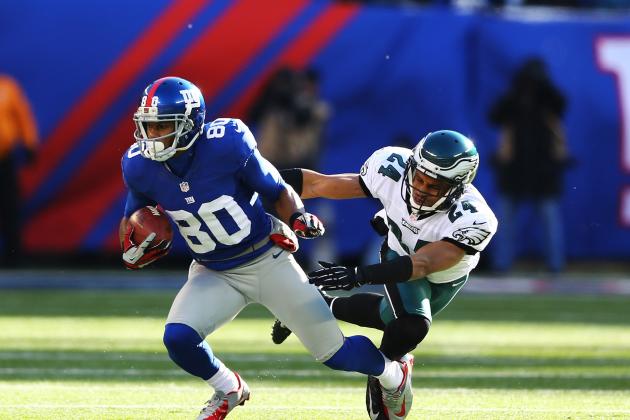 Al Bello/Getty Images

I expect the Philadelphia Eagles to work out a new reduced one-year deal with Nnamdi Asomugha. Dominique Rodgers-Cromartie will likely walk in free agency. That means the team may be forced to start Asomugha and rookie Brandon Boykin unless the team drafts a corner.
But I expect Chip Kelly to target a corner in the draft. Whether it's Dee Milliner, Xavier Rhodes, Desmond Trufant or Tyrann Mathieu, there's someone out there that will step right in and start from day one. That means the dime spot will likely return to Curtis Marsh in 2013.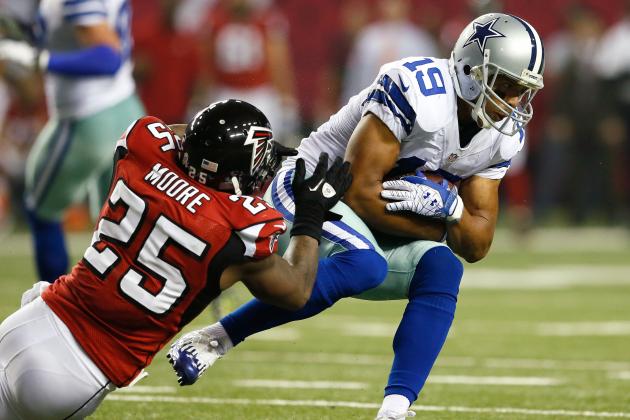 Kevin C. Cox/Getty Images

This would be a fairly big-name signing. I don't think the Philadelphia Eagles have any other choice but to sign a safety in free agency. Even if Chip Kelly drafts one, he's going to need to sign a guy too.
The Eagles would be foolish to think either Nate Allen or Kurt Coleman can start again. William Moore is a pretty intriguing option in free agency. He's had a solid several seasons in Atlanta, capped off by a Pro Bowl nod this year. Moore is tied with teammate Thomas DeCoud in interceptions (11) by a safety since 2010.
The Eagles may have made a run for Jairus Byrd, but he was franchised. Dashon Goldson is also available in free agency. If the Eagles don't get Moore, they have to make a run at Goldson. Either way, expect Philadelphia to go all-in for one of the top safeties in free agency.
Contract: 5 Years, $30 Million