Big Ten Basketball: Final Predictions for B1G Awards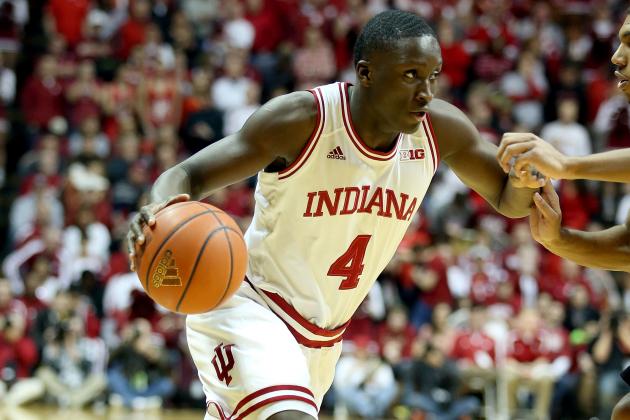 Andy Lyons/Getty Images
Were Victor Oladipo's all-around contributions enough to earn him conference Player of the Year?
The only thing more congested than the Big Ten title race may be the various conference award races.
In particular, the Big Ten's Player of the Year race has been as hotly contested and analyzed as any in the sport, and for good reason. Indiana has two legitimate candidates while Michigan's Trey Burke has been in the conversation all season. However, none of these players even leads the league in scoring, thanks to Ohio State's Deshaun Thomas.
There's also a great chance that the National Player of the Year hails from the Big Ten, despite a late push from Georgetown's Otto Porter.
As for the Coach of the Year honors, the collection of Hall of Fame coaches in the Big Ten have actually played second fiddle to the league's top-tier players. Numerous coaches have an argument for Coach of the Year, but in this case, it's the coach who managed to do the most with the least who will ultimately earn the accolade.
We predicted other awards as well, but those two races will undoubtedly garner the most attention.
And with that, enjoy the slide show.
Begin Slideshow

»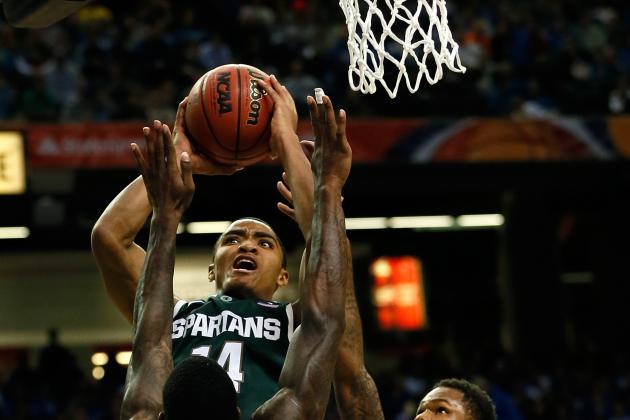 Kevin C. Cox/Getty Images

Even though the Big Ten was infused with highly productive freshmen across the league, Michigan State's Gary Harris was undoubtedly the best of the rookie class.
Rarely does Tom Izzo ask so much of a freshman, usually letting his veteran players groom the talented but raw prospect. But in Harris' case, it was baptism by fire.
Harris played 65 minutes against Connecticut and Kansas in the Spartans' opening two games, scoring 25 points on 11-of-25 shooting. Against non-conference opponents, the former McDonald's All-American, whom Izzo began recruiting when he was in eighth grade, scored in double digits in all but one contest.
Once conference play began, Harris rained in three-pointers despite dealing with an early-season shoulder injury and consistent back spasms. His range was highlighted by a 6-of-8 three-point night against Purdue on Jan. 5th, where the freshman finished with a season-high 22 points. Throughout league play, the 6'4'' shooting guard drained 50 percent (37 of 74) of his shots from beyond the arc, which is second only to Indiana's Christian Watford.
Perhaps the best endorsement of his candidacy came from Izzo himself, when following his team's recent loss to Indiana, Izzo said that Harris has "maybe been the best player I have." While freshmen such as Indiana's Yogi Ferrell and Michigan's Nik Stauskas have had tremendous first years, Harris has been the clear standard.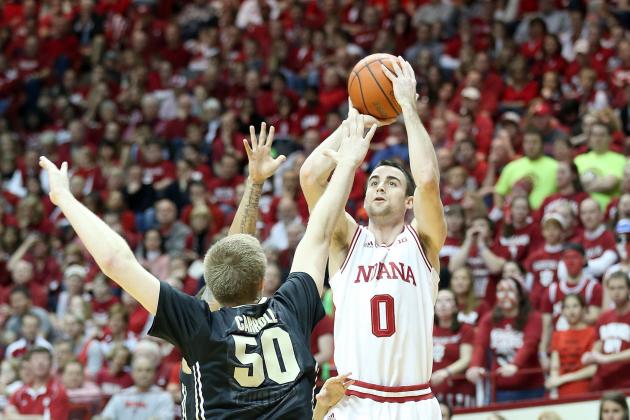 Andy Lyons/Getty Images

Sheehey's profile has been advanced because of Indiana's notoriety, but every time the bulky 6'7'' forward enters the game, he adds another dimension to the Hoosiers' already deep rotation.
All of Indiana's players know their roles. Whether it's Cody Zeller's post presence to Jordan Hulls' and Christian Watford's three-point shooting to Oladipo's all-around production, it would seem like the Hoosiers have most of their bases covered.
But Sheehey gives Indiana a defensive toughness while also providing yet another scoring option for the Hoosiers. Not to mention, Indiana's only obvious weakness is its bench, but at 9.8 points per game in 22 minutes a night, Sheehey fills in admirably anywhere from shooting guard to power forward.
He's essentially a stopgap if the Hoosiers get into foul trouble and are forced to go to their bench early or if they simply need another offensive look. His game is predominantly built on jumpers, but he's also capable of throwing down tremendous transition dunks.
Perhaps most telling is that with so many gifted players likely bound for the NBA after this season, the junior has still found a way to put his stamp on this year's Hoosiers.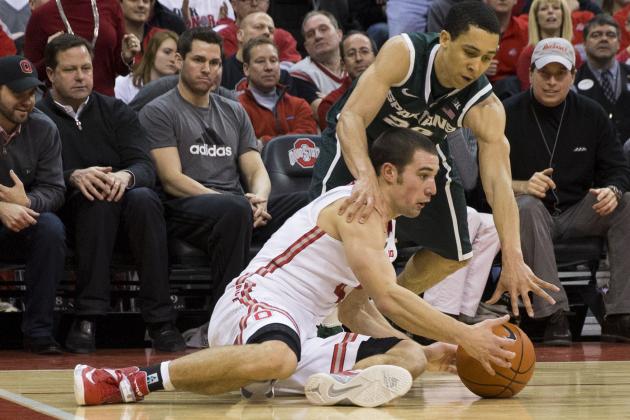 USA TODAY Sports

After winning the award last season, Ohio State's Aaron Craft will earn the award yet again after another impressive season locking down opposing guards.
His steals per game are down from 2.5 to 1.9 per game, but he's still the same old Craft, who dedicates ample time to studying his opponents' offensive tendencies.
In two games against Michigan's Trey Burke this season, Craft has harassed the Player of the Year candidate into 10-of-25 shooting (10 percent less than his season average) and helped force six turnovers to 12 total assists. Those rates are significantly lower than Burke's season averages of 3.5 assists to one turnover.
Against Michigan State's Keith Appling, Craft had six steals in two games and Appling was 7-of-19 with four assists and seven turnovers. It's not just the raw numbers that make Craft the league's best defender, though.
It's that he's also responsible for his teammates on the defensive end. If another Buckeye gets beat on the perimeter, it's not uncommon to see Craft slide into the paint and take a charge. Should the Buckeyes switch on a screen, Craft has no trouble transitioning to another ball-handler, likely because he has studied others besides his man as well.
Minnesota's Trevor Mbakwe (8.8 rebounds per game, 1.5 blocks per game) was a worthy candidate as well for his impact inside the lane, but Craft is too valuable when mirroring opponents' ball-handlers and disrupting the flow of their offenses.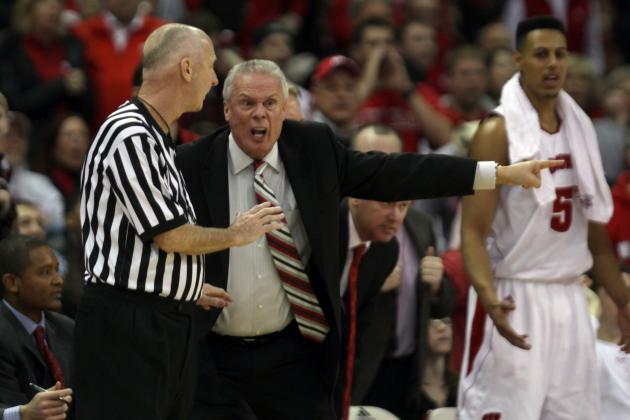 USA TODAY Sports

Considering what the Badgers had to work with heading into this season, it's unbelievable that Bo Ryan has his team in the Big Ten title race at 11-5 with two games left.
Wisconsin graduated former All-American point guard Jordan Taylor last year, leaving the responsibilities to Josh Gasser, a more natural shooting guard. But Gasser tore his ACL in the preseason, and sophomore Traevon Jackson eventually settled into the role, despite playing just five minutes per game his freshman season.
Sunday's loss to Purdue was shocking given that Ryan was 68-2 against unranked opponents in Big Ten play at the Kohl Center, but Ryan will still be the recipient given his entire season's work.
Brent Yarina, a correspondent for Big Ten Network, tweeted in Ryan's defense.
The Badgers got smacked in non-conference play, losing four times to tournament teams Florida, Creighton, Virginia and Marquette, but they rebounded with consecutive wins over Illinois and Indiana. Save for a meeting against Ohio State on March 5, the latter marked the Hoosiers' only home loss of the season.
Ryan also guided his team to two massive home victories against then-No. 4 Michigan (albeit due to a half-court heave that sent the game to overtime) and also versus Ohio State by 22 points.
With his highest scorer (Jared Berggren) topping out at 11.6 points per game and the ongoing free-throw woes for the Badgers, 11 conference wins and a potential first-round bye in the conference tournament is more than impressive. The Badgers have relied on sound defense (54.5 points per game) and three-point shooting (110 made threes) to navigate the brutal Big Ten schedule, and they did it without one superstar contributor.
Isn't that the epitome of a team?
Ryan's biggest competition comes from Tom Crean and the Hoosiers, but again, it comes down to the disparity in talent. Indiana was the preseason's top team and was blessed with a litany of NBA talent. And the Badgers beat them in Bloomington.
The Hoosiers suffered a few other close losses, but all came against unranked teams.
The fact that Bo Ryan has a chance to continue his streak of finishing within the Big Ten's top four teams for the 12th consecutive season is a tribute to his coaching and is reason enough for why he deserves the Big Ten's Coach of the Year award.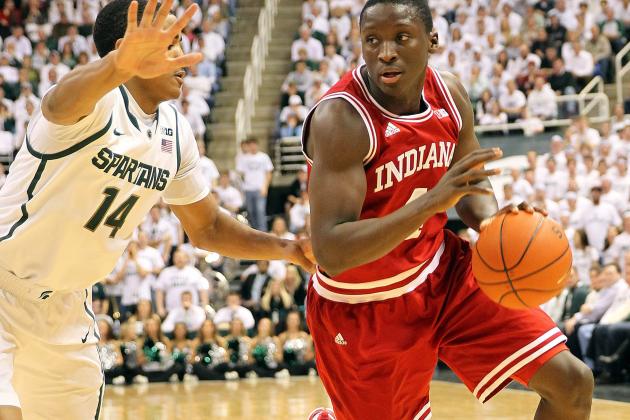 Mike Carter-USA TODAY Sports

Overshadowed by his 7'0'' teammate in the preseason, Victor Oladipo has burst onto the national stage with his mesmerizing dunks and deft hands to become the front-runner for the Big Ten's Player of the Year.
Illustrative of his rise, a season ago, Oladipo was considered a supremely athletic guard, capable of hauling in rebounds and getting to the line. He was the fourth scoring option on the team. But this season, after averaging 14 points per game on an eye-popping 63 percent shooting, the junior has drawn comparisons to Dwyane Wade and even, yes—you heard Dick Vitale—a "mini-MJ."
Whether those comparisons are warranted remains to be seen, but when considering his stunning trajectory, it's tough to put a ceiling on him, both metaphorically and literally.
Oladipo's gift is that he can affect a game in so many ways such that should his three-point shot not be falling, he can easily turn his attention to grabbing more rebounds or deflecting passes in the lane.
His three-point shooting has improved markedly (20 percent last year, 49 percent this year), and although he's not a volume shooter, his efficiency forces defenders to play up a step, leaving them vulnerable to his ultra-quick first step. On defense, he leads the conference with 2.2 steals per game.
Perhaps the best part about Oladipo is that he impacts the game all while playing within himself. He never forces shots and is perpetually a team player, even as his profile has continued to grow.
His biggest competition for the award will be from Michigan's Trey Burke, an immensely unselfish player in his own right. Burke's 6.5 assists per game are far and away the most in the league and his 18.8 points per game rank second in the Big Ten. But in the head-to-head matchup, not only did Oladipo's team win, but Burke shot just 9-of-24 from the field, although he finished with a game-high 25 points.
Burke had another excellent game on Sunday against Michigan State, but on Saturday, Oladipo had 10 points, eight rebounds and four steals in just 22 minutes against Iowa.
The two will meet again on March 10 in the regular-season finale in Ann Arbor.
The two are extremely close and both are worthy candidates, but Oladipo will earn the award by impacting his team's success in more ways than any other player in the Big Ten.
Instead of seizing the spotlight with the glare of the national media upon him, Oladipo has remained unselfish, seemingly motivated by team goals as opposed to individual ones. But his importance to his team is unparalleled. And for that, he should earn the Big Ten's Player of the Year.