Dallas Mavericks vs. Houston Rockets: Postgame Grades and Analysis for Houston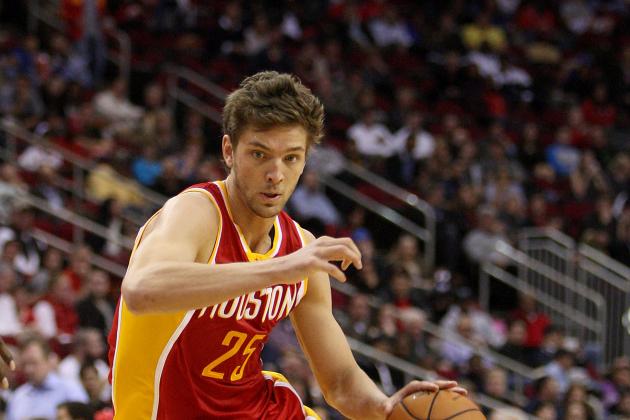 Troy Taormina-USA TODAY Sports

The Houston Rockets beat the Dallas Mavericks for the first time in their last nine tries, riding a red-hot third quarter to a 136-103 win on Sunday night.
Chandler Parsons was almost perfect, Jeremy Lin played one of his better games as a Rocket and Omer Asik did the dirty work as Houston outran the much slower Mavs.
On the night, the Rockets shot 58 percent as a team, won the rebound battle and enjoyed a turnover differential of plus five. Houston dominated from the middle part of the second period onward, but the game really swung in the third quarter, when Houston posted a season-high 44 points.
As a result, the Rockets took a comically large 108-78 advantage into the fourth quarter.
These two teams will meet again on March 6, so you can bet there'll be some hard feelings after a blowout like this. For now, the Rockets can enjoy one of their most dominant wins of the season.
Begin Slideshow

»
Jeremy Lin: A
Jeremy Lin certainly didn't play like a guy nursing a tender ankle. The Rockets point guard played with notable aggression against the Mavs, getting himself to the rim and even hitting a few pull-up jumpers as he came around screens in the mid-range area.
In addition to his solid offensive play in half-court sets, Lin showed an interesting wrinkle in his transition game. Known as one of the league's most "right-handed" players, Lin actually made a clear effort to take the ball to his left when retreating defenders angled themselves to cut off his strong hand.
It was a small adjustment and to be fair, Lin still finished exclusively with his right hand. But it's always nice to see a player recognize his weaknesses and make adjustments.
On the night, Lin finished with 21 points and nine assists on 8-of-14 shooting. Just as importantly, his controlled aggression was a major factor in the Rockets' third-quarter explosion.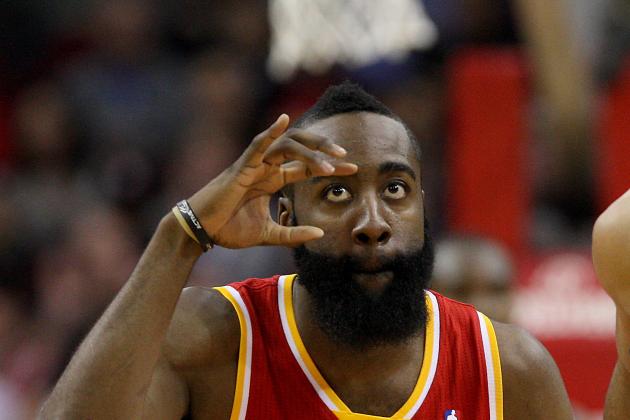 Troy Taormina-USA TODAY Sports

James Harden: A
A sore knee caused James Harden to move with a noticeable limp at times, but the Rockets' star still managed to dice up the Mavericks with his patented efficiency. Harden posted 21 points, seven assists and four rebounds on 5-of-10 shooting before taking the fourth quarter off in what turned out to be a laugher.
Though he still managed to log nine free-throw attempts, Harden did play without some of the recklessness that has marked his breakout season. In place of repeated drives into traffic, Harden substituted a few more jumpers off the dribble.
Obviously, he was still just as deadly as ever.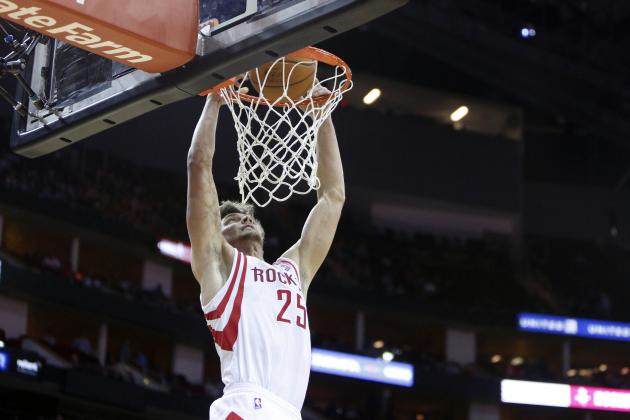 USA TODAY Sports

Chandler Parsons: A+
Parsons put on a clinic in efficient offensive basketball, doing all of his scoring from beyond the arc and at the rim against Dallas. Houston takes the fewest mid-range jumpers in the league, but Parsons' night was a true example of just how extreme the Rockets' offensive philosophy can be.
Of course, it probably wouldn't have mattered where Parsons took his shots from in this one.
Houston's small forward started the game by connecting on every one of his first 11 attempts. Yes, you read that right; Parsons hit 11-of-11 before missing a heat-check three in the third quarter.
Naturally, he buried one final triple before exiting the game for good, finishing with a career-high 32 points on 12-of-13 shooting.
Everyone will be talking about Parsons' nearly perfect offensive night, but he should also get a little recognition for matching up nicely with Dirk Nowitzki in the first half. Dallas' veteran star finished the game with just eight points on 2-of-8 shooting, and Parsons had an awful lot to do with that.
It'd be hard to imagine a more impressive individual effort than the one we saw from "Chandler Bang" against the Mavs.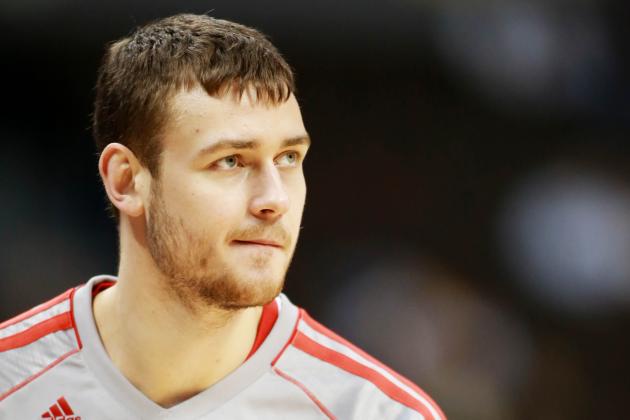 USA TODAY Sports

Donatas Motiejunas: B
The Rockets' decision to deal the two players—Marcus Morris and Patrick Patterson—who had started the bulk of their games at the power forward position seemed a little rash at the time. But now that everyone has gotten an extended look at Donatas Motiejunas, it all makes sense.
The 22-year-old Lithuanian seven-footer flashed the collection of skills against the Mavs that helped convince GM Daryl Morey that Morris and Patterson were expendable. His touch around the rim was deft, he hit a three and he displayed ball skills that shouldn't belong to a player his size.
All of those things aside, the most impressive aspect of Motiejunas' night might have been the times he got out in transition. The guy can really run.
His final line of eight points, eight rebounds and three assists isn't a jaw-dropper, but Motiejunas really looked like a potential star. Credit Morey and the Rockets on this one; it really looks like Houston had an ace up its sleeve in D-Mo.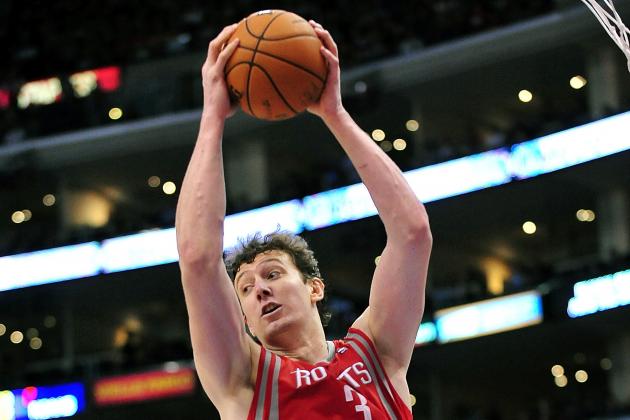 Gary A. Vasquez-USA TODAY Sports

Omer Asik: A-
Very little of what Omer Asik did against Dallas was pretty, but Houston's center has put together a heck of a season with ugly effectiveness. The perfect contrast to the Rockets' team-wide finesse, Asik got to work on D and on the boards.
As was the case in 14 of his previous 15 games, Asik pulled down double-digit rebounds against the Mavs. He complemented those with 10 points and five steals.
Perhaps most importantly, the center got to take an extended break during a fourth quarter that amounted to 12 minutes of garbage time. Too often this year, Asik has been rushed off the bench whenever the Rockets start to allow too many easy buckets.
He certainly needed the rest.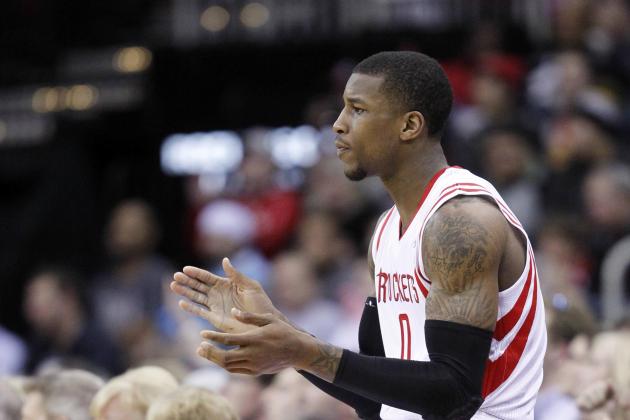 USA TODAY Sports

Thomas Robinson: B+
So, remember all of the glowing words you just read about Motiejunas? Well, if Thomas Robinson keeps playing like he did in his extended minutes against the Mavericks, there still might be a position battle at the 4.
It shouldn't be a surprise that T-Rob failed to blossom in the toxic Sacramento Kings' soil. Nobody seems to improve on that team.
Now in a much better environment and playing for an organization that has a far superior track record of player development, Robinson is in good hands. And speaking of hands, the rookie forward used his to score 10 points, grab eight rebounds and snatch three steals in just 18 minutes.
He cut hard, got off the floor quickly and chased every loose ball.
His time on the court came largely after the outcome was settled, but there was no mistaking Robinson's athleticism and energy. This is a guy who could still easily justify his lottery selection.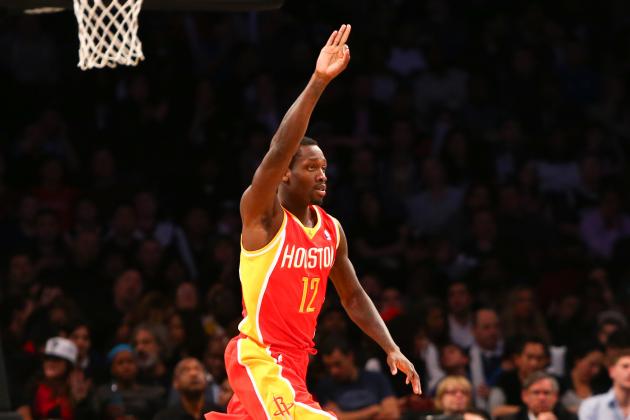 USA TODAY Sports

Bench Grade: B
Thanks to the Rockets' monstrous fourth-quarter advantage, there were plenty of bench minutes to go around. And because Dallas had essentially given up after a back-breaking third period, Houston's reserves had free rein to put up some stats down the stretch.
Greg Smith scored eight points and grabbed three rebounds, Francisco Garcia hit a pair of triples and Patrick Beverley logged nine points and seven boards in 23 minutes.
If it seems a little bit like everyone got involved in this game, that's because it's true. Such is the nature of a honest-to-goodness blowout.
In the interest of total fairness, there was one blemish on an otherwise pristine night for the Rockets' bench: Carlos Delfino scored just three points on 1-of-7 shooting.
He'll be hearing about that from his teammates in what's sure to be a pretty loose Houston locker room.