Predicting Seattle Seahawks' Free-Agent Signings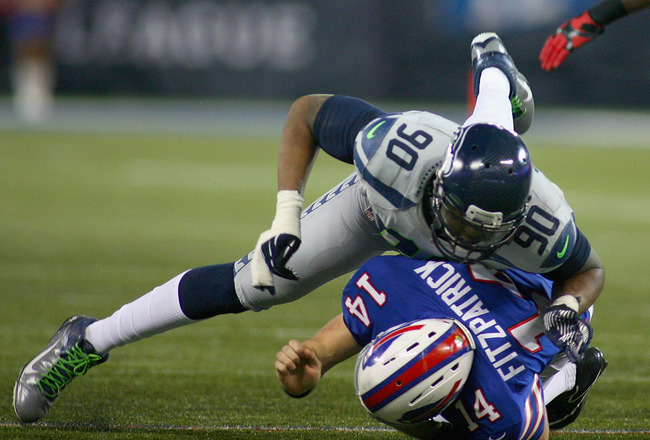 Rick Stewart/Getty Images
The free-agent season is about to be begin, but the Seattle Seahawks may not be doing a great deal of shopping. Certainly there are some interesting players on the market, but the issue is cap space. Isn't that always an issue?

According to calculations done by 12thmanrising.com, the Seahawks may have as much as $17 million to spend on free agents. ESPN puts the number at $18.6 million for 2013. Regardless of the exact amount, the number has to be put in context. The team may not want to spend every dollar of that amount, particular when it has some big contracts coming up next year.

If the Seahawks decide to build a cushion into that amount of around $10 million, they may be left to spend $7-8 million on free agents. This realistically means that Seattle will not be going after any of the top-tier free agents unless it makes other moves to clear space.

When you look at the numbers (via spotrac.com), there are some sizable contracts that may raise an eyebrow. Specifically, Zach Miller will make $11 million, Sidney Rice will make $9.7 million, and injured Chris Clemons will have a cap number of almost $8.2 million.

Suddenly the $7.25 million for backup quarterback Matt Flynn is looking fairly large.

Will the Seahawks be able to sign anyone significant this year, or will they need to meet needs through the draft? Here are a few free agents that they might think about pursuing.
Jason Jones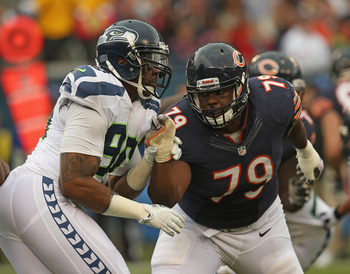 Jonathan Daniel/Getty Images
POSITION: Defensive lineman
2012 TEAM: Seattle Seahawks
SALARY IN 2012: $4.5 million
AGE: 26

Let's start with the in-house free agents. Jason Jones represents a part of the team Seattle would arguably like to have back, assuming he is healthy.

Assuming.

Jones would partially address a key need for Seattle, which is the defensive line. However, what the Seahawks will have to determine is whether Jones can stay on the field. In his five-year career, Jones has never played a full season.

This potential contract represents less money per year, but perhaps Jones would take the security of a two-year deal.

CONTRACT: 2-Year, $8 million
Steven Hauschka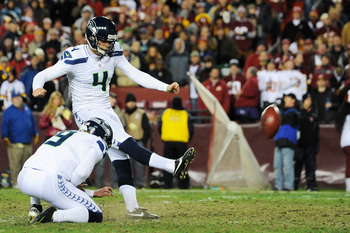 Patrick McDermott/Getty Images
POSITION: Kicker
2012 TEAM: Seattle Seahawks
SALARY IN 2012: $1.26 million
AGE: 27

How important is the kicker? When you are talking about a game-winning field goal, all the other stars are irrelevant. The rest of the time, kickers are not exactly a huge part of the offense or the personnel budget.

Steven Hauschka was 24-for-27 in 2012, and at age 27, he is still quite young for a kicker, given that Jason Hanson just finished his 20th year at age 42. Youth is not as important when you are talking about kickers.

The concern about Hauschka is whether he has the range to duel with the current generation of kickers. Granted, Seattle may not find a comparable kicker for the price, and the draft class looks to be a bit thin.

There was some talk (via NBC Sports) about using the franchise tag on Hauschka, but that seems less likely at this point. Assume that the Seahawks may bring Hauschka back, but they won't overpay.

CONTRACT: 2-Year, $2.7 million
Richard Seymour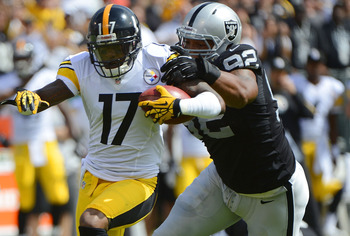 Thearon W. Henderson/Getty Images
POSITION: Defensive lineman
2012 TEAM: Oakland Raiders
SALARY IN 2012: $7.5 million
AGE: 33
The Seahawks will have to make some choices regarding the defensive line. If Jason Jones and Alan Branch do not return, Seattle may fill its needs through the draft. However, there also may be a desire to bring in some veteran help.

Richard Seymour may be towards the end of his career, but he could provide a veteran presence for a defense that has a lot of young talent. This is the type of deal that could bridge the gap until draft picks are more comfortable in the NFL.

Seymour will also be coming off of an injury, so his health will obviously be a concern as he only played eight games in 2012. Still, Seymour has been reasonably durable during his 12-year career.

CONTRACT: 1-Year, $3.5 million
Charles Woodson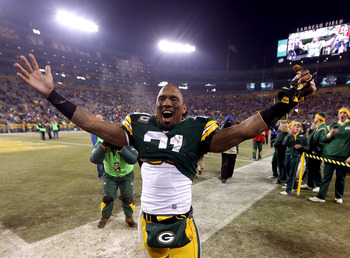 Andy Lyons/Getty Images
POSITION: Cornerback/Safety
2012 TEAM: Green Bay Packers
SALARY IN 2012: $11.5 million
AGE: 36

At this point in his career, Charles Woodson is going to be looking for a contender. That is assuming that he has used good sense when it comes to investing his money.

We already know that cornerback Richard Sherman wants Woodson in Seattle, and Sherman recently made this clear on Twitter. Whether Woodson will be impressed by the sales pitch is yet to be determined.

To be certain, Woodson would provide a measure of veteran leadership for a Seattle squad that has some exciting young talent. The question is whether Woodson has much left in the tank after a long and productive career.

Woodson is sure to draw some interest around the league, and Seattle may not be interested in getting into a bidding war for a 36-year-old player.

CONTRACT: 1-Year, $2 million
Matt Leinart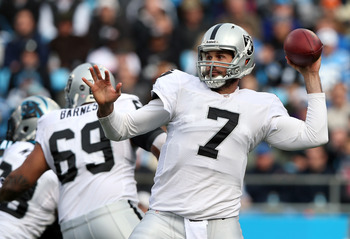 Streeter Lecka/Getty Images
POSITION: Quarterback
2012 TEAM: Oakland Raiders
SALARY IN 2012: $700,000
AGE: 29

This is the type of free-agent contract that only happens if the Seahawks do indeed trade backup quarterback Matt Flynn, and the team does not want to fill the role with a rookie.

Truthfully, the career of Matt Leinart may be over at this point. Would this be an exciting signing for Seattle? No. Would it provide the Seahawks with a "quality" veteran backup in the event of a Russell Wilson injury? Not exactly.

You sign someone like Matt Leinart because he will be inexpensive, and he has an existing relationship with the coach. Again, this is not a pursuit unless Flynn actually gets traded.

CONTRACT: 1-Year, $500,000
Keep Reading

Seattle Seahawks: Like this team?