NY Knicks Must Utilize This Five-Man Unit More Often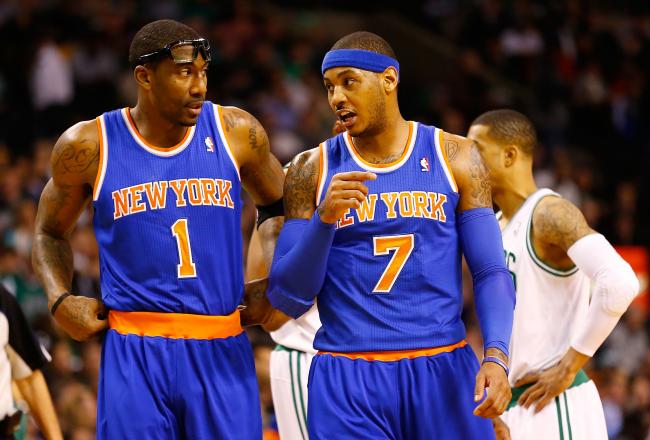 Jared Wickerham/Getty Images
The New York Knicks' roster is filled with talent, but the extent of their success this season will depend on how Mike Woodson utilizes his team heading into the playoffs.
The most important thing Woodson needed to do was move Jason Kidd to the bench, and he's done so in recent games. Having Kidd in the starting lineup forced Iman Shumpert to play out of position at small forward, causing problems on both ends of the floor for the Knicks.
Still, there are more changes to the rotation that Woodson could make, and the focus of these changes should be Amar'e Stoudemire.
STAT has been resurgent since making his season debut in January, and is playing efficient basketball off the bench.
Through 30 games this season, Stoudemire is shooting a career-high 59 percent from the field, so Woodson should make a concerted effort to get him involved more often. There's no way a player doing so well offensively should only be taking 8.9 shots each game.
Looking at the statistics, this is the lineup that gets the best out of Stoudemire and the rest of the Knicks' key players: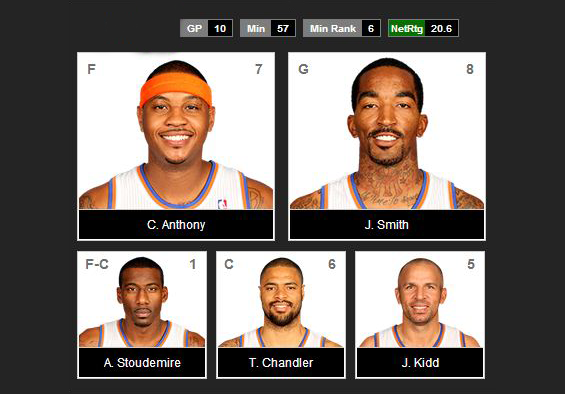 The stats show that having these five players on the floor together improves the team in the most important ways. As you can see here, the team's field-goal percentage and rebounding increases, whilst turnovers decrease to a shockingly low number: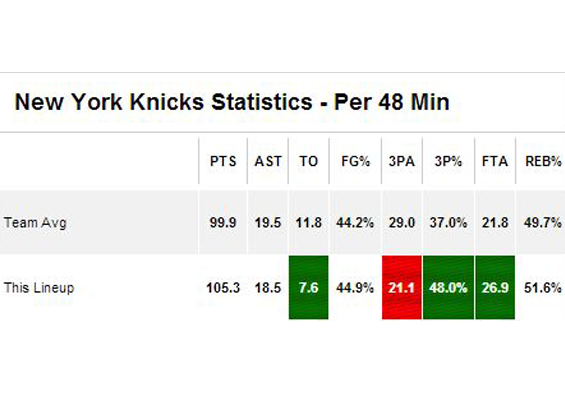 It is important to note that these stats are based on only 57 minutes of action so far this season, so they must be taken with a grain of salt. That said, when you look into how they've been successful, as well as the numbers, it starts to make more sense to give them increased court time together.
The key thing this lineup does is give the Knicks a good mix of inside and outside options in the half-court offense.
Typically, having Carmelo Anthony, Amar'e Stoudemire and Tyson Chandler on together is considered bad for the offense because it doesn't spread the floor enough. In this case, however, Kidd, Melo and J.R. Smith are all great outside shooters, which ensures that there is balance.
As the stats show, this has worked out in terms of production. The Knicks get to the line more often with this lineup—something they have been lacking all season—but they also shoot a higher percentage from outside.
Essentially, this lineup incorporates the Knicks' best players—Smith, Anthony, Stoudemire and Chandler—and gives them a future Hall of Fame point guard in Kidd, who has the ability make them work together.
Kidd may be slow at this point in his career, but he can still run the show in the half court. His vision and passing ability makes up for a lot, and he also has another good ball-handler in Smith who can take the reigns on the fast break.
The advanced statistics also support Woodson using this unit more often: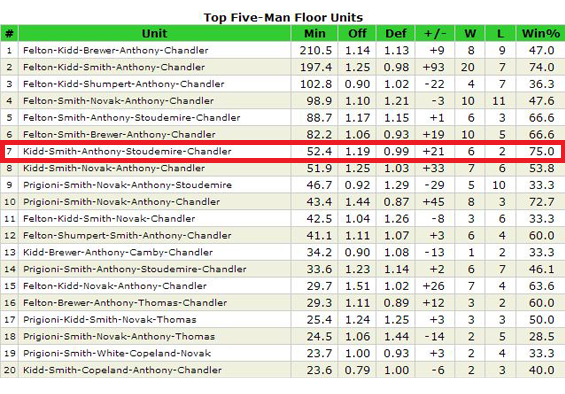 Taking a look at the offensive rating, it's clear that productivity increases when these five are together. What's also important, however, is that the defensive rating also decreases.
Stoudemire may not be a great defender, but having his size on the floor along with Chandler makes the paint a much more daunting place for opposing players. Smith's athleticism on the perimeter also helps in an area the Knicks have typically struggled.
In recent weeks, the Knicks have been letting teams get into the paint and find good looks way too easily. As we can see here, however, this lineup allows the least attempts from in-close of any of the Knicks' 20 most used lineups: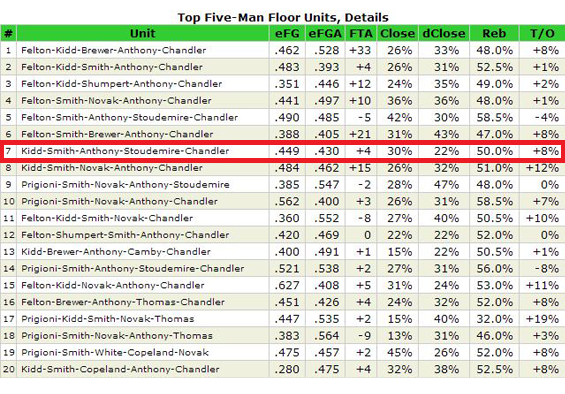 In summary, playing this unit addresses the Knicks' weak areas of getting to the line and defending the paint, whilst also making good on the team's strengths of three-point shooting and keeping turnovers down.
This doesn't have to be the Knicks' starting lineup, or even their fourth quarter unit, but it still needs to be used more often than it has been. The stats show that it's an efficient unit, and that's no surprise considering the players in it.
Stats used in this article were accurate as of March 4, 2013. Advanced stats are from 82games and NBA.com/AdvancedStats.
This article is
What is the duplicate article?
Why is this article offensive?
Where is this article plagiarized from?
Why is this article poorly edited?

New York Knicks: Like this team?