10 Best NHL Plays from February (Video)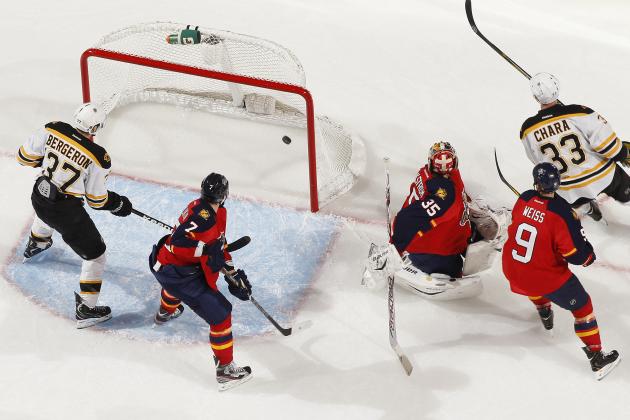 Joel Auerbach/Getty Images

For the first time since May of 2012, NHL fans were able to begin and end the same calendar month with a nonstop fix of fresh major league hockey action.
Finally, another time period long enough to collect a sizeable highlight package with as many of the league's 30 teams as one sees fit. After a long, lockout-induced wait, not much more introduction is needed for a list such as this.
With room made for three honorable mentions, here are the top 10 saves, strikes and setups from February of 2013.
Begin Slideshow

»
Florida Panthers rookie Jonathan Huberdeau made a most ideal first impression on his first-ever NHL shootout attempt. Practically using the puck to sway Flyers goaltender Ilya Bryzgalov as he dribbled down the center lane, Huberdeau tilted to his left at the last second to fill a hole left by his splitting opponent.
While the Phoenix Coyotes' home state was delving into statewide Cactus League action on the diamond, their goaltender made like a reactive pitcher or shortstop on this play in a visit to Edmonton.
Amidst the Oilers' four-on-three power play in overtime, Smith snuffed a blistering blast from the high slot by Sam Gagner.
This play packed a combination of turning a penalty kill into an onslaught, strolling virtually unbothered from the faceoff dot in one zone to the other and tuning the mesh with impressive precision. Notice on the last replay how scorer Brandon Saad's shot eludes goaltender Antti Niemi and bounces in with the aid of the opposite post.
For a netminder, there are few conceivable betrayals worse than when the pipe joins forces with the shooter, but Saad made it happen here.
Blue Jackets forward R.J. Umberger could not be pestered by pursuant Edmonton adversaries as he joined the puck in forming a semicircle from the near outer hash marks to the far inner hash marks. From there, he recognized that he was where the puck got off and launched it home bar-down.
This was the second installment of an eventual hat trick for Nick Bonino and the tone-setter for a barn-burner with Anaheim topping its regional rival from Los Angeles, 7-4.
With two Kings skaters plus goaltender Jonathan Quick directly separating him from the goal, Bonino stuck with his wraparound attempt and slipped it through a mousehole-sized opening in Quick's pads.
Evander Kane was sharp all around as he let his stationary stick deflect a would-be Devils' pass to teammate Alexander Burmistrov en route to an instantaneous counterattack. He polished that play off by absorbing Burmistrov's return feed in neutral ice, slicing through both New Jersey defenders and outwitting goaltender Johan Hedberg to slip home a backhander.
New York Rangers forward Rick Nash drew the entire back half of the Boston Bruins lineup, namely defensemen Andrew Ference and Adam McQuaid and goaltender Tuukka Rask, to his vicinity. Yet he could not draw them close enough to dislodge the puck from his twig.
Instead, after enough maneuvering through the maze of black uniforms, Nash parted with the puck on his own terms. Whilst blowing a tire on the porch, he unleashed a backhand pass to his left, which found teammate Carl Hagelin, who did the relatively easy part of the play by feeding a gaping goal mouth.
Maybe those who advocate reinstating the red line and once again outlawing two-line passes, as it was before 2005, will rethink that position after watching this play.
With their connection through the Broadway lane of the neutral zone, Patrick Wiercioch and Jakob Silfverberg were rewarded for their awareness and communication. The opposing Montreal Canadiens' backcheckers paid a price for a lack of adequate coverage of the passing lane and pass recipient.
That is just the way the game should work, not to mention the fact that plays like this can be spectacularly executed as this one was.
The video will show that there was a pending icing call on the Vancouver Canucks when Henrik Sedin dumped the puck diagonally behind the Detroit Red Wings' goal line. But Daniel Sedin, who was already within intimate distance of the attacking blue line, ensured that was negated and patiently, but speedily crossed paths with the biscuit to beat goaltender Jimmy Howard.
It is one thing to shoot at a netminder with intent to leave an easy-to-bury rebound for one's teammate. It is another for a defenseman on the point to intentionally shoot wide for the same purpose.
It is still another to enact the same concept from center ice, let alone reap a tangible token of success for it.
For once, amidst another trying season in the crease, the Tampa Bay Lightning get an otherworldly save out of their own netminder. A refreshing, if only momentary, reversal of fortune after Tim Thomas stashed multiple diving paddle saves at the expense of Bolts skaters in his highlight reel.
This time, it is Anders Lindback tending the Tampa goal and thwarting another Northeast Division adversary, namely Andrei Markov of the Canadiens.
With his Colorado Avalanche trailing in the third period, 3-0, goaltender Semyon Varlamov verified a lack of quit when he halted an otherwise surefire fourth goal.
From most replay angles, Kyle Palmieri's quick one-timer of Teemu Selanne's cross-ice feed goes as far as hovering above the goal line as Varlamov traps it. After needing to slide in rod hockey-goalie fashion in accordance with the trek of the puck, no less.
A play that close is hard to beat in the search for the best save in any given month, at least as far as the saves made by full-time netminders are concerned.
On that note, we turn to a less likely backstop coming through to avert an opposing strike.
While none of the Habs could close the opening on the aforementioned Silfverberg goal and Wiercioch setup, defenseman PK Subban nobly bailed out his goalie during a bout with the Flyers.
Peter Budaj's giveaway from within the trapezoid led to a cross-ice feed for Tye McGinn, who was denied only by a sprawling Subban.
Huberdeau had a turn on the plus side on this list, but could not cover a crafty giant on this play.
Upon entering the attacking zone late in a developing play, Bruins captain Zdeno Chara was open for a feed from Brad Marchand. He retained his space by turning a C-cut away from Huberdeau and then churned to the cage, where he deposited a top-shelf backhander.
As is often the case, New England Sports Network broadcaster Jack Edwards makes a sufficiently colorful description of the play. What it all boils down to is that you don't exactly think about this type of play when the 6'9" Chara is mentioned or vice versa.