Frankie Edgar vs. Cub Swanson Head-to-Toe Breakdown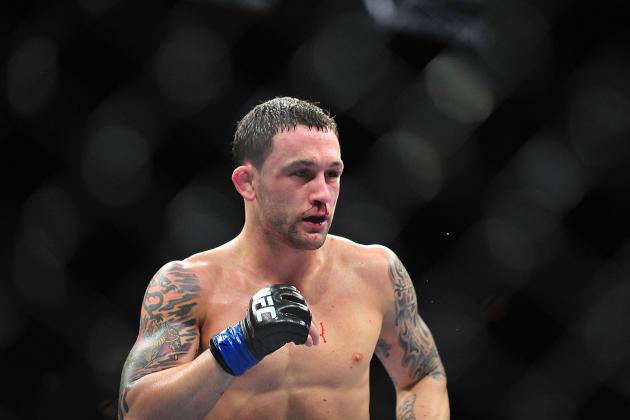 Gary A. Vasquez-USA TODAY Sports

Following the arrival of former top lightweight contenders Frankie Edgar and Clay Guida, the UFC featherweight division has began to transform.
It has turned one of the promotion's thinnest weight classes into a budding dynamo.
Divisional champion Jose Aldo will surely have his hands full in 2013, but it's the recently rumored bout between Edgar and veteran Cub Swanson that has sparked much interest.
The fight has yet to be scheduled, but here's how the head-to-toe breakdown plays out. Enjoy.
Begin Slideshow

»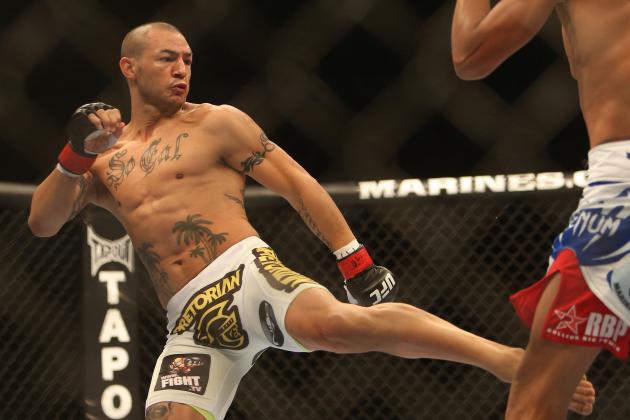 Tom Szczerbowski-USA TODAY Sports

Cub Swanson is one of the most technical strikers in the featherweight division.
He fuses unorthodox kicks and punches with great speed and power. Only a handful of fighters can say the same.
In a potential matchup with Frankie Edgar, Swanson would rely heavily on his ability to score points via leg kicks, swarming punches and an aggressive style that has secured him a four-fight win streak.
ADVANTAGE: SWANSON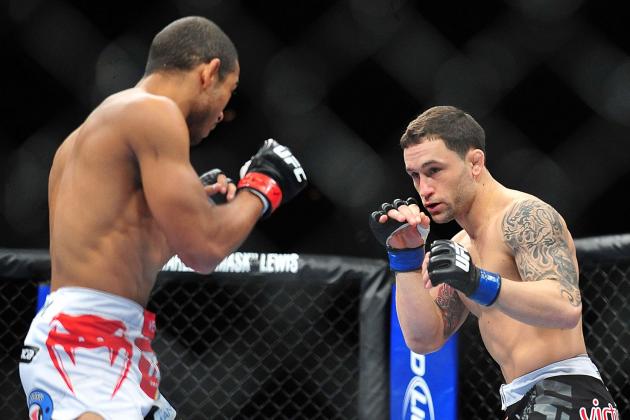 Gary A. Vasquez-USA TODAY Sports

Nobody in the UFC possesses the overall footwork that Frankie Edgar does.
Edgar's ability to get in and out of strikes with relative ease has helped him strike with some of the best stand-up specialists in the sport.
What makes his footwork capabilities even more prominent, heading into the future, comes down to the fact that Edgar has moved down a weight class. He no longer has to try to get inside on bigger opponents with a distinct power advantage.
Edgar's speed may take a hit, but his bout against Jose Aldo proved his footwork stands the ground at 145 pounds.
ADVANTAGE: EDGAR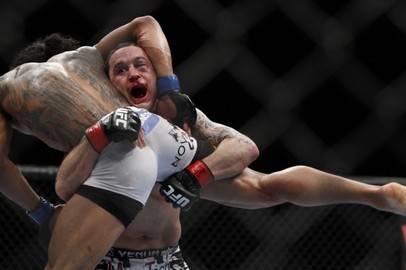 mmaconvert.com
Cub Swanson doesn't like to be taken down because he does most of his damage standing.
Unfortunately for him, Frankie Edgar is one of the best at making fighters uncomfortable. This includes taking them down at any point of a fight.
Considering Swanson had major trouble against wrestler Chad Mendes back in 2010, giving up eight total takedowns, Edgar could find he is fairly easy to bring the fight to the ground.
He'd most certainly test the waters on the feet, but if Edgar found himself in trouble opposite Swanson's unorthodox strikes, "The Answer" will look for some timely double legs.
MAJOR ADVANTAGE: EDGAR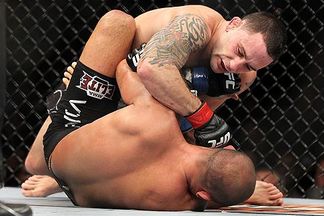 sports.espn.go.com
Both Frankie Edgar and Cub Swanson have respectable ground games.
But one thing that separates the two would have to be Edgar's ability to keep an opponent on his back, transition when it's needed the most and his ability to scramble when in trouble.
He's showcased these abilities over the past few years against some of the biggest lightweights around. He shouldn't have trouble opposite a featherweight striker like Swanson.
ADVANTAGE: EDGAR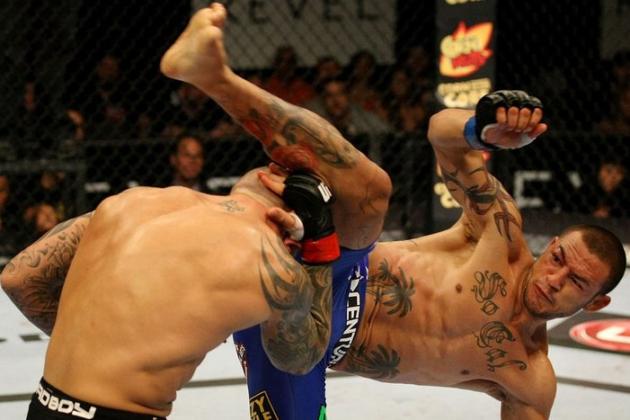 mmagospel.com
Frankie Edgar is no slouch when it comes to inflicting pain on his adversaries.
He's been so clutch in the past, against some of the best fighters in the world, that it almost seems like a crime to diminish his abilities.
However, he simply doesn't possess the finishing ability that Cub Swanson does. Swanson's innate skills to pounce on troubled foes and put them away has culminated into the aforementioned four-fight win streak, which includes three TKO victories.
Swanson may not be able to finish Edgar, because nobody ever has, but if any skill set was to challenge perfection, it'd be the 29-year-old's flashy kicks and unpredictable outbursts.
ADVANTAGE: SWANSON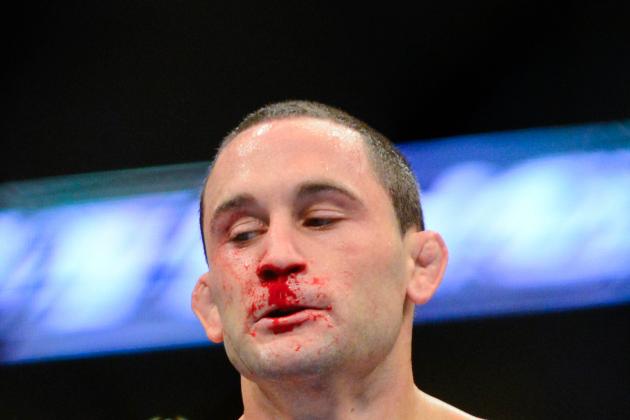 Ron Chenoy-USA TODAY Sports

As good as Cub Swanson has been over the past 14 months, his game just isn't well-rounded enough to withstand the championship prowess of a guy like Frankie Edgar.
At featherweight, Edgar should have more time and bigger opportunities to land significant strikes. He's facing smaller opponents with less power in their strikes.
Swanson is one of the best strikers around, but Edgar's elusiveness and takedown potential give him the upper hand, immediately.
The only possible scenario that produces an outcome in favor of Swanson would be if Edgar got caught with a perfectly timed head kick early in the fight.
VERDICT: EDGAR VIA UNANIMOUS DECISION

For more UFC news and coverage, Follow @DHiergesell