Michigan State vs. Michigan: Live Score, Updates and Analysis from B1G Showdown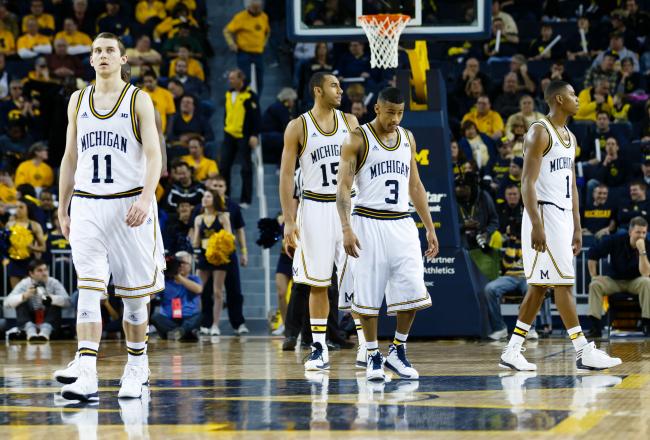 Will the Michigan Wolverines be able to put a devastating loss behind them this afternoon against the Michigan State Spartans?
Rick Osentoski-USA TODAY Sports
After having their Big Ten Conference title hopes nearly destroyed on the road earlier this week, the No. 4 Michigan Wolverines rebounded by defeating the No. 9 Michigan State Spartans 58-57 in the friendly confines of the Crisler Center.
Michigan's defense, which has been absolutely abysmal as of late, stepped up and held the Spartans to 35.6 percent shooting. The Wolverines also forced a turnover in the closing seconds of the game to seal the victory.
Sophomore point guard Trey Burke had yet another stellar performance on a national stage. Burke took over the game late, came up with a steal that led to the game-winning basket with 26 seconds remaining and finished with 21 points, eight assists and five steals.
True freshmen Caris LeVert and Mitch McGary combined for 19 points off of the bench to help guide the Wolverines past Michigan State.
Despite an impressive double-double by Adreian Payne and 16 points from freshman shooting guard Gary Harris, the Spartans could not keep Michigan out of the lane, or take care of the basketball.
The Maize and Blue tallied 44 points in the paint, and added another 18 points off of turnovers.
Mich. 58, MSU 57 - Final Score
Gary Harris dribbles near the elbow, runs into a double team by Hardaway and Burke, which forces him to give it up. Burke snags the pass and ends the game. What a thrilling contest this one was!
Mich. 58, MSU 57 - 4.9 seconds remaining
Derrick Nix only makes one-of-two free-throws to cut the lead to one and McGary clanks the front end of a one-and-one to give the Spartans a great chance to win the game.
Trey Burke gets props from Drew Sharp of the Detroit Free Press for that last steal:
Now that's an ALL AMERICAN play! Trey Burke stepped up huge with that steal!!

— Drew Sharp (@drewsharp) March 3, 2013
Mich. 58, MSU 56 - 17.7 seconds remaining
Burke comes up with what will be the play of the game if the Wolverines can hang on. Burke picked Appling's pocket on a spin move and threw down an uncontested two-handed dunk on the fast-break to put Michigan out in front.
Michigan State's last shot will likely be taken by Harris if it is a three, or Appling if the Spartans want to take it to the basket.
Mich. 56, MSU 56 - 0:54 2nd Half
Michigan's youth is showing up once again. McGary and LeVert team up for an over-and-back call on a loose ball and Burke commits an unnecessary foul on Appling to give the Spartans two freebies.
Mich. 56, MSU 54 - 1:02 2nd Half
Glenn Robinson III bails out Caris LeVert with an offensive rebound, which will allow the Wolverines to run the clock down to almost 45 seconds before they need to shoot. LeVert had an open jumper, but Michigan should have waited to get it back to Burke with 15 seconds still on the shot clock.
Again, Michigan needs a basket on this possession to get control of this one again.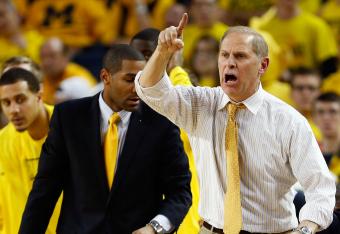 Mich. 56, MSU 54 - 1:40 2nd Half
John Beilein takes a timeout to give the Wolverines some rest before the closing stretch. Gary Harris knocks down a three-pointer in transition to bring Michigan State within two points.
Michigan needs a basket out of this timeout to gain a two-possession edge for the final minute.
Mich. 56, MSU 51 - 2:20 2nd Half
Trey Burke wets a mid-range jumper to end Michigan State's 7-0 run, then sets up Mitch McGary under the basket where he draws a foul and makes two free-throws. Michigan is back in control after a run by the Spartans.
Mich. 52, MSU 49 - 3:22 2nd Half
LeVert commits a lane violation on Payne's one-and-one attempt, which came as a result of an offensive rebound on a missed freebie.
Jordan Morgan fouls out reaching in on Payne, which is going to hurt the Wolverines significantly at the defensive end of the floor. Michigan needs Mitch McGary to step up defensively down the stretch to hold off the Spartans.
Mich. 52, MSU 44 - 3:53 2nd Half
Burke missed a chance to extend Michigan's lead even more. Instead of giving it up to an open man on the fast-break Burke took it to the rack himself, but came up short on the lay up.
Michigan has seized control of the game for the time being, though, thanks to Burke.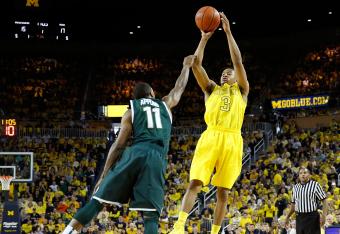 Mich. 50, MSU 42 - 4:51 2nd Half
Burke needed to get something on his own there and he did just that by dribbling through Michigan State's interior defense for a lay up. There is no question that Burke is the best player on the floor right now.
Michigan continues its successful day in transition with an alley-oop from Hardaway to Robinson, which has the fans at the Crisler Center on their feet and louder than ever.
Mich. 44, MSU 40 - 7:21 2nd Half
Tim Hardaway's stat line today is less than impressive and some of his misses have been easy lay ups. Michigan needs him to start hitting some shots to close the Spartans out down the stretch. Nick Baumgardner of MLive.com posted Hardaway's stats moments ago:
Hardaway now 3 of 12, 6 points.

— Nick Baumgardner (@nickbaumgardner) March 3, 2013
Burke is also just one-of-six since starting four-of-five. The Wolverines need one of those two to starting filling up the bucket immediately.
Mich. 42, MSU 39 - 8:45 2nd Half
Michigan still has not made a three-pointer, but the Wolverines hold a three-point lead. This is quite a surprise considering how much the Maize and Blue tend to rely on their perimeter shooting to win games.
The Wolverines have been much more aggressive today, though, and it has resulted in 34 points in the paint.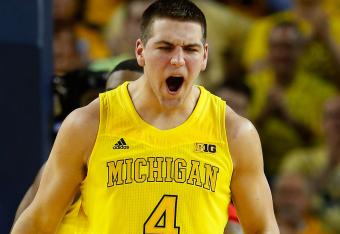 Mich. 42, MSU 39 - 9:40 2nd Half
Wow! Great turnaround jumper from Mitch McGary over Derrick Nix. The Wolverines need more from McGary on the defensive end to be national title contenders, but his improvements offensively have done wonders for this Michigan team.
What a reversal by McGary under the basket. McGary drove strong along the baseline and finished off the tough lay up.
Michigan has also given everything up at the defensive end. The Wolverines are not physically imposing defensively, but they have taken the Spartans out of rhythm offensively by creating four charges in this half:
Maybe defense isn't all about blocks, steals and creating misses -- something to be said for taking charges and being in position.

— Rod Beard (@detnewsRodBeard) March 3, 2013
Mich. 38, MSU 35 - 12:08 2nd Half
Jordan Morgan coming back in for Glenn Robinson III. Interesting lineup choice here for Beilein and the Wolverines. We have not seen those two on the floor together that often this year.
It should help Michigan battle Payne and Matt Costello inside. Mitch McGary comes up with a tip-in on the first offensive trip with the two on the floor together.
ESPN.com's Michael Rothstein reports that Trey Burke has joined some elite company with his seventh assist of the game:
Trey Burke now has 200 assists this season. Only 4th Michigan player to ever do that, joining Rumeal Robinson, Gary Grant & @dariusmorris4

— Michael Rothstein (@mikerothstein) March 3, 2013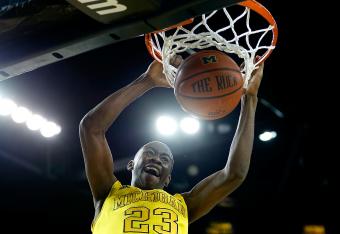 Mich. 34, MSU 31 - 15:32 2nd Half
LeVert draws a charge on Derrick Nix. That makes three charging fouls on the Spartans this half. This rivalry tilt has Michigan fired up and it is playing better defense in the second half as a result.
Mich. 32, MSU 31 - 17:06 2nd Half
Harris heads to the bench with his third personal foul after swatting at LeVert after the freshman came up with a steal.
Tim Hardaway Jr. has to take advantage of his absence and keep the Wolverines out in front.
Burke sets Morgan up for another easy bucket after drawing a double team at the top of the lane.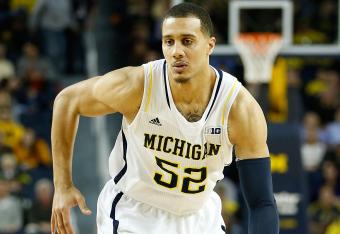 MSU 31, Mich. 30 - 19:00 2nd Half
Jordan Morgan gets an easy lay up off of an in-bounds pass from under the basket and draws a charge on Gary Harris at the other end. Great start to the second half for Michigan.
The second half is underway!
The most surprising thing about the first half is the fact Michigan is down just three points, despite the fact it has yet to sink a three-pointer. The Wolverines are zero-of-six from beyond the arc through 20 minutes of action.
Mark Snyder of the Detroit Free Press points out the Maize and Blue are still losing one of the most important battles, though:
Halftime rebounds -- MSU 23, UM 13

— Mark Snyder (@Mark__Snyder) March 3, 2013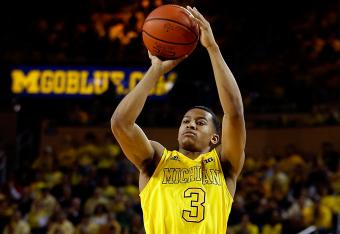 MSU 31, Mich. 28 - Halftime
LeVert finishes a reverse lay up on a perfectly timed pass from Burke to close out the first half.
Michigan has survived Michigan State's dominance on the offensive glass for the time being, but if it does not limit the Spartans' second-chance scoring this one will not end well.
MSU 31, Mich. 26 - 0:20 1st Half
What a move by Trey Burke! There has to be a high number of NBA executives watching this game and Burke putting on a great show for them. Burke has 11 points on four-of-five shooting.
MSU 31, Mich. 24 - 1:03 1st Half
Michigan has missed its last couple of attempts in the lane. The Wolverines cannot miss those easy opportunities if they hope to beat the Spartans.
Michigan State continues to dominate the offensive glass. The Spartans already have nine offensive rebounds, which is a huge concern for Michigan.
This article is
What is the duplicate article?
Why is this article offensive?
Where is this article plagiarized from?
Why is this article poorly edited?

Michigan Wolverines Basketball: Like this team?