Alabama Football: 5 Teams the Tide's Backups Could Beat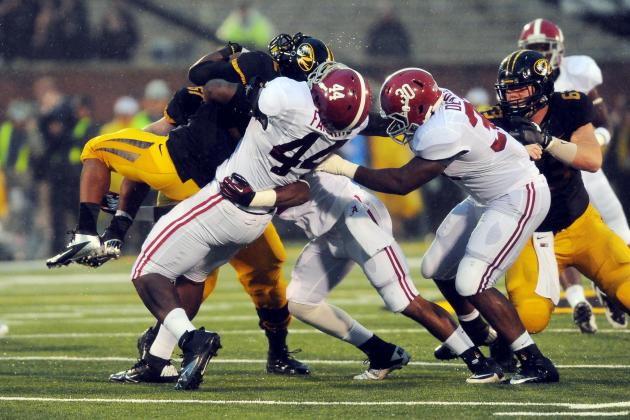 Denny Medley-USA TODAY Sports
Alabama's roster is loaded with freakish athletes like backup defensive end LaMichael Fanning that could start for a number of programs around the country.
Given that at least one major recruiting service has rated Alabama's last three recruiting classes as the nation's best, it's no surprise that Nick Saban has been able to annually assemble championship-caliber rosters.
Despite losing superstars to the NFL draft year after year, the Crimson Tide continuously reload with players that are hungry to make a name for themselves after patiently waiting behind the stars who came before them.
With a number of heralded former prep stars waiting in the wings, the players filling the bottom half of Alabama's depth chart have the potential to form a pretty dynamic team on its own.
Players like receiver DeAndrew White, running back Kenyan Drake, defensive end LaMichael Fanning, linebacker Denzel Devall and safety Landon Collins are just a few of the players that could presumably start at a number of programs around the country.
Just how competitive would a team consisting of the Tide's backups be? Well, there's a decent chance we find out a lot about the Tide's second-teamers in a handful of games on the Tide's schedule.
Here are five teams on Alabama's 2013 schedule that the Tide's backups could beat.
Begin Slideshow

»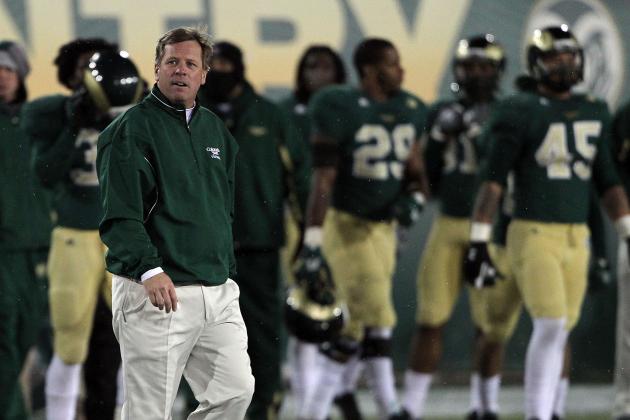 Troy Babbitt-USA TODAY Sports

The Rams rushing defense ranked 106th nationally last season, and for that reason alone, it is hard to see them stopping the Tide's offense from doing anything it wants to do.
Assuming Blake Sims would be the backup to A.J. McCarron at quarterback, the junior-to-be adds another dimension to Alabama's offense with his ability to make plays with his legs.
Conversely, the offense struggled in its first season led by former Tide offensive coordinator Jim McElwain, ranking 102nd nationally in total offense.
With Alabama's depth at every level, the Tide—especially in the trenches—are too deep and too fast for a team like Colorado State to seriously challenge them on either side of the ball.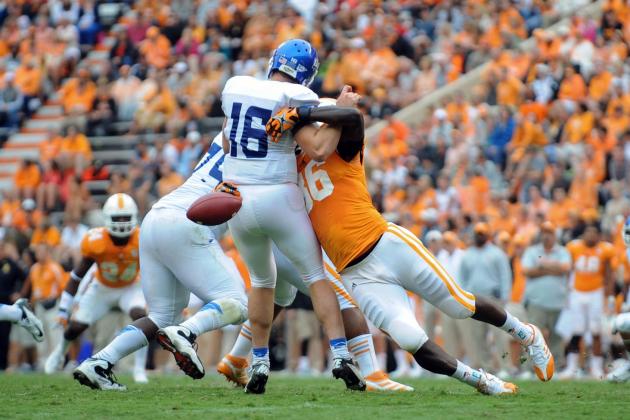 Randy Sartin-USA TODAY Sports

The Panthers went 1-10 last season and won just three games the year before.
This game, which comes after what could be a significant test the week before from Ole Miss, is one of two nonconference games left on the schedule after September, and it's a perfect opportunity to plug in some younger players that may be counted on later in the season.
Players like McCarron, running back T.J. Yeldon, receiver Amari Cooper, linebacker C.J. Mosley and safety Ha Ha Clinton-Dix are proven commodities and should have little to prove in a game like this.
Freshmen like running back Derrick Henry, tight end O.J. Howard and defensive back Maurice Smith are a few players that could use significant work against the Panthers as preparation for the rest of the season.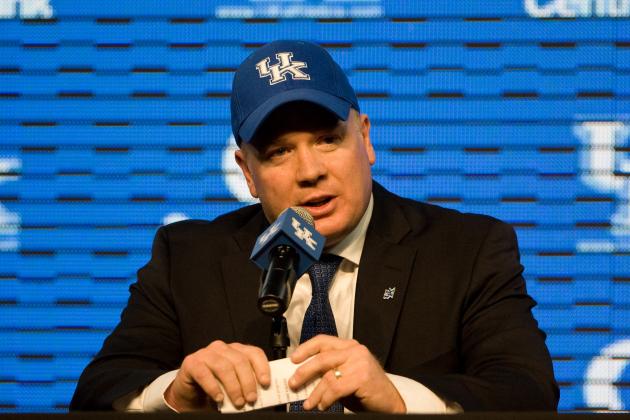 Mark Zerof-USA Today Sports

New Wildcats head coach Mark Stoops has brought some much-needed energy to the football program in Lexington, but the first-time head coach has a sizable rebuilding project in front of him with a team that went 2-10 last season.
The Wildcats were one of just two SEC teams that failed to win a game in conference play (Auburn was the other) last season, and seven of those eight losses to league foes came by 13 points or more.
While Stoops was able to pull in an outstanding debut recruiting class, there's little doubt that a majority of the Tide's backups could start in his program from day one.
This matchup would likely give Alabama's reserve talent a chance to show just how large the gap is between programs that have quality depth and those that do not.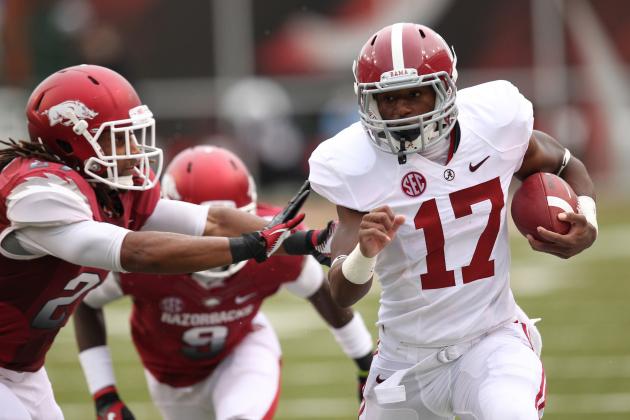 Nelson Chenault-USA TODAY Sports

At this time last year, the Arkansas Razorbacks were considered a threat to Alabama and LSU's supremacy in the SEC West.
The fallout from the Bobby Petrino scandal torpedoed the Hogs program and may have sent them back to the level they were at before Petrino's arrival.
In last season's 52-0 drubbing in Fayetteville, Alabama reserves such as Yeldon, Cooper and defensive back Geno Smith were notable true freshmen that played for a majority of the second half and used the experience as a springboard for the remainder of the season.
While new Hogs coach Bret Bielema brings a winning pedigree to the program from his days at Wisconsin, the date with Alabama wraps up a brutally unfair stretch of games that may have them already worn down heading into Tuscaloosa.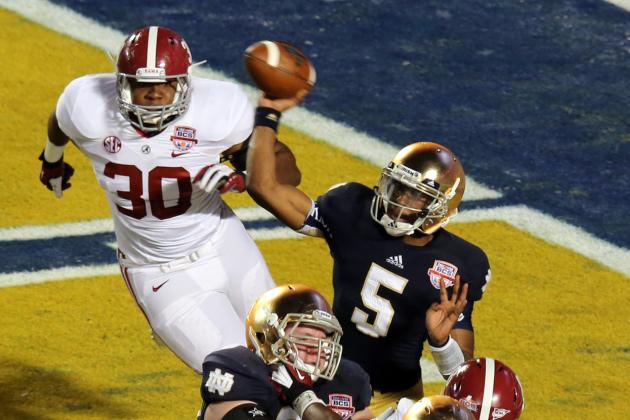 Robert Mayer-USA TODAY Sports

The Mocs occupy the traditional cream puff spot on the schedule for the sacrificial lamb that faces the Tide the week before the Iron Bowl.
Alabama defeated Chattanooga 45-0 in a similar position in its 2009 schedule and beat fellow Southern Conference (FCS) member Western Carolina 49-0 last season.
Saban and his staff could choose to experiment with their personnel and schemes in a matchup that is about as lopsided as they come in college football.
Every team needs a few breaks on the schedule—especially in a league as tough as the SEC. However, games like this are nothing more than controlled scrimmages that get the entire roster a workout for a few hours.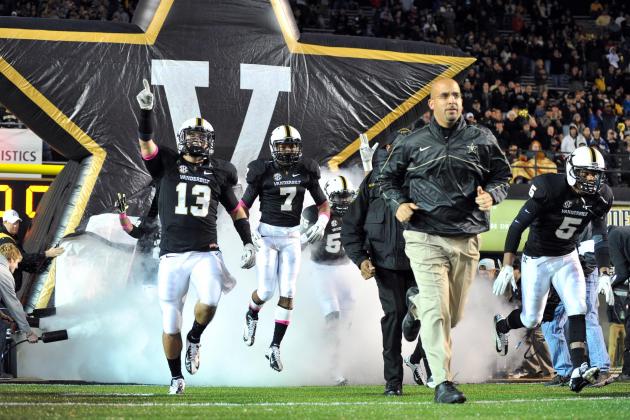 Don McPeak-USA TODAY Sports

The Commodores are not on the Tide's schedule, and while James Franklin has resurrected the Vanderbilt program, it's unlikely that they unseat Eastern division powers Georgia, Florida or South Carolina.
After the not-so-subtle jabs Franklin sent Saban's way in January, maybe that's a good thing (h/t, Graham Watson, Yahoo! Sports).
Franklin has done an outstanding job turning Vandy into a program on the rise, but realistically, the Commodores are still not capable of standing toe-to-toe with an elite program like Alabama.
While the Tide has never relied on bulletin-board material as a means of motivation, don't think for one second that Alabama's players wouldn't want to stick up for their coach and send a message to Franklin in the process.
Regardless of when it happens, the next meeting between these two clubs—assuming both Franklin and Saban are still in their respective positions—will undoubtedly have a different feel to it.