SEC Football: 7 Teams with the Most at Stake This Spring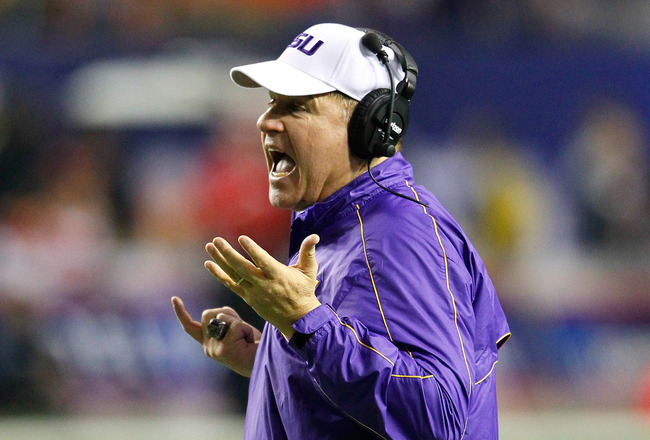 Kevin C. Cox/Getty Images
The spring isn't all about bunnies, butterflies and flowers. Naw, in SEC country, it marks the beginning of a future championship team, especially if that team's name is Alabama.
The spring is a time for preparation and, believe it or not, the pressure is already mounting.
While the spring does not entail any wins or losses, a lack of development or preparation in the spring could lead to a few losses in the fall. So, a successful season is at stake.
These are the teams who are experiencing the most pressure this spring in the SEC.
Florida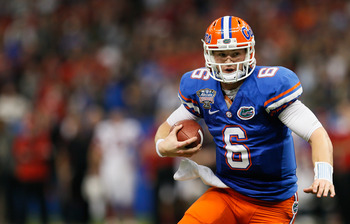 Kevin C. Cox/Getty Images
Have the Florida Gators showed up to the Sugar Bowl yet?
While Teddy Bridgewater begins his Heisman campaign, Will Muschamp heads into the spring with one word on his mind—championship.
With the talent returning and young prospects coming to town, the Gators are good enough to challenge for it in 2013. But like all SEC teams, they have to close the gap on Alabama.
The best way to do so is quarterback development. If you want to simplify things—the Gators' season will depend on the play of Jeff Driskel.
The Gators have talent all over the field that can compete with anybody. However, winning and losing will depend on Florida's quarterback. If Driskel puts up miniscule numbers like he did last season and the Gators finish last in the conference in passing again, championship hopes will fade.
LSU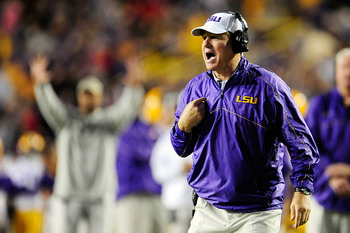 Stacy Revere/Getty Images
The LSU Tigers need to worry about replacing Les Miles after his resigna...sorry, couldn't finish that sentence.
If you believed any of the Miles rumors, well, then you're about as gullible as Manti Te'o is dating online.
In all seriousness, the Tigers enter spring practices with a big worry. In order for LSU to beat out Alabama and Texas A&M in the SEC next season, they must find a left tackle very soon.
Starting left tackle Chris Faulk is one of a few LSU linemen leaving, and that puts Miles and his staff in a bit of a predicament.
The good news for LSU is that it is bringing in one of the best offensive linemen recruiting classes in school history. Can Miles get 4-star offensive tackle Ethan Pocic ready to start at left tackle before the season starts?
Missouri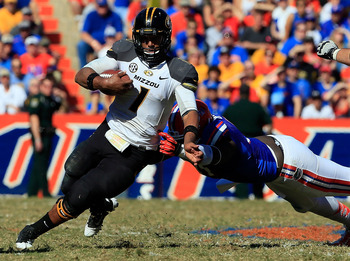 Sam Greenwood/Getty Images
The Missouri Tigers have to shake off their first season in the SEC.
They can't become another pushover in the greatest conference in football.
So, Gary Pinkel and his team have to crank down. Better yet, it's imperative for Missouri to keep its star, James Franklin, healthy.
Franklin missed three games last season, and he only threw the ball nine times in two SEC games. In other words, he basically played only four full-length games against SEC competition last season. As you could imagine, that didn't result in many wins for Missouri.
It all begins with Franklin for Pinkel and his staff. They must get him primed and ready to contribute greatly in 2013.
If they don't, another five-win season will be on the horizon.
Ole Miss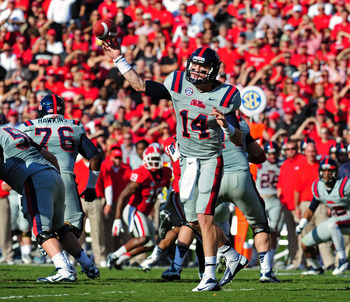 Scott Cunningham/Getty Images
The spring is supposed be about flowers blossoming, right? That's cute.
Down here in the South, we care about one thing and one thing only.
Yeah, you guessed it, that one thing is football.
So, the spring represents a time of men suiting up with shoulder pads and trying to improve skills and learn the offense or defense.
Heck, if Ole Miss wants to be a true player in the SEC West, they have a lot of developing to do with all of its new recruits coming in.
No team had a better signing day than Ole Miss. But before those new recruits come to town, Hugh Freeze has to continue preaching his message and getting players like Jeff Scott, Denzel Nkemdiche and Donte Moncrief to further improve their games.
Georgia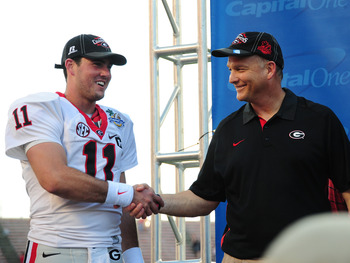 Scott Cunningham/Getty Images
There's good news and there's bad news for Mark Richt.
The good news is that most of Georgia's offense is returning. The bad news, however, is that most of the Bulldogs defense has disappeared.
Those voids on the defensive side of the ball need to be filled.
Jarvis Jones, Alec Ogletree, Bacarri Rambo, Shawn Williams and John Jenkins are nowhere to be found, and this could result in a big problem for Georgia.
It's up to Richt and his staff to make sure it doesn't. That starts with teaching and making this new defense more comfortable in all of the schemes this spring.
Tennessee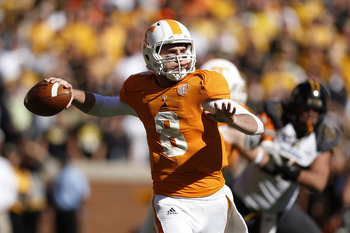 Joe Robbins/Getty Images
We're going to miss you, Tyler Bray. We're all going to miss you.
From Bray's offseason antics to his gunslinging style of play on the field, he was entertaining for all SEC fans.
And though he may have shrunk in big games at times, you can't deny that he was a huge part of this Tennessee offense.
Butch Jones has to rebuild, and he has to rebuild with a fresh face at the most important position on the field.
So whether it's Justin Worley, Joshua Dobbs or Riley Ferguson leading the offense in 2013, Jones needs get on the same page with his new starting quarterback this spring.
Auburn
Kevin C. Cox/Getty Images
It's safe to say Gus Malzahn has his work cut out for him.
Auburn's offensive production last season was downright laughable.
Finishing last in the SEC in total offense (that's behind Kentucky, you know?) sure did quieten down a lot of those WDE's.
Luckily for the Auburn faithful, Malzahn is an offensive-minded coach. He needs to come in and figure out a way to make Tre Mason a superstar, kind of how he did Michael Dyer.
Judging by the performances (a combined seven touchdowns and 15 interceptions) of all of Auburn's quarterbacks last season, Malzahn will look to run first, but he needs to find a way to make his passing attack effective again.
Oh boy, this guy has to make his team compete with Alabama? Who envies Malzahn's job this spring?
Keep Reading