NFL Draft Prospects with the Most to Prove at Pro Day Workouts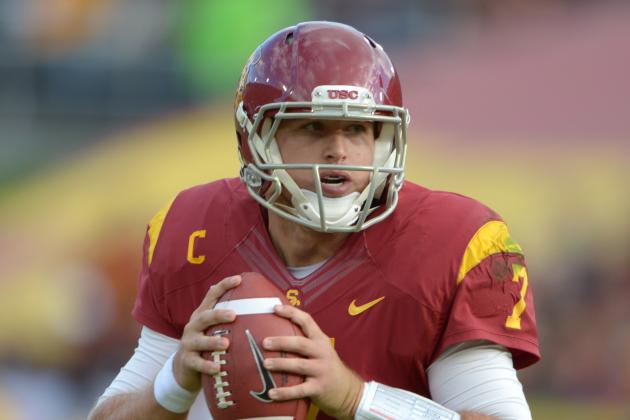 Kirby Lee-USA TODAY Sports

Pro days play an important role in the draft stock of some prospects. It allows those that missed the scouting combine with an injury to partake in similar drills. NFL teams want to be able to match up workout numbers with what they see on the tape.
Maybe more importantly, the pro day offers those who struggled at the combine to erase that poor performance. This article examines 10 players who are counting on their pro day to gain some positive momentum with their stock.
All references about the combine came from information obtained at NFL.com.
Begin Slideshow

»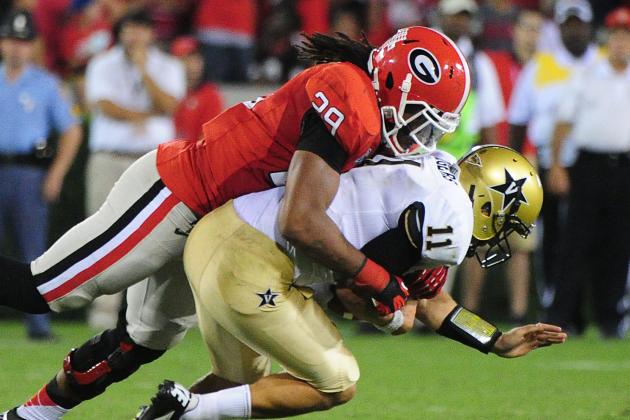 Scott Cunningham/Getty Images

Pro Day: March 21st
Georgia's Jarvis Jones is one of a handful of players in contention to be the top overall pick in this April's draft. However, his decision to not workout at the combine makes his pro day all that more important. He'll need post a good 40-yard dash time in order to show his explosiveness.
Jones' situation is different than most, as there are also injury concerns affecting his draft stock. The neck injury he suffered at USC is something NFL teams will closely dissect, as it's tough to use a high draft pick on someone with a major injury concern.
Pro Day: March 27th
USC's Matt Barkley didn't feel he was healthy enough to participate in the drills at the combine. He instead will work out at his pro day in a more familiar and controlled situation. With all the attention and importance placed on the combine, it makes a lot of sense for Barkley to take a different approach.
During his pro day, Barkley must show some zip on his ball and that he's back to full health. The biggest concern facing his game is a perceived lack of arm strength.
Evaluators will closely monitor how well the ball is coming out of his hand and whether or not it's arriving on a line. It'll also be interesting to see if he airs a few out down the field.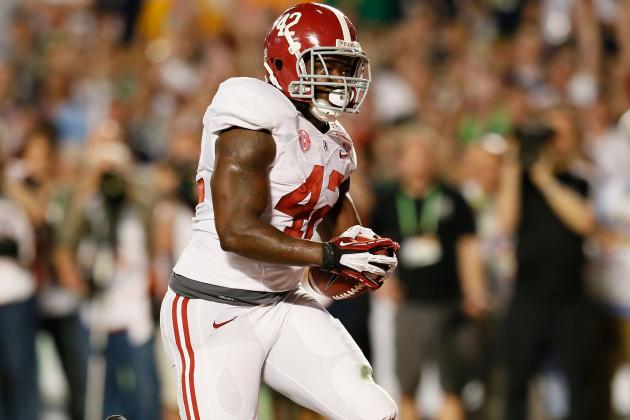 Kevin C. Cox/Getty Images

Pro Day: March 13th
This year's running back class lacks a top-end talent who's a lock to come off the board in the first round. Things didn't change much after a less-than-impressive performance by the group at the combine. However, Alabama's Eddie Lacy has a chance to change this thought at his pro day.
Lacy is a big-bodied running back who flashes excellent quickness. He has a chance to work his way into the back end of the first round if he runs a solid 40. A hamstring injury kept him from working out at the combine.
Many will point to Lacy's size and assume he's just a power back. However, his explosive first step and second gear make him a more rounded player than most believe.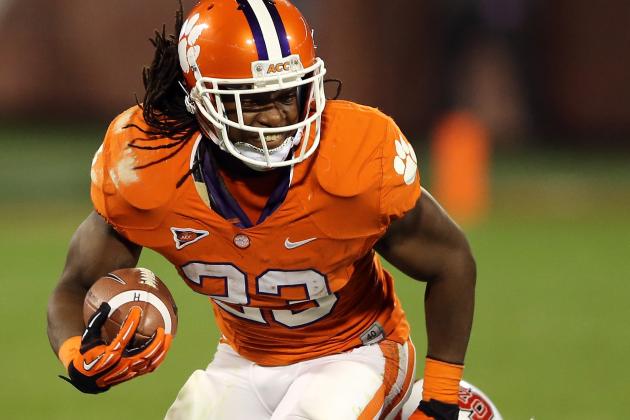 Streeter Lecka/Getty Images

Pro Day: March 7th
Clemson's Andre Ellington ran a 4.61 40-yard dash at the combine, but he suffered a muscle strain during the event. This pro day is important because Ellington needs to significantly improve on that performance. His success depends heavily on his speed.
During his college career, Ellington produced a lot of big plays and showed the ability to score from anywhere on the field. However, he needs to back up his game tape with an impressive showing at his pro day. Otherwise, his stock will continue to drop.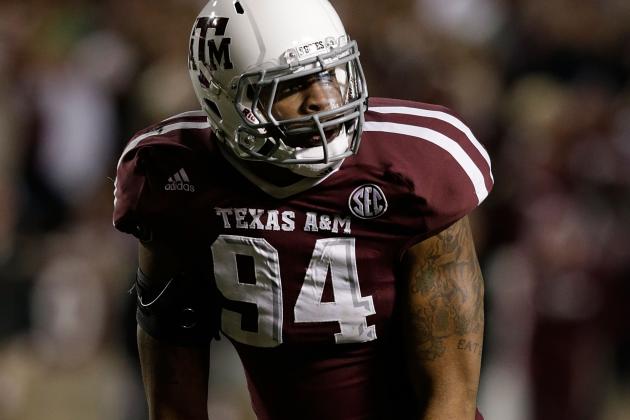 Scott Halleran/Getty Images

Pro Day: March 8th
The combine was a complete disaster for Texas A&M's Damontre Moore. His 12 reps on the bench press and poor 40 time raised a lot of questions. Defensive ends need good upper-body strength to keep blockers off their frame. They also need to be able to set the edge against the run.
As a pass-rusher, strength is important because it gives the player a wider range of rush moves.
Moore's 4.95 40 is a concern because it doesn't match up with the explosiveness he showed on the field. It's imperative that Moore posts a better time during his pro day, as another poor performance could potentially knock him completely out of the first-round mix.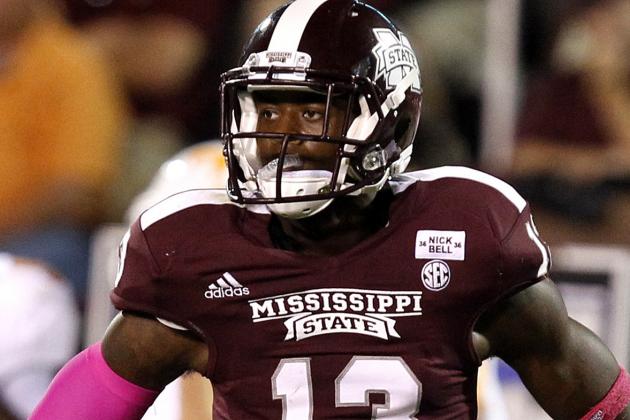 Butch Dill/Getty Images

Pro Day: March 6th
The defensive back group had quite a strong showing at the combine. However, some, like Mississippi State's Johnthan Banks, didn't enjoy the expected level of success. His 4.61 40-yard dash supported the thought that he lacks good top-end speed.
Banks' game isn't reliant on speed, as he's more of a physical player who boasts terrific instincts. However, he'll need to improve on that time if he hopes to regain some positive momentum on his draft stock.
This defensive back class is so bunched together that Banks could drop four or five spots on a team's position ranking. That's why he needs to improve his 40 at his pro day.
Pro Day: March 14th
Most evaluators are talking about the upside of Dion Jordan, but another Oregon defender has a chance to be a difference-maker at the next level. Kiko Alonso plays with a lot of tenacity and quickness and shows a great feel for the game.
He didn't get a chance to show off his explosiveness at the combine because of an injury. However, Alonso will turn some heads at his pro day.
His draft stock won't change much if he still isn't able to workout at his pro day. However, he could see a major boost if he posts a strong 40 time. Solidifying the speed he shows on the field could help Alonso come off the board in the second round.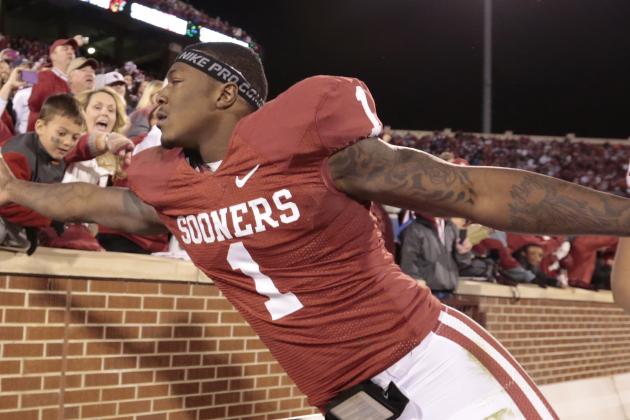 Brett Deering/Getty Images

Pro Day: March 13th
Oklahoma's Tony Jefferson is another prospect who disappointed with his combine performance. His 4.75 40 was the second slowest among the safety group. There's some talk that an injury caused this less-than-impressive showing.
A lot of Jefferson's success comes from his quickness and speed. He shows the ability to cover a lot of ground in the back end of the defense. His range is an important part of his value.
This is why he must have a better performance at his pro day. Otherwise, he's looking at possibly falling into the fourth round.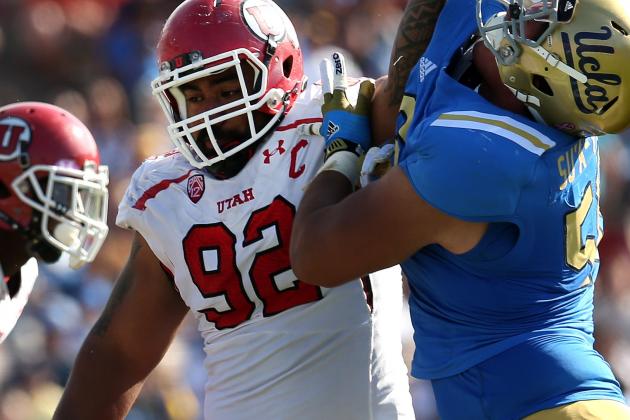 Stephen Dunn/Getty Images

Pro Day: March 20
Utah's Star Lotulelei was held out of the combine workouts because of a reported heart condition. This sent up a ton of red flags. Until this health scare, Lotulelei was in the running to possibly be the No. 1 pick in the draft.
Getting the all-clear and working out at his pro day would help Lotulelei regain his high draft stock. Otherwise, teams will continue to drop him on their boards. Nobody wants to use an early pick on someone with a significant health problem.
Lotulelei's pro day will be important, but there will be a lot of focus on his medical tests with individual teams.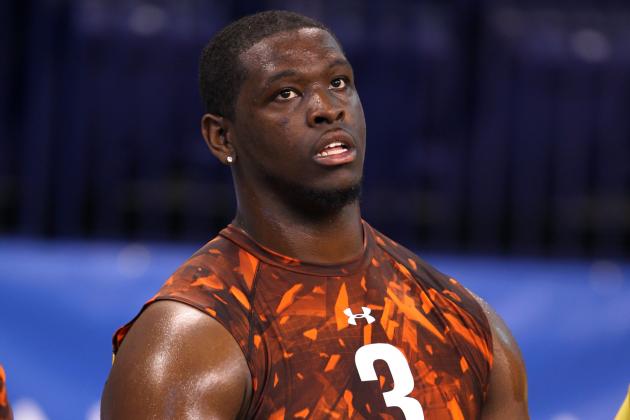 Brian Spurlock-USA TODAY Sports

Pro Day: March 4th
Arkansas-Pine Bluff's Terron Armstead was the star of the combine after putting up impressive numbers across the board. This has created a lot of buzz surrounding his draft stock and potential upside. It has even led to some teams wanting to see him work out as a tight end.
It'll be interesting to see if Armstead meets these requests. He needs to realize that showing this type of versatility will only help increase his draft stock.
Armstead has a lot to gain from his pro day, but don't expect him to do a full combine-like workout. He already surprised with his athleticism, so things could only go downhill.