NHL Week 6: Who's Hot, Who's Not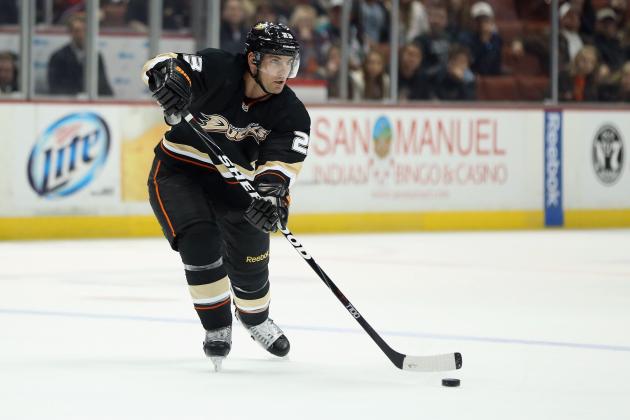 Jeff Gross/Getty Images
Do you know who this guy is? You should.
The NHL season has reached the midway point, and teams are preparing for the furious finish to secure a playoff spot. With the trade deadline exactly a month away (April 3), time is running short for front offices to figure out if they will be buying or selling this season.
We look back on a busy week of hockey to see who's hot and who's not.
Begin Slideshow

»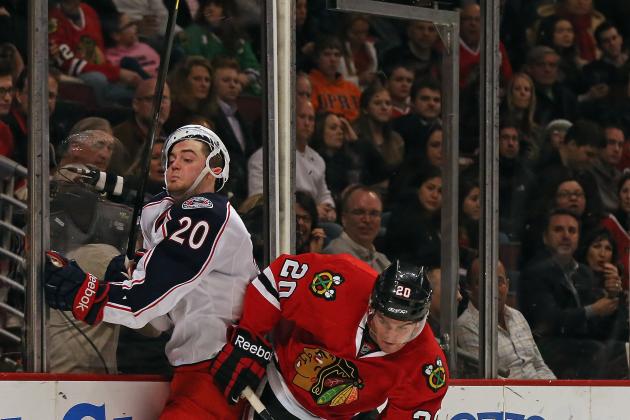 Jonathan Daniel/Getty Images
The Blackhawks are imposing their will against the rest of the Western Conference.
This is getting to be quite boring, but honestly, the record streak has nothing to do with the selection. The Blackhawks have won eight straight games and went 3-0 last week.
The streak will eventually come to an end, but the Blackhawks appear to be a lock for the playoffs this season. They have a 16-point lead over eighth-place Nashville.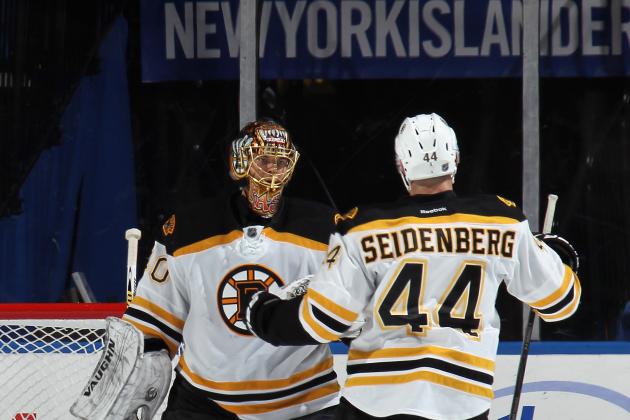 Bruce Bennett/Getty Images
Things are going well in Boston—tops of the Eastern Conference-type well.
From one conference leader to the next, the Boston Bruins are another hot team. They have won six straight games including going 4-0 last week.
The Bruins even beat the Tampa Bay Lightning with an uninspired performance on March 2. The B's benched Tuukka Rask and by all accounts were just going through the motions to prepare for a clash with Montreal. Still, Boston managed to come from being down 2-0 to steal a 3-2 win in regulation.
There is a hefty schedule in the coming months for Boston. They have played a league-low 18 games compared to the Philadelphia Flyers' league-high 23. Survival is key.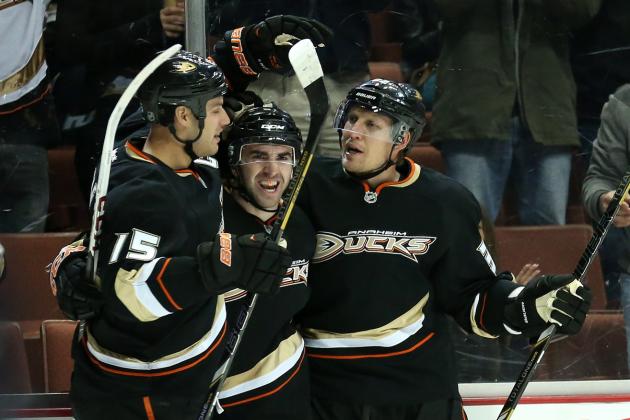 Stephen Dunn/Getty Images
The Ducks are 8-1-1 in the last 10 and are sitting comfortable atop the Pacific Division.
Another selection that can't be ignored, the Anaheim Ducks just keep on winning. They are 8-1-1 in the last 10 and have an eight-point lead on the San Jose Sharks.
The Ducks went 3-1-1 in a busy week that included wins over Nashville, Colorado and Minnesota. Things calm down for Anaheim this week with only three games scheduled.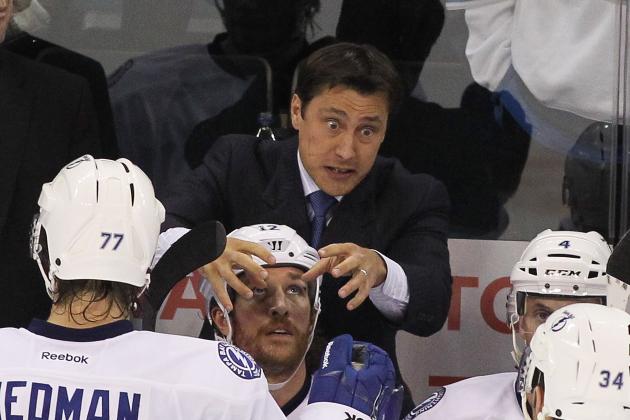 Marianne Helm/Getty Images
What happened Tampa Bay?
The Tampa Bay Lightning have lost four straight games and are 3-6-1 in the last 10. The issue isn't the streak; it is the quality of play.
Tampa Bay is getting out-muscled and out-worked while playing sloppy, uninspired hockey. The team had a chance to right the ship against Boston and even jumped out to a 2-0 lead.
Still, the Lightning managed to throw that lead away against a lethargic Bruins team that seemed to be perfectly OK with letting the Lightning win.
The seat might be getting a little bit warmer under coach Guy Boucher.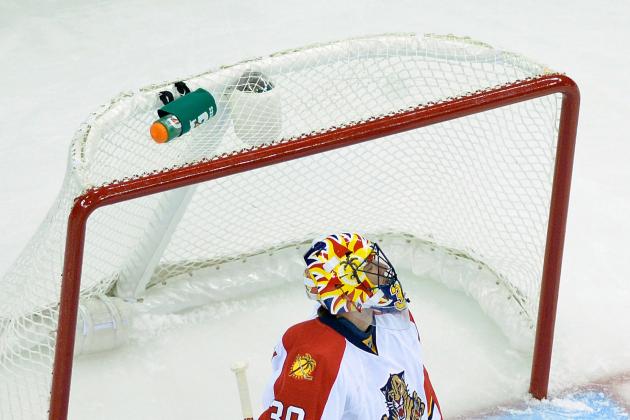 Grant Halverson/Getty Images
Jose Theodore is hurt and so are the Panthers' playoff hopes.
The battle for the Southeast Division is turning into a bit of a toilet bowl at this point. The Hurricanes lead with 23 points, and if they weren't division leaders, they would be eighth in the conference.
The Panthers sit tied for last in the conference with fellow Southeast rival Washington at 17 points. Florida went 1-2-1 this week and got hammed by Carolina 6-2 on March 2.
Jose Theodore, Dmitry Kulikov and Scotty Upshall all left the Hurricanes game with injuries (via MiamiHerald.com). The magic just doesn't seem to be there for the Panthers this season.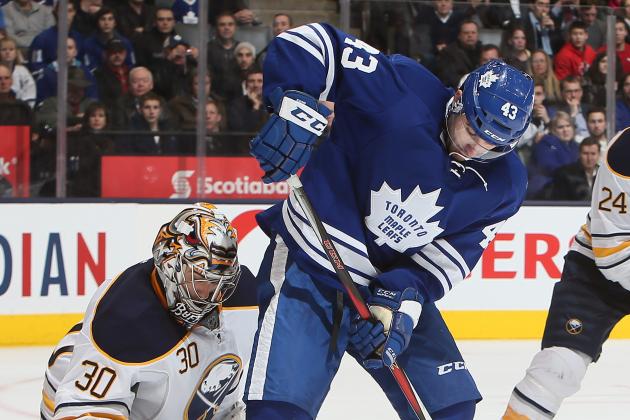 Abelimages/Getty Images
Ryan Miller has the Sabres riding a three-game winning streak.
The Buffalo Sabres could be warming up. That is simply thanks to goaltender Ryan Miller appearing to be getting back into form.
Buffalo has won three straight, including two in shootouts. This is a very cautious selection, especially since wins came over Florida, Tampa Bay and a Martin Brodeur-less New Jersey.
Jason Pominville is still lighting the lamp, and maybe the Sabres are turning things around—just in time for a four-game road trip.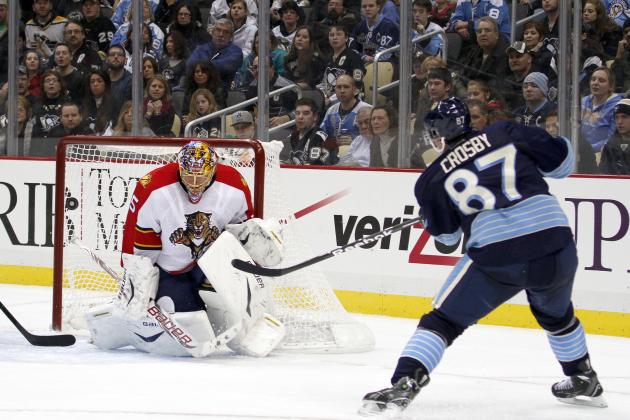 Justin K. Aller/Getty Images
Interestingly, this is Sidney Crosby's first breakout week, though he has been steady all season.
Sidney Crosby of the Pittsburgh Penguins has done a bit of a role reversal this season. Much like how Evgeni Malkin stepped up in Crosby's absence, Crosby has stepped up in Malkin's absence. The captain had nine points this week, including two three-point games.
Alexander Semin of the Carolina Hurricanes apparently doesn't have to be the sniper on his line. Semin tallied one goal and seven assists this week to help the Hurricanes retake the Southeast Division lead.
Ryan Getzlaf of the Anaheim Ducks had a breakout week with eight points. He had two three-point games this week and tallied six assists. The Ducks are still hot, and he is a big reason why.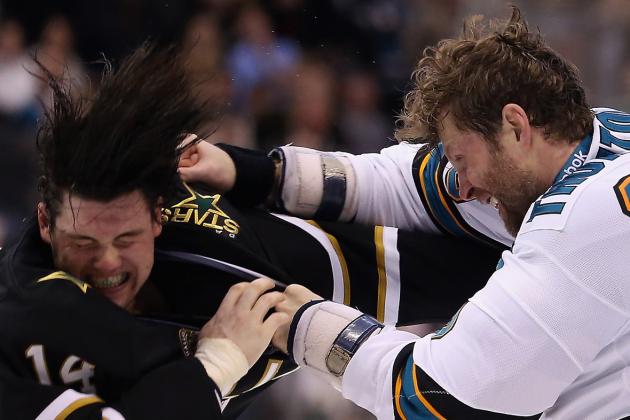 Ronald Martinez/Getty Images
Tough times have fallen on Jamie Benn.
Phil Kessel of the Toronto Maple Leafs is having a bit of a rough stretch. The star forward had just one point and was minus-six this week. Fortunately, the Leafs picked up wins in two out of three games, and Nazem Kadri helped out with a six-point week.
Jamie Benn of the Dallas Stars must have spent too much time with Kessel in the recent weeks. Benn had a very similar week to Kessel with a one-point, minus-eight week. He had scored in nine of the Stars' last 10 games before this cold week.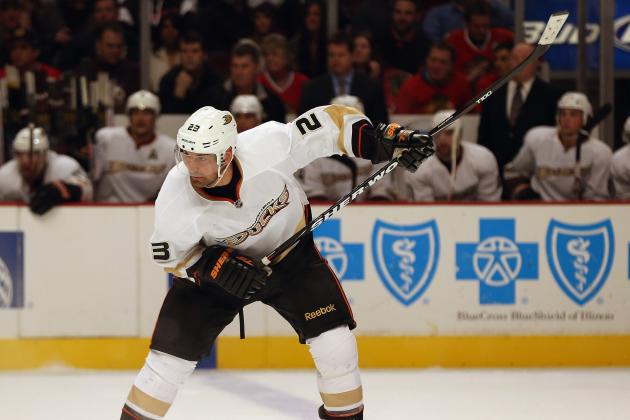 Jonathan Daniel/Getty Images
This is Francois Beauchemin—the steadiest defenseman in the NHL this season.
Kris Letang of the Pittsburgh Penguins apparently hasn't noticed Evgeni Malkin's absence either. Letang had six assists this week, anchored by a four-assist game against Montreal March 2.
Francois Beauchemin of the Anaheim Ducks is currently in beast mode. The Yahoo! Fantasy Sports Player Ranker ranks him currently 10th among all defensemen. All Beauchemin did this week was have another six assists and log over 38 minutes of ice time. That's nearly two full periods on ice. The Ducks' defensive pairings are Beauchemin and whoever else wants to join him.
Joel Auerbach/Getty Images
Mike Green has struggled despite his team's recent success.
Mike Green of the Washington Capitals is a victim of bad luck. His team had won four of the last five games, but Green was minus-two this week and has been held off the scoresheet in four of the last five as well. He will probably take personal struggles if his team continues to win four out of five.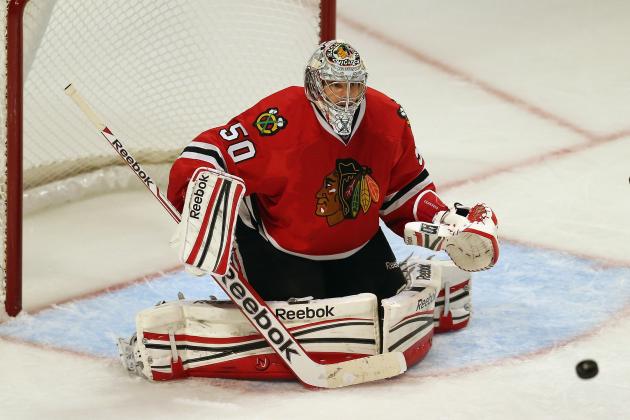 Jonathan Daniel/Getty Images
Corey Crawford didn't give up a goal this week.
Corey Crawford of the Chicago Blackhawks missed a couple of days, but that didn't stop him from going 2-0 this week with a shutout and win in shortened time. He shut out the Columbus Blue Jackets and recorded a win after just one period over the St. Louis Blues before leaving with an injury. He's good to go now.
Honorable Mention:
Tuukka Rask
Ryan Miller
Cam Ward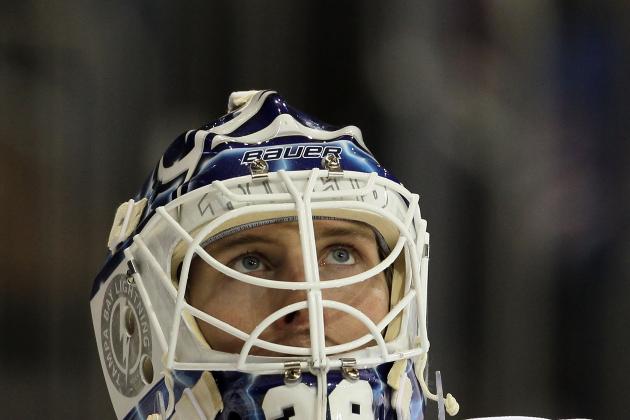 Elsa/Getty Images
Anders Lindback was supposed to be the answer in Tampa Bay. Now, he's just another part of the question.
Anders Lindback of the Tampa Bay Lightning was supposed to be the answer to the goaltending woes. He has been anything but that.
It seems a bit cruel to call him the coldest goaltender when he played just one period this week, but he gave up three goals on 10 shots before being yanked against Pittsburgh. Mathieu Garon has started every game since.