The 10 Best Players of the Super Bowl Era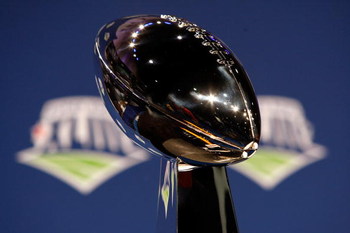 Ladies and Gentlemen, welcome to a debate of a topic that is completely impossible to resolve and based almost completely on personal preference: the top 10 players of all time in the Super Bowl era.
I have limited this to the Super Bowl era because, frankly, I do not care about how the game was played in the 1940s: the game was too different, it was incomparable to how it is played now.
Too many innovations have taken place; I cannot relate to a game where a forward pass barely existed, therefore, I will not try.
I am approximately 100 percent sure that this will spark endless debate and approximately 99.999999999 percent sure that no one will have exactly the same list that I do, yet I feel some sort of compulsion to make this attempt.
I used three main criteria in making this list:
1) Ability to take over the game on command. The best players in any sport are the ones who can put their entire team on their shoulders and say "follow me."
As fans, we idolize these athletes. Truthfully, this means that an offensive lineman cannot, and indeed, is not, on this list, however unfair it may be.
2) Super Bowl championships. Football is a team game, but the best players in league history WIN. I do not care how, nor do I care about their supporting casts. When the chips are down, they deliver.
3) Name recognition. Do you hear this player's name and cower in fear and/or bow before him? If not, there's a good chance he didn't make the list. I should say, in the interest of full disclosure, that I am 20 years old.
I did not seriously follow football prior to the 2000 season when the Ravens, my hometown team, were making their run.
Yes, that probably means that I missed out on actually seeing a guy like Walter Payton run during his career. It's not quite as impressive on film as it is when you're really watching. However, the last criterion is probably the most important one.
No. 10: "Mean Joe" Greene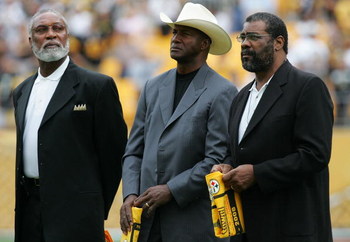 You'll have to forgive the photo, but I was having trouble getting a better one to load.
No matter.
As a Ravens fan, I idolize and worship defense. As a fan of any sport, I hate statistics except for the W-L columns. To be fair, this is one of my problems with baseball: too many statistics. WAY too many statistics, other than the ones that actually matter.
The best defense in league history is the one that won no fewer than FOUR championships: the Steel Curtain.
While I admit this, I reserve the right to refer to -that- team as the S***sburgh Steelers whenever I so choose. So, Steeler fans... DEAL WITH IT, you are lucky that I can admit this truth.
The core of any great defense is the big guy up front. For Pittsburgh, that guy was "Mean Joe." Take him away and the defense is still an elite one, but not among the best of all time.
Perhaps his best performance came in Super Bowl IX, where he and the Steel Curtain held Fran Tarkenton's Vikings scoreless on the offensive side of the ball.
Needless to say, I would not want to see this man in a dark alley.
No. 9: David "Deacon" Jones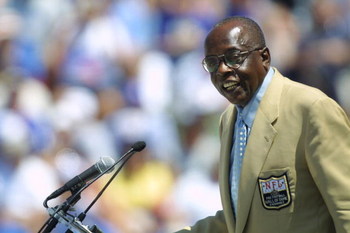 The "Deacon" would be higher on this list if he'd ever won a title (he is the only player to make this list without winning one).
What is the most significant statistic that, even today, makes players strong candidates for Defensive player of the year?
The correct answer is "sacks."
Which player coined the term "sack?"
The correct answer is Deacon Jones.
He revolutionized the position and is undeniably one of the greatest pass rushers of all time. He was the centerpiece of the "Fearsome Foursome" during his tenure with the Rams.
While sacks were not an official NFL statistic during the years Jones played, he claims that he had a year with 26 sacks and another with 24- both in 14 game seasons. 50 sacks in a two-year span is better than any player has ever managed.
He made the pass rush what it is today. Guys like Bruce Smith became so highly valued in large part due to Deacon Jones's accomplishments.
There is one final reason why Jones appears on this list: The man is so nasty that I don't want him coming after me.
No. 8: Ray Lewis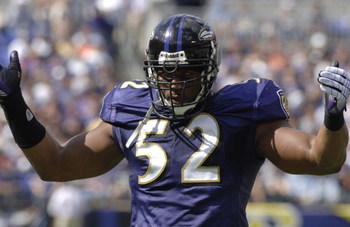 Before I talk about why I selected Ray Lewis to this spot ahead of Joe Greene, let me address the bias that will invariably be thrown my way from Steeler fans. After all, didn't I already state that championships are possibly the most important measure of a player's dominance?
I would like to clear up any possibility of bias toward Ray Lewis right now.
I am completely biased in favor of Ray Lewis, and I am making this list. Therefore, in true scientific fashion, Ray Lewis is better than Joe Greene because I say so. :)
I will forever remember this man as the one who turned me into a football fan.
Ray Lewis is a two-time NFL Defensive Player of the Year (2000, 2003) and is a 10-time Pro Bowl selection. He is the standard to which all middle linebackers compare themselves.
He was without doubt the best player on the defense that carried the 2000 Ravens to their Super Bowl victory over the ever-irritating New York Giants.
He is now past his prime, but all of Baltimore was excited when he signed his contract that would keep him in purple for the remainder of his career.
Why? Save one, he is the best linebacker ever to play football.
No. 7: Emmitt Smith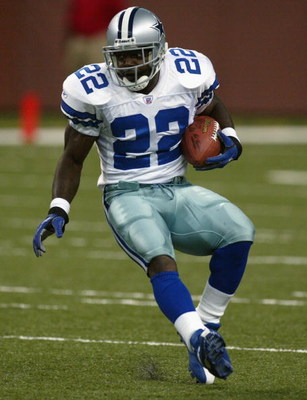 Emmitt Smith is the best running back I have ever seen.
He didn't have elite measurables like his contemporary, Barry Sanders. He did, to be fair, have a strong roster around him, most notably Troy Aikman and Michael Irvin.
However, I am not alone in my sentiments that Smith was the best of the three. He simply couldn't be stopped. His running style wasn't pretty, it was very "north-and-south."
Some would argue this is a limitation to his ability to make plays.
How, then, is he the league's all-time rushing leader? As much as it hurt every football fan's eyes to see him playing for a team that wasn't Dallas, it was a beautiful thing to see him go to work.
And yes, I am coming back to the real world now. Sanders and LaDainian Tomlinson, the other two backs who I seriously considered for this list, have not won any titles. Walter Payton, who would probably make this list if I decided to re-do it in two weeks' time, won once in Super Bowl XX.
Smith's Cowboys won three titles.
Many, including me, believe Smith's rushing record is living on borrowed time. But until another back as good as Smith wins like he did, he's head and shoulders above the rest.
No. 6: Deion "Prime Time" Sanders
The best defensive back ever to play football. I'm not taking arguments.
The only person ever to be on teams to win both a Super Bowl and a World Series.
The only man to ever make an interception and catch a pass in a Super Bowl.
The most freakish athlete that I've ever seen, allegedly able to run a blazing 4.16 40-yard dash.
The thing that pisses people off about Sanders is that he's a show. The problem? If you ask anyone who he plays with, he's like that ALL the time. He actually believes all of his own hype.
What's worse, for Sanders-haters, he's just that good, even if he couldn't tackle to save his life.
He is the indisputable standard to which all cornerbacks are today held. And like the Deacon, he had a great time telling you just how much better than you he was.
No. 5: Peyton Manning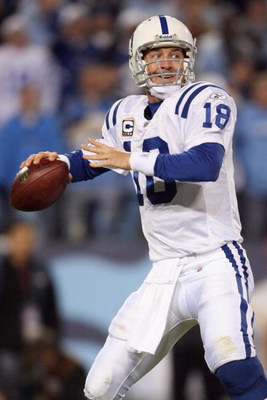 As long as I can remember, I've been telling everyone that a good quarterback is overrated.
As long as I can remember, I've been arguing with people why a certain *other* quarterback is better than this one.
Time to face the music: Peyton Manning is one of the best players ever to play football. It's like comparing your two favorite kinds of ice cream: are you really going to complain if one of them is your quarterback?
Are you really going to complain when your guy brings you a Super Bowl title? It was time for the curse upon Indianapolis to be lifted by Baltimore fans: the Colts won a title and Peyton Manning instantly became eligible to be in the conversation for best quarterback of all time.
(Did I just give away that Marino didn't make the list? No matter...)
Anyone who can have a single-season performance as impressive as his and light up the stat sheet is an amazing talent, because let's face it: all the supporting cast around you isn't worth much if you can't deliver.
He got a little help from the defense during his championship run, but Manning delivered when the chips were down.
And we all know that he's just FUN to watch, making all those line calls at the line of scrimmage. It's like a game of chess that he almost always wins.
It will be a sad day when Peyton Manning hangs up his cleats.
No. 4: Tom Brady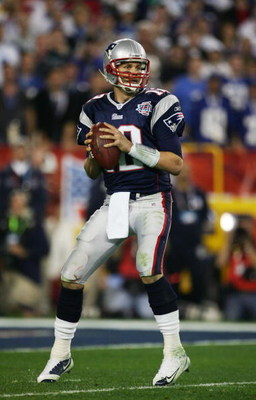 And so it was decided that every article about the greatest players in NFL history would have a Brady vs. Manning subplot.
So it was ordained by God, so shall it always be.
Tom Brady is a stud QB who anyone would take at the helm of their franchise in a heartbeat. His teams have won three Super Bowls and completed the only 16-0 regular season in NFL history.
He has the ability to take over the game to a degree that is rarely seen. It is almost expected that he will make a big play when the game is on the line. In New England, it probably is.
He has all the intangibles and adequate "tangibles" to go with them. But the bottom line is that he's a winner. No ifs, ands, or buts. End of story.
No. 3: Jerry Rice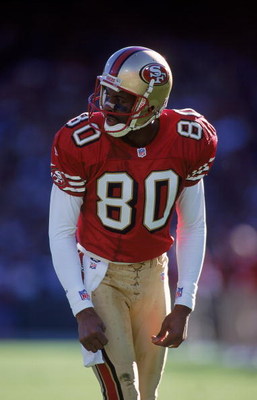 The most dynamic receiving threat in the history of football. The records that he has set seem almost untouchable. His hands were like suction cups: put the ball near him and he made the catch.
By near him, I mean on the same field. In the twilight of his career, you could still put it on his HALF of the field and very reasonably expect him to make the catch.
Rice ranks so highly on this list because he is without parallel at his position. So other receiver in the Super Bowl era has been anywhere near as dominant.
Rice's name enters into the conversation very quickly when people talk about the 49ers dynasty, and with good reason. Both Joe Montana and Steve Young had the luxury of throwing to the best receiver ever.
I would estimate that no one will ever surpass Jerry Rice at the WR position.
No. 2: Joe Montana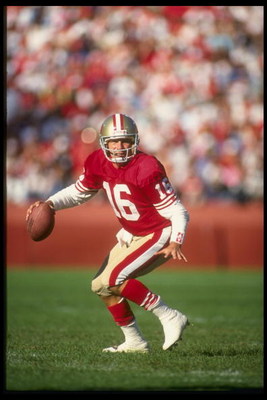 Four Super Bowl titles.
The best interception percentage of any of the elite quarterbacks mentioned in the "all-time best" discussion.
Won a title before Jerry Rice was even on the roster.
Joe Montana could have won with 10 guys on his offense. He was that good at making the big throw.
Is another quarterback in league history better? If you ask me, no. Montana refused to turn the ball over. He didn't just WIN games- he NEVER lost the ones he didn't win.
I'd take this guy under center ahead of anyone else in the history of football.
Preference? Maybe.
Justification? Absolutely.
No. 1: Lawrence Taylor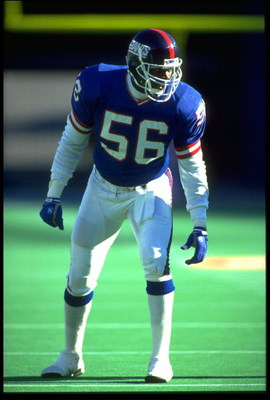 Remember how I mentioned there was only one linebacker in league history better than Ray Lewis?
He was A LOT better than Ray Lewis.
Dick Vermeil described "L.T." as "the most disruptive force in the history of defensive football."
And so it was that a list beginning with defense ended with defense. Taylor's Giants won two NFL titles and Taylor himself won the league MVP in 1986 as well as three Defensive Player of the Year awards.
Football might be the most popular sport in America. As much as people love to watch sports, there's nothing quite as satisfying as seeing some poor schmuck get drilled.
Especially quarterbacks. I hate quarterbacks.
Today, the NFL has many rules to protect QBs. I refer to these as "pansy quarterback rules." Man up, take the hit, and move on. If you get drilled, deal with it.
L.T. made his living terrorizing quarterbacks, and since he retired no one has ever managed to equal his stature on the football field, certainly not on the defensive side of the ball.
Quarterbacks became dust when Taylor hit them; therefore, I love Taylor.
Welcome, offense-loving people, to a little defense. Crunch.
Keep Reading