Predicting Carolina Panthers Free Agent Signings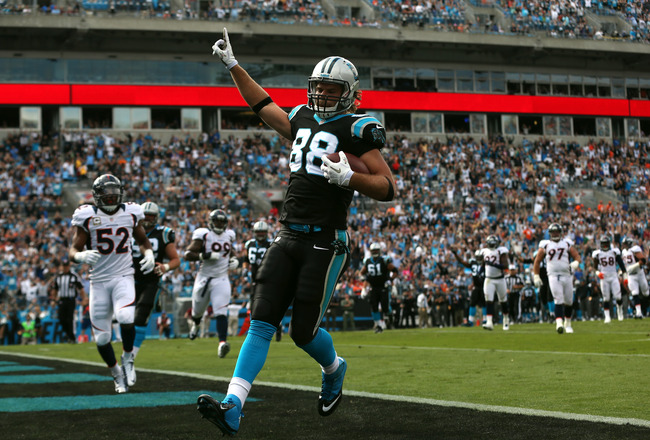 Streeter Lecka/Getty Images
With free agency set to kick off on March 12, it's time for NFL franchises to get below the salary cap and prepare their free agency wish lists.
Not every team will have the luxury of signing highly priced free agents though. Unfortunately for the Carolina Panthers, the team's options in free agency are going to be limited by an unfavorable cap situation.
Under the watch of longtime GM Marty Hurney, the Panthers organization overpaid for various players, which has crippled them financially. One of the first tasks on new GM David Gettleman's agenda was to sure up the team's finances, a process which has not yet been completed.
After restructuring the contracts of Jonathan Stewart, Ryan Kalil and Greg Olsen, Gettleman still has more work to do in order to get the team under the $123 million salary cap.
Although the Panthers won't be able to make any blockbuster moves, they will be able to augment their roster at certain positions.
Drew Stanton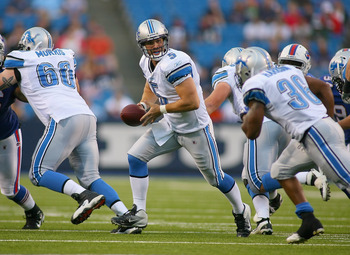 Rick Stewart/Getty Images
Cam Newton is the Carolina Panthers' franchise quarterback, but having a reliable backup is crucial. If disaster strikes and Newton is sidelined for any period of time, the Panthers need to be able to send another competent signal-caller onto the field.
Derek Anderson, who backed up Newton last season, is an unrestricted free agent and will be playing elsewhere next season. Simply put, the Panthers cannot afford to pay Anderson the money he will draw on the open market, as their unfavorable cap situation is a major hindrance.
Jimmy Clausen will return next season, but has never done anything at the NFL level to warrant confidence in his abilities. If the Panthers choose not to bring in another quarterback, the burden of backing up Newton will fall on Clausen.
To avoid that, the Panthers should sign a quarterback in free agency. Drew Stanton, who played for the Indianapolis Colts last season, would make a lot of sense.
Stanton has the arm to play well in the NFL, as he performed admirably for the Detroit Lions in 2010. While his playing style is different than Newton's, Stanton has the ability to lead the team purely from the pocket.
Contract Prediction: One-Year and $1 million
Kevin Vickerson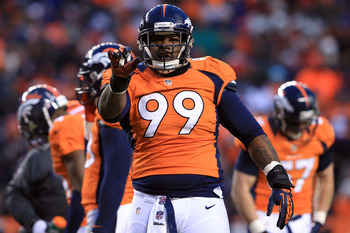 Doug Pensinger/Getty Images
After cutting Ron Edwards, the need at defensive tackle has become even more of a priority. While the Carolina Panthers finished the season ranked 14th in rushing yards allowed, I think we can all agree that the run defense is a liability.
Last year's best interior defensive lineman, Dwan Edwards, is an unrestricted free agent, but the Panthers appear to be atop his list of potential destinations. Even if the Panthers do retain Edwards, rookie GM David Gettleman still needs to address the defensive tackle position.
The Panthers selecting a defensive tackle with their first-round pick has been a recurring theme in mock drafts, as Star Lotulelei, Sharrif Floyd and Sheldon Richardson all appear to be excellent prospects.
Whether or not the Panthers address the defensive tackle position in the draft is unknown but bringing in a veteran interior defensive lineman is still a good idea.
Kevin Vickerson played very well as a member of the Denver Broncos in 2012, as he was a solid run-stuffer. If the Michigan State product could clog lanes for the Panthers, the defense would be improved on early downs.
Vickerson's value should not be out of the Panthers price range, which is why David Gettleman should give the defensive tackle's agent a call once free agency commences.
Contract Prediction: One-Year and $1.5 million
Captain Munnerlyn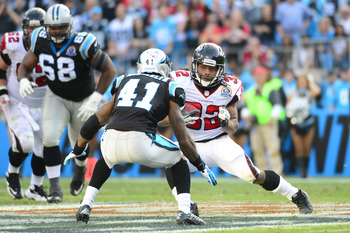 USA TODAY Sports
In the pass happy NFC South, the Carolina Panthers desperately need to employ a competent secondary. If they don't, the likes of Matt Ryan and Drew Brees will move up and down the field with ease.
Captain Munnerlyn played for the Panthers in 2012, but is currently an unrestricted free agent. After Chris Gamble went down for the season with a shoulder injury, Munnerlyn was asked to carry more of the load at cornerback.
The South Carolina product performed much better than expected, as the Panthers pass defense held their own without Gamble. Munnerlyn finished last season with two defensive touchdowns, which was a team high.
Although undersized, Munnerlyn has the potential to be a decent starter. With quick feet and decent speed, the Panthers could do far worse than Munnerlyn in free agency.
Munnerlyn's market figures to be small, which could aid in his return to the Panthers franchise.
Contract Prediction: One-Year and $2.5 Million
Keep Reading

Carolina Panthers: Like this team?