Miami Heat vs. New York Knicks: Live Score, Results and Game Highlights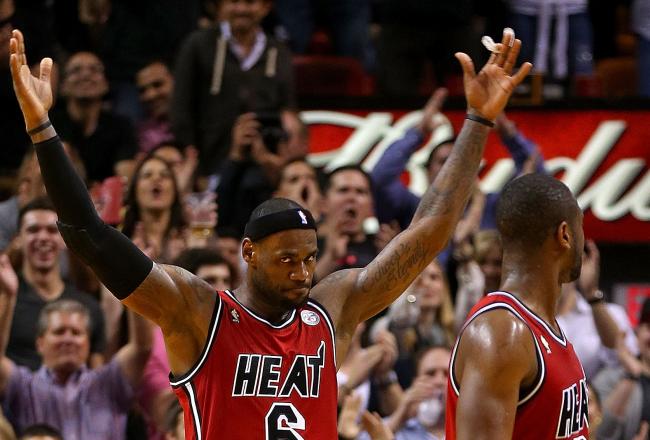 Mike Ehrmann/Getty Images
Commentary from the Miami Heat's 99-93 victory over the New York Knicks in New York City on Mar. 3, 2013.
Keys to the 14th consecutive Miami Heat victory:
1) Hung Tough on the Boards: Miami out-rebounded the Knicks 41-40. That's impressive considering their starting center grabbed only one.
2) Dwyane Wade's Brilliance: Wade was dishing it, shooting it, rebounding it—doing it all. He played one of his best all-around games of the season, finishing with 20 points, eight rebounds and eight assists. Wade handled the ball the majority of the game, making Norris Cole and Mario Chalmers obsolete.
3) Shutting Down the Knicks' Starting Backcourt: Raymond Felton, as I noted, had played particularly well against the Heat in recent games. But he shot just 3-of-8 from the floor and turned it over four times, while recording only two assists. Iman Shumpert didn't fare any better, shooting 1-of-4 from the floor and not getting a single steal (one of his strengths).
4) Good Bench Play from Ray Allen and Shane Batter: Battier didn't miss a single three, hitting all four of his attempts. Ray Allen hit one of his two threes. The tandem combined for 19 points and six rebounds off the bench, which is about all the Heat need from them when their big three is firing at full speed.
HEAT 99, KNICKS 93 — FINAL
Raymond Felton's pair of free throws cut it to four points, but with just 55 seconds to go and only one timeout, the Knicks will have to play flawlessly and get stops.
Stop one: Check. LBJ missed jumper.
Stop two: LBJ gets a big steal and throws it down. Game, set, match.
HEAT 99, KNICKS 93 — FINAL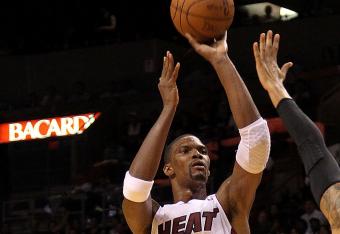 Chris Bosh drilled a "J" from the top of the key to give the Heat a six-point lead with just over a minute to play. It's not that making a big shot makes up for grabbing one rebound the entire game, but Bosh stepped up. Either way, I'm not giving a power forward/center a max-contract unless he boards. Straight up.
HEAT 97, KNICKS 91 — 1:06 4th, Knicks Timeout
#knicks are too small w Kidd at 2. Need size and length against #heat or they will eat u alive.

— Wally Szczerbiak (@wallyball) March 3, 2013
Agreed. Time to re-insert Iman Shumpert. Or is Jason Kidd's crunch time leadership more valuable? These are the decisions Mike Woodson gets paid to make. We know Wally Z's opinion on the matter, though.
HEAT 93, KNICKS 91 — 2:20 4th
The Heat reeled off a mini-run, scoring the last four points of the game as Dwyane Wade hit a short jumper, which was followed up by LeBron James blocking Tyson Chandler's shot and scoring on the other end. Great sequence for LBJ, bad for the Knicks.
HEAT 91, KNICKS 87 — 4:05 4th, Knicks Timeout
Chris Bosh just got his first rebound of the game and put it back up for his 14th point.
WOW.
HEAT 87, KNICKS 87 — 4:30 4th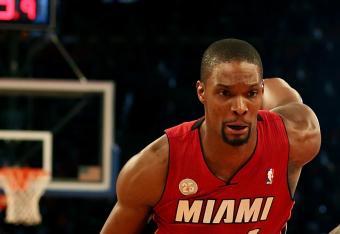 As we approach the mid-way point of the fourth quarter, we take notice of the fact that Chris Bosh is unstoppable on the boards. He's grabbed as many on offense as he has on defense.
Oh, sorry, I neglected to mention that he's grabbed not a single board the entire game. He's also 4-of-12 from the floor. All-Star or opportunistic "lap dog" (Stan Van Gundy's words)?
KNICKS 87, HEAT 85 — 6:18 4th, Heat Timeout
Jeff Van Gundy is insistent that LeBron James flopped as Carmelo Anthony kind of leaned into him under the basket. To this observer, it looked a lot more like LBJ just lost his balance.
HEAT 83, KNICKS 82 — 7:35 4th
J.R. Smith may be having an off-night shooting, just 4-of-13, but he's grabbed 12 rebounds. That's not too shabby for a shot-chucking shooting guard.
HEAT 82, KNICKS 81 — 8:20 4th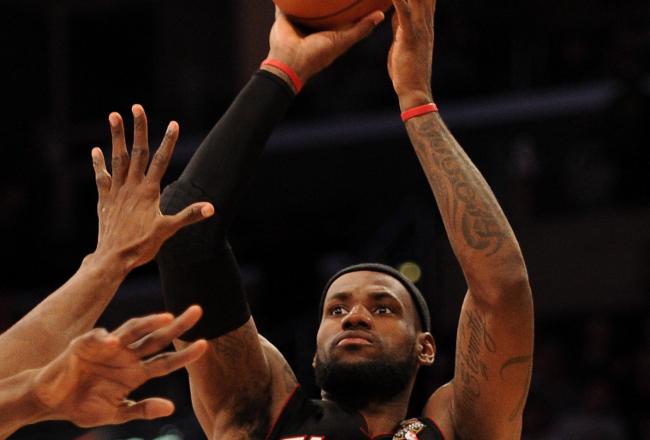 LeBron James hit threes on back-to-back possession to tie the game up. Mike Woodson promptly called for timeout. Also, there seem to be a large contingent of LBJ/Heat fans in the Garden. They'll likely have to watch their backs as they make their way out to their cars, especially if the Heat manage a victory.
HEAT 79, KNICKS 79 — 10:04 4th, Knicks Timeout
The Knicks have now put Iman Shumpert on LeBron James, while Carmelo Anthony is "covering" Norris Cole. Shumpert is the Knicks' best perimeter defender, so this all makes good sense.
KNICKS 79, HEAT 73 — 10:50 4th
Shane Battier can't miss from deep. He just hit his third three in as many attempts to help the Heat close the quarter on a 6-0 run. Never underestimate the importance of closing out quarters.
KNICKS 77, HEAT 74 — End of 3rd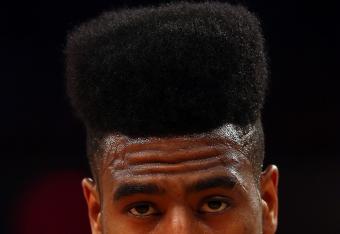 I'm trying to decide whose high-top fade sticks up higher: Iman Shumpert or Norris Cole?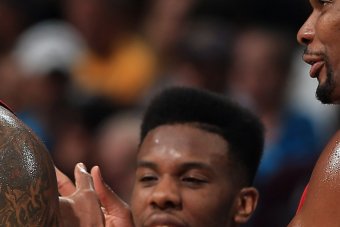 Doug Pensinger/Getty Images
It's been a solid two decades since the hairdo was popular, as made notorious by Kid N Play.
LeBron James' steal at the 1:20 mark of the quarter is being debated as to whether it is a clear path foul. Replay seemed to indicate it was, but Jeff Van Gundy didn't think so—nor did the refs.
Regardless, James still goes to the line for two free throws.
KNICKS 77, HEAT 67 — 1:20 3rd
#Heat Dwyane Wade just sidestepped #Knicks Steve Novak like he was a puddle on the sidewalk.

— Dan Favale (@danfavale) March 3, 2013
As if it weren't clear enough already: Steve Novak is in the league because he can shoot, and only because he can shoot. God forbid he try to cover anyone other than a tree.
KNICKS 77, HEAT 67 — 1:20 3rd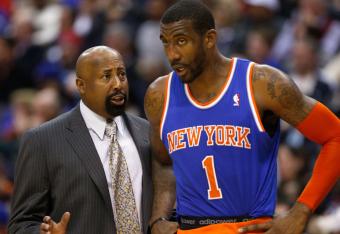 The Knicks have wisely got Amar'e Stoudemire involved in more pick and rolls, and it's resulted in two dunks and a trip to the free throw line. Stoudemire is 4-of-5 from the floor, and he appears to be regaining form as he further recovers.
KNICKS 76, HEAT 67 — 1:25 3rd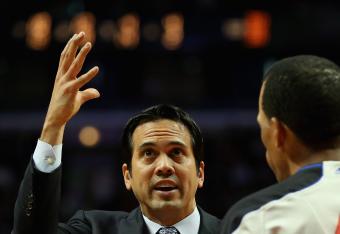 Remember the comment about the Heat not necessarily needing a point guard on the floor with Wade and LBJ doing most of the ball handling.
Erik Spolestra has made that adjustment and went with a big, defensive-minded unit:
PG- Wade
SG- Allen
SF- Battier
PF- James
C- Bosh
No need for Mario Chalmers or Norris Cole, when the alternative is to stack the floor with shooters and defenders.
KNICKS 74, HEAT 63 — 2:20 3rd
Color Miami of Ohio legend and former NBA swingman Wally Szczerbiak impressed.
. @realjasonkidd is a +19!! Fitting in nicely to his new backup pg role. #statpack #knicks

— Wally Szczerbiak (@wallyball) March 3, 2013
Jason Kidd can play backup point guard—primarily because he's played PG his entire career.
KNICKS 70, HEAT 63 — 4:35 3rd
A 7-0 Knicks run pushes it back to a double-digit lead. Four Knicks in double figures now, paced by Melo's 28.
Good answer by JR Smith & #Knicks! Going to have to repel another charge by #Heat later!

— Bruce Beck (@BruceBeck4NY) March 3, 2013
KNICKS 70, HEAT 59 — 5:55 3rd
So if I throw in maybe $10.00, do we have a deal, Mr. James?
KD said "I throw in a thousand"!!! Smart man....Like @jalenrose said, there's a difference in being rich and wealthy!!! #LebronDunkContest

— Mike Hill (@MikeHillESPN) March 3, 2013
Thank you @magicjohnson for soliciting donations from others (even KD!) to add to your $1mil to #GetLeBronToDunk. NOW what, King?

— Skip Bayless (@RealSkipBayless) March 3, 2013
Game note: Heat are really getting back in this one with some great defense and aggressive offense. The Knicks have played very sloppily and have been out-scored 13-4 in the quarter. The Knicks are 1-of-10 from the floor in the quarter.
KNICKS 63, HEAT 58 — 6:52 3rd
Knicks have out-scored Miami 275-221 thru 10 quarters this season.

— Tommy Beer (@TommyBeer) March 3, 2013
Will such overwhelming regular season dominance transpire to the playoffs? That is the million dollar question in Miami and NYC.
KNICKS 63, HEAT 56 — 8:26 3rd
Theoretically, putting the best player on your team on the other team's best player isn't the greatest idea.
But don't expect LeBron James to run out of steam. His conditioning is top-notch, and if anyone gets tired in this matchup of superstars, it's going to be Carmelo Anthony.
KNICKS 63, HEAT 54 — 9:00 3rd, Heat 20-sec Timeout (Wade called it to retain possession)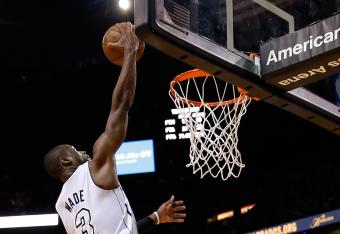 The Heat have come out much sharper in the second half, beginning the quarter with a 5-0 run. They're taking better care of the basketball, and of course haven't committed a turnover yet.
KNICKS 59, HEAT 50 — 10:41 3rd
Erik Spoelstra has switched LeBron James back onto Carmelo Anthony. Will that slow Melo? It's about Miami's only recourse, even if James is needed so heavily on offense. Can't win when you're scoring two and giving up two on the other end every sequence.
KNICKS 59, HEAT 48 — 10:59 3rd
The Knicks closed the second quarter on a 17-5 run. The Heat have 12 turnovers, and are shooting 44.7 percent from the floor. Even LeBron James is at 40 percent (4-of-10).
For all the talk of the Knicks not playing defense, they certainly are tonight.
KNICKS 59, HEAT 45 — Halftime
This article is
What is the duplicate article?
Why is this article offensive?
Where is this article plagiarized from?
Why is this article poorly edited?