North Carolina Pounds Florida State 79-58 in Chapel Hill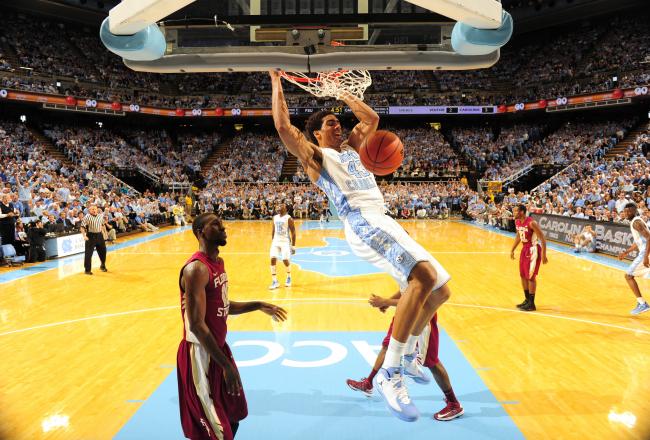 Bob Donnan-USA TODAY Sports
The North Carolina Tar Heels (21-8, 11-5 ACC) extended their winning streak to five games with a 79-58 spanking of the Florida State Seminoles (15-14, 7-9 ACC).
UNC jumped out to a 7-0 lead and was only challenged a couple times in the first half. Florida State grabbed the 16-15 lead at the 8:51 mark, and looked like it would hang in there.
Then the Tar Heels just exploded, knocking down everything in sight. They went on to outscore the Seminoles 31-11 to close out the half.
The story of the day was the performance of the Triangle Trio. Reggie Bullock and James Michael McAdoo scored 20 and 21 points, respectively. P.J. Hairston added another 16.
That's 57 of the Tar Heels' 79 points.
Even more impressive was the fact the trio shot 64.9 percent from the floor. Hairston and Bullock went 8-of-13 from downtown, too.
The team shot 57.1 percent from the floor and 60 percent from three.
The Carolina defense didn't rack up the steals and turnovers as it has over the past few games, but it held Florida State to a disgraceful 37.1 percent shooting performance. The Seminoles were just 4-of-18 beyond the arc.
Michael Snaer led the way for the 'Noles with 17 points. Devon Bookert contributed 10 points, four assists and eight rebounds.
This wasn't much of a game. The Tar Heels look like they are for real.
They will have to be for these final two games, though. Carolina has Maryland and Duke still left on its slate.
UNC 77, FSU 54 (1:15 2nd Half)
Roy Williams has pulled his starters. That is game.

UNC 75, FSU 54 (2:29 2nd Half)
As poorly as most of the team has played, Bookert has been the most impressive for FSU. He has 10 points, four assists and seven rebounds.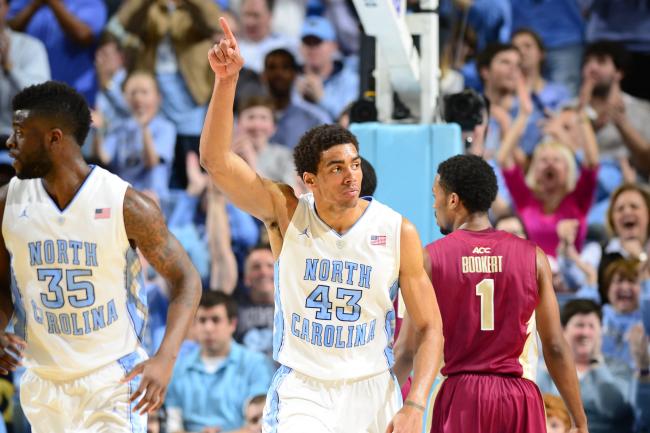 UNC 75, FSU 54 (2:29 2nd Half)
Make that one approaching and two over 20. McAdoo has 21, Bullock 20 and Hairston is about to come back in with 16.

UNC 69, FSU 50 (4:19 2nd Half)
Snaer and Bookert are the only Seminoles in double digits so far today. The Tar Heels have three approaching 20.

UNC 69, FSU 48 (5:08 2nd Half)
Carolina is finishing the second half like it did the first. It just seems the Tar Heels can do no wrong right now.

UNC 64, FSU 46 (7:47 2nd Half)
The Triangle Trio of McAdoo, Hairston and Bullock has 48 of the Tar Heels' 64 points.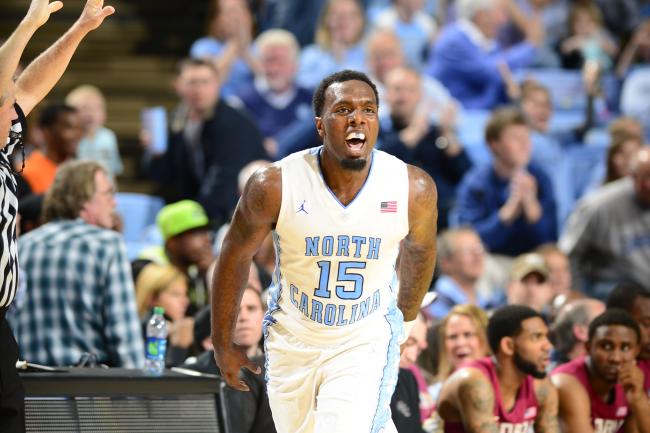 UNC 64, FSU 46 (7:47 2nd Half)
Hairston buries another trey in the corner. That would be his fourth of the day.
UNC has finally slowed down on the offensive end. They're actually taking the time to find a good look.
UNC 56, FSU 44 (9:59 2nd Half)
The Seminoles are making this second half very interesting. Great fight.

UNC 53, FSU 41 (12:30 2nd Half)
FSU has closed within 12. The Tar Heels get in those modes where they have a string of horrible offensive sets, and that's where they are right now.
They aren't playing smart ball, and FSU is taking full advantage.
UNC 51, FSU 37 (14:35 2nd Half)
FSU already has 19 rebounds, which is one more than they had through the entire game in Tallahassee.

UNC 50, FSU 30 (15:58 2nd Half)
UNC is playing pretty sloppy in the half court. This is the time FSU has to capitalize. Turpin is having his way inside. It wouldn't be a bad idea to keep going to the 7-footer.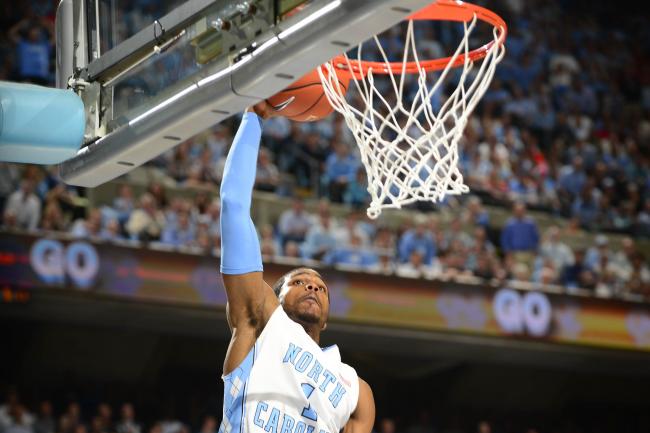 UNC 50, FSU 30 (16:57 2nd Half)
Another breakaway dunk for the Tar Heels by Dexter Strickland. Their defense has looked much better than their offense in the second.

UNC 46, FSU 27 (19:24 2nd Half)
The Tar Heels didn't come out like they had a 19-point lead. The defense forced FSU into a shot clock violation on its first possession.

UNC 46, FSU 27 (Halftime)
McAdoo had an outstanding first half. He leads all scores with 17 points on 8-of-10 shooting. Hairston contributed 11 so far.
The only starter without a field goal is Strickland, who is 0-for-2. But he also has four assists and a steal.
Strickland & Paige combined for 10 assists against one turnover. The backcourt duo is 51:10 over its last five games.

— InsideCarolina (@InsideCarolina) March 3, 2013
UNC 46, FSU 27 (Halftime)
FSU started out hot from three, but has fallen off since. The team is only 2-of-8 beyond the arc. Carolina is 6-of-11.
The Carolina defense has done a good job of forcing tough shots from the 'Noles, and it's showing on the stat lines. FSU is only shooting 34.4 percent from the floor.
The Tar Heels have also forced seven turnovers.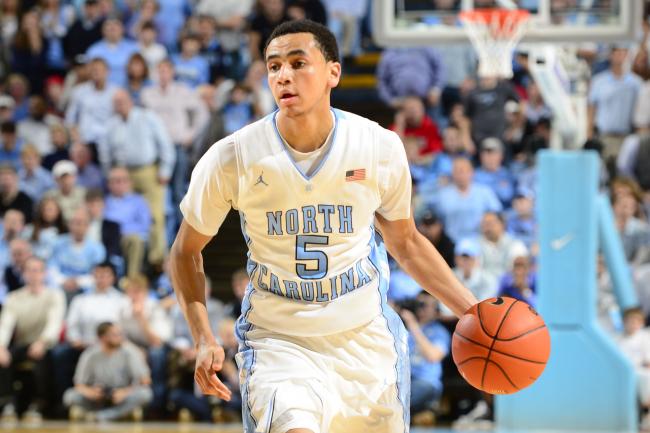 UNC 46, FSU 27 (End of Half)
Make that six assists. He just dished it down the court to McAdoo for an easy two. No defense on the back side at all.
All they needed was six seconds, and that's pretty much been the story of the game.
UNC 44, FSU 24 (0:37 1st Half)
Paige started out slow with an early bad turnover, but has come on strong since. The freshman has five points and five assists.

Paige drills a 3 and UNC is up 40-21. FSU led 16-15 seven minutes ago.

— InsideCarolina (@InsideCarolina) March 3, 2013
UNC 40, FSU 21 (2:01 1st Half)
Now Paige joins the party with a three. Is there a mercy rule in basketball? FSU may need it if this keeps up.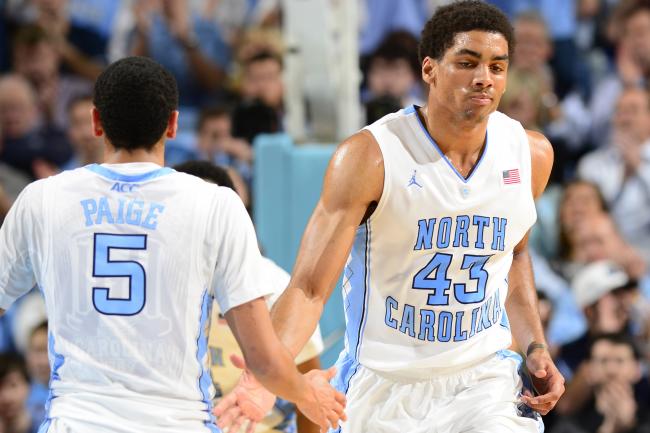 UNC 37, FSU 21 (3:02 1st Half)
McAdoo and Hairston are both in double digits with 13 and 11 points, respectively. Carolina is looking as confident as I have seen them this season.

UNC 35, FSU 19 (3:31 1st Half)
This game just got real. Carolina is pouring on the points now. Bullock and Hairston drilled back-to-back treys.

UNC 27, FSU 18 (5:25 1st Half)

Oh wow. McAdoo throws down an alley-oop from Hairston from the three-point line. Shooting guard, small forward, power forward... and point guard?
What can't you do, Mr. Hairston?

Scratch 2 points off James's line. His deflected basket has been scored a team field goal.

— InsideCarolina (@InsideCarolina) March 3, 2013
That's a shame.
This article is
What is the duplicate article?
Why is this article offensive?
Where is this article plagiarized from?
Why is this article poorly edited?