The Complete NFL Pro Day Schedule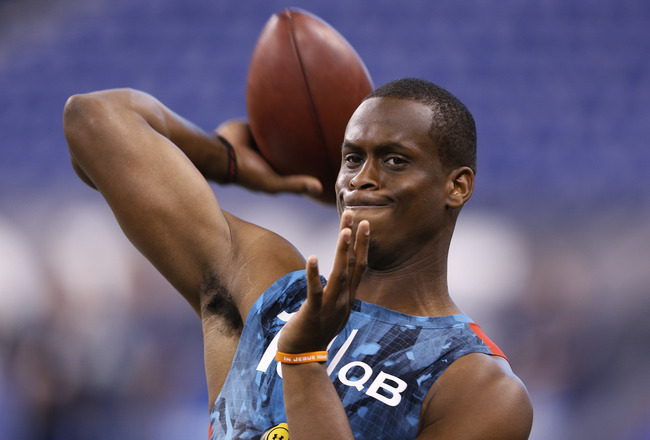 Joe Robbins/Getty Images
You've digested all of the results from the 2013 NFL Scouting Combine, so what are you going to do until the draft?
Read up on what's going on with each and every pro day!
And how are you going to know when each school is putting theirs on?
By clicking through!
OK. That's enough pseudo cheerfulness. Proceed on to the next 20 slides to find out who is performing when, and to find a tidbit or two about the participants.
Note: All combine results courtesy of NFL.com.
Monday, March 4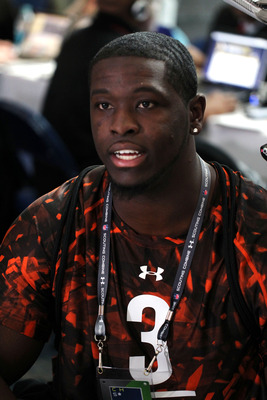 Brian Spurlock-USA TODAY Sports
Schools: Alabama-Birmingham, Alabama State, Alcorn State, Arkansas-Pine Bluff, Massachusetts, Minnesota, North Dakota State and Troy.
Everybody wants to see Arkansas-Pine Bluff's Terron Armstead replicate his ridiculous combine results. Actually, record-setting is a better description, considering he put up a 4.71 40-yard dash, which is the fastest time ever run by an offensive lineman.
Minnesota all-purpose player MarQueis Gray is another intriguing prospect. Like Denard Robinson, Gray is an incredible athlete who must prove he can play a new position at the next level.
Tuesday, March 5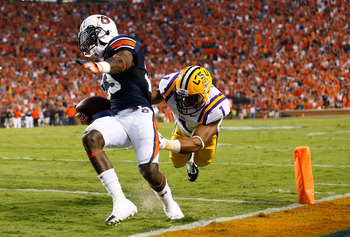 Kevin C. Cox/Getty Images
Schools: Auburn, Buffalo, Harding, Jackson State, Missouri Southern State, Northwestern, Tennessee-Chattanooga, Tuskegee and Youngstown State.
One fun guy to watch will be Auburn running back Onterio McCalebb. He looked like he had Chris Johnson's 40 record in hand with an unofficial 4.21, but the timekeepers figured different and dropped him to a 4.34.
Additionally, not enough people are talking about Auburn defensive end Corey Lemonier. He posted a 4.6 40-yard dash, along with 27 bench reps and a decent 4.4 20-yard shuttle.
Wednesday, March 6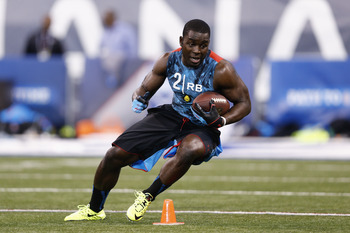 Joe Robbins/Getty Images
Schools: Alabama A&M, Duquesne, Eastern Washington, Kent State, Mississippi State, North Alabama, Northern Arizona, Pittsburgh, South Florida, Texas Tech, West Texas A&M and Wisconsin.
There are two players who will be looking to rebound after disappointing combine performances.
First, Mississippi State's Johnthan Banks needs to find a way back into the first round. What appeared to be a semi-lock is now a long shot after Banks recorded a 4.61 40-yard dash. That's not good for a cover corner.
Wisconsin's Montee Ball finds himself in the same boat. He was never known as a speedster, but the running back needs a better time than his 4.66 at the combine.
Thursday, March 7
Kevin C. Cox/Getty Images
Schools: Arizona, Arkansas-Montecello, Clemson, Furman, Idaho, Illinois, Miami (Fla.), Mississippi, Missouri, Nebraska, New Mexico, Syracuse and Washington State.
Here's a day loaded with talent, so I'll just drop a couple of my favorites.
Clemson's DeAndre Hopkins has the ability to be the most productive wide receiver in this draft. He's big and has great hands, but he needs to prove he has better than average speed.
Also, keep an eye on Missouri's Sheldon Richardson. So many defensive linemen excelled at the combine that he's gotten lost in the shuffle.
Friday, March 8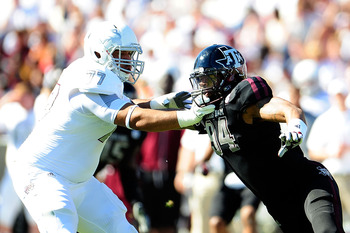 Stacy Revere/Getty Images
Schools: Arizona State, Cornell, Florida Atlantic, Florida International, Missouri State, Montana, Mount Union, Northern Illinois, Ohio State, Southern Mississippi, TCU, Texas A&M and Wofford.
Perhaps no player had a more disastrous combine than Texas A&M's Damontre Moore. Once a potential top-five pick, the defensive end must impress to regain his first-night-selection status.
Keep an eye on FIU's Jonathan Cyprien. The safety has been getting quite a bit of hype, as B/R's Michael Schottey explains.
Monday, March 11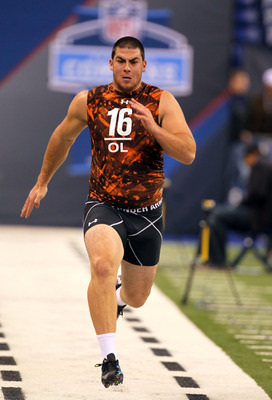 Brian Spurlock-USA TODAY Sports
Schools: California (Pa.), Central Michigan and Penn State.
The obvious headliner here is CMU's Eric Fisher. The offensive tackle has completed the transformation from smaller-school prospect to top-10 lock. At this point, he's battling for the top overall pick.
Check out Penn State's Gerald Hodges. The linebacker has decent speed (4.78 40 at the combine) and could be a sleeper.
Tuesday, March 12
Kevin C. Cox/Getty Images
Schools: Delaware State, Florida, Jacksonville State, Kansas State, Lehigh, Monmouth, Oklahoma State, Portland State, Toledo, Towson, Tulane and UCLA.
Florida's Sharrif Floyd (defensive tackle) has followed the Eric Fisher plan to perfection: Start building a buzz prior to Indy, kill the combine, then project as a top-five pick. Well done.
Kansas State's Arthur Brown has been teetering on the edge of the first round. The pro day will be the linebacker's last chance to make his case.
Wednesday, March 13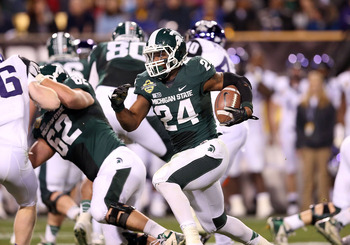 Christian Petersen/Getty Images
Schools: Alabama, Central Oklahoma, Cincinnati, Colorado, Colorado State, Louisiana-Monroe, Marshall, Maryland, Michigan State, Oklahoma, Rutgers and Washington.
Choose a player from Alabama. Chances are that he is destined to be a first-night selection. Eddie Lacy (running back), Chance Warmack (offensive line), Jesse Williams (defensive tackle). It really doesn't matter.
I'm intrigued to see how Michigan State running back Le'Veon Bell performs. He's a big, strong kid whose game should translate to the physical NFL.
Disclaimer: Michigan State is my alma mater. I'm a bit biased.
Thursday, March 14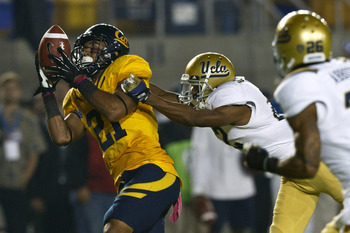 Jason O. Watson/Getty Images
Schools: Arkansas State, California, Delaware, Fort Valley State, Georgia Tech, Grambling State, Michigan, Nevada, Oregon, Tulsa, UNLV, West Alabama, West Virginia and Wyoming.
The 2013 draft has more serviceable wide receivers than any draft in a long time. California's Keenan Allen was once the top playmaker out there; now his status is uncertain thanks to a second-grade posterior cruciate ligament sprain.
This year's quarterbacks have the opposite problem. None of them have been able to prove worthy of a high pick. West Virginia's Geno Smith has been lauded as the most talented, so a strong display would go a long way toward an early selection.
Friday, March 15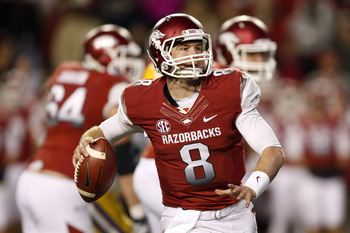 Wesley Hitt/Getty Images
Schools: Arkansas, Georgia Southern, Georgia State, Kansas, Oregon State and San Jose State.
Just like Geno Smith, Arkansas quarterback Tyler Wilson is trying to prove that he should go on the first night. He has plenty of measurables, but his senior season was a mess from the beginning.
A guy who will gain steam as we move along is Oregon State's Jordan Poyer. Cornerbacks are always at a premium, so a big day will go a long way.
Monday, March 18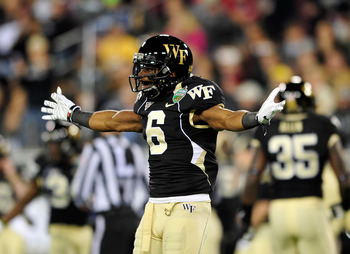 Grant Halverson/Getty Images
Schools: Air Force, Albany State (Ga.), Houston, Howard, Idaho State, Indiana, Memphis, Montana State, Valdosta State, Villanova, Virginia Union and Wake Forest.
There may be a number of schools on the above list, but none are bursting at the seams with professional talent.
One notable exception could be Wake Forest's Kenny Okoro. He's a cornerback with decent size (6'0"), so he'll be given a shot somewhere.
Tuesday, March 19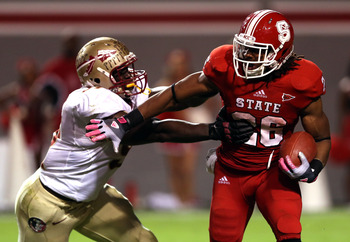 Streeter Lecka/Getty Images
Schools: Florida A&M, Florida State, Louisville, Richmond (with Liberty), Sam Houston State, San Diego State and Virginia.
Perhaps the most intriguing prospect will not be participating.
Experts have been drooling about Florida State defensive end Cornellius "Tank" Carradine, who is still recovering from a torn ACL and plans on having his own pro day in April.
Teammate and fellow defensive end Bjoern Werner has been in a free fall thanks to his non-workout-warrior status (4.83 40-yard dash, 31" vertical) and is slipping in mocks all over the Internet.
Wednesday, March 20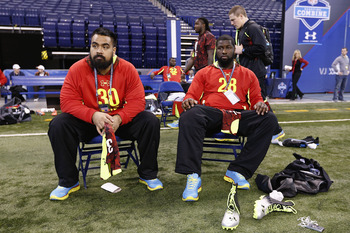 Joe Robbins/Getty Images
Schools: Ball State, Baylor, Central Florida, Connecticut, North Carolina State, Ohio, Sacramento State, Tennessee, Utah, Virginia Tech and Western Kentucky.
After not participating in the combine due to a heart condition, Utah defensive tackle Star Lotulelei finds himself in an uncomfortable position, assuming he's healthy enough to go. Much like Bjoern Werner, he needs some help if he's going to regain his former status as a top selection.
NC State cornerback David Amerson probably wishes he could have come out after his sophomore season. He recorded 12 interceptions that year but hasn't been cited as anything more than a midround pick.
Thursday, March 21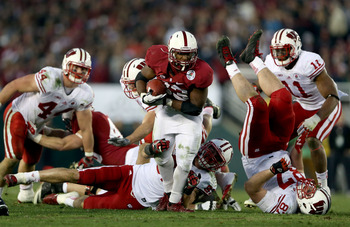 Jeff Gross/Getty Images
Schools: Boise State, Eastern Kentucky, Georgia, Kentucky, Miami (Ohio), New Mexico State, Old Dominion, Standford, Stony Brooke, Temple and William & Mary.
Stanford's Stepfan Taylor faces an even more daunting proposition than Montee Ball. He's a bruising running back who scored fewer touchdowns in college and turned in a slower 40-yard dash (4.76).
Teammate Zach Ertz didn't do himself any favors at the combine either. He might not have been terrible, but Tyler Eifert clearly established himself as the best tight end.
Friday, March 22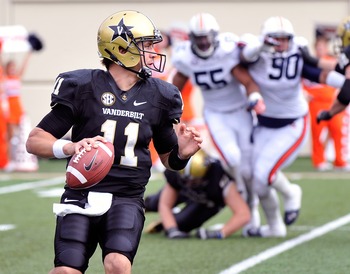 Frederick Breedon/Getty Images
Schools: Missouri Western, Tennessee State and Vanderbilt.
There might be an SEC team here, but there isn't much SEC-level talent present.
Vanderbilt quarterback Jordan Rodgers is interesting, though. Aaron Rodgers' little brother has an outside chance at getting drafted.
The road to seventh-round glory starts on March 22.
Monday, March 25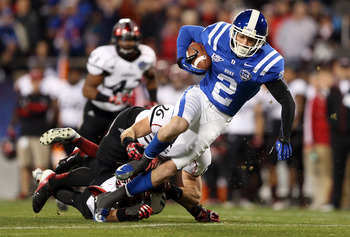 Streeter Lecka/Getty Images
Schools: Duke, Iowa, Middle Tennessee State and Stephen F. Austin.
I really like Duke's Conner Vernon. The wide receiver impressed at the Senior Bowl, racking up 36 yards on the day with four catches.
B/R's Alex Dunlap ranked Vernon as the 16th-best player at the Senior Bowl.
Tuesday, March 26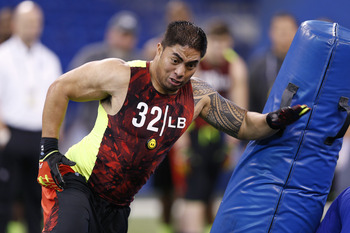 Joe Robbins/Getty Images
Schools: Iowa State, Louisiana Tech, McNeese State, North Carolina, North Carolina Central, Notre Dame, Southeastern Louisiana and Texas.
We're all getting a little sick of hearing about Manti Te'o. However, very few players have as much to gain from a great pro day as him. The Notre Dame linebacker needs a big day.
Louisiana Tech's Quinton Patton will be a name you will hear more and more often as we creep closer to April. He scored 24 touchdowns in the past two years and doesn't lack for confidence. He's got Pro Bowler written all over him at the wide receiver position.
Wednesday, March 27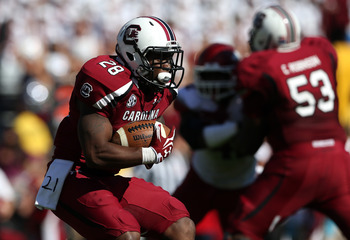 Streeter Lecka/Getty Images
Schools: LSU, South Carolina, SMU and USC.
If you don't feel for running back Marcus Lattimore, check your pulse. He's fought his way back from injury before, and it appears he's doing everything he can to be back for South Carolina's pro day.
LSU defensive end Sam Montgomery could also use some rehab, but of a different nature. After admitting that he didn't always give his best effort, Montgomery needs to wow scouts with his athleticism if he wants to be chosen before teammate Barkevious Mingo.
Thursday, March 28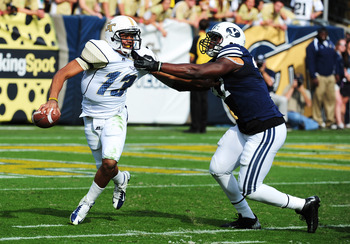 Scott Cunningham/Getty Images
Schools: BYU, Central Arkansas, Coastal Carolina, East Carolina, Louisiana-Lafayette and Yale.
BYU's Ezekiel Ansah has gone from relative unknown to draft-day superstar.
Whoever selects the defensive end is going to be lauded for grabbing such an exciting, albeit raw, talent. If he can replicate his terrific combine, the sky is the limit for Ansah.
Well, at least on draft day.
Friday, March 29, and Tuesday, April 2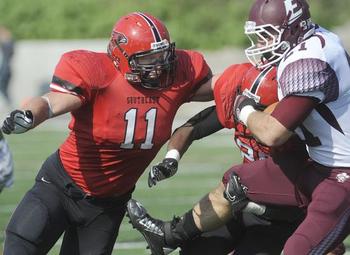 Photo via SEmissourian.com
School: Southeast Missouri State (Friday) and Columbia (Tuesday).
Southeast Missouri State linebacker Blake Peiffer may not be drafted, but he may have the best chance of anyone from these two schools if he can excel in his pro day.
Keep Reading