Power Ranking the UFC on Fuel 8 Main-Card Fights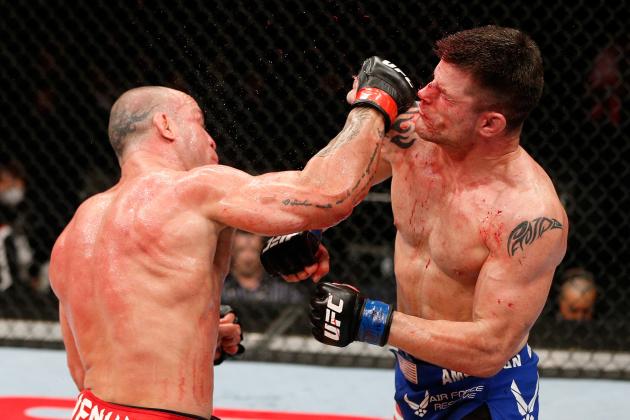 Tom Szczerbowski-USA TODAY Sports
Josh Hedges/Zuffa LLC UFC
UFC on Fuel TV 8 disappointed MMA fans across the globe with a slow-developing main card that featured precious few moments of action and even fewer finishes.
For a card that was laced with knockout artists, grappling reigned supreme for much of the evening, and this writer, in particular, was forced to fire up the Keurig just to stay awake for the co-main and main events...about that.
Needless to say, apologies were accepted, and all was made well in the world as the fight card concluded.
Let us take a look at how the main-card fights stack up against one another.
Begin Slideshow

»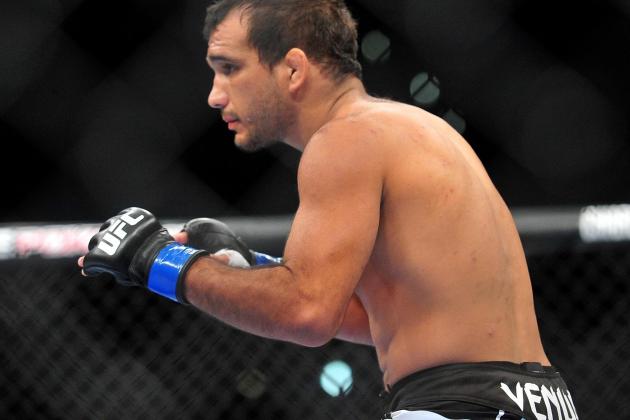 Gary A. Vasquez-USA TODAY Sports

In today's increasingly competitive world of professional mixed martial arts, fighters who show up downright out of shape are rare.
Those who show up out of shape and still win are even rarer, but that is exactly what we saw in the case of Rani Yahya.
Yahya showcased a superior grappling game in his matchup with Mizuto Hirota, but he could not secure the finish and this game plan resulted in two tired featherweights by Round 3.
Things got sloppy, but Yahya did enough to survive with the decision.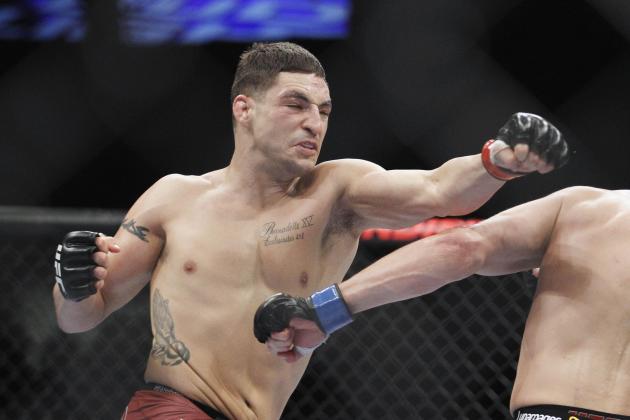 Matt Ryerson-USA TODAY Sports

Takanori Gomi vs. Diego Sanchez was, on paper, an early candidate for Fight of the Night, and to be fair, this fight wasn't that bad.
Until the judges took away my joy, that is.
Gomi frequently landed hard shots to the head and midsection of Sanchez, he avoided takedown attempts after Round 1 and he doled out a high volume of strikes for the full 15 minutes against "The Dream."
Sanchez found success in Round 1 with his wrestling, but he did little else throughout the matchup.
Of course, he won a split decision for that considerable lack of effort.
Sanchez came into this fight overweight, and he escaped with a robbery of a decision.
Yuck.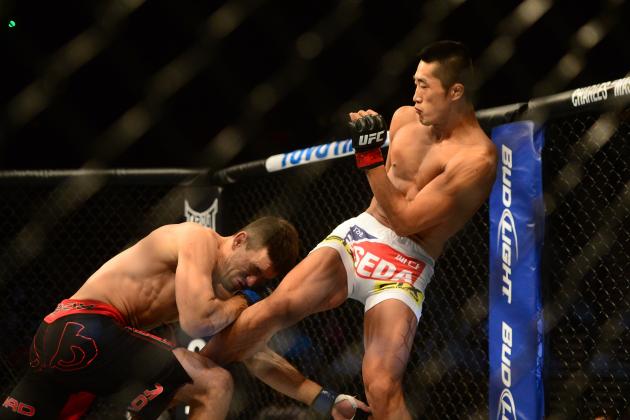 Mark J. Rebilas-USA TODAY Sports

Jon Fitch is no longer with the UFC in body, but his spirit lives on in the form of Korean grappling ace Dong Hyun Kim.
For 15 minutes, Kim dominated Siyar Bahadurzada on the ground, and the Afghan had no answers for Kim's stifling top game.
This fight was incredibly boring, but Kim unleashed some hilarious and exciting ground-and-pound in the fight's waning moments, as he played to the crowd and taunted his opponent while raining down blows from full mount.
It's pretty sad whenever some showmanship alone can bump a fight up two spots in the power rankings, but let that fact serve as a reminder of how atrocious these first few bouts actually were.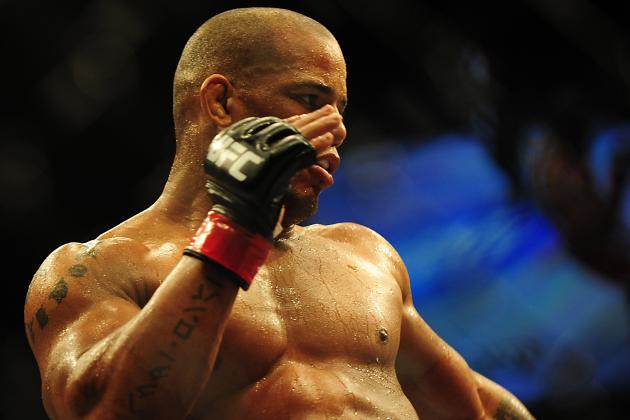 Anne-Marie Sorvin-USA TODAY Sports

Like Kim vs. Bahadurzada before it, Yushin Okami vs. Hector Lombard was pretty terrible until some Round 3 heroics saved the fight from becoming completely unwatchable.
Down two rounds to none against Okami, Lombard desperately needed a finish in Round 3, and he connected squarely time after time on Okami's jaw.
The muscular Cuban rocked Okami badly in the bout's final frame, but he could not secure the finish and Okami held on to earned the judges' decision.
For the most part, this fight is not one you will be racing to your DVR to play back, but Lombard made things interesting in the late stages and salvaged the fight in my eyes.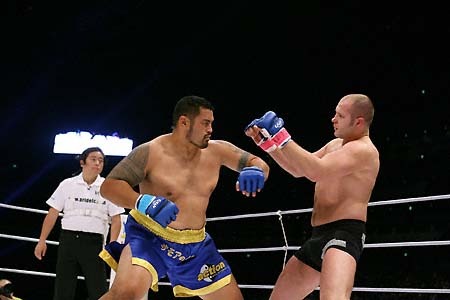 CREDIT: graciemag.com
Mark Hunt and Stefan Struve threw down and injected life into this pallid UFC on Fuel TV 8 card in the night's co-main event.
It was not pretty or technically sound, but this matchup showcased some nifty grappling on Struve's part and that powerful, explosive striking Hunt is renowned for inside the cage and ring.
Hunt avoided Struve's submission attempts for the better parts of Rounds 1 and 2, and he blasted the tall Dutch fighter in Round 3 to lock down the knockout victory.
Hunt's game plan is no secret: He is going to throw bombs at your face.
You can dodge them and try to submit him, or you can eat them and suffer broken bones and scrambled brains.
Your choice.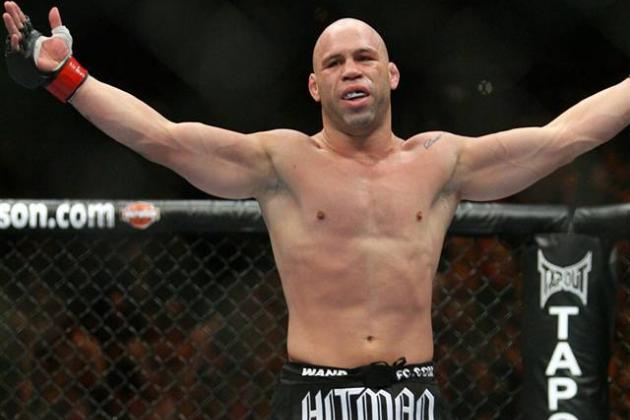 CREDIT: militarytimes.com
In its two rounds of back-and-forth action, Wanderlei Silva vs. Brian Stann completely redeemed this lackluster card.
Round 1 saw the two combatants exchange heavy leather with each man biting the canvas on occasion.
Round 2 brought more of the same, but Silva landed the finishing blow with a beautiful combination that landed flush on Stann's chin and sent him spiraling to the mat.
A few good-measure bombs later, and Stann was unconscious as Silva basked in the glory of his finest UFC victory to date.
I sincerely hope Silva takes this moment to reflect on his MMA career and understand that he has accomplished nearly all there is to accomplish. He has conquered everything there is to conquer.
His career came full circle in front of the Japanese crowd, and a more perfect ending to such an historic career could not be scripted.
Silva's fists wrote this story's conclusion in Stann's blood, and we were treated to one of the most exciting fights in UFC history for his effort.
For fans of MMA, heavy metal or general absurdity, Follow @HunterAHomistek