Winners and Losers from This Week in the NBA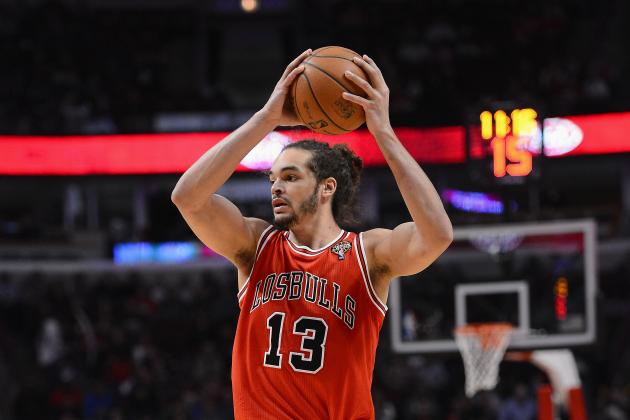 Mike DiNovo-USA TODAY Sports

When the NBA calendar flips to the month of March, as it did this week, things start to get serious in the Association. So with that in mind, the winners and losers from this week of NBA action take on special significance.
The winter months are over, and the few remaining weeks of the season will go a long way toward setting up the postseason narratives everyone will be following. Think of the past week as the final minutes of the third quarter in a close game. Though nothing's been ultimately decided yet, we're about to enter the home stretch.
A big week here sets the tone for the final sprint.
Among the winners, we've got players who put up humongous stat lines, like Stephen Curry and Joakim Noah, as well as teams that got (or stayed) scorching hot over the past week.
As for the losers...well, let's just say they didn't do much to inspire confidence that they're primed to make a push toward this season's finish line.
Begin Slideshow

»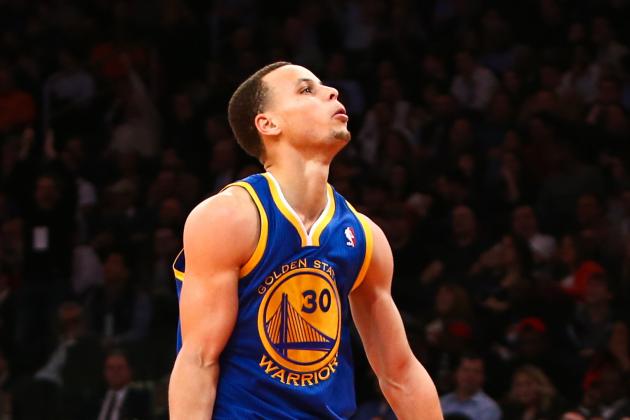 USA TODAY Sports

Though it came in a losing effort, Stephen Curry's monstrous 54-point outburst at Madison Square Garden on Feb. 27 won't easily be forgotten.
The Golden State Warriors point guard made 18-of-28 shots from the field and needed just one more triple to match an NBA record for made threes in a game. Curry bombed the New York Knicks from everywhere on the court, pulling up off the dribble for 25-footers and blowing by defenders who closed out on his shot fakes too aggressively.
As a matter of fact, Curry's huge night was merely a follow-up performance to his 38 points on 14-of-20 shooting against the Indiana Pacers 24 hours earlier.
New rule: If you score 92 points over two games while shooting a combined 32-of-48 from the field and 18-of-23 from long range, you're winner in any week.
Oh, and also, he invented a ridiculous celebration dance. That's worth bonus points around here.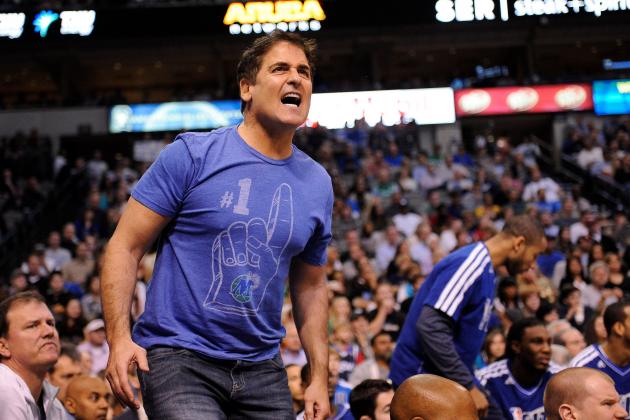 USA TODAY Sports

It's a little unfair to term Dallas Mavericks owner Mark Cuban a loser this week, but it sure is fun.
Cuban, speaking hypothetically to ESPN Radio, said that because of the new financial realities of the NBA's collective bargaining agreement, many teams were going to be facing some tough financial decisions. As an example of one of those, Cuban pointed out the L.A. Lakers' bloated budget and posed the question of whether the franchise might think about amnestying Kobe Bryant.
In context, it was just an example, not a suggestion of what L.A. should do. But try telling that to Bryant, who stuck it to Cuban's Mavs with 38 points in a 103-99 win on Feb. 24.
The tweet of the year followed:
Amnesty THAT

— Kobe Bryant (@kobebryant) February 24, 2013
Because he was the victim of a wicked Twitter burn, Cuban's a loser this week.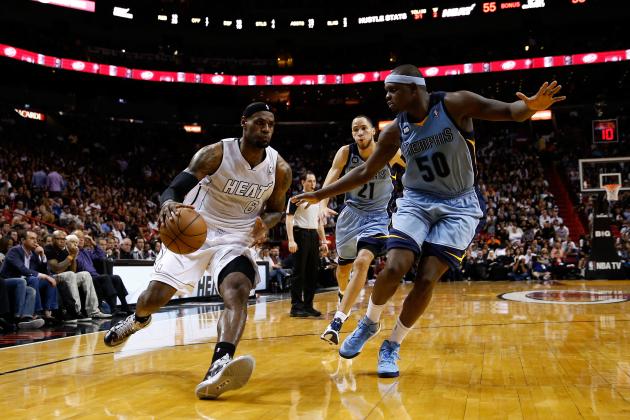 Chris Trotman/Getty Images

Of course the Miami Heat are a winner. Anytime a team runs its winning streak to 13 games by picking up three more victories in a week, there's really no other option.
Miami defeated the Cleveland Cavaliers, Sacramento Kings and Memphis Grizzlies this week, and that final win came despite a surprisingly human 4-of-14 shooting night from LeBron James. LBJ did still manage to put up 10 assists and eight rebounds in that March 1 contest, though. So he didn't totally disappoint.
The Heat are hitting their stride at just the right time. There's a good chance they become consistent residents of the "winners" section from here on out.
"Dagger!" Except not.
Mr. Steve Buckhantz, play-by-play man for the Washington Wizards, earns a "loser" nod this week after mistaking a Trevor Ariza air ball for a game-winning three-point shot. In his defense, it did look a lot like the ball swished through the net. But in situations like that, it might be best to make certain the ball went in before having a celebratory conniption.
Honorable loser mention goes to the Wizards players and coaching staff, who inexplicably waited until the last second to take a shot despite trailing at the time. With zeroes on the clock after the miss, there was no chance for an offensive rebound or a foul.
Get it together, fellas.
Now that's how you hit a game-winning shot.
Ty Lawson gave the Denver Nuggets their fourth straight win with a buzzer-beating jumper against the Oklahoma City Thunder this week, but to be honest, his post-shot dance is the real reason he's a winner. Hey, you were warned that celebration dances counted for extra points.
Lawson helped Denver stay hot, beat one of the West's best teams and broke out the "Bernie Lean."
Sounds like a winner to me.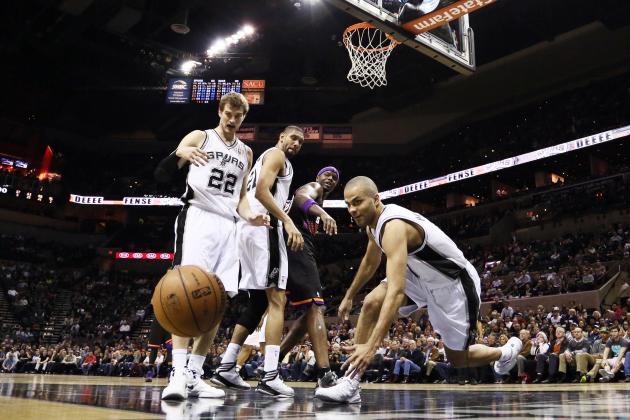 USA TODAY Sports

The San Antonio Spurs won two out of their three contests this week, but suffered a massive loss bigger than any single basketball game.
Tony Parker went down with a sprained ankle in the third quarter of the Spurs' 130-102 blowout win over the Sacramento Kings on March 1, and reports indicate the injury is no joke (per Marc J. Spears of Yahoo! Sports):
Spurs say guard Tony Parker is expected to be out for approximately four weeks with a Grade 2 left ankle sprain.

— Marc J. Spears (@SpearsNBAYahoo) March 2, 2013
As far as the regular season goes, Parker's absence hardly matters. San Antonio is a playoff lock and might still be good enough to hang on to the No. 1 seed in the West even without its point guard. But the playoffs suddenly look a lot more daunting if Parker's going to be hobbled by even a tiny amount.
The Spurs' only real weakness was the age and frailty of their stars. But as Tim Duncan has stayed healthy all year and Manu Ginobili has been rounding into form, Parker hit the deck. That's a huge blow for a team that looked to have a real chance at another title.
All hope's not lost, but Parker will have to make a full recovery for San Antonio to return to legitimate contender status.
The Lakers won two out of three games on their own, but they were happy to get some extra help from Monta Ellis.
The Milwaukee Bucks shooting guard drilled an improbable game-winner against the Houston Rockets on Feb. 27. Ellis' one-footed fadeaway not only gave Milwaukee a stunning victory over the Rockets, but it also helped the Lakers inch closer to the No. 8 spot in the Western Conference playoff race.
And besides, anytime a buzzer-beating heave can make Rockets announcer and unapologetic homer Clyde Drexler sound so audibly distraught, it's a good thing. How about a little professionalism next time, Clyde?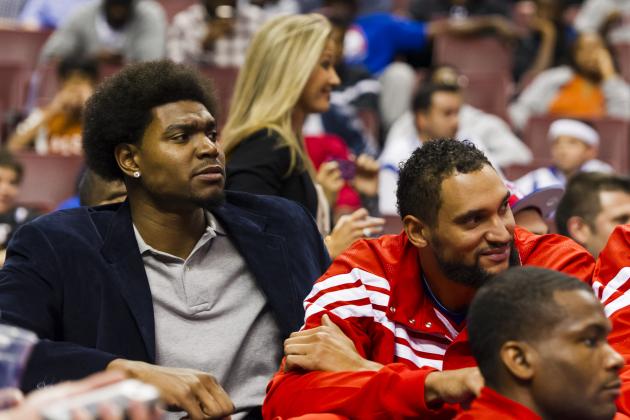 Howard Smith-USA TODAY Sports

When Andrew Bynum finally came out and said that he might not play this year (per Brian Windhorst of ESPN.com), the Philadelphia 76ers' season went from "disappointing" to "catastrophic" in about two seconds:
Andrew Bynum had another setback. Knee swelled up after brief work in practice last week. Said now he doesn't know if he'll play this year

— Brian Windhorst (@WindhorstESPN) March 1, 2013
Having surrendered Nikola Vucevic and Andre Iguodala in the deal to land Bynum, the Sixers are at risk of ending up empty-handed if the injured center limps away as a free agent this summer.
Of course, the Sixers organization or coach Doug Collins, who reamed his team's effort this week, could also qualify as losers.
Basically, it's been a rough week in Philly.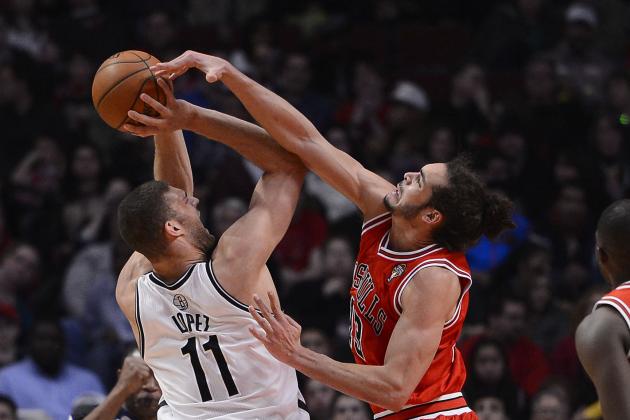 Mike DiNovo-USA TODAY Sports

Chicago Bulls center Joakim Noah went bananas this week, putting up scoring and rebounding numbers that hardly looked real.
After registering 23 points, 21 rebounds, 11 blocks and three steals against the Sixers (yet another reason they were losers this week) on Feb. 28, Noah followed up with 21 points, 10 rebounds, five assists and four blocks against the Nets on March 2.
You might think that sort of effort would tire Noah out, but you'd be wrong:
Saying Joakim Noah plays w. energy & emotion is like saying the Sun "plays" w. heat & light. No, he radiates it. on.nba.com/YieAS6

— Steve Aschburner (@AschNBA) March 3, 2013
Maybe it's time we looked into using Noah as a renewable source of energy. Forget solar and wind power; hook some cables up to this guy and we can power 10 city blocks for free.