4 Fighters That Need to Worry About Their Jobs Following UFC on Fuel 8
Anne-Marie Sorvin-USA TODAY Sports

Given the numerous surprising cuts we've seen from the UFC roster in recent weeks, fighters have to be getting a little worried when they go into their fights. That certainly had to be in the back of some of the competitors' minds as they headed into UFC on Fuel 8.
If you win, you're probably safe, which has led to some fighters turning to a less exciting, more control-based fighting style. On the flip-side, when you lose, you better be doing it with style—otherwise you might find yourself looking for a new job on Monday.
There were quite a few fighters on Saturday night's fight card who were hanging right on the edge and now a few of them will have to hold their breath, hoping to not be one of the yet-to-be-decided roster casualties.
Here are the four fighters who need to be most worried about their jobs following UFC on Fuel 8 from Japan.
Begin Slideshow

»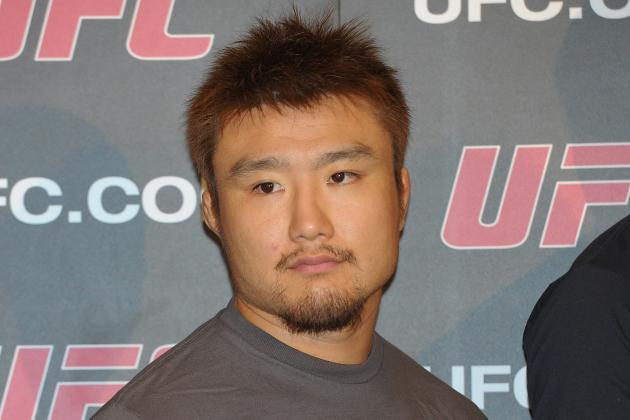 Koki Nagahama/Getty Images

One of the greatest legends in the history of the lightweight division, Takanori Gomi now has to be worried about if he will still have a job in the UFC following his loss on Saturday night to Diego Sanchez.
Although many experts believe that Gomi was robbed out of the decision, the reality is that Gomi simply didn't do enough to guarantee himself a win on the judges' scorecards. He controlled the fight late, but fell behind early in the bout.
Although he won Fight of the Night in in a win over Mac Danzig in his previous bout, Gomi's loss was his fourth in seven UFC fights and he did not look particularly great.
Don't look for him to be cut yet, but given the releases of guys like Jon Fitch and Jacob Volkmann, it wouldn't be that crazy to see Gomi on the list this week.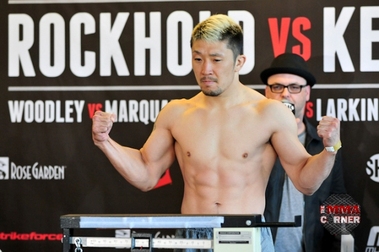 Photo: The MMA Corner
Former DEEP lightweight champion Mizuto Hirota made his American debut in July 2012 when his brand-new Strikeforce contract put him in a bout against the red-hot Pat Healy. Hirota came up short that night, his only appearance in Strikeforce.
Hirota was given another chance at a Zuffa fight, this time in the UFC on Saturday night when he was given a fight against Rani Yahya in his first featherweight fight. Unfortunately, he came up short in this one as well, losing another decision.
It's not that Hirota is incapable of competing against top talent, but he hasn't been particularly impressive in either of his fights and unless he's doing something to stand out, losing two fights in a row just doesn't look very good on the resume.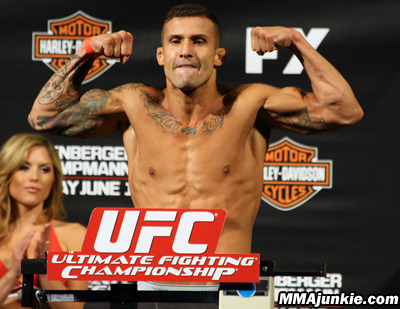 Photo: MMAjunkie.com
Former Chute Boxe head coach Cristiano Marcello lost a decision at UFC on Fuel 8 to Kazuki Tokudome, a Japanese fighter making his Octagon debut. That alone is usually not a good thing, but when added to his other three UFC performances, Marcello has to biting his nails right now.
Marcello was first a contestant on The Ultimate Fighter: Live but was knocked out by Justin Lawrence in the first round. It didn't get any better when he competed in his first "official" UFC bout at The Ultimate Fighter 15 Finale and was knocked out by Sam Sicilia.
He did turn things around at UFC 153 with a victory over Reza Madadi, but a closer examination of the statistics from that fight would show that the judges might have made the wrong decision in judging the bout for Marcello.
After another disappointing loss, this time to Tokudome on Saturday night, Marcello might be the most likely fighter to be handed his walking papers.
Matt Roberts/Getty Images

Most would agree that this one is highly unlikely, but when you consider how much of a disappointment he has been, it wouldn't be completely unjustified for the UFC to pull the plug on the Hector Lombard experiment.
Although he did nearly steal the victory from Yushin Okami in the third round, Lombard just hasn't been the guy who many of us predicted that he would be. He hasn't been the stone-cold killer, he hasn't been running through the division and he certainly hasn't proven that he's ready to challenge Anderson Silva.
What's worse is that Hector Lombard is one of the highest-paid fighters in the sport. According to reported payouts alone, Lombard made $300,000 in each of his first two fights for the UFC. To put that into perspective, all 24 fighters combined made a total of $484,000 (including win bonuses) at UFC on Fuel 3 in 2012.
From a cost-benefit standpoint, one has to start to wonder if Lombard is worth the money he's getting paid if he's going to continue to turn in performances like the one he did against Yushin Okami in Japan.