15 Players Who Should Get Their Mail Delivered to the Penalty Box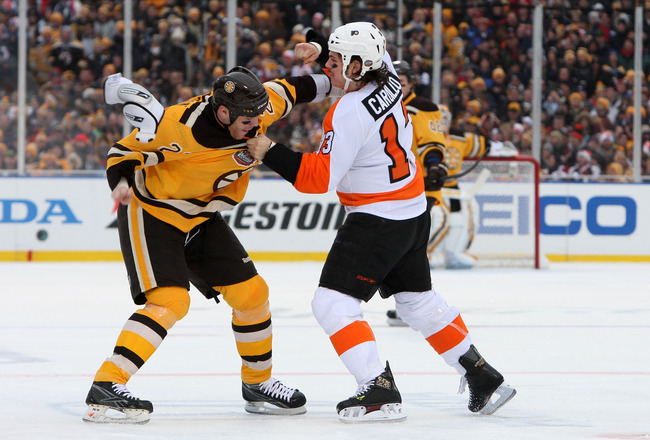 Jim McIsaac/Getty Images
There are a handful of guys in the league who really should have their mail delivered to the penalty box. At times it seems like they spend more time sitting in the sin bin than they do on the ice.
When putting this list together, I considered how many penalty minutes each player accrued over the past three years (plus the time they've served this season). I also looked at the infractions they got those minutes for and the player's attitude.
Therefore, a player on this list may not have a ton of penalties in minutes, but that may come as a result of suspensions or injury. Having said that, this list is primarily based off of each player's penalty in minutes (PIM).
All stats courtesy of NHL.com.
Paul Bissonnette, Phoenix Coyotes
Totals: 117, 71, 41, 20 (249)
Okay, Bissonnette is on here because he has a great Twitter feed. @BizNasty2point0 is a must-follow for every NHL fan out there, regardless of if you follow the Coyotes.
Here is an abbreviated list of my favorite tweets he has recently posted:
Making eye contact at the mall with people selling junk at the kiosks is the WORST.

— Paul Bissonnette (@BizNasty2point0) February 20, 2013
Girls expend the same amount of energy saying hello to their girl friends as it takes to run a marathon.

— Paul Bissonnette (@BizNasty2point0) February 16, 2013
If you're having a bad day just think you could have been born a hotel room towel instead.

— Paul Bissonnette (@BizNasty2point0) February 10, 2013
Oh yeah, he plays hockey too.
Matt Cooke, Pittsburgh Penguins
Totals: 106, 129, 44, 22 (301)
Cooke has developed a bit of a reputation as a dirty player in this league, and he probably would have more penalty minutes if he didn't get suspended so often.
I personally think that he did not intend to injure Erik Karlsson in his most recent dust-up, but I'll let you determine that for yourself.
Milan Lucic, Boston Bruins
Totals: 44, 121, 135, 46 (346)
Lucic only played 50 games in 2009-10; otherwise his numbers would be a little higher.
It should be noted that this guy is capable of putting up 30 goals in a season, but I still think of him as the man who ran over Ryan Miller and probably single-handedly forced the Sabres to go out and get Steve Ott in the offseason.
David Clarkson, New Jersey Devils
Totals: 85, 116, 138, 40 (379)
Clarkson also missed some time in 2009-10. He played 46 games that season and still got 80-plus penalty minutes.
I personally find this commercial pretty funny. Hopefully he doesn't actually do this in real life…
Ryane Clowe, San Jose Sharks
Totals: 131, 100, 97, 68 (396)
I can't get enough of this video.
Not only is it extremely sketchy to dangle your stick out and slap people with it while on the bench, but I also love how he pretends that he doesn't know what he did wrong when he got called out for it.
Jethro Tull's Aqualung should honestly be playing in the background of this clip.
Daniel Carcillo, Chicago Blackhawks
Totals: 207, 127, 82, 5 (421)
Carcillo is currently out with a lower-body injury, but when he's on the ice, he is a man to be feared.
It is fitting that this bruiser was involved in the first fight in NHL Winter Classic history.
George Parros, Florida Panthers
Totals: 136, 171, 85, 29 (421)
With a Princeton education and a mustache that would make Super Mario jealous, Parros should be wearing a bow tie and smoking jacket, not a hockey sweater.
But if you've ever seen this man fight, you'll thank your lucky stars that he chose to be a hockey player. As long as you're not Barret Jackman, that is.
Brad Staubitz, Anaheim Ducks
Totals: 110, 173, 121, 39 (443)
Staubitz essentially took Parros' job when the Stache left Anaheim. The former San Jose Shark moved from Northern California to Minnesota following a series of trades between the Wild and Sharks.
I like this video because you can see the two square off before Parros left the Ducks to join the Florida Panthers.
Shawn Thornton, Boston Bruins
Totals: 141, 122, 154, 27 (444)
Here is what I like about Shawn "Don't Call Me Joe" Thornton: Not only is he willing to play physically on the ice, but he'll back his actions up off of it.
Jared Boll, Columbus Blue Jackets
Totals: 149, 182, 126, 69 (526)
You've got to love a physical player who will not only fight other enforcers, but also lure a star player like Shea Weber—who is larger than him, by the way—into a fight and make him sit for five minutes.
Steve Ott, Buffalo Sabres
Totals: 153, 183, 156, 43 (535)
This is quintessential Steve Ott: He hits hard and does his best to piss you off.
And, let's be honest, he is very good at his job.
Brandon Prust, Montreal Canadiens
Totals: 163, 160, 156, 76 (555)
I really, really, really want to see Prust do this in a real shootout.
It's the only way he'll score in a situation like that.
Derek Dorsett, Columbus Blue Jackets
Totals: 105, 184, 235, 53 (577)
Boll isn't the only guy on the Blue Jackets who can take a star player off the ice. Dorsett is entirely capable of doing that too.
Chris Neil, Ottawa Senators
Totals: 175, 210, 178, 68 (631)
Oh, Matt Cooke, you don't want to fight?
Too bad!
Neil doesn't need to drop the gloves to land a punch.
Zenon Konopka, Minnesota Wild
Totals: 265, 307, 193, 59 (824)
This guy spends so much time in the penalty box that he should get a laundry service, WiFi and a Porta-Potty.
Zenon Konopka, ladies and gentlemen!
Tom Schreier writes a weekly column for TheFanManifesto.com and contributes to Hockey's Future and Stadium Journey.
Keep Reading