Brooklyn Nets vs. Chicago Bulls: Postgame Report Card for Chicago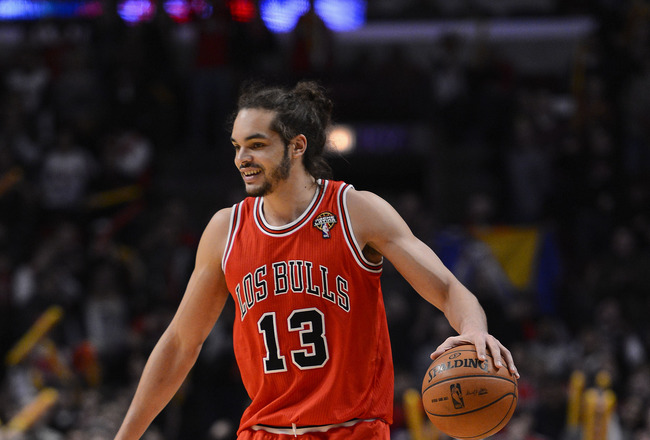 Mike DiNovo-USA TODAY Sports
The Chicago Bulls overcame a sluggish start before posting their second straight victory with a 96-85 win over the Brooklyn Nets.
The teams played to a 27-27 tie after one quarter of play, but the Bulls used a 26-12 second-quarter outburst to take a 53-39 lead into the break.
Thanks to great efforts by Joakim Noah and Carlos Boozer, the Bulls continued to play well in the second half and were never in danger of letting this one slip through their fingers.
With the victory, the Bulls improved to 34-25 on the season and moved into fifth place in the Eastern Conference.
Luol Deng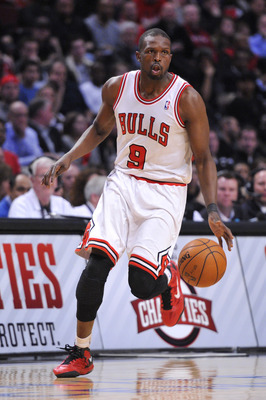 Rob Grabowski-USA TODAY Sports
Grade: C
It is difficult to give a low grade to a player who leads the team in minutes played per game, but I have to remain objective nonetheless.
Deng had a quiet eight points and suffered through another tough shooting night from the floor, connecting on just three of his 10 shot attempts. He also added five rebounds, three assists and three steals.
Although the team has won its last two games, Deng has to get back to being more aggressive on the offensive end because he is the team's leading scorer and his offense will be needed in order for the Bulls to remain in the playoff picture.
Carlos Boozer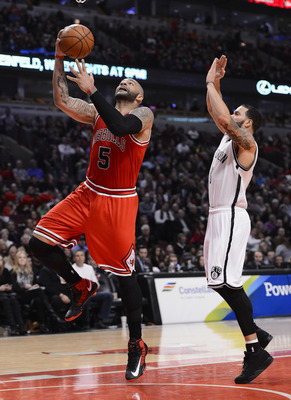 Mike DiNovo-USA TODAY Sports
Grade: A-
While Boozer fell short of matching Noah's double-double, he gave the Bulls another productive game with 20 points on 9-of-16 shooting and grabbed eight rebounds.
What some fans may have overlooked is the fact that Boozer also had five steals in this contest, an impressive stat for a player who is mostly known for his shortcomings on the defensive end.
Joakim Noah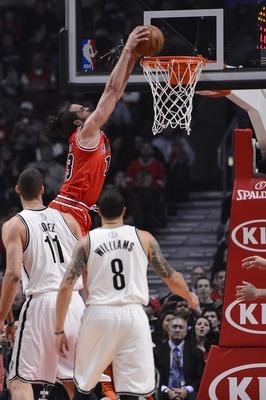 Mike DiNovo-USA TODAY Sports
Grade: A
After posting his third career triple-double against the Philadelphia 76ers, Noah followed that up with another solid game against the Nets.
Noah scored 21 points and pulled down 10 rebounds to pace the Bulls in this one. In addition to that, Noah handed out five assists and blocked four shots.
Although he had a difficult time containing Brook Lopez, who scored 14 points in the opening quarter, Noah and the rest of the team did a solid job limiting Lopez to just eight points the rest of the way.
While Noah did have five turnovers, his energy and production on both ends of the floor has been the difference for the Bulls in their last two outings.
Kirk Hinrich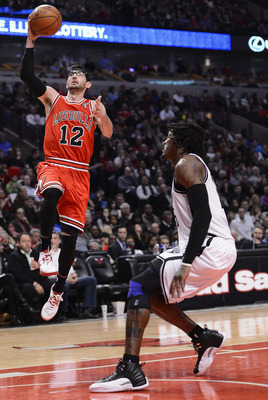 Mike DiNovo-USA TODAY Sports
Grade: B-
Hinrich scored 12 points on 5-of-8 shooting from the field and handed out four assists in 39 minutes of action.
While Hinrich was solid from an offensive standpoint, I was more impressed with how he defended Deron Williams. Hinrich harassed Williams into a difficult shooting night (4-of-12) and forced two turnovers.
Marco Belinelli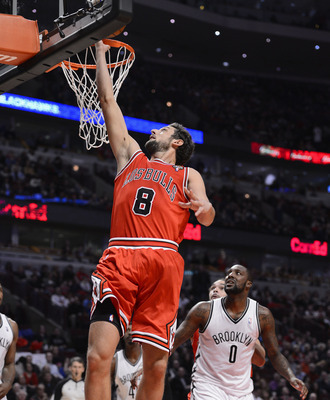 Mike DiNovo-USA TODAY Sports
Grade: C-
For the second straight game, Belinelli's production was rather pedestrian. He managed just seven points on 2-of-7 shooting from the floor to go along with four assists and three rebounds
Despite the low productivity from an offensive standpoint, he played good defense on Joe Johnson, limiting him to just 11 points. This is no easy feat as Johnson is a player who can put up 20-plus points against any team in the league.
Bench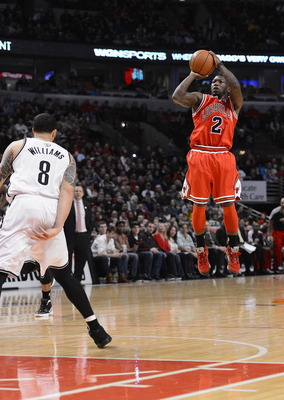 Mike DiNovo-USA TODAY Sports
Grade: B
With Taj Gibson out nursing a sprained MCL, the production of the bench has been below average to say the least.
However, despite limited playing time, the second unit provided the Bulls with a much needed lift in this one.
Jimmy Butler poured in 13 points to go along with two assists in 23 minutes.
Nate Robinson chipped in nicely with 12 points along with four dimes. Most importantly, he played within the flow of the offense for most of the evening, which is a huge plus.
Much to the dismay of Bulls fans, Tom Thibodeau has relied heavily on his starters to win games. That trend will have to change down the stretch if the team is going to have something left in the tank should they make the playoffs.
Keep Reading

Chicago Bulls: Like this team?