Ohio State Football: Will BCS Playoff Help or Hurt the Buckeyes?
Use your ← → (arrow) keys to browse more stories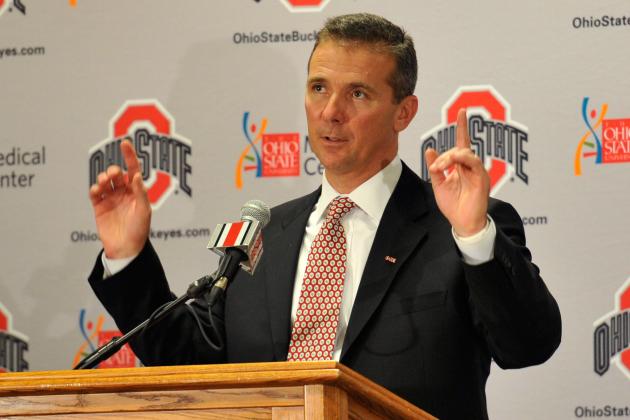 Jamie Sabau/Getty Images
Urban Meyer has Ohio State's football program trending upward and is looking forward to the BCS playoff.
Ohio State has one of the most storied football programs in history, and all of the winning over the years has given them a very entitled fanbase. Buckeye fans expect their team to compete for Big Ten and national titles every season.
But that doesn't have to be a negative. Like Craig Krenzel said "The minute we stop expecting greatness from our football program, we become Wisconsin." (via David Solol, Eleven Warriorscom).
There is a case to be made that being Wisconsin, a program coming off three-straight Rose Bowl appearances, isn't such a bad thing. However, an 0-3 record in those bowls and a coach leaving for Arkansas shows what Krenzel meant.
As long as Urban Meyer is at the helm, Ohio State fans should enter each season with expectations of greatness. Not just because Meyer is one of the most successful coaches of the BCS era, but also because he will always have the roster full of talent.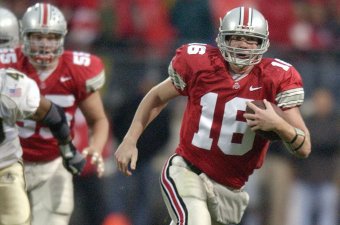 David Maxwell/Getty Images
When the BCS playoffs start in the 2014-2015 season, it should benefit the Buckeyes greatly. While it will force a team to win an extra game, it will provide more teams a chance to win the title.
Weak Big Ten, No Longer a Problem
It is no secret the Big Ten has not performed well in recent seasons— Ohio State was undefeated last season and still finished behind Alabama and Notre Dame in the human polls.
The votes could have possibly been affected by the Buckeyes not being eligible for postseason play anyway, but it is still reason for concern for conferences that aren't the SEC.
However, with four teams making the playoffs, the odds of a Big Ten champion not finishing in the top four shrinks. Especially a program like Ohio State, which is usually ranked high in the preseason and receives the benefit of the doubt by some voters because of their name recognition.
This is in no way a statement that the Big Ten will continue to struggle (these things are cyclical), but as of now, the Big Ten simply isn't on the same level as the SEC.
A Little Less Pressure
The Buckeyes will always have a big target on their back. Everyone wants to knock off the big programs, but teams will have a little more margin for error with the playoff system.
Which upcoming series are you most looking forward to?
A.D. Gene Smith has made it clear that Ohio State's scheduling plan will consist of at least one big non-conference matchup, something that many feared an expanded playoff could limit. The Buckeyes are lined up to have home-and-homes with Virginia Tech, Oklahoma, North Carolina, TCU, Oregon and Texas in the the next decade.
While winning games against national powers would certainly help the Buckeyes' standing in the national title hunt, those matchups won't necessarily be "must-win" games. Ohio State will still have a chance to run through the Big Ten and get back into the top four.
Also, winning games against those types of programs early would also lessen the pain of dropping one later in the season.
No matter what, the Buckeyes will want to win every game on their schedule, but one loss will not end up costing the team any chance of playing for the title.
There are Negatives Though
Despite the switch to a playoff system being a positive for the Ohio State football program, there are also potential negatives.
The biggest of which could be the location of the games. As of right now, that bowls that will host the semifinals and the National Championship Game are all either in California or in the south. Meaning Ohio State, or any northern or Midwestern program, could end up playing a Pac-12 school out west, then play an SEC school in the south.
While this isn't much different than Ohio State playing LSU in the Superdome like they did in 2008, it compounds the issue because instead of winning one away game, the Buckeyes could possibly have to win two.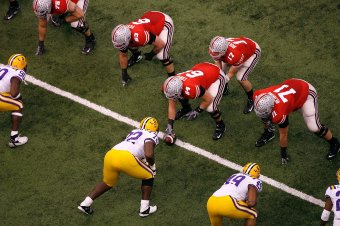 Chris Graythen/Getty Images
Likewise, the new playoff system that is set up to allow surprise teams from smaller conferences to have a chance, could encourage voters to keep a smaller program in the top four over a bigger program.
Despite those potential negatives and the concern of injuries coming in the extra semifinal game, the switch to a playoff system should be a positive for Ohio State.
Especially with a coach like Urban Meyer at the helm, who has lost one or fewer games in five of his 11 seasons as a head coach.
Meyer is also 7-1 in bowl games, which bodes well for Ohio State's potential runs in the new BCS playoff system.
All in all, the addition of at least two more big-time BCS bowl matchups that actually matter is without question a positive for college football fans. The new playoff system will help programs like Ohio State while also aiding the smaller schools as well.