Breaking Down Pros and Cons of Lakers Exercising Jodie Meeks' Option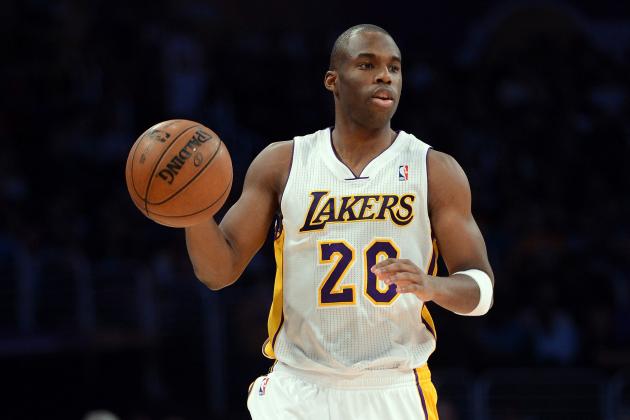 Harry How/Getty Images
Should the Lakers exercise Meeks' option?
The Los Angeles Lakers will have to make a tough decision this summer, as management will have to decide on whether to exercise Jodie Meeks' option.
The fourth-year guard out of Kentucky is in his first season with the team after signing a two-year deal this past offseason. While Meeks' first year on his contract was obviously guaranteed, the Lakers have the option of either bringing him back for his second season or waiving his contract.
With Los Angeles not living up to the expectations that was put on the team earlier this season, Meeks' future with the Lakers could be in jeopardy.
Let's take a look at Meeks' pros and cons, as they will no doubt weigh heavily on the Lakers' decision.
Begin Slideshow

»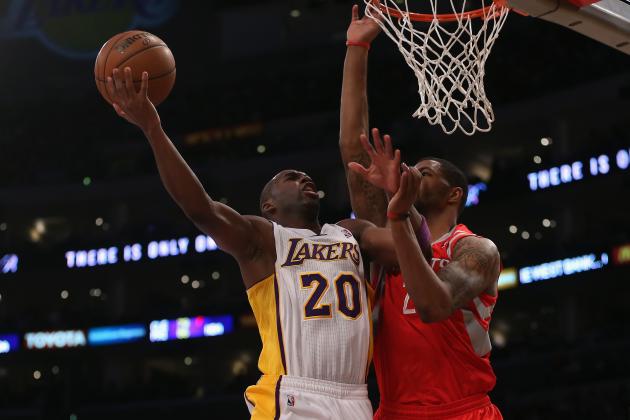 Jeff Gross/Getty Images
Meeks is an outside shooter but has shown that he can also get to the basket.
Although known primarily as a three-point specialist around the league, Meeks has shown this season that his range doesn't only lie behind the arc.
On numerous occasions, Meeks has displayed his knack for getting to the rim. Whether in transition or just a regular offensive set, Meeks has proven that he isn't scared of contact and will regularly attack the basket if given an open lane.
In games this season when he has played 20 or more minutes, Meeks has averaged 10.9 points per game. Along with this great average, Meeks has also shot the ball at a decent percentage this year, shooting 41 percent from the field and 38 percent from downtown.
Meeks can score the ball when given meaningful minutes and at times, been the number one offensive option off the bench.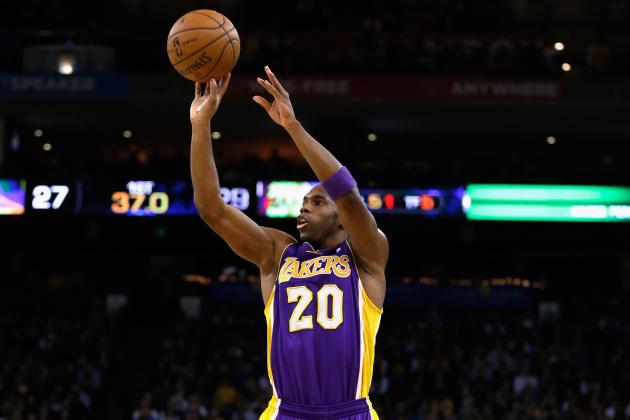 Ezra Shaw/Getty Images
Meeks has had multiple dry spells this season.
While Meeks is a more than capable scorer, he can occasionally be inconsistent from the field.
In the past four months, Meeks has had three five game stretches* in which he has hit under 34 percent of his total shots. In these 15 games combined, Meeks also struggled from behind the three-point line, shooting a horrid 29 percent.
While all players will have their ups and downs throughout a season, Meeks has had a tough time all year stringing together solid shooting performances.
Meeks needs to find consistency with his stroke in the remainder of the season, as his future could very well depend on it.
*Five game stretches took place between these dates: 11/9-11/18; 12/18-12/28; 1/4-1/11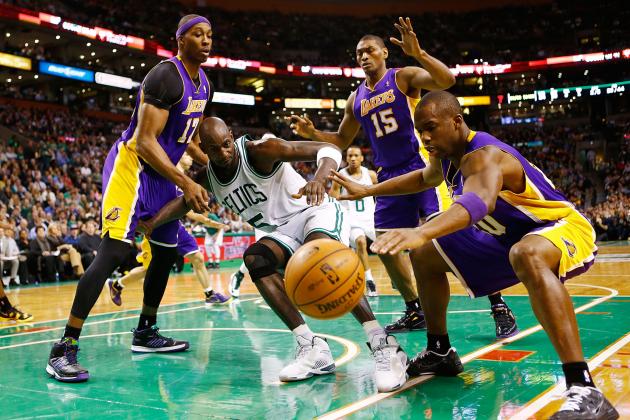 Jared Wickerham/Getty Images
The backup shooting guard has been one of the most underrated defenders on the team.
One of the biggest surprises that many Lakers fans weren't expecting this season from Meeks has been his play on defense.
Not known as a defender, Meeks has done a great job all year disrupting ball-handlers with his quick hands and his annoying defense.
Meeks has also been one of the team's best pick-and-roll defenders, using his speed to either avoid screens completely or come off them quickly.
Meeks will never be considered a great defender, but has proven time in and time out that he can get the job done.
Doug Pensinger/Getty Images
At 6'4", Meeks is undersized and often gets abused down low.
No matter how much a player works on his game, the one thing he can't change is his size.
Generously listed at 6'4", Meeks is one of the smaller shooting guards in the league.
Although Meeks would be a bigger point guard if the Lakers decided to play him there, his offensive skill set isn't built for that position.
Meeks heavily relies on his shot and whenever he is in the game, the Lakers are often playing with a smaller lineup.
While his height may not limit his play on offense, on defense he can at times find himself susceptible to being posted up. If the Lakers are looking for more size at the backup shooting guard position, Meeks could find himself being the odd man out.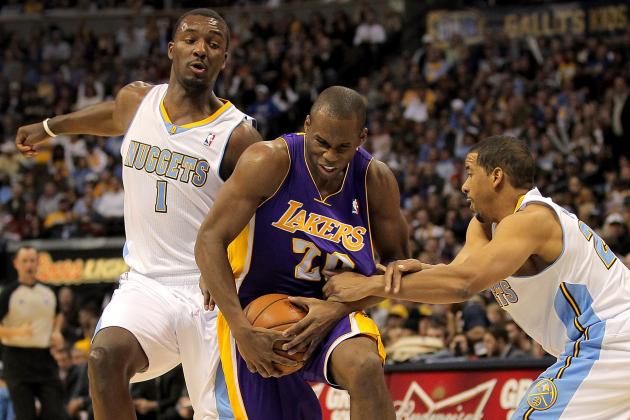 Doug Pensinger/Getty Images
Meeks' provides great energy but at times, can be a bit out of control.
If there is one thing that fans should never question about Meeks' game, it is his effort.
As one of the designated sparks off the bench, Meeks provides the team with consistent energy whenever he takes the floor.
While most times his energy is good for the team, Meeks' lack of having a slower pace to his game has also hurt the squad.
On numerous occasions in transition this season, Meeks has displayed this flaw by either missing the open man, taking a bad shot or committing a turnover.
Meeks' energy is a definite plus for the Lakers, but he needs to play under control. Meeks must make a concerted effort of limiting these kind of out of control plays and just letting the game come to him.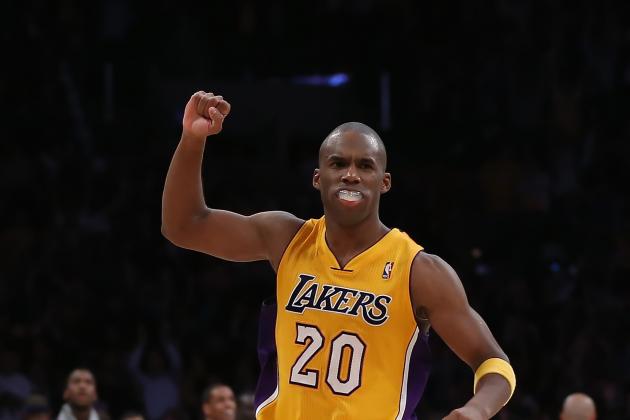 Jeff Gross/Getty Images
The Lakers would be smart to bring Meeks back.
Now should the Lakers exercise Jodie Meeks' option?
My answer would be yes.
If Meeks were indeed brought back for his second year of his contract, the Lakers would only owe him approximately $1.5 million. While Los Angeles is well over the salary cap, they essentially would be keeping a decent backup shooting guard at a very low cost.
On top of this cost effective move, the Lakers could also use Meeks as trade bait next season if he fails to produce. Meeks will become an unrestricted free agent in 2014, and could prove to be a valuable piece for any team looking to deal with the Lakers.
Meeks still has a lot of time to prove his worth to the team and it wouldn't be surprising if he does. The Lakers have a lot of options with Meeks and their safe bet would be to bring him back for next season.