Reflections on Chelsea's 1-0 Win over West Bromwich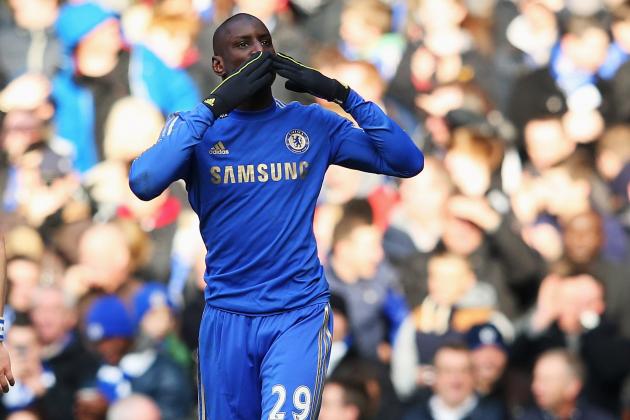 Julian Finney/Getty Images

To paraphrase Marc Antony in Shakespeare's Julius Caesar: They came to bury Benitez, not to praise him.
There might not have been any togas, sandals or blood-splattered daggers on show at Stamford Bridge on Saturday, but make no mistake, the home crowd gave Rafa Benitez a right good kicking during the Blues' ultimately nervy 1-0 win against a lacklustre West Brom.
Following his now infamous post-match interview with Radio Five Live at Middlesbrough on Wednesday night, during which he criticised Chelsea fans for their hostile reaction to his appointment as interim manager last November, Benitez would have expected a rough reception from the home support.
That's exactly what he got.
The Blues fans were noisy throughout the game, directing their ire at the man in the Chelsea dugout from time to time. They were also chanting in favour of Jose Mourinho and getting behind their team which, in truth, should have won more easily given their dominance in the first hour.
In the end, however, the Blues were indebted once again to goalkeeper Petr Cech, who pulled off a number of fine saves in the final minutes as Chelsea clung on to their one-goal lead, which was given to them in the first half by Demba Ba.
Begin Slideshow

»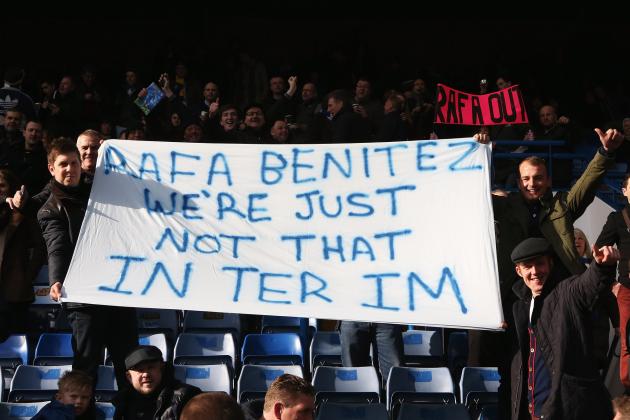 Scott Heavey/Getty Images

Surprisingly, perhaps, there were only a handful of anti-Benitez banners on show before the game. "We're just not that in ter im" read one slightly misfiring effort. Some fans kept it simple by displaying bog-standard "Rafa Out" placards.
Benitez's entrance was met with a chorus of boos, while the first anti-Rafa chant got an airing just two minutes into the match. Ten minutes later the fans announced who they'd like to replace the unloved ex-Liverpool manager when he exits the stage come the end of the season.
"Jose Mourinho, Jose Mourinho, Jose Mourinho, Jose Mourinho!" the diehards in the Matthew Harding sang lustily. The crowd perhaps forgot that "The Special One" had urgent Saturday afternoon business in Madrid, overseeing Real's home match with Barcelona and, in all likelihood, would not be closely following events at Stamford Bridge. Still, the point was made.
Then, on 16 minutes, came the now familiar chant in tribute to ex-Blues boss Roberto di Matteo. On this occasion it was louder than at any time this season, apart from Benitez's first game in charge against Manchester City.
Incidentally, one wonders whether Di Matteo sometimes glances at his watch and thinks to himself, "Ah, it's almost 3.15pm. I'll just tune into the Chelsea game for a bit, listen to 'my minute' and then get back to the gardening."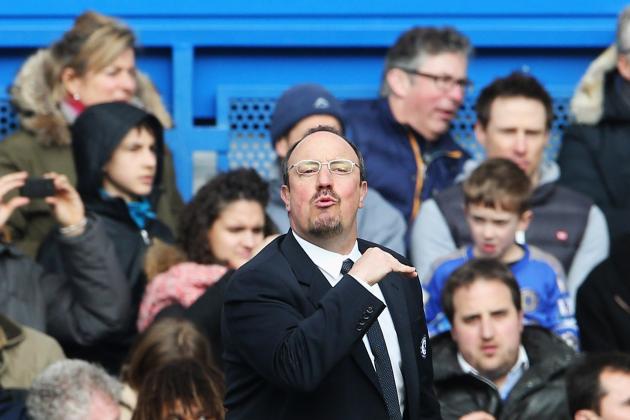 Scott Heavey/Getty Images

The anti-Benitez chants continued on and off throughout the second half, culminating in a rousing rendition of "Stand up, if you hate Rafa!" late on.
You can't really get any more explicit than that, yet, in his post-match press conference, Benitez chose to ignore the hostility directed at him. The fans, he claimed, had been great. He said they got behind the team, who had played well and, yes, he was delighted with both the performance and result.
It was clearly a case of selective hearing, explained probably by Benitez's desire to draw a line under his controversial comments at the Riverside. He'd had his little rant; he'd made his point, and now it was time to move on.
But will the fans be so ready to "move on"? Judging by the weight of anti-Benitez feeling demonstrated at the Bridge on Saturday, it seems unlikely.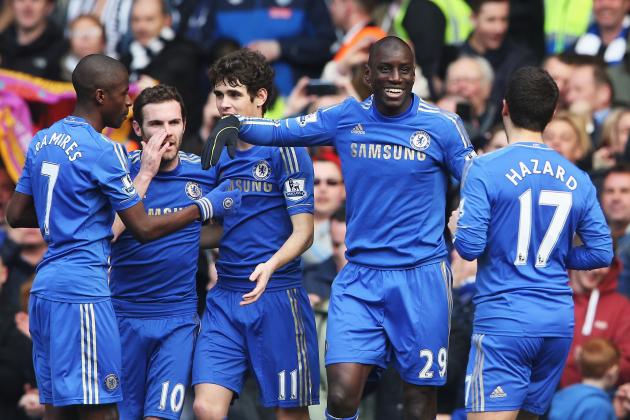 Scott Heavey/Getty Images

Demba Ba's Chelsea career got off to a flying start with two goals on his debut for the club against Southampton in January. But the Senegalese striker hadn't scored for nearly two months before grabbing the winner against West Brom on Saturday.
It was a real poacher's finish, anticipating David Luiz's header back across goal to sidefoot in from six yards out. The sort of goal, in short, any striker of note would expect to score half a dozen times in any given season. And, it has to be said, precisely the sort of goal that Fernando Torres has almost entirely failed to score at all during his troubled time at Chelsea.
Perhaps if he got into the positions that Ba takes up he'd snaffle up more of these "easy" goals. But maybe, after two years of toil at Stamford Bridge, Torres is simply beyond redemption.
Chelsea, in truth, should have won this game far more comfortably. Oscar, in particular, had numerous chances to extend the Blues' lead but was foiled half a dozen times by the excellent Ben Foster in the West Brom goal.
Talking of Oscar, can anyone explain the striking disparity in the young Brazilian's goal ratio between Premier League games (one in 25 appearances) and European games (six in eight appearances)? Any theories gratefully received.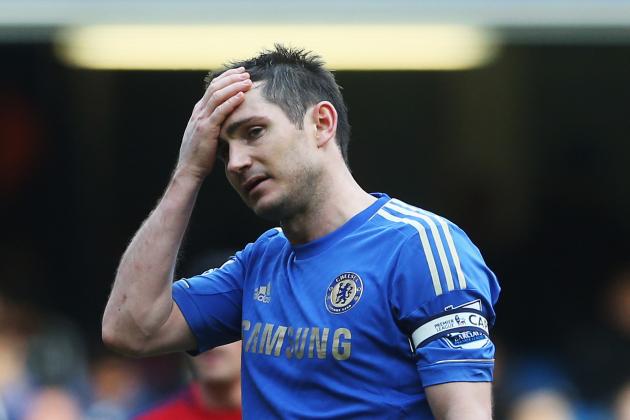 Scott Heavey/Getty Images

There were signs on Saturday that Frank Lampard, rather like a young cricketer nervously approaching his maiden century, is getting just a little bit edgy as he hones in on 200 goals for the Blues.
In the first half the England midfielder appeared strangely reluctant to shoot, passing up one opportunity on the edge of the penalty box when it seemed a trademark Lamps blaster was on the cards.
After halftime, urged on by the fans in the Matthew Harding, Lampard tried his luck a few times from range, but his best chance came right at the end when he uncharacteristically ballooned an 18-yard volley way over the bar.
That was a shame, as otherwise Frank played well, winning some vital tackles and passing the ball neatly and intelligently. Chelsea fans needn't worry, though; the all-important goal will come, perhaps in the Blues' next league game—which just happens to be against Lampard's former club, West Ham.
You can bet that Lamps, who has no affection at all for his former employers, would just love to complete his double ton against the Hammers.