No. 5 Miami thoroughly embarrassed No. 3 Duke the last time the two ACC heavyweights met, but on Saturday, the Blue Devils treated the Cameron Crazies to a 79-76 victory behind an incredible night from Ryan Kelly.
Coming off an upset loss to Virginia, the Blue Devils were delighted to have Kelly back from injury, but few expected the senior to explode like he did. Kelly put up 20 points in the first 20 minutes and hit five three-pointers.
But Miami refused to let Duke get the upper hand, and Shane Larkin's 25 points helped keep this game close.
Kenny Kadji, Trey McKinney Jones and Durand Scott each had double-digit scoring nights to ensure a balanced effort, but the Hurricanes had no answer for Kelly.
He finished the game with an incredible 36 points, making up for average offensive performances from Seth Curry and Mason Plumlee.
The game was close up until the final minutes, when Duke's tough defense and hot shooting finally opened up a lead. The Hurricanes came charging back but fell just short of victory.
Miami remains firmly in control of its destiny in the race for the ACC regular-season title, but if these two teams meet in the conference tournament, it will surely be another entertaining contest.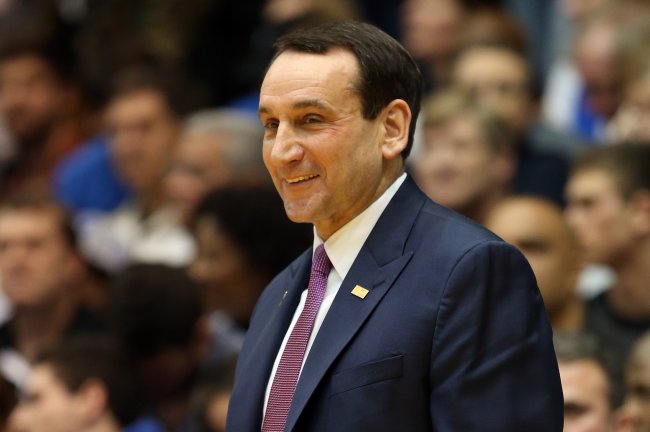 Streeter Lecka/Getty Images
Twitter Reaction
Ryan Kelly was able to keep things simple during his first game back, with CBS Sports' Doug Gottlieb taking note of the logic behind his shot selection in the first half:
3 is more than 2 #RyanKelly math

— Doug Gottlieb (@GottliebShow) March 2, 2013
Bleacher Report's Dan Levy offered some common-sense advice to Miami in order to slow down Kelly's offensive performance:
Dear Miami, cover the guy with the beard behind the arc.

— Dan Levy (@DanLevyThinks) March 2, 2013
Speaking of Kelly's shot selection, ESPN Stats & Info shared a graphic that showed just how impressive the star forward's opening 20 minutes truly were:
Here's a look at #Duke Ryan Kelly's first-half shot chart. Not a bad return to the lineup yfrog.com/5nv01sj

— ESPN Stats & Info (@ESPNStatsInfo) March 2, 2013
But even with Kelly heating up from distance, Pat Forde noted that Miami did not fold in a hostile environment:
Canes took on atmosphere an Ryan Kelly gone berserk, still lead. Like their chances at this point.

— Pat Forde (@YahooForde) March 2, 2013
CBS Sports' Jeff Goodman pointed out Kelly's historic night, noting that even those who expected him to impress on Saturday likely did not expect this:
Ryan Kelly now with a career-high. Who would have ever thought?

— Jeff Goodman (@GoodmanCBS) March 3, 2013
Pac-12 Digital's Bryan Fischer pointed out that the Blue Devils will be extremely dangerous when Duke's other stars heat up:
Just think how good Duke will be when the rest of the team decides to show up and play a complete game.

— Bryan Fischer (@BryanDFischer) March 3, 2013
Miami players slapping the floor on defense had been a story from the last meeting between these teams. Duke alum Jay Williams was happy to see the Blue Devils use the tactic at the end of the game, but ACC Sports noted that it did not have the desired effect:
There goes the infamous Duke slap.... Don't think for a second that the devils didn't want to repay the favor to the Hurricanes. #GreatGame

— Jay Williams (@RealJayWilliams) March 3, 2013
10 3 Miami post floor slap

— ACC Sports (@ACCSports) March 3, 2013
CBS Sports' Will Brinson pointed out that regardless of whom you were rooting for, one thing was certain:
Well that was fun.

— Will Brinson (@willbrinson) March 3, 2013
What's Next
Duke improved to 25-4 overall and 12-4 in the ACC. The Blue Devils will play next against Virginia Tech on Tuesday.
Miami dropped to 23-5 on the season and 14-2 against conference opponents. The Hurricanes play next on Wednesday against Georgia Tech.