UFC on Fuel 8 Results: Questions Heading into UFC 158 GSP vs. Nick Diaz
UFC on Fuel 8 is in the books and below are the full results for the fight card:
Wanderlei Silva defeats Brian Stann via KO at 4:08 of Round 2
Mark Hunt defeats Stefan Struve via TKO (strikes) at 1:44 of Round 3
Diego Sanchez defeats Takanori Gomi via split decision (28-29, 29-28, 29-28)
Yushin Okami defeats Hector Lombard via split decision (28-29, 29-28, 29-28)
Rani Yahya defeats Mizuto Hirota via unanimous decision (29-28 x3)
Dong Hyun Kim defeats Siyar Bahadurzada via unanimous decision (30-27 x3)
Brad Tavares defeats Riki Fukuda via unanimous decision (29-28, 29-28, 30-27)
Takeya Mizugaki defeats Bryan Caraway via split decision (29-28, 28-29, 29-28)
Kazuki Tokudome defeats Cristiano Marcello via unanimous decision (30-27 x3)
Alex Caceres defeats Kyung Ho Kang via split decision (28-29, 29-28, 29-28)
Hyun Gyu Lim defeats Marcelo Guimaraes via KO (knee) at 4:00 of Round 2
The UFC will take a brief breather before heading to Montreal for the much anticipated UFC 158. That card will feature a trio of very important fights in the UFC's welterweight division culminating in the main event, where Georges St-Pierre will put his title on the line against Nick Diaz.
What follows are some questions we have leading up to the March 16 fight card.
Begin Slideshow

»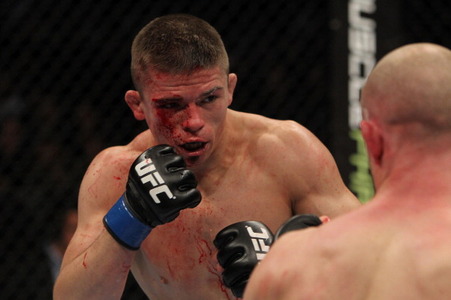 Josh Hedges/Zuffa LLC UFC via Getty Images
Let's get this out of the way right now because it is the hot topic of the moment, even surpassing all these damn superfights that you kids seem to be so enamored with.
Whose neck is stretched across the UFC's chopping block heading into UFC 158?

George Roop is one fighter who can safely assume that if he loses, he'll be handed a pink slip as he leaves the Octagon on March 16. Roop is on a two-fight losing streak, and his UFC/WEC record is 4-6-1.
Reuben Duran should also be a little worried if he ends up on the losing end of things.

Issei Tamura is another fighter who probably can't afford a loss in Montreal. He's 1-1 but was originally brought in as a late replacement at UFC 144, so a win is probably a must for him.

Rick Story, despite starting his UFC career at 6-1, is a fighter who is a borderline case. He's lost three of his last four, but two of those losses came to Demian Maia and Martin Kampmann, so it's not like he's losing to scrubs. He gets a test in Quinn Mulhern in Montreal, and if he fails that test, he may want to stay away from the phone for a few days.

John Makdessi joins Rick Story on the maybe list. He's 3-2 overall in the UFC but 1-2 in his last three, so a loss at UFC 158 to "The Detroit Superstar" Daron Cruickshank is not something he wants to risk in the least.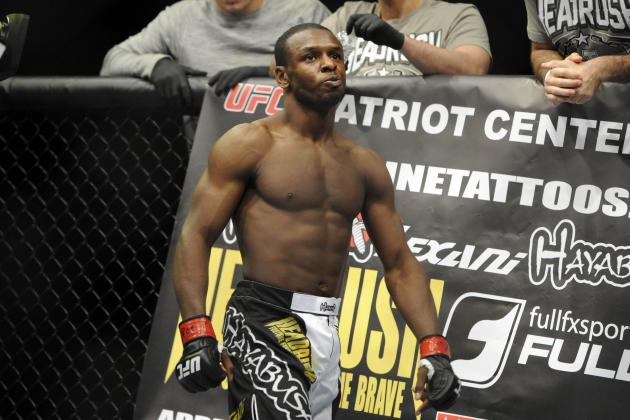 Rafael Suanes-USA TODAY Sports

MMA fans and pundits love to tell you how a fighter is "in the mix," as if it's some special zone where you will find only the best of the best. The reality of the situation is that the phrase is mostly a marketing tool to get you to care about a fighter you probably wouldn't give a second thought to otherwise.

When was the last time a fighter who was in the mix went right into a title shot?

With that being said, Yves Jabouin was being talked about getting into that mix before his last fight. He was riding a three-fight winning streak going into that bout. Unfortunately for him, he was knocked out by Brad Pickett in late September.

It's back to the drawing board for the veteran fighter, as he faces Johnny Eduardo in Montreal.
With 11 years as a professional fighter on his resume, time may be running short for Jabouin if he wants to make one more push at becoming a Top-10 fighter in the UFC. Anything other than a convincing win over Eduardo will be a difficult roadblock for Jabouin to overcome.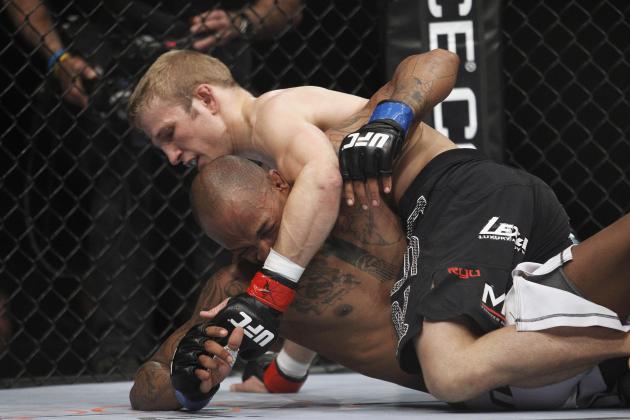 Matt Ryerson-USA TODAY Sports

It has to be a little disheartening to be T.J. Dillashaw.
He brings a record of 6-1 into his fight against Issei Tamura at UFC 158, with that one loss being to John Dodson in the finale of Season 14 of The Ultimate Fighter.

While Dodson recently fought Demetrious Johnson on the main event of a Fox card, Dillashaw will be fighting on the untelevised portion of UFC 158—a clear indication that while a single loss in the UFC may not end one's career, it can severely impact the trajectory of that career.

Dillashaw has to be painfully aware of that fact, and somewhere in the back of his mind, it has to eat at him just a little bit.

A win over Tamura isn't going to launch him to the top of the bantamweight division, but he does need the "W" if he wants to work his way toward the title that the only man to ever defeat him has already had a shot at.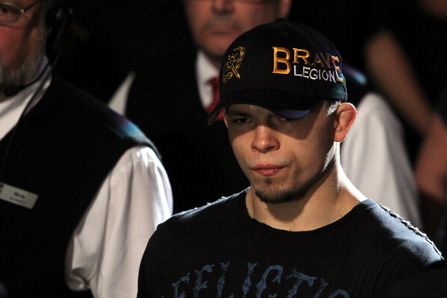 Josh Hedges/Zuffa LLC UFC via Getty Images
The Rick Story timeline is a strange one.

Story made his UFC debut back in June 2009, losing to John Hathaway via unanimous decision. Story then went on a six-fight winning streak, racking up progressively impressive wins over Dustin Hazelett, Johny Hendricks and Thiago Alves during the last three fights of that streak.

Those wins earned him a main-event bout on a UFC Live fight card against Nate Marquardt in June 2011. However that fight was not to be, as Marquardt was pulled from the event after testing for high testosterone levels. Stepping in to replace Marquardt was Charlie Brenneman, who went out and upset Story, earning a unanimous-decision victory.

Since that loss, Story has gone 1-2, most recently submitting to a neck crank from Demian Maia that left blood pouring from his nose as Maia tightened the hold prior to Story's tap.

Story, once slotted to compete in the main event of a UFC card, is now fighting on the Facebook portion of a UFC card, a clear message that the promotion is losing faith in the 28-year-old fighter.

Story is still a young fighter; he can still bounce back and work his way back up the rankings. MMA is a sport with a very short memory once you put a few wins together, but by the same token, the sport can be very cruel to those who struggle.

Story has a lot to prove when he faces Quinn Mulhern at UFC 158.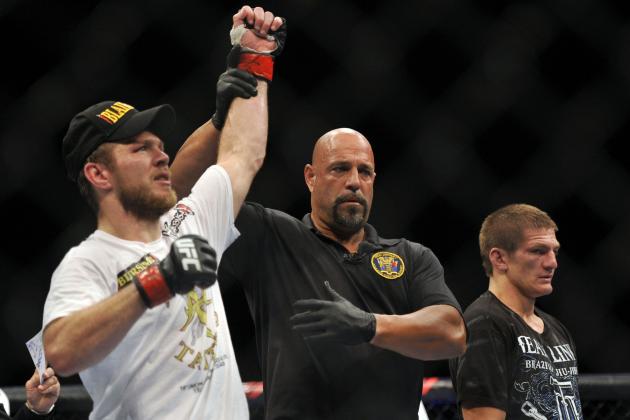 Joe Camporeale-USA TODAY Sports

Dan Miller has not fought in the Octagon since defeating Ricardo Funch in June 2012.
During the time away from the UFC, he was busy helping his young son Danny, who underwent a kidney transplant operation in September.

With his son well on the road to recovery, Miller will step into the Octagon in Montreal against Jordan Mein. The bout will be his second fight at 170 with the UFC.

It will be interesting to see what impact the time off will have on Miller when he steps into the cage.

In this case, the time off may actually be a blessing. With the break not being injury related, Miller may be fully recharged for the March 16 bout. He'll also have far less psychological baggage, as he will not have the worries over his son's health eating away at the back of his mind.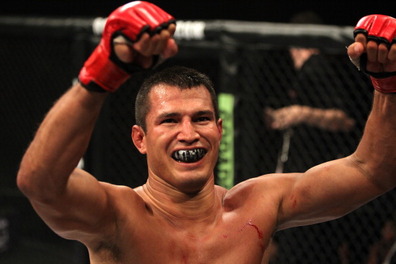 Josh Hedges/Forza LLC/Forza LLC via Getty Images
Remember when everyone questioned how much success WEC fighters would have when that promotion was shuttered and the fighters were transferred to the UFC?

The same questions have followed the Strikeforce fighters over to the UFC, and just like the WEC fighters, they're handling themselves just fine on the big stage.

Robbie Lawler and Nah-Shon Burrell had successful performances at UFC 157, while Bobby Green drew all kinds of praise from UFC boss Dana White following his submission of Jacob Volkmann at UFC 156.

Making their UFC debuts at UFC 158 will be Jordan Mein, Quinn Mulhern and Bobby Voelker. All three fighters will be coming in on winning streaks of two or more fights, and expectations and pressure will be high for them following the performance of their cohorts.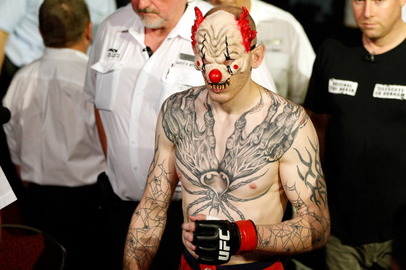 Josh Hedges/Zuffa LLC/Zuffa LLC via Getty Images
Mike Ricci and Colin Fletcher both made it to the finals in recent seasons of The Ultimate Fighter; both lost by unanimous decision in those finale bouts.

With the UFC looking to pare down the roster by a significant number, the pressure will be on these two at UFC 158. I would say Ricci will face a bit more pressure than Fletcher, since Ricci was a clear favorite to win his bout against Colton Smith in the TUF 16 finale.

Increasing the pressure on these two is the fact that they will be opening the pay-per-view portion of the fight.

Could be a make-or-break fight for these two as far as their UFC careers are concerned, and for that reason, I'm going to go out on a limb and say that this one may be the sleeper pick of the night. Two fighters who have questionable futures in the promotion could lead to a pretty exciting scrap.
There's also the fact that in the 15 victories the two share, they have gone the distance a total of three times combined.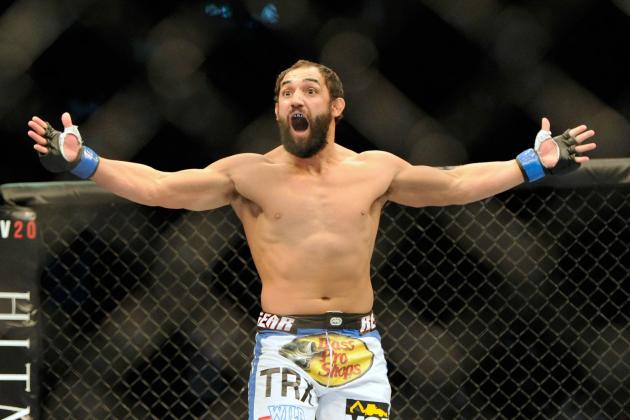 Eric Bolte-USA TODAY Sports

The top of the UFC 158 card looks a little bit like a mini-welterweight tournament. You have Jake Ellenberger vs. Nate Marquardt, Carlos Condit vs. Johny Hendricks and Georges St-Pierre vs. Nick Diaz, and up until an injury forced him from the event, you had Rory MacDonald in there as well.

The results of these bouts could set the course of the UFC's welterweight division for the next year. A win from Hendricks would almost lock him into a title shot with the winner of the St-Pierre vs. Diaz bout. A loss from Hendricks, and things will get a lot more interesting for the UFC.
A loss from Hendricks and champion GSP, and we're looking at a whole lot of drama unfolding in the 170-pound division over the remainder of 2013.

To borrow a phrase, bring your popcorn for this one; it could get real interesting.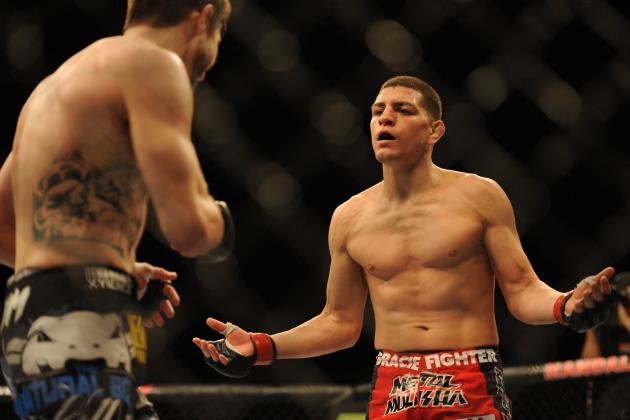 Kelvin Kuo-USA TODAY Sports

This is probably the single biggest concern of the UFC, as well as many fans and probably Georges St-Pierre as well.

The UFC didn't stack the top of this card with top-level welterweights by accident. If the promotion has to remove Nick Diaz from the card, a subject that UFC president Dana White spoke about, the show will go on.

"Loose cannon" does not begin to describe Nick Diaz, so I won't feel safe until Diaz is in the Octagon and the fight actually begins.
I want to believe that Georges St-Pierre is going to enter the Octagon on March 16 foaming at the mouth with rage and having to be held back by his cornermen when he gets a glimpse of Nick Diaz.
Logic tells us that is not going to happen.

The hype machine will have you think that St-Pierre is going to be looking to "put the worst beating you've ever seen on him in the UFC," but that's just not going to happen. GSP has not had a stoppage victory since 2009, and that streak is not going to end in Montreal. He has far too much to lose to be anything but the calculating fighter he has evolved into.

Do I want to see a rage-filled St-Pierre? Hell yes, I do.
Am I expecting to see that? Not a chance.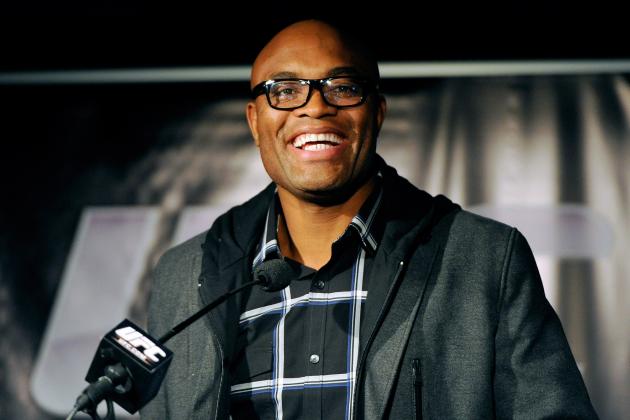 Eric Bolte-USA TODAY Sports

If Nick Diaz defeats GSP, I would fully expect him to make a play for a fight against UFC middleweight champion Anderson Silva.
There's no way in hell that fight should happen, but you never know with the way the UFC is making title fights these days.

If St-Pierre wins, I would imagine everyone will be clamoring for him to fight Silva—a fight I don't think makes any sense other than to potentially ruin legacies and make truckloads of money.