Predicting the Minnesota Vikings' Free-Agent Signings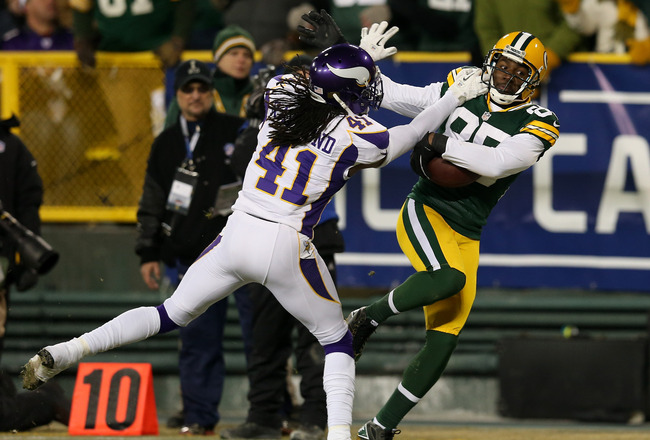 Adding Greg Jennings to the roster provides and instant upgrade at receiver.
Jonathan Daniel/Getty Images
Minnesota Vikings fans shouldn't hold their breath expecting the addition of any big-name free agents joining the team when the NFL free-agent period begins March 12. Signing high-priced free agents has not been general manager Rick Spielman's method for improving the team.
The biggest signing from last year, tight end John Carlson, agreed to a five-year, $25 million contract. In return the Vikings got eight catches for 43 yards. And while some people will point out that Carlson had a great year as a blocker, that's not the kind of money you pay for that position. No matter; that was the largest contract from last year.
The biggest name the Vikings signed last offseason would have to be Jerome Simpson. Like Carlson, Simpson was also a bust. For a modest $2 million, he finished with 26 catches for 274 yards.
Neither Carlson or Simpson scored a touchdown last year.
Still, the Vikings must address needs at wide receiver, linebacker, fullback and quarterback. Following along the practice of adding lower-priced free agents, here's a look at who the Vikings should consider signing, and whom they will most likely add.
The Wide Receiver the Vikings Should Sign: Greg Jennings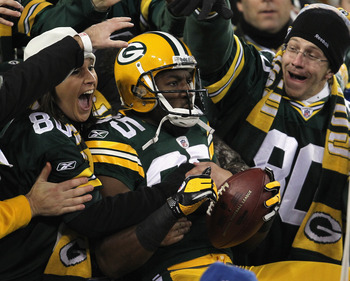 Jonathan Daniel/Getty Images
Actually, Greg Jennings is the wide receiver the Vikings should try to sign. The problem, according to NBC Sports, is Jennings is seeking a contract that will pay him $12 million per season.
Before last season, when he missed eight games, Jennings averaged 65 receptions for 1,028 yards and eight touchdowns over the previous six seasons.
Since 2003, only two receivers have achieved those kind of numbers in a season for Minnesota—Nate Burleson (68 receptions, 1,006 yards, nine touchdowns) in 2004 and Sidney Rice (83 receptions, 1,312, eight touchdowns) in 2009.
There's a lot of things that have to happen for this to become a reality—if the Packers don't use the franchise tag and Rick Spielman works some incredible magic to get Jennings to agree to a deal.
Contract: Five years, $40 million.
The Wide Receiver the Vikings Will Sign: Jerome Simpson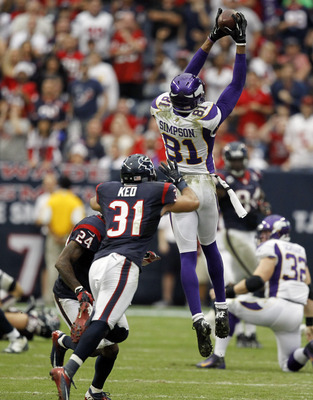 Bob Levey/Getty Images
In January the Pioneer Press reported that general manager Rick Spielman thinks Jerome Simpson, despite having a disappointing season, could thrive in the Vikings offense. That statement and the fact that Simpson won't be highly sought after in free agency, makes re-signing him appear pretty certain.
Last year, Simpson's season started with a three-game suspension. When he finally got on the field, a nerve injury in his back caused weakness in his legs. He never really got on track in 2012 after having his best season in 2011 with 50 catches for 725 yards and four touchdowns with the Bengals.
The Vikings will most likely sign him to another one-year contract, giving him a year to prove he is worth a longer deal in 2014.
Contract: One year, $2.2 million.
The Outside Linebacker the Vikings Should Sign: Philip Wheeler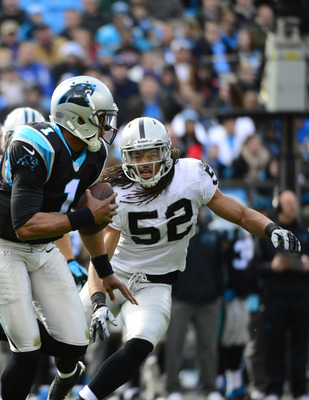 It will take a lot, including a number change to get Philip Wheeler in Minnesota.
USA TODAY Sports
Philip Wheeler started all 16 games last year at strong-side linebacker in his first season with the Oakland Raiders. A third-round pick of the Indianapolis Colts in 2008, Wheeler only made 13 starts the previous three seasons.
He led the Raiders with 109 tackles last season and helped a defense that was 27th against the run in 2011 improve to 18th last season. He was also second on the team with six passes defended.
Playing alongside Chad Greenway would give the Vikings defense a boost and help a team that finished 11th against the run.
Contract: Five years, $30 million.
The Outside Linebacker They Will Most Likely Sign: Kaluka Maiava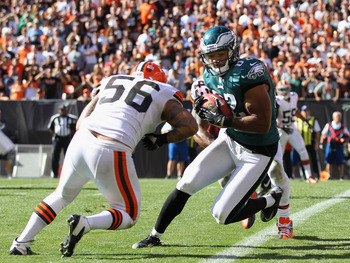 Matt Sullivan/Getty Images
The Cleveland Browns selected Kaluka Maiava in the fourth round of the 2009 NFL draft out of USC. Last season he started 13 games for the Browns playing at both the weak-side and strong-side linebacker positions.
If the Vikings and Erin Henderson cannot reach an agreement, this is the kind of player that Rick Spielman would consider as a potential replacement. Maiava is a year younger than Henderson and most likely won't have many teams pursuing him.
Contract: Three years, $7 million.
The Middle Linebacker the Vikings Should Sign: Brad Jones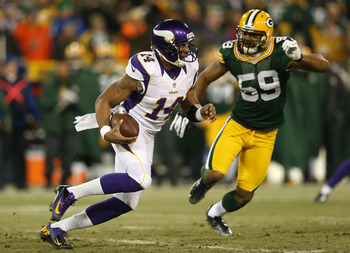 Jonathan Daniel/Getty Images
According to WalterFootball.com, Brad Jones is the top free-agent inside linebacker available. A seventh-round pick of the Packers in 2009, Jones made 10 starts last season, the most in his four-year career.
He made the most of those 10 starts, finishing third with 77 tackles for Green Bay. With a limited number of games to gauge his performance, signing him to a big contract could be risky. Considered a three-down linebacker, that would be an upgrade for the Vikings.
In order to sign him, the Vikings will have to outbid some teams.
Contract: Five years, $23 million.
The Middle Linebacker They Will Sign: Larry Grant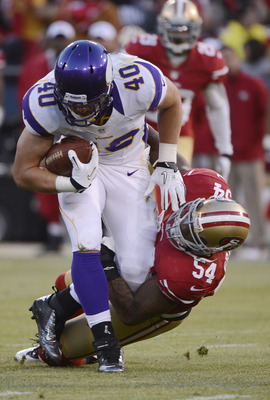 Thearon W. Henderson/Getty Images
Expect the Vikings and general manager Rick Spielman to take a conservative approach. The first option will be to re-sign Jasper Brinkley while the team develops his replacement.
The contingency will be to find a gap-stop option that can plug a hole at a reasonable cost.
Larry Grant has been in the league for five years. A seventh-round draft pick of the St. Louis Rams in 2008, Grant's best season came in 2010 when he made eight starts. The Vikings might be intrigued to sign a player from one of the best defenses in the NFL last season—even if he didn't make a start a year ago.
Contract: Two years, $5 million.
The Fullback the Minnesota Vikings Should Sign: Jerome Felton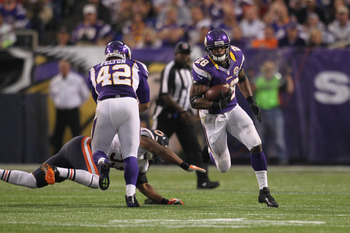 Jerome Felton, 42, was instrumental in Adrian Peterson's record-setting season.
Brace Hemmelgarn-USA TODAY Sports
It's amazing how setting blocks and opening running lanes for the best running back in the NFL can revive a career. Before signing with the Vikings last March, Jerome Felton bounced from Detroit, Carolina and Indianapolis between 2010 and 2011.
At the time, when the Vikings signed Felton, some brilliant writer wrote that his addition did little to improve the team. (Hint: the genius was me.) He had an exceptional season and helped Adrian Peterson rush for the second-most yards all time in a single NFL season.
The Vikings will have up the ante to retain Felton's services. There will be plenty of incentive to do so; like, 2,097 of them.
Contract: Four years, $13 million.
The Fullback the Vikings Will Sign: Jerome Felton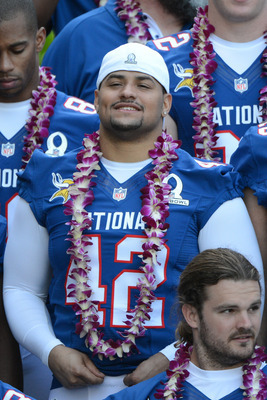 Kyle Terada-USA TODAY Sports
With Adrian Peterson very keen on what the Vikings do with Jerome Felton, general manager Rick Spielman has no choice but to bring back the Pro Bowl fullback.
Even though Felton did not have a single carry last season, the Vikings must re-sign him.
It's the right move for the Vikings. Felton was selected in the fifth round of the 2008 draft by the Detroit Lions and was named to the Pro Bowl last season as Peterson's lead blocker.
Contract: Four years, $13 million.
The Right Tackle the Vikings Should Sign: Phil Loadholt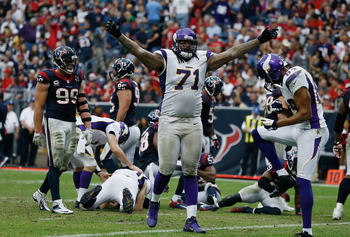 Phil Loadholt has started 63 of 64 games at right tackle.
Scott Halleran/Getty Images
Success can be a fickle thing. Phil Loadholt is very fortunate to be a part of the second-highest single-season rushing total for a running back in NFL history. He will want to take full advantage of the situation and sign the longest and most lucrative contract he can.
The Vikings have indicated that they are not interested in using the franchise tag on Loadholt (h/t ESPN 1500). That means they will have to work out a deal in order to keep him.
He has started 63 of 64 games since the Vikings selected him in the second round of the 2009 draft—the same draft that brought Percy Harvin to the team.
The one negative working against Loadholt are his penalties. He led the team last season with 11, the fifth-most in the league.
Contract: Five years, $25 million.
The Right Tackle They Will Sign: Barry Richardson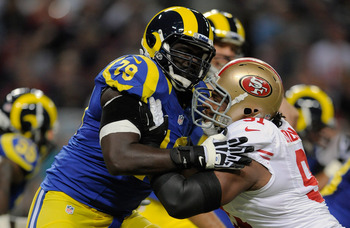 Jeff Curry-USA TODAY Sports
Barry Richardson, a sixth-round draft pick of the Kansas City Chiefs in 2008, has started every game over the past three seasons. Last year was his first in St. Louis; he played for $700,000 on a one-year contract. He will not command nearly as much as Phil Loadholt.
Contract: Three years, $4 million.
Backup Quarterback the Vikings Should Sign: Rex Grossman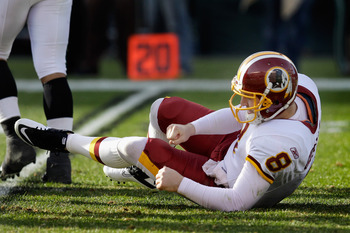 Rex Grossman fell to third last season on the Redskins depth chart behind a couple of rookies.
Rob Carr/Getty Images
The Vikings are looking for a veteran quarterback who can bring some experience to the roster—one with the ability to fill in effectively without threatening Christian Ponder.
Rex Grossman fits the bill. He lost the starting quarterback job in Chicago to Kyle Orton in 2008. After bouncing from Houston to Washington, he made 13 starts for the Redskins in 2011.
He then not only lost the starting job to rookie Robert Griffin III, but he also lost the backup job to rookie Kirk Cousins.
In his career he is 25-22 as a starter with a 71.4 passer rating.
Contract: Two years, $2 million.
The Backup Quarterback They Will Sign: Derek Anderson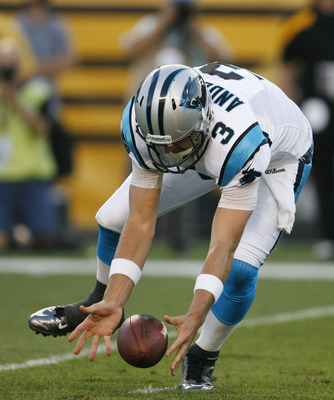 Derek Anderson has played for three different teams the past four years.
Charles LeClaire-USA TODAY Sports
Derek Anderson will certainly not provide any angst to Christian Ponder.
A sixth-round draft pick of the Browns from Oregon State in 2006, Anderson led Cleveland to a 10-5 record and a first-place tie for the AFC North, missing the playoffs on a tie-breaker with the Steelers. He has not won more than three games since then, and has not started the last two seasons as Cam Newton's backup. In between he spent the 2010 season in Arizona.
In his career he is 18-25 as a starter with a 69.1 passer rating. He has just enough experience to continue to serve as the holder of the clipboard.
Joe Webb might even be able to beat out Anderson.
Contract: Two years, $1.5 million.
Keep Reading

Minnesota Vikings: Like this team?