Alabama pushed the No. 8 Florida to the brink on Saturday, but the clock struck midnight on Cinderella down the stretch, as the Gators pulled away late for a 64-52 victory.
Though the final scoring margin may not show it, Alabama had Florida on upset alert during much of the second half. The Tide stretched their lead to as many as eight points (45-37) at the half's midpoint. However, the Gators found their offensive rhythm and went on a 27-7 run to finish out the game.
It was a close call that undoubtedly falls once again at the Gators' most notable stars.
Forward Erik Murphy led the way 15 points for Florida, which needed every point it could get on an afternoon where shots just weren't falling. Murphy was the only consistent player for Billy Donovan's squad, grabbing eight critical rebounds as well.
Point guard Kenny Boynton's struggles from the field continued, shooting just 3-of-8, and Patric Young was seemingly absent for much of the contest.
Part of the lack of scoring was ultimately expected; the teams that run among the slowest offensive paces in college basketball. So most of the game was filled with long possessions and points were at near pre-shot clock levels—especially in the first half.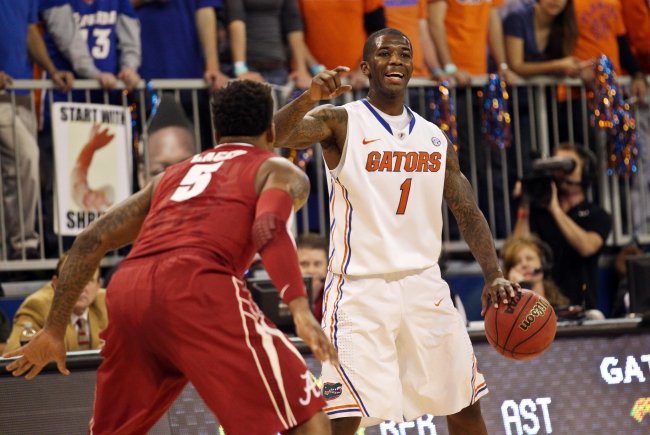 Rob Foldy-USA TODAY Sports
That is par for the course for the Tide, who get by on defensive prowess and a little ingenuity. But the Gators' offensive efficiency, usually top notch, was nowhere to be found until their back was against the wall. And even then, Florida needed 26 free throws to come away victorious.
Minus the free throws, the game essentially followed the same blueprint as the Gators' loss to Tennessee. Alabama played stalwart defense, suffocated Florida and seemed to be putting the contest away; it just wasn't meant to be.
The Tide have to be dejected after such a thrilling contest. They walked into the O'Connell Center firmly on the back end of the bubble, and a critical road win against a Top 10 opponent could have put them in the big dance. Instead, Alabama will certainly need to win out in the regular season and have a strong showing in the SEC tournament to have a chance.
The emotion on Florida's side has to be one of relief. ESPN's Joe Lunardi already had the Gators back to a No. 3 seed in his projections, and two consecutive losses against ranked opponents certainly won't help.
That being said, there are far more questions than answers for Billy Donovan's team after another questionable performance.
Twitter Reaction
The Birmingham News' Jon Solomon has some insight into who the Gators are as a team:
Gators scored 42% of their points during 12-0 and 15-0 runs. That's just who Alabama is.

— Jon Solomon (@jonsol) March 2, 2013
Though he did not have his best overall game, Boynton made history. According to OnlyGators.com's Twitter feed, the senior guard is now second on Florida's all-time scoring list:
Florida #Gators G Kenny Boynton (1,931 points) has passed Andrew Moten for second on UF's career scoring list.

— OnlyGators.com (@onlygators) March 2, 2013
They escaped a late-season tailspin, but many pundits will be left to wonder what's wrong with Florida. Jeff Eisenberg of Yahoo! Sports wonders whether the Gators have just gotten bored:
I don't suppose this Florida team is just getting bored at the end of the regular season the way the 2006-07 one did, right?

— Jeff Eisenberg (@JeffEisenberg) March 2, 2013
Meanwhile, The Big Lead's Jason McIntyre exposed his tongue-in-cheek conspiracy theory about Florida's struggles:
Florida's goal seems to be to lose and help those mediocre SEC teams on the bubble, right? They lose to Bama at home, open an investigation

— Jason McIntyre (@TheBigLead) March 2, 2013
As for Alabama, ESPN's Andy Katz notes the team still has plenty of work to do the remainder of this season:
Florida kicks in a second gear. Gators best in SEC. Alabama work to do to get on @jimmydykeslive jet.

— Andy Katz (@ESPNAndyKatz) March 2, 2013
After what we saw in the first 30 minutes of Saturday's game, Alabama has the potential to make a run in the SEC tournament. It will just be up to the players to execute better down the stretch in late-game situations to make that happen.