NFL Free Agents with Brightest Futures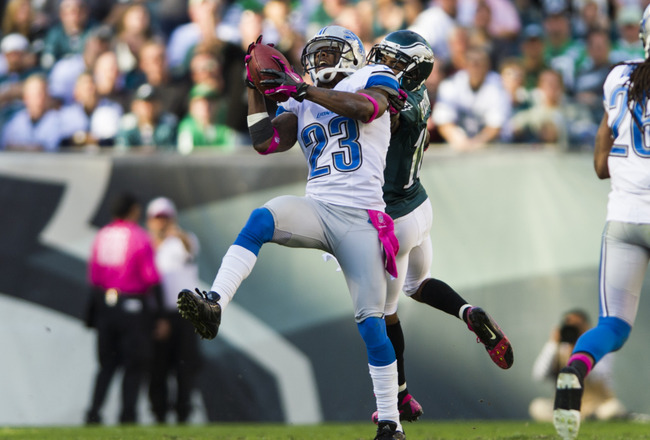 Howard Smith-USA TODAY Sports
We all know the big-name veteran NFL free agents who are seasoned performers in the league, but who are the guys who will provide their new teams with sustained performance over time?
Dwight Freeney is a top-tier 2013 free agent. His playing days are coming to an end, though, making him more of a stopgap for a contending team than a long-term solution for a rebuilding squad.
That shouldn't and won't deter teams from pursuing him.
On the opposite end of the spectrum, there are several players who are not only proven producers but have the potential to be mainstays in the NFL.
Let's take a look at the most promising of these up-and-coming stars among 2013 free agents.
Martellus Bennett, TE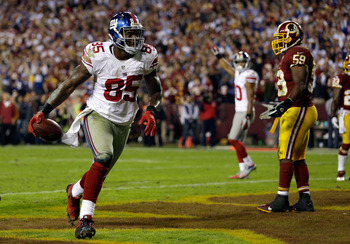 Rob Carr/Getty Images
Former Dallas Cowboys and New York Giants tight end Martellus Bennett just turned 26 years old this offseason. He is also coming off his most productive season as a pro while playing in more of a full-time role.
Bennett snagged 55 catches and compiled 626 yards and five touchdowns while working out of the starting tight end position for Eli Manning in 2012.
If put into a good situation, like Green Bay's passing game, Bennett could explode into one of the more formidable pass-catching tight ends in the entire NFL.
The Texas A&M alumnus has plenty of years to prosper in his new environment too, making him one of the most promising free agents of this offseason.
Anthony Spencer, OLB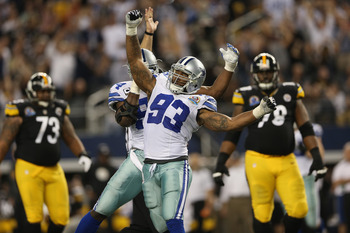 Ronald Martinez/Getty Images
Anthony Spencer may have just turned 29 years old, but he's not showing any signs of slowing down. He had his best season as a pro in 2012, playing in Rob Ryan's attacking 3-4 defense.
Spencer compiled 11 sacks and forced two fumbles while recording two hits and 27 hurries on opposing quarterbacks, according to Pro Football Focus. The site ranked him as the No. 1 outside rush linebacker in the league in 2012.
Players with his strength and explosive first move won't fade quickly, even as Spencer approaches his 30s. Look for a team transitioning to the 3-4, like New Orleans or Cleveland, to scoop him up and make him the staple of its pass rush for the next handful of seasons.
Sebastian Vollmer, OT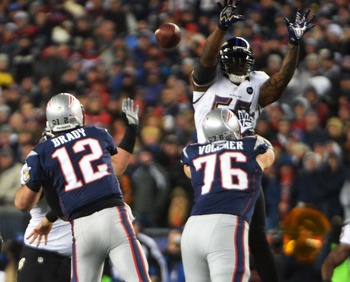 Kirby Lee-USA TODAY Sports
New England Patriots tackle Sebastian Vollmer dealt with swelling in his knee for much of 2012 and recently underwent a procedure to have it repaired, according to ESPNBoston.com's Mike Reiss.
He, like Anthony Spencer, will be 29 years old when next season starts. Much like his peer, age will not hamper Vollmer's impact wherever he finds himself next.
Vollmer, even factoring in a gradual decline, will undoubtedly perform consistently and effectively for a number of seasons before a team even needs to think about finding a replacement.
Andy Levitre, OG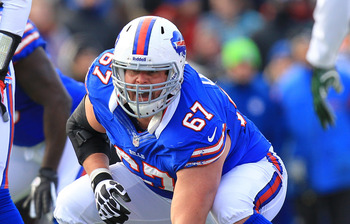 USA TODAY Sports
The 6'2", 305-pound Andy Levitre figures to be a well sought-after offensive lineman once the NFL's free-agency period kicks off on March 12.
Levitre, who has not missed a single game in his four-year career, is a versatile and technical talent who can step in and immediately help a team struggling to get things going up front.
He isn't known as the most dominant and powerful run-blocker, but he got the job done well for a poor Buffalo Bills team that finished sixth in total rushing offense and fourth in yards per carry in 2012 (via ESPN).
Captain Munnerlyn, CB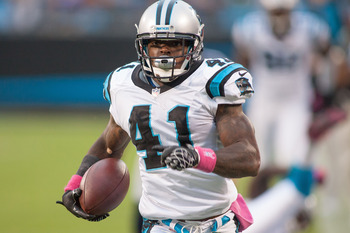 Jeremy Brevard-USA TODAY Sports
The Carolina Panthers haven't been very vocal about their offseason plans, making free-agent cornerback Captain Munnerlyn's future murky. They need to shed around $10 million in salary before March 12 and will be hard-pressed to find the cash to re-sign Munnerlyn for his market value.
Munnerlyn, who played opposite of veteran Chris Gamble, will turn 25 in April, making him one of the youngest and brightest free-agent cornerbacks.
He has the athletic ability, despite his 5'8" and 190-pound frame, to contend with the bigger and taller wide receivers around the NFL. Any team looking for a complementary cornerback with good technique and all of the physical tools should lock the youngster in for the long haul.
Mike Wallace, WR
USA TODAY Sports
Wide receiver Mike Wallace is the most explosive player available during the 2013 NFL free-agency period. The soon-to-be 27-year-old is coming off a "down" year in which he only caught 64 passes for 836 yards and eight touchdowns.
Wallace is an impact player coming into the prime of his career. He's the stretch-the-field guy many teams crave around the league.
Drops and inconsistency slightly hampered his 2012 campaign. The absence of Ben Roethlisberger for three-plus games impacted his overall production as well.
Andre Smith, OT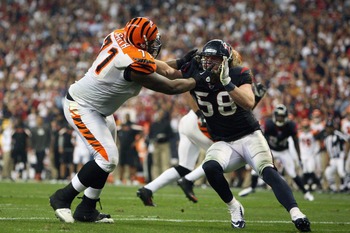 Thomas Campbell-USA TODAY Sports
The Cincinnati Bengals used their franchise tag on defensive end Michael Johnson (h/t Cincinnati Bengals Twitter account), putting tackle Andre Smith up for grabs once March 12's free-agency period kicks off.
Smith, who rated as Pro Football Focus' top right tackle in 2012, is a stout run-blocker and holds his own in pass protection.
Having just turned 26 during the offseason, he is by far the most talented and promising player available at his position this offseason.
Brian Hartline, WR
Robert Mayer-USA TODAY Sports
As a No. 1 receiver, Brian Hartline surprised many in 2012. Once teams got the scent, though, Hartline's production dipped. He finished the season with 1,083 yards receiving but just one touchdown and not one 100-yard game after Week 9.
On a new team, with a more potent passing game, he will undoubtedly continue to impact the game in a big way. He proved to show an ability to beat coverages over the top and find pockets in zone coverage to become rookie QB Ryan Tannehill's favorite target.
Desmond Bryant, DT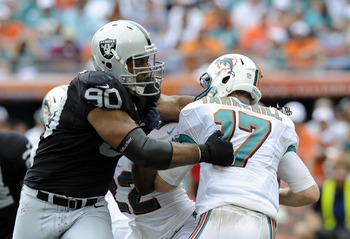 Steve Mitchell-USA TODAY Sports
Free-agent defensive tackle Desmond Bryant was a key figure on an Oakland Raiders defense that didn't perform well but had its moments in 2012.
Bryant, a physically dominant, 6'6", 311-pound mauler, is a top-tier pass-rushing defensive tackle. He uses his size well to explode through offensive lines and get into the face of the quarterback.
While starting just eight games, Bryant compiled three sacks and six tackles for a loss. In 2011 he got to opposing quarterbacks five times behind the line of scrimmage.
Though he was recently arrested on a misdemeanor charge, when it comes to pass-rushing interior linemen, there aren't many better available. None with the future upside of the 27-year-old Bryant, that is.
Keenan Lewis, CB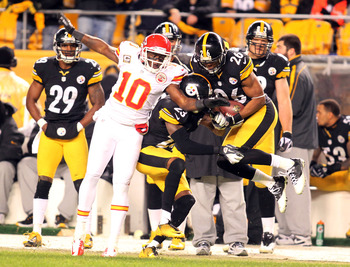 Charles LeClaire-USA TODAY Sports
The Pittsburgh Steelers needed solid play from one of their young defensive backs, given all of the injuries they had in 2012. They needed a guy who could lock down the side of the field opposite Ike Taylor.
Keenan Lewis, a 26-year-old from Oregon State, became that guy for Pittsburgh last season. He is ranked the 15th-best cornerback in this year's class by Pro Football Focus but is third on that list among corners who played more than 900 snaps in 2012. He's also the youngest of the three.
His impressive breakout season included no interceptions, but 23 pass deflections and 71 total tackles reflect the type of season he played.
Chris Houston, CB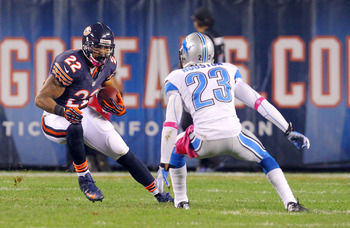 USA TODAY Sports
Speaking of young and talented free-agent cornerbacks, Chris Houston may be the best of the collective bunch. After three years with the Detroit Lions, Houston should be pursued by the team during the offseason, but nothing is certain given the large market of players at the position.
Houston saw his stat line decrease, although he was put into the No. 1 cornerback position, making his competition much stiffer. He was also slowed by injuries early on in the season, delaying his ability to settle into his new role.
Pro Football Focus ranks him as the fourth-best available unrestricted free agent, but he's the youngest and easily the best cover corner of the bunch.
Keep Reading