Coach Scott Brooks' Smartest Moves of the Season for Oklahoma City Thunder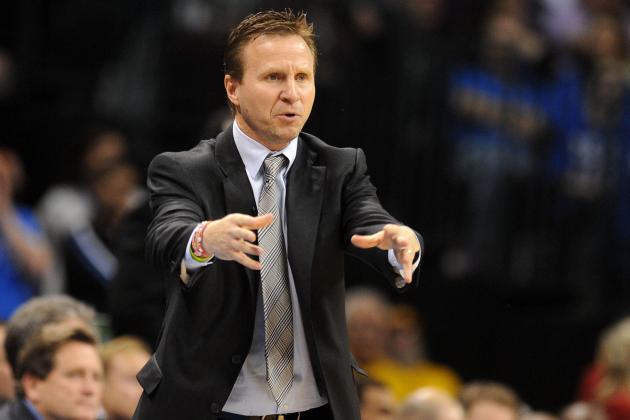 USA TODAY Sports

We are now over the halfway mark of the Oklahoma City Thunder's 2012-2013 season and it's been a successful campaign thus far for the team and head coach Scott Brooks.
Given the major shakeup of the blockbuster James Harden trade just before the regular season commenced, it would be a tall task for almost any coach to get things settled in the lineups and rotations while still playing winning basketball.
Brooks, however, handled the challenge with grace and the Thunder seem to not have missed a step without their former sixth man star. Now with the team locked in and gearing up for another chance at an NBA championship, Brooks will have to be on his A-game as a coach to help guide his team through the tough Western Conference in the postseason.
As for what he's already done this season, Brooks has made some key but subtle moves that have truly benefited the team as a whole.
Begin Slideshow

»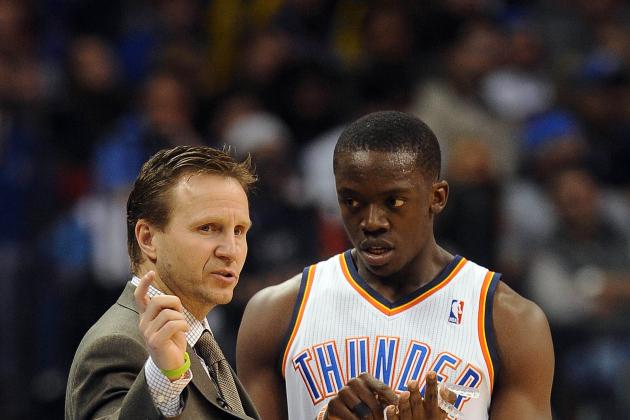 Mark D. Smith-USA TODAY Sports

Last season, regular reserve guard Eric Maynor went down with an ACL injury, leaving the then-rookie Reggie Jackson as the heir apparent to backup Russell Westbrook.
Jackson, however, struggled to get his footing in this role he was thrust into and consequently underperformed. This lead to the signing of veteran guard Derek Fisher, who would assume the role as backup for the Thunder's postseason run.
This season, Maynor returned healthy but was struggling early on. As a result, Scott Brooks decided in late December to start working in Jackson to see if he had developed enough to earn the reserve spot.
Through January, Jackson averaged 12.2 minutes per game but his 3.7 points and 1.7 assists per game weren't too impressive. Brooks kept the faith alive and gave Jackson even more game time in February (up to 17.9 minutes per game) and his numbers went up accordingly (7.5 points, 2.6 assists, 50 percent shooting).
Even though Oklahoma City did recently bring Fisher back in for another postseason haul, Jackson shouldn't see a huge decrease in minutes, as Fisher will be serving more as a safety net/locker room presence rather than coming in to steal Jackson's job.
Overall, Brooks giving Jackson a chance in his sophomore season proved to pay off rather well as of late and having a guy like Fisher to help mentor him on the bench could pay even more dividends.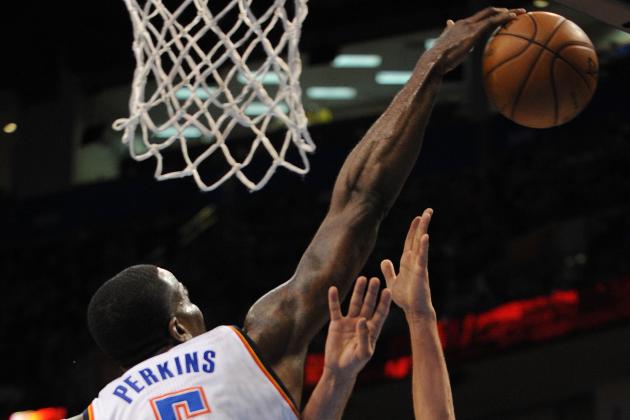 Mark D. Smith-USA TODAY Sports

After the trade deadline came and passed without any deals involving big man Kendrick Perkins, it was made very clear that the Thunder organization still supports their starting center.
One of those big supporters is Scott Brooks, who has stuck with his veteran as the starting center, even though his production (4.6 PPG, 5.9 RPG, 9.55 PER) is somewhat lacking. Though Brooks could have opted for toying with his starters by working in guys like Nick Collison at center or putting Kevin Martin in and going for a smaller lineup, he stuck with Perkins and the team continues to thrive.
Perkins' numbers tend to be quoted by a lot of doubters in terms of why he shouldn't be a starting center in the NBA, but behind those numbers is a lot of toughness and classic unmeasurable valuable contributions on the court.
Though he may be a bit inept on offense, Perkins still has a knack for setting quality screens and his defensive efforts (1.6 blocks per game) are helpful in the paint. That's a large part of the reason why it seems for Brooks to continue putting Perkins out there for 25+ minutes per game.
What makes this a good move is that championship caliber teams should have a lot of stability as well as trust. Brooks trusted that Perkins could still contribute as a starter and by not making a drastic move to find someone on the bench to replace him, Perkins feels that bond of trust and is motivated to make all the difference that he can when he's in the game.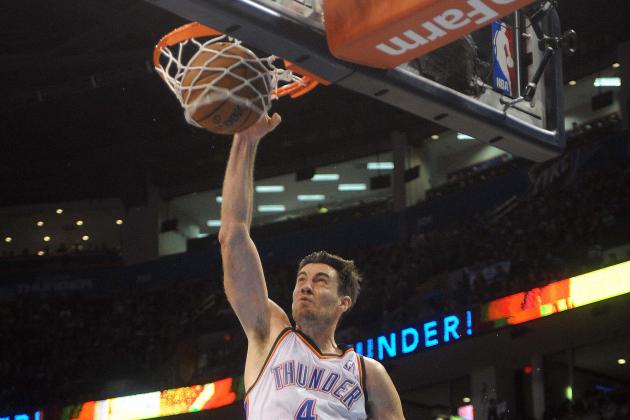 Mark D. Smith-USA TODAY Sports

Unless you are a Thunder fan, you probably don't know a whole lot about the local folk legend that is Nick Collison.
He's often described as the type of player every coach wants on their team, and that's exactly what Collison is. He hustles, he takes charges, he boxes out, he defends, and he hits shots when given easy opportunities.
Collison is someone who definitely earns every minute he is given, and Scott Brooks has delivered especially well this season. From 16.6 minutes per contest last season to 19.5 minutes this season, the small bump in time shows that Brooks really knows how much Collison contributes to this team.
Having a good team player with such dominant superstars like Kevin Durant and Russell Westbrook makes Collison the perfect guy to have on the court with them, especially since his passing ability is above average for a big man.
Brooks has a lot of faith in Collison's game, and he knows that a player of his caliber will come in handy during the postseason where every possession will be crucial.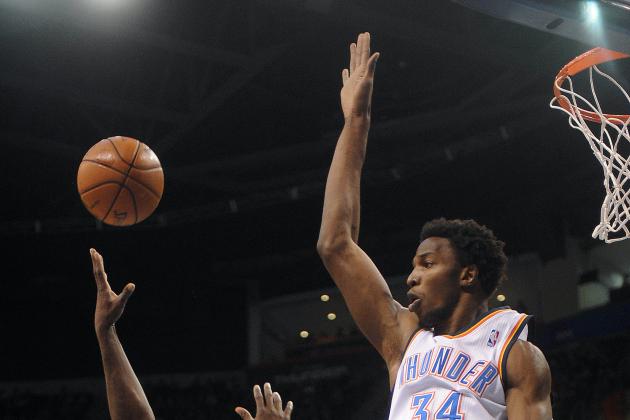 Mark D. Smith-USA TODAY Sports

I'm sure the idea of a 7'3" center coming out of a big-name university seemed like a sure-fire bet for the Memphis Grizzlies when they drafted Hasheem Thabeet second overall in 2009. Fast forward to 2013, and Thabeet is currently a reserve big man with the team that picked James Harden right after Thabeet was drafted in 2009.
In his first three seasons, Thabeet struggled to find his groove as an NBA player and was bounced from Memphis to Houston and then to Portland before being picked up by Oklahoma City in free agency last summer.
Now that Thabeet is in a stable, winning environment, he seems to have embraced his defined role as a bench player who is to be used sparingly to take up space, block shots, and grab rebounds. Gone is the pressure to produce like a second-overall draft pick, and Scott Brooks has done wonders with Thabeet in terms of helping him to settle into his role.
Thabeet has solid averages of 2.5 points and 2.8 rebounds per game, as well as a respectable 11.01 PER. For a team that has so much talent offensively, Thabeet doesn't need to try and do too much and Brooks has reinforced that idea to get the most out of him during his playing time.
Brooks has taken the load of pressure off of Thabeet and has given him enough court time to get acclimated to his system and this low-risk, high-reward signing seems to be trending upwards for the Thunder.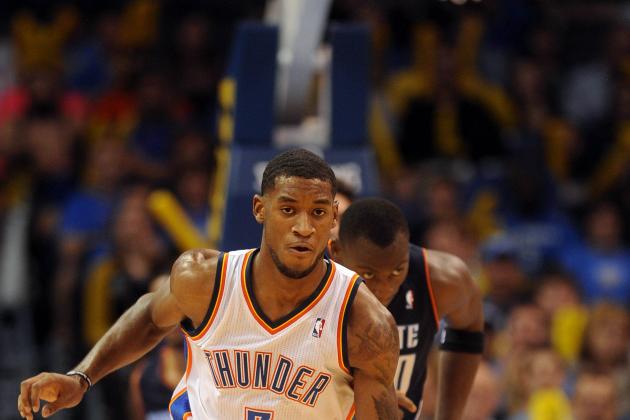 Mark D. Smith-USA TODAY Sports

Something I mentioned earlier is that it's usually for the better not to make any dramatic changes when you are dealing with a championship contending team. This idea has definitely come into play for Scott Brooks and Oklahoma City this season, as he has been very slow to work in any of the young talent recently acquired by the Thunder.
Coming into this season, OKC picked up two young players with loads of potential in Perry Jones III and Jeremy Lamb. While both may have cracked their way into some solid minutes in the rotation of an average team, Brooks knew what he wanted in his rotation and has decided to use the rookies scarcely save for some garbage time minutes.
It's not a bad idea by Brooks, who would much rather ease his talent into the team's system rather than thrusting them in there where big mistakes could be made, leading to a lot of discouragement and discontent for the rookies.
Lamb, who came over in the Houston deal for James Harden, is being considered as a possible option to be the starting shooting guard for the Thunder down the line as Kevin Martin and Thabo Sefolosha start to age. Though he has massive potential, Brooks realizes that he shouldn't be taking away any noticeable playing time from Martin or Sefolosha, who are two main contributors in the Thunder's offensive and defensive schemes.
Jones is another guy with loads of potential, but he too is very raw at this point in his career. Brooks has definitely used him more than Lamb, but his seven minutes per game shows that he is still taking it easy, especially with the red flags about Jones' health going into the draft last summer.
Still, Brooks has demonstrated through Reggie Jackson that he is withholding these young guys for their own good and that, while this season may not be the most fruitful for the rookies, that it is all part of a larger plan for the team.