New York Knicks vs. Washington Wizards: Postgame Grades and Analysis for NYC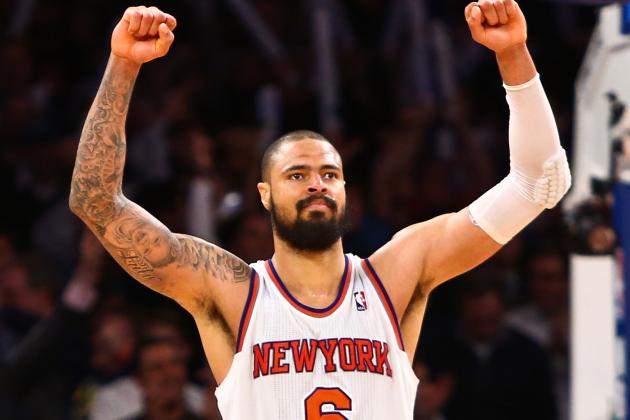 USA TODAY Sports

The New York Knicks travelled to the Verizon Center on Friday night for a rematch with the Washington Wizards, coming away with a gritty 96-88 victory.
The win was up for grabs until Carmelo Anthony and Raymond Felton drained two huge shots in the waning minutes of the fourth quarter. Melo finished with 30 points while Felton dropped 23.
Back on February 6, Washington beat the Knicks by 10 as John Wall went for 21 points and nine assists. New York sought payback on Friday night.
This time, Bradley Beal took the lead for the surging Wizards by scoring 29 points and grabbing 11 boards; Emeka Okafor also added a double-double. New York limited John Wall to "only" 16 points, and Trevor Ariza turned in another strong game versus the Knicks.
New York's defense was at sixes and sevens for stretches of the first half. Wall knifed through the paint for several layups, and New York got burned continuously when double-teaming players that do not deserve such respect.
Thanks in part to several missed lay-ups by the Wizards, New York led 54-48 at the half.
Washington went on a 16-2 run in the third quarter after the Knicks had opened an 11-point lead. But New York's defense clamped down in the fourth quarter as they opened the frame by scoring the first 10 points.
They outscored Washington 23-11 in the fourth to seal the victory. The Wizards were seriously hampered by their 18 turnovers and 65.5 percent free-throw shooting.
New York came into the game at 34-20, good for second place but six-and-a-half games behind the Miami Heat. The Knicks also play 18 games in the month of March, including six back-to-backs, so they have a tough road ahead.
Washington was just 18-38 but had won seven of their last 10 games. They have become unlikely giant slayers, besting the likes of the Heat, L.A. Clippers, Brooklyn Nets, Chicago Bulls and Oklahoma City Thunder.
Here are grades for the entire Knicks roster.
Begin Slideshow

»
Raymond Felton, PG: A+
Felton finished the first half with nine points, three rebounds and a steal, but no assists. When he came out for the second half, he was even better.
Felton finished up with 23 points, six boards, four dimes and a team-best plus-11 rating.
He hit a tough floater in the lane with 32 ticks remaining to stretch the lead to six points. MSG named it their "Ciroc Ultra Premium Vodka Perfectly Smooth Play of the Game."
And rightly so as it sealed the win. Ray was probably just glad that John Wall didn't put up 50-plus points, but fortunately, Wall can't shoot half as well as Stephen Curry.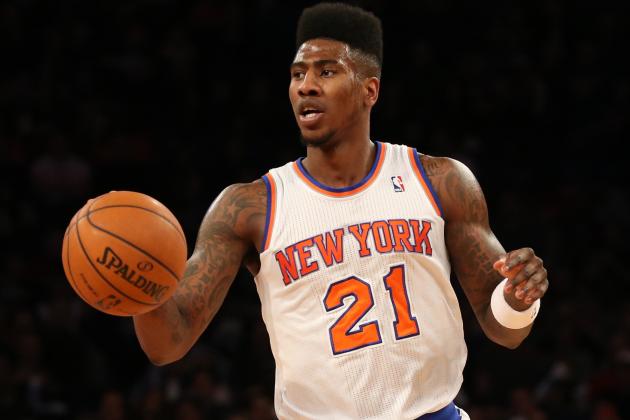 Anthony Gruppuso-USA TODAY Sports

Iman Shumpert, SG: C+
In a small coup, Jason Kidd came off the bench for just the second time this season. Shumpert remained in the starting lineup but slid over from small forward to replace Kidd.
James "Flight" White was inserted into the starting lineup. This was a surprising move as White was averaging just 6.4 minutes per game, though it was his seventh start of the season.
Coach Mike Woodson claimed that it was to create a better matchup on Wizards small forward Martell Webster, who scored 19 points in his last outing against the Knicks (per Ian Begley of ESPNNewYork.com).
Webster was held to nine points this time out, but shooting guard Bradley Beal had 29.
Shumpert made a 3-pointer and added a rebound, an assist and a block, but he posted the worst point differential on the team at minus-11.
Still, Shumpert's defensive ability is finally approaching the level he was at last season before his knee injury, so as his legs strengthen, so will his offense.
Brett Davis-USA TODAY Sports

James White, SF: C-
The 6'7" White plays like a swingman and is certainly better suited to play at the 3 than is the 6'5" Iman Shumpert.
Though White is averaging just 1.7 points per game, that would be 9.6 points per 36 minutes. The highlight of his season thus far had been an 11-point outburst in a loss to the Chicago Bulls on January 11.
White played just 10 minutes, missed both shots he attempted and committed two turnovers. But he also pulled down a rebound, dished an assist and blocked a shot.
Flight White was essentially just a placeholder for J.R. Smith in this one. Mike Woodson made that substitution just over five minutes into the game.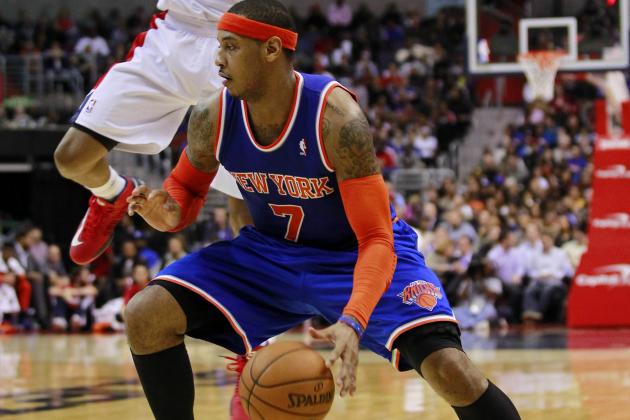 Geoff Burke-USA TODAY Sports

Carmelo Anthony, PF: A
Anthony started strong with 15 first-half points, even though that came on just 4-of-12 shooting.
While Carmelo couldn't find his stroke from 3-point range (two-of-seven), he still poured in the points. Melo finished up with a nice, round 30 points on a somewhat streaky 10-of-24 shooting.
He also tallied six boards, three dimes and two steals.
Anthony's triple with two-and-a-half minutes on the clock provided the Knicks with a crucial five-point advantage that was too much for Washington to overcome.
He also picked up his 11th technical foul of the season after celebrating a hard-fought offensive rebound and layup, which is something to monitor.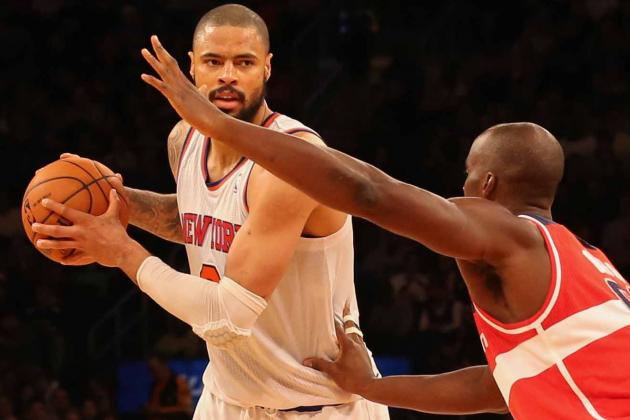 Anthony Gruppuso-USA TODAY Sports

Tyson Chandler, C: B
Chandler didn't bring much on offense but he cleaned up the glass as usual. He finished up with 10 rebounds, two assists and a block to go with his six points.
But Chandler's very presence in the middle has a palpable aura about it. When he sits on the bench, opponents have no fear about driving in the paint.
Tyson brings the intimidation factor, even if he averages only 1.2 blocks per game. He also did not have to contend with Nene in this game, who sat out with a shoulder injury.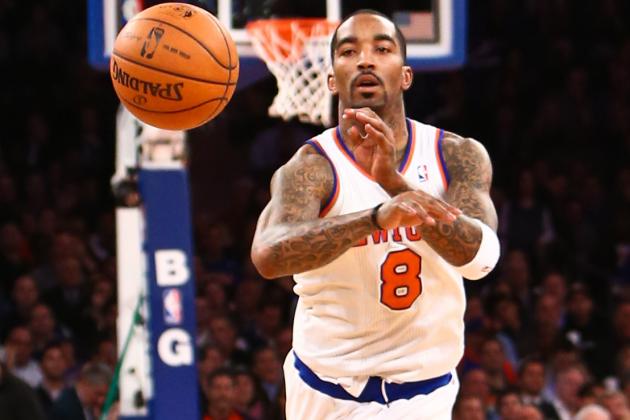 USA TODAY Sports

J.R. Smith, SG: A-
Smith and Trevor Booker had to be separated late in the first quarter and received double technicals.
But Smith still turned in a lunch pail performance in the first half. He scored 10 points, pulled down seven rebounds and also tallied a pair of assists and steals each. That gave him a plus-12 rating for the half, the best on the team.
Smith also got into foul trouble in the fourth quarter, picking up his fourth with 11 minutes remaining and his fifth just six minutes later. He fouled out with under 60 seconds left.
Smith totalled 13 points, a career-high 12 rebounds and three steals for a big lift over the spry Wizards. It's just a good thing that the game didn't go into overtime.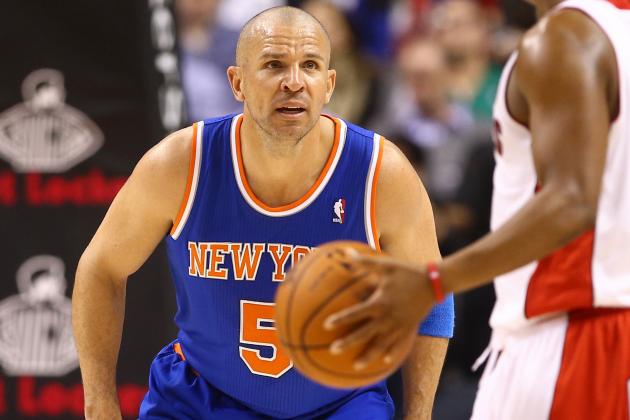 Tom Szczerbowski-USA TODAY Sports

Rest of Bench: B+
Jason Kidd entered some unfamiliar territory on Friday night. The only other time he wasn't in the starting lineup over his 50 games this season was a 100-98 victory over the Charlotte Bobcats on December 5.
Kidd wasn't a huge factor in the game, but he did have a key breakaway layup early in the fourth quarter. Goaltending was called and John Wall got whistled for a subsequent technical, giving the Knicks a 78-77 lead.
Kidd also played the all-important minutes during crunch time, with Iman Shumpert and James White remaining on the bench. The 39 year old had four points, five assists and three rebounds in 27 minutes of relief.
Amar'e Stoudemire scored six in the first half and added some key buckets in the fourth, finishing with a dozen points and two boards. Though he did commit three turnovers, Stoudemire's efficient scoring was a big boost.
Steve Novak hit his first two shots of the game, helping to stretch the Wizards' D to the perimeter, but he finished up with just those five points in his 11 minutes.
Pablo Prigioni did not play; MSG cameras showed him wearing a heating pad on his back over his warmups.
Chris Copeland, Kurt Thomas and new fan favorite Kenyon Martin also remained on the bench all game long.
The Knicks will face the Miami Heat next on Sunday afternoon at Madison Square Garden. New York is 2-0 against Miami this season.